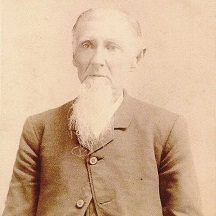 Levi Ream. Courtesy Daniel G. Phillips
Levi Ream was born on Nov. 28, 1816 in Ursina, Somerset County, PA, the son of Samuel W. and Mary (Rheims) Ream.
He was united in the bonds of holy matrimony with Highley "Hila" King (1824-1864), the daughter of Jacob and Eva (Pringey) King.
The date of their wedding is not yet known.
The Reams' brood of 11 known children included Norman Bruce Ream, John Alva Ream, Cleon Keys Ream, Martha "Mattie" Park, Franklin "Frank" Ream, Sarah Easton/Eaton, Samantha Johnson, Marie Garretson, Cynthia Ream, Ida E. Millis and George B. McClellan Ream.
They initially lived in Ursina, raising their children in a household "presided over by sterling, God fearing and loving parents," said the New York Tribune's 1896 book America's Successful Men of Affairs. "Somerset county adjoins the Maryland State line and many were the slaves, who passed through that valley in the olden times on their way out of the house of bondage to freedom and homes in the North."
Levi held an account at the John McMillan tannery in Listonville, and entries from the years 1844 to 1849 are recorded in the tannery's business ledger which is preserved today. The entries read as follow:
...to 1¾ bushels of Potatoes at 39¼, June 8, 1844 - to A Qr of S L cut 7 lbs., Ditto to A side of up at -- to A letter to Hiley Jan.'y 27th, 1844, volum 3, Page 182, Nov. 20, 1844 -- to A side of up at [blank], Ditto to A Qr of SL wt 10 lbs., Oct. 10, 1848 -- to A side of harnace wt 12 lbs., Ditto to A small peas of CS at [blank], March 14, 1849.
When the United States Census enumeration was made in 1850, the Reams and their then-four children, plus 25-year-old laborer William Ream and 17-year-old Susan Nichlo, resided together on a farm in Lower Turkeyfoot. Among their near neighbors at that time were the families of John and Sarah Minder (no relation), Israel and Susan Jennings, Thomas and Christina (Ream) Jennings and Samuel and Lydia Ream.
The federal census of 1860 shows the Ream family in Ursina, with eight children, and 20-year-old laborer John Kelso living in the household.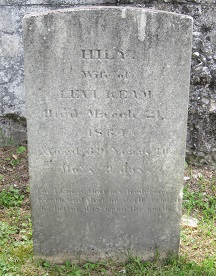 Hily's grave, Ream Cemetery, Ursina

Sadly, Hila died on May 21, 1864, at the age of 39 years, 11 months and nine days, just a year after having given birth to their youngest son. Burial was in the Ream Cemetery. At the time of her death, their son Norman was away in the Union Army during the Civil War. Her grave marker stands today. At the base is etched this epitaph taken from scripture (Job 19:25).

For I know that my Redeemer

Liveth and that he shall stand

the latter day upon the earth.

In September 1866, two years after Hila's passing, their son Norman left the region and migrated to Princeton, IL, and after a short time moved further to Osceola, Clarke County, IA. Likely encouraged by the son's prospects, Levi sold the farm to local real estate investor Judge William J. Baer in 1868 for an astounding $25,000. Evidence suggests that he may have done so after having fallen on hard times in what was called the "livestock commission business." Levi took his younger children to Osceola in 1868, the same year as the sale of their farm.

Census records for 1870, two years after their move, Levi and children Sarah, Samantha, Norman and John shared a home in Osceola, with Levi working as a "commission merchant." Norman's occupation was listed as "deals in stock" and John's as "clerks in store."

The warmer, sunnier climes of California must have beckoned to Levi and his sons. Evidence in the form of voter registrations show that circa 1879, he and son Cleon dwelled on a farm in Downey near Los Angeles and that in 1888-1890, he and son John were near Sacramento in Placer County, CA. But their home base remained in Osceola, as in 1885 Levi appears in the Iowa State Census in a dwelling on Main Street in town.

Levi and his son-in-law Moses T. Johnson took a long holiday from Osceola in the winter months of 1882. Reported the Marysville (KS) Signal, they left Osceola "early in February and have been on the fly ever since."
They have visited the Pacific coast from the British posessions [sic] on Puget Sound, as far south as Southern California, and have seen as large a portion of the intermediate territory as it was possible to see in the time consumed. After all this trip they have concluded that a man need not hunt for a better country than that lying between this and their home in Iowa.
While in California on that trip, Levi purchased nine lots in Sacramento's Highland Park section. Before returning home, the two travelers stopped in April 1882 to see Levi's married daughter and son-in-law in Marysville, KS, Ida and George P. Millis. Levi later deeded three lots each to his daughters Ida, Maria and Samantha.
Levi is profiled in a chapter about his son Cleon in the 1886 book Clarke County History, page 101. The narrative states that his new home in Osceola Township "was then the terminus of the Chicago, Burlington & Quincy Railroad. Here he engaged in wagon-making for six months. He would often send freight for citizens many miles. He has made and sold over 200 wagons in one year, often shipping car loads everyday for months." He also operated a general store and "commission house" with his son until 1871, when the son moved into Chicago. Said the Clarke County History: "Mr. Ream has been an extensive traveler, having visited twenty-nine States and Territories."
Levi died on March 19, 1903 in Osceola, with burial in Maple Hill Cemetery. [Find-a-Grave] An obituary in the Leon Journal-Reporter said that death was due to "a brief illness" and that he had come to Osceola from Pennsylvania in 1868.
He is included in a published profile of his son Norman in John W. Jordan's 1914 book Encyclopedia of Pennsylvania Biography: Illustrated, Vol. III and in Alfred Theodore Andreas' History of Chicago, Vol. 3 -- in a lengthy biography of his son Cleon in Historical Encyclopedia of Illinois, Vol. 2, Part 2, by Newton Bateman and Paul Selby -- and in Paul Ryscavage's book, Norman B. Ream: Forgotten Master of Markets (Fairleigh Dickinson University Press, 2013).

Ream Cemetery's stone fence financed in 1911 by the Reams' son Norman, on the north bank of Laurel Hill Creek in Ursina, Somerset County.
~ Daughter Sarah (Ream) Easton/Eaton ~
Daughter Sarah Ream (1851-1918) was born in about 1851 in Ursina.
She spent her early years in the Ursina/Lower Turkeyfoot area and appears with the family in the 1860 federal census. Then as a 17-year-old, in 1868, she relocated to Iowa with her father and siblings.
The 1870 census enumeration lists Sarah as an 18-year-old in Osceola, IA, keeping house for her widowed father and siblings Norman, John and Samantha.
According to Elmer Leonidas Denniston's 1939 book Genealogy of the Stukey, Ream, Grove, Clem, and Denniston Families, Sarah was joined in matrimony with John Easton ( ? - ? ). Her husband also has been known in other places as "William R. Eaton."
One source suggests that she is the same "Sarah Eaton" who at age 30 died from "pelvic peritonitis" in Chicago on April 12, 1880 and is buried in the Windy City's Graceland Cemetery.
More will be added here once learned.
~ Son Franklin Ream ~
Son Franklin "Frank" Ream (1855- ? ) was born on or about Feb. 22, 1855 in Ursina.
When he was 11 years of age, in 1866, he traveled with his widowed father and siblings to Osceola, Clarke County, IA, where he grew to manhood.
He is shown with his family at age 15 in the U.S. Census of 1870 of Osceola.
Virtually nothing else is known of his life. Author Iva (Ream) Barkley, in her book Ream Riehm, writes that "death unknown, lived at the Isthmus of Panama."
~ Daughter Cynthia Ream ~
Daughter Cynthia Ream (1859- ? ) was born in about 1859 in Ursina.
Her name appears as a one-year-old in the family residence in Ursina in the 1860 United States Census.
Cynthia's fate after that is a mystery.
~ Son George B. McClellan Ream ~
Son George B. McClellan Ream (1863-1870) was born in 1863 in Ursina during the height of the Civil War and appears to have been named for the famed Union Army general.
His mother died just a year after George's birth. As a boy of three, he moved to Osceola, Clarke County, IA with his widowed father and siblings.
But George was not destined to reach adolescence. He was swept away by the Grim Reaper of Death at the age of seven years, six months on Oct. 12, 1870. His tender remains were lowered into eternal rest in Maple Hill Cemetery in Osceola.
Copyright © 2002, 2009, 2012, 2014-2017, 2022-2023 Mark A. Miner