Home

Mahala (Younkin) Schrock
(1825-1865)
Mahala (Younkin) Schrock was born on or abouit Sept. 28, 1825 in Turkeyfoot Township, the daughter of "Yankee John" and Nancy (Hartzell) Younkin. She may also have used the spelling "Mahalia" and/or the name "Matilda."
She married Daniel Schrock (April 13, 1822-1856), reputedly the son of Jacob and Barbara (Fike) Schrock.
Their three children were Anne Matilda Schrock, Caroline "Carrie" Spangler and John Ellis Schrock.
When the 1850 federal census enumeration was made, the Schrocks dwelled in Milford Township, Somerset County, with Daniel earning a living as a "joiner" -- a 19th century term for woodworker and carpenter.
Daniel is said to have died at the age of 34 on July 8, 1856, possibly in [New] Centerville, Somerset County.
When the federal census was next taken, in 1860, the widowed Mahala lived in Milford Township, Somerset County with her three children in the household.
Family lore states that Mahala died on Jan. 12, 1864, at age 41, possibly also in Centerville.
The couple is named in Merilyn Belle (Fike) Morrow's 1996 book, Christian Fike and His Descendants.
~ Daughter Anna Matilda Schrock ~
Daughter Anna Matilda Schrock (1844- ? ) was born in 1844 in Milford Township.
At one time it was believed that she was united marriage with (?) Spangler. But this is believed to be false.
~ Daughter Caroline "Carrie" (Schrock) Spangler ~
Daughter Caroline Schrock (1848-1911) was born on March 23, 1848 in Somerset County.
On July 9, 1865, when she was 17 years of age, she was united in marriage with 21-year-old Civil War veteran Franklin D. Spangler (Oct. 10, 1843-1879), a native of Stonycreek Township, Somerset County, and the son of Jefferson and Nancy Spangler. The nuptials were held at the home of her father's cousin William M. Schrock at Shanksville, Somerset County, with Rev. David Speck officiating. It appears to have been a triple wedding, with Franklin's relatives Herman and Sarah Shank, and Jonathan and Catharine Spangler, also tying the knot that day at that place.
The couple produced two known daughters, Anna M. Spangler, born in 1869 in Stonycreek, and Jennie Beatrice S. Woolsey, born in 1871.
During the war, Franklin served as a private with the 54th Pennsylvania Infantry, Company B, commanded by John H. Hite. He enlisted at Harrisburg on Oct. 10, 1861 for a period of three years. Franklin Bennett of Shanksville, also in the regiment, considered Franklin "a stout and harty man."
In early autumn 1862, Companies B and K of the 54th Pennsylvania was stationed at Paw Paw, Morgan County, WV, guarding the Baltimore and Ohio Railroad bridge spanning the Little Cacapon River. But on Oct. 4, 1862, as enemy forces successfully destroyed the bridge and related buildings, Franklin's entire company was surrounded and captured without any shots being fired. Franklin and 90 of his comrades including Elias Poorbaugh, boyhood friend Harman Shank and George Spangler were held as prisoners of war. They were taken to a prison in Hampshire County and then taken to Richmond, VA. There, he was held in Libby Prison for nearly two months. Recalled his cousin George Spangler, Franklin "was much excited while in prison because they were told by Ross who treated the soldiers that they were to be hung. Also read in the Richmond Clipper that they were to swing the rope." He finally was paroled (released) at City Point, VA on Nov. 30, 1862. Franklin then returned to his regiment at Camp Parole, MD.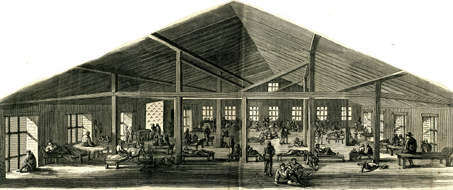 Above: prisoners at Libby Prison in Richmond. Below: Clarysville army hospital in Cumberland, MD.

Franklin and the 54th Pennsylvania took part in the Lynchburg Raid in July 1864, moving between Staunton, Lexington, Lynchburg and Liberty Court House, VA. On about July 18, 1864, while on duty at Purcellville, Loudoun County, VA, he became sick and left the regiment for medical treatment. He received care at a hospital in Martinsburg, WV before a transfer to another military hospital in Cumberland, MD. He returned to his unit on Sept. 15, 1864. Capt. Hite noticed that Franklin "was delicate in the service," and mess-mate Herman Shunk recalled that he "was sick in Libby Prison and complained of pain in breast." Franklin eventually received an honorable discharge on Sept. 16, 1864.
Franklin suffered after the war with heart disease which led to tuberculosis of the lungs. He frequently complained to friends and relatives, who often observed him holding his right hand on his left breast. William H. Baldwin obseerved that "I have been with him for cattle and I have seen him that his heart beated that I thought it would jump out of him and I never heard any thing like that befor or since." His cousin George Spangler said that "we thought he was dying in the fall of 1865." He was so debilitated that he could not perform much if any manual labor. He received farming help from Chauncey A. Brant and Benjamin Keefer, who are known to have helped him butcher, with them keeping half the profit on the meat. Henry H. Schrock was employed by Franklin for three years.
Franklin operated a shoe store for a period of time so he could earn a living for his family. By 1879, at the advice of a brother-in-law, the Spanglers relocated to Chicago, where Franklin found work in the store of a spring bed manufacturer. Among his co-workers in the shop was Frederick Zimmerman of 350 Madison Street. Their addresses in Chicago were 90 Warren Avenue and at 672 West Lake Street. Physician Dr. F.C. Schaefer was called to their home from time to time to treat Franklin's heart and lung problems.
Sadly, bearing a physical burden from which he could not recover, Franklin died in Chicago at the age of 35, on May 26, 1879. Dr. Schaefer was informant for the Illinois certificate of death. His remains were returned to Pennsylvania for interment in Walker Cemetery in Shanksville, Somerset County. [Find-a-Grave]
As a widow, Carrie returned to Stonycreek Township. She immediately applied for and was awarded a widow's pension from the U.S. War Department. [Widow App. #249.808 - Cert. #211.645] She outlived her husband by moe than three decades.
Sadly, at the age of 63, Carrie was felled by a stroke of paralysis, and died a day later, on Nov. 25, 1911. Interment was in Walker Cemetery. Mrs. Jonathan Spangler of Shanksville, Somerset County provided details for the death certificate.
At one time, research notes indicated that Carrie had been married to Amos Schrock ( ? - ? ), but this was in error. As well, Carrie is not to be confused with Caroline (Rayman) Spangler married to Peter Spangler.
Daughter Anna M. Spangler (1869- ? ) was born on Sept. 12, 1869 in Stonycreek Township. Family physician J.K. Miller, MD assisted in the birth. Sadly, she was deceased by 1911.
Daughter Jennie Beatrice S. Spangler (1871-1948) was born on Dec. 23, 1871 in Shanksville, Somerset County. Midwife Nancy Spangler helped with the delivery and recalled it many years later because the date was the Friday before Christmas on Sunday. On Jan. 9, 1895, at the age of 24, Jennie was joined in holy wedlock with 31-year-old George Sidney Woolsey (1864- ? ), son of George M. and Mary Woolsey. Rev. A. Davidson performed the nuptials in Somerset County. At the time, George was a resident of McKeesport, near Pittsburgh, and earned a living as a machinist. The couple produced five children, of whom four are known -- Robert Spangler Woolsey, Albert S. Woolsey, Martha Woolsey and Alice Adams Maples. Federal census records for 1910 show the Woolseys living in Washington, Washington County, PA, where George was employed as a machinist in a tube mill, likely Tyler Tube. Their residence was on Henderson Avenue. Sometime during the 1910s, the couple divorced. Circa 1911-1920, Jennie's home was in Lisbon, Columbiana County, OH, with her home on Washington Street. Then during the decade of the 1920s, Jennie pulled up stakes and moved her family to Los Angeles. The 1930 United States Census shows Jennie, her sons and daughter Alice living on Annan Way. Jennie passed away at the age of 76 in Tulare, Tulare County, CA on Dec. 10, 1948. She rests for eternity in Lancaster Cemetery in Lancaster, Los Angeles County. [Find-a-Grave]
Grandson Robert Spangler Woolsey (1897-1953) was born on Oct. 12, 1897. As a young man, he was of medium height and build, with blue eyes and brown hair. Robert was required to register for the military draft during World War I. At the time, he dwelled in Lisbon, OH, and was employed as a fireman on the Youngstown and Ohio River Railroad in Lisbon. His mother was named as his next of kin. After the war, Robert returned home and obtained work as a truck driver for the County of Columbiana. He obtained a law degree during the 1920s and by 1930, now relocated to Los Angeles, practiced as a patent attorney. In 1934, he placed a sereies of classified advertisements in the San Bernardino County Sun, showing that he specialized in trademarks, patents and copyrights, with an office address of 6012 Annan Way. Sadly, Robert passed away at the age of 55, in Los Angeles, on Aug. 22, 1953. Burial was in Lancaster Cemetery in Lancaster, Los Angeles County.
Grandson Albert R. Woolsey (1901-1980) was born on Oct. 2, 1901. He earned a living at the age of 19, in 1920, as a laborer with an electric light company in Lisbon. He relocated to Los Angeles with his mother and siblings during the 1920s. In 1930, Los Angeles census records show that he was studying to become a mechanic in the aviation industry. He died in Tulare, Tulare County, CA on Valentine's Day 1980.
Granddaughter Alice Isabel Woolsey (1906-1957) was born on Sept. 10, 1906. She appears to have been twice married. On April 18, 1927in in Los Angeles, she was joined in holy wedlock with 25-year-old police officer Elmer Joseph Adams ( ? - ? ), son of Joseph Walter and Effie Florence (Gilbert) Adams. The wedding ceremony was officiated by Rev. W.W. Kaler of the Garvanza Methodist Episcopal Church. The marriage apparently did not last, and just three years later, at the age of 23 in 1930, Alice was unmarried and living with her mother in Los Angeles, where shewas employed as a stenographer for a sports business. In the late 1930s, she lived at 4106 Homer Street in Los Angeles and worked as a stenographer for a welfare organization. Then at the age of 31, on March 18, 1939, she wedded her second husband, wholesale petroleum welder Burtis "Paul" Maples (1909- ? ), a native of Missouri and the son of Frank and Minnie (Hamby) Maples. Rev. Eric G. Bloomquist, of the Pilgrim denomination, officiated at the nuptials held in Forrest Park, Saugus, Los Angeles County. Louise A. Woolsey was a witness to the ceremony. News of the wedding was published in the Santa Clarita (CA) Signal. Paul had been married before and brought two children to the union, Gary Maples and Patricia Maples. The family is shown together in the 1940 census of Los Angeles. Alice later made a home in Kern County, CA. She died in Kern at the age of 50 on June 28, 1957. Burial was in Joshua Memorial Park in Lancaster, Los Angeles County. Paul returned to Missouri and is believed to have married to World War II WAAC Veteran Mitchaleen Moreland (1909-1999). He passed away at the age of 83 on March 12, 1992. Burial was in Concord Cemetery in Texas County, MO. Mitchaleen lived for another seven years and joined him in death on Oct. 16, 1999. Paul's son Gary changed his name to ""Gary Fanning" (1932-2004), served in the U.S. Army in Vietnam and died in Durham, NC on April 9, 2004.
~ Son John Ellis Schrock ~
Son John Ellis Schrock (1856- ? ) was born in 1856 in Milford Township, Somerset County.
He apparently was born the year his father died.
Copyright © 2013, 2018 Mark A. Miner
Research for this page graciously shared by the late Olive (Rowan) Duff and the late Donna (Younkin) Logan.