Ephraim Younkin
(1818-1889)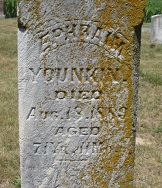 Zion Lutheran Cemetery
Ephraim Younkin (1818-1889) was born in 1818 in Turkeyfoot Township, Somerset County, PA, the son of "Yankee John" and Nancy (Hartzell) Younkin.
Ephraim migrated as a young man to Illinois.
In 1845, at the age of about 27, he married Malinda Ann Ripley (1816-1897). The nuptials were held in Jackson County, IL.
They are shown on the federal census of 1850, residing in the northern district of Jackson County.
Their three children were Alexander Clay Younkin (born in Illinois in 1847), Ellen Will and Catherine Younkin.
When the federal census enumeration again was made in 1880, the family was in Somerset, Jackson County. At that time, 16-year-old "hand" Sarah Shepherd and 11-year-old Frank Koontz lived in the household.
Ephraim died on Aug. 18, 1889 at the age of 71, and is buried in the Zion Lutheran (Kimmel) Church Cemetery in Somerset Township, Jackson County. [Find-A-Grave photo courtesy of Kim R.]
Malinda is said to have passed on Feb. 10, 1897, with interment beside her husband.
~ Son Alexander Clay Younkin ~
Son Alexander Clay Younkin (1847- ? ) was born in Nov. 1847 in northern Jackson County.
Unmarried at the age of 33, he lived at home with his parents and labored as a farmer.
After the deaths of his parents, he dwelled in 1900 in Murphysboro, Jackson County, and earned a living as a bartender. His residence that year was on South 10th Street, and he told the census-taker haat he was widowed.
By 1910, with no occupation, he had moved in as a boarder with the family of James and Alice Reeder in Murphysboro. The census-taker recorded his marital status as "divorced."
~ Daughter Ellen (Younkin) Will ~
Daughter Ellen Younkin (1856-1899) was born on Feb. 6, 1856 in Jackson County. 
She married Daniel Logan Will (1853-1874), son of Alexander and Mary (McCord) Will. 
Tragically, Daniel died very young, and expired on Nov. 16, 1874, at the age of 21.
Ellen survived him by a quarter of a century.
She died at the age of 43 on June 11, 1899. She also rests in the Zion Lutheran (Kimmel) Cemetery in Jackson County. [Find-A-Grave]
Copyright © 2013, 2019 Mark A. Miner
Research for this page graciously shared by the late Olive (Rowan) Duff and the late Donna (Younkin) Logan.