John Wiley Birch
(1881-1935)
John Wiley Birch was born on March 8, 1881 at Burnsville near West Finley, Greene County, PA, the son of Samuel and Susan (Miner) Birch. He was an entrepreneur who owned his own grocery and wholesale candy business for many years in Washington, PA, and is featured with a biography in a History of Washington County.
On June 8, 1905, at the age of 24, John married 18-year-old Mary Olive Sprowls (1886-1969), daughter of Milton Riley and Hannah (Cook) Sprowls. The ceremony was held in Washington, Washington County, and was conducted by Rev. Joseph G. Patton.
They had one son, John "Russell" Birch.
As a young man, John helped his father on the family farm in Prosperity, Greene County. At age 21, in about 1902, he moved to Washington and began working for the retail grocery firm of G.W. Warrick & Sons. He later joined G.W. Driver & Son and then was a traveling salesman for the New York Produce Co. After gaining substantial experience, he worked for 12 years as in a traveling sales capacity for Peerless Biscuit Company of Pittsburgh, selling cakes and crackers.
The federal census of 1910 shows the young family living in Washington on Burton Avenue. By 1920, they had moved to East Hallam in Washington, and Olive's 24-year-old brother J. Leigh Sprowls, a "garage clerk," resided under their roof.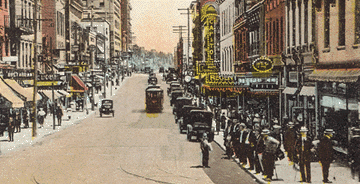 Postcard of Chestnut Street in downtown Washington
In 1921, desiring independence, John purchased the C.A. Prigg wholesale candy company, and renamed it "J.W. Birch Co." Later, when his son entered the business, it was renamed "J.W. Birch & Son Co." He was considered "one of the influential members" of the old Washington Board of Commerce and to have been "possessed of more than ordinary ability [and had] won the full measure of success."
He was sufficiently successful that in 1926, John was profiled in Volume II of the book History of Washington County, Pennsylvania, by Earle Robert Forrest (Chicago: S.J. Clark Publishing Company). It's possible that he paid for the biographical entry.
Of his company, said the History of Washington County:
He has greatly enlarged its scope and the house is represented by three traveling salesmen, also enjoying an extensive local trade. [He] also employs a deliveryman and a stenographer and is ably assisted by his son … who has charge of the stockroom. The firm has placed on the market a high quality of confectionary products and lists as its most valuable asset a well deserved reputation for thorough reliability and honesty.

John's profile in the 1926 book History of Washington County, Volume II

Obituary, 1935
John also was a trustee of the Central Presbyterian Church in Washington and was a member of the local lodge of the Elks and the United Commercial Travelers.
Mary was a member of the Daughters of the American Revolution (DAR) and the YWCA. Said the Washington Observer-Reporter, she "served several years as secretary of the Foreign and Home Missionary of the [Central Presbyterian] Church and had been a teacher in the primary department."
Circa 1935, their home was on Wilmont Avenue in East Washington.
John was afflicted with diabetes and suffered a heart attack ("coronary thrombosis"). He passed away the same day, on Sept. 22, 1935, at the age of 54.
Mary outlived him by more than three decades, and died in 1969. They're buried at Washington Cemetery.
~ Son John " Russell" Birch ~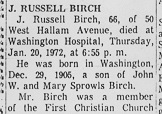 Washington Observer Reporter
Son John "Russell" Birch (1905-1972) was born on Dec. 29, 1905 in Washington, Washington County.
On June 27, 1931, when he was 25 years of age, Russell was wedded to21-year-old Elizabeth "Betty" Shadel (May 19, 1910- ? ), daughter of C.W. and Estella (Sprowls) Birch of Orville, Wayne County, OH. The ceremony was held in Orrville, with Rev. Walter P. McConkey of Washington officiating. At the time of marriage, Elizabeth made a living as a bookkeeper.
The couple produced two children -- Dr. J. Randolph Birch and Elizabeth Sandra White.
Russell worked with his father in the family confectionary business, joining the firm in about 1921, when he was 16 years old. A 1926 profile of his father in the History of Washington County said that Russell "is a consistent member of the Central Presbyterian church, with which his wife is also affiliated, and in politics he is a republican but has never sought office as a reward for party fealty. He is connected with the Knights of Malta and the United Commrcial Travelers of America. He is one of the influential members of the Washington Board of Commerce and for diversion turns to hunting and motoring. Mr. Birch is recognized as a good citizen and a far-sighted, discriminating business man, fully alive to conditions in the modern commercial world and possessing the enterprise and resourcefulness necessary to cope with them."
At the death of his father in 1935, Russell took over the business. He ran it for another 31 years, retiring in July 1966 after a career spanning 45 years.
Their home in the early 1970s was at 50 West Hallam Avenue.
Russell passed away at the age of 66 in Washington Hospital on Jan. 20, 1972. Burial was in Washington Cemetery.
Betty survived her husband by several decades. She suffered the death of her married daughter Sandra in September 1987. Then in November 1988, Betty graciously hosted a visit from Russell's second cousin, Edward John Miner, and Ed's grand nephew, the founder of this website.
Son Dr. J. Randolph Birch ( ? -living) was born in (?). He received his bachelor's degree from Washington & Jefferson College and his medical degree in 1962 from the University of Pennsylvania. Specializing in urology, he moved to Tulsa, OK, where for decades he was affiliated with St. Francis Hospital. He was married.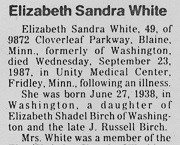 Obituary, 1987
Daughter Elizabeth "Sandra" Birch (1938-1987) was born on June 27, 1938 in Washington. On Oct. 27, 1962, at the age of 24, she wedded Roy C. White ( ? - ? ), son of Roy and Elizabeth C. (McGuffie) White of Washington, PA and Largo, FL. The nuptials were held in the Birch home, and news of the wedding was published in the Pittsburgh Press and Pittsburgh Post-Gazette. Initially the newlyweds made their residence in Washington. They relocated by the early 1970s to Pittsburgh. Their three offspring were Russell Roy White, Mary Elizabeth White and Grant David White. A graduate of Robert Morris College in Pittsburgh, she worked as a secretary at Washington & Jefferson College. The family were members of the First Christian Church of Washington. By 1987, the Whites had relocated to Minnesota, at 9872 Cloverleaf Parkway in the town of Blaine, to be near or with their son Grant and daughter Mary Elizabeth. At the age of 49, Sandra died in Unity Medical Center in Fridley, MN. An obituary was published in her hometown newspaper, the Washington Observer-Reporter. Roy survived his wife by many years, and in 1998 remained in Minnesota.
Copyright© 2001-2002, 2014, 2017 Mark A. Miner