Jessie (Miner) Schultz
(1915-1993)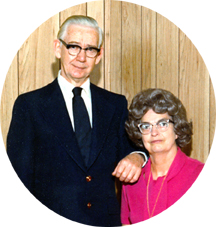 Jack, Jessie and wig
Jessie Elizabeth (Miner) Schultz was born on Jan. 25, 1915 in Washington, Washington County, PA, the daughter of Harry O. and Armena (Cain) Miner.
When Jessie was four years old, in the summer of 1919, her father died after a sudden stroke at a Sunday School picnic in Washington Park. Her uncle and aunt, William A. and Osta (Cain) Miner, offered to take Jessie with them to raise in California, but Jessie's mother was adamant that she would keep all her seven children together, and refused.

"Sweet 16"
Thus Jessie had only a few memories of her father, but she passed them down in her family, and inspired what became the national family research and reunion effort, and the creation of this website.
On May 24, 1933, when she was age 18, Jessie married 19-year-old Jack E. Schultz (1914-1977), the son of Peter F. and Ina Mae (Kline) Schultz.
They went on to produce five children -- Douglas F. Schultz Sr., Patricia Crawfis, Deanna Meloy, Jack David Schultz Sr. and Karen Eustis Andrews Carder.
Jack worked for Jessop Steel Company in Washington for many years, and was a member of Jessop Local 1141 of the United Steelworkers of America.
He loved books and was a serious Civil War buff. He also adored music, and was a Pittsburgh Opera season-ticket holder for many years. He often would gather his grandchildren to listen to an opera record and have them follow along with the libretto (text).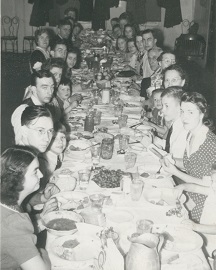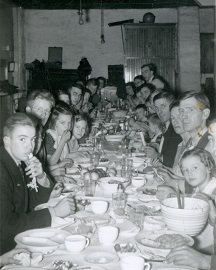 Miner Reunion at Washington Park on the eve of World War II.
Jessie and Jack and son Doug are in the photo at left, foreground.
Jessie loved family get-togethers, and kept family stories treasured in her heart. She recalled one reunion at Washington Park where her uncle Will Miner said the family was "Pennsylvania Dutch," and that the clan's name was once spelled "Minerd" with a "d." They are shown in the left-hand row, immediate foreground, at a reunion-dinner at Washington Park in the fall of 1941, just before America was plunged into World War II.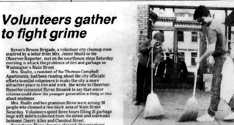 Washington Observer-Reporter, 1986
Said the Washington Observer-Reporter, Jessie "was a clerk at Thompson's Hardware and later worked at the Fashion Hosiery store, both in Washington. She was a long-time member of the Christian Missionary Alliance Church in Washington and the Willing Workers Class of the church."
Jack died of a heart attack at home on May 6, 1977. He was buried in the Miner family plot at Washington Cemetery.
In 1986, Jessie and grandson Stephen Schultz were pictured in an Observer-Reporter feature story headlined "Volunteers Gather to Fight Grime." Said the article:
Byron's Broom Brigade, a volunteer city cleanup crew inspired by a letter from Mrs. Jessie Schultz to the Observer-Reporter, met on the courthouse steps ... to attack the problems of dirt and garbage on Washington's Main Street. Mrs. Schultz ... had been reading about the city officials' efforts to enlist volunteers to make the city a more attractive place to live and work. She wrote to [the newspaper] to say that senior citizens could show the younger generation a thing or two about neatness. Mrs. Schultz and her grandson Steve were among 28 people who cleaned a two-block area of Main Street Saturday ... filling 26 garbage bags with debris collected from the street and sidewalks....

Washington Observer-Reporter
At the age of 75, and after 13 years as a widow, Jessie remarried, to widower Kenneth W.W. Ward (Oct. 16, 1912-2002), son of John Henry and Blanche Irene (McAdams) Ward of Washington. Their nuptials were held on St. Patrick's Day, 1990, in Washington.
On July 28, 1993, Jessie passed away in Canonsburg General Hospital, after a battle with a brain tumor. She was buried beside her first husband Jack at the Washington Cemetery.
Kenneth died in Smethport, McKean County, PA on Dec. 20, 2002.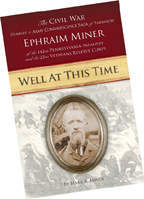 Book which Jessie inspired
Jessie's love of family has led to what has become the national Minerd-Miner-Minor research and reunion and to the creation of this website. At Christmas 1971, during a visit by 10-year-old grand-nephew Mark A. Miner, Jessie and her mother showed him old family photographs and told stories, opening up new worlds in the boy's imagination. Several years later, at a Miner reunion in Washington Park, Jessie and her sister Anna told the boy even more about the clan's history. They gave him an old photo album, on the condition that he "go find out about these people someday." Inspired to begin digging, Mark continued asking Jessie, Anna and their brother Ed questions for many years, delving deeper into the lives and personalities of old-time relatives he feared would be forgotten. Their willingness to freely share has greatly influenced the desire to build this website, and to the objective of widely disseminating information to the family at large.
Jessie is mentioned several times in a lavishly illustrated, 2011 book about her grand-uncle who served in the Civil War -- entitled Well At This Time: the Civil War Diaries and Army Convalescence Saga of Farmboy Ephraim Miner. The book, which she inspired, was authored by the founder of this website, her grand-nephew. [More]
~ Son Douglas F. Schultz ~
Son Douglas F. Schultz (1933-2021) was born on Dec. 22, 1933 in Washington, Washington County, PA.
On March 21, 1953, in nuptials held at the Christian Missionary Alliance Church on Walnut Street in Washington, he was married to Shirley J. Zimmerman (March 6, 1935-2022), the daughter of Roy and Geraldine Zimmerman. Rev. George B. Morgan officiated. Their union endured for an extraordinary 68 years until cleaved apart by death.
The Schultzes dwelled in Washington and were the parents of five -- Douglas F. Schultz Jr., Pamela Nagy, Stephen Schultz, and twins Karl Schultz and Keith Brian Schultz.
Over the years, Doug worked for NABCO in Washington and Specialty Steel in Braddock, retiring as a plant manager.
Shirley was employed for 25 years at Washington Hospital. On the day she retired, her children picked her up in a limosine.
The family belonged to Abundant Life Baptist Church in Washington.
Tragedy shook this family to its core on June 14, 1987 when son Keith was shot and killed in an accident.
In his free time, Doug coached the Wolfdale youth football team. He and the family have attended many of our clan's national reunions over the years.
On March 21, 2013, Doug and Shirley celebrated their 65th wedding anniversary. The couple traveled to most of the 50 states, with a special enjoyment of Alaska and Wyoming. They began a family tradition in 1965 of taking vacations to Nags Head, NC using a tent and pop-up trailer.
Doug remained active in retirement with his son Stephen's company, Schultz Electric, and was dubbed "Big Pap." At the end he had 10 grandchildren and a dozen great-grandchildren. Reported the Washington (PA) Observer, "His greatest wish was for each of them to have a relationship with Jesus Christ and meet him in Heaven. He never missed an opportunity to teach them of the importance of leading a Christian life."
Doug loved to read American history and the writings of early 20th century Scottish evangelist Oswald Chambers. He enjoyed raising flowers and trees and liked to feed birds.
Sadly, Doug contracted the coronavirus and died within a day or two on Dec. 22, 2020. An obituary was printed in the Observer-Reporter.
Shirley survived her husband by two years and one day and was fondly known as "Oma" by her family. After also contracting Covid-19, she passed away on Dec. 23, 2022. She was survived by 10 grandchildren and a baker's dozen great-grandchildren. In an obituary, the family asked that any memorial donations be made to Abundant Life Baptist Church or the Washington City Mission.
Douglas F. Schultz Jr.
Son Douglas F. Schultz Jr. is married to Michelle. They have not reproduced. He has worked as an insurance claims adjuster and is an avid hunter, having traveled into Canada in pursuit of caribou and fishing. In the photo seen here, he poses with a trophy, eight-point buck he brought down while bow-hunting in in November 2002 in Washington, PA.
Daughter Pamela Schultz married Charles Nagy and live in Washington. They produced three children -- Natalie Marie Bell, Nicholas Charles Nagy and Ethan Douglas Nagy. Pam joined Mellon Bank in 1978. In 2007, after the bank's retail operations were merged into Citizens Bank of Pennsylvania, she was promoted to senior vice president of sales and service market administration manager for Western Pennsylvania. She was pictured in the business sections of the Pittsburgh Post-Gazette and Pittsburgh Tribune-Review for her accomplishments. (See our "Photo of the Month" for February 2011.) In 2008, Pam's daughter Natalie Nagy gave a presentation at the National Social Science Association conference in Las Vegas on the topic of "An Examination of Female Language Use in Problem Solving Scenarios: Interruptions and Personalization."
Son Stephen Edward Schultz is married to Melissa. He is the founder of Schultz Electric, a contracting firm in Washington that services large construction projects. He is the father of Stephenie Melaine Smith, Savannah Rae Williams and Stewie Schultz.
Son Keith Brian Schultz (1962-1987) was born on Jan. 11, 1962. He married Trudy ( ? - ? ). Circa 1987, Keith was an apprentice mold maker in Washington, and Trudy was expecting. But fate intervened on June 14, 1987, when he was shot and killed in an accident. Rev. Joseph L. Hunter officiated at the funeral, with interment following in the mausoleum at Washington Cemetery. Later that year, in November, his widow delivered their son Kyle Douglas Schultz.
Son Karl Schultz has been married twice. His first spouse was Kathleen Ann Steuernagel (Jan. 31, 1966-2021), daughter of Anntoinette (Calabro) Steuernagel. Together, the couple produced three children -- Kalvin Bruce Schultz, Sharlene Marie Schultz and Christian Siege Schultz. Kathleen was employed in retail stores and liked to swim. In time the couple divorced. Karl has earned a living as a compression mechanic with MarkWest Energy Partners L.P. in Washington. Today he is married to Tracey ( ? -living). Sadly, former wife Kathleen died at the age of 55 on June 11, 2021.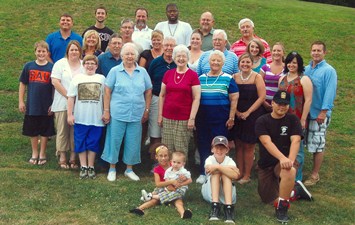 Reunion of the Jack and Jessie Schultz clan, Washington Park, August 2011.
Photo by Charles C. Wilson.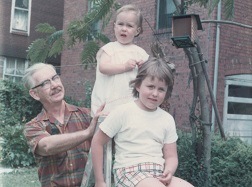 Becky and Sarah Crawfis with
granddad Jack Schultz, 1974
~ Daughter Patricia (Schultz) Crawfis ~
Daughter Patricia Schultz was born in Washington.
She wedded Warren Crawfis.
Their five children are Wayne David Crawfis, Rebecca "Becky" Fortride, Sarah Elizabeth Crawfis and twins Wesley Warren Crawfis and Thomas Andrew Crawfis.
In the 1960s, under the auspices of the Missionary Church Association, the family began a four-year term as Christian missionaries in Sierra Leone. The work continued into the 1970s and, in June 1975, after a rest back home in Washington, they returned to start their third four-year term and were pictured in the Washington Observer-Reporter.
Today they make a home in Fort Wayne, IN.
Son Wayne David Crawfis ( ? - ? ). In August 1991, he married to Marita. In 2000, he was employed as a senior technician at the Indiana Microelectronics Center in Fort Wayne. He and Marita attended our national reunion in the 2010s at the Indian Creek Valley Community Center.
Daughter Rebecca "Becky" Crawfis was joined in holy wedlock with Michael Fortride. Their one known son is Peter Michael Fortride.
Daughter Sarah Elizabeth Crawfis
Son Wesley Warren Crawfis is a twin with his brother Thomas.
Son Thomas Andrew Crawfis is a twin with his brother Wesley.
~ Daughter Deanna Mae (Schultz) Meloy ~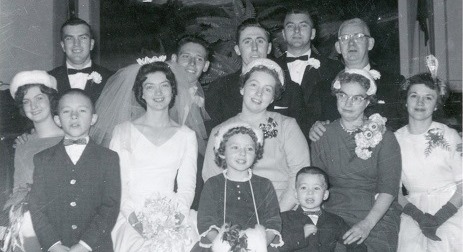 The Meloys' wedding
Daughter Deanna Mae Schultz was born in Washington.
She married Rev. Richard C. Meloy ( ? - ? ), whom she had met in high school. At the time of marriage he was in his senior year at Bob Jones University.
They are the parents of three daughters -- Deborah Garbutt, Denise Knorr Weathers and Dawn Fox Adams.
Dick first pastored in Ohio, and then founded the Grace Bible Church and Christian School in West Middletown, Washington County. While in West Middletown, they hosted the August 1977 reunion of the Armena Miner Marshall family.
The Meloys moved in 1978 to the northern panhandle of Florida, where their new home church became Faith Baptist Church in Pensacola. Now retired, the Meloys are full-time representatives of the Caribbean Radio Lighthouse, a missionary organization broadcasting the good news of God's word to the islands of the Eastern Caribbean. The Lighthouse initiative is part of Baptist International Missions, Inc.
In 2008, the Meloys attended the Pittsburgh 250 family reunion, and Dick returned thanks prior to our group meal together. An enlarged version of this postcard view of the Meloys was our "Photo of the Month" in September 2008.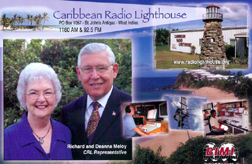 The Meloys' Caribbean Radio Lighthouse ministry
Daughter Deborah Meloy studied speech education at Bob Jones University. She is married to Thomas "Alan" Garbutt. Their family of children include Thomas Bryant Garbutt, Rebecca Nicole Garbutt and (?).
Daughter Denise Meloy has been married to John Paul Christian Knorr and Michael Weathers. She is the mother of Joshua Knorr. Michael studied at Reformed Presbyterian Theological Seminary. They make a home in Oklahoma.
Daughter Dawn Meloy ( ? - ? ) has been twice married. She and her first spouse were wed in 1994 and bore two sons, Jason Fox and Justin Fox. Over the years, she dwelled in San Jose, CA (1994); Duluth, GA (2001) and Longwood, FL. Later, on Sept. 29, 2018, she was joined in marriage with Nathan Adams. They make a home in Orlando, FL, where she is employed as administrative assistant at the First Baptist Sweetwater Church.
~ Son Jack David Schultz Sr. ~
Son Jack David Schultz Sr. ( ? -living) was born in Washington.
He has been married twice.
He and his first wife Vicki ( ? - ? ) together bore a family of four -- Cathy Duchess, Jack David Schultz Jr., Brian Charles Schultz and Wray Schultz.
Grief enveloped the family when son Wray died at only two-and-a-half months of age.
After a divorce, on July 3, 1983, he married Elaine (Kuchera) Stablein (Sept. 1, 1946-2022), daughter of Frank and Margaret (Dubinsky) Kuchera of North Charleroi. She too had been married previously and brought these stepchildren into the second union -- Thomas Patrick Stablein, Kristin Margaret Lavelle-Stablein and Mary Cathleen Stablein.
Jack earned a living as district marketing manager in Washington for Curtis Industries Inc. of Eastlake, OH.
Elaine was a graduate of Charleroi Senior High School and received a degree from the Washington Hospital School of Nursing. She began her professional career at the University of Pittsburgh Medical Center
In 1984, Jack and Elaine graciously hosted a dinner at their home after a family heritage trip with relatives to Hundred, WV to see the old log house where his grandparents, Harry Orlan and Armena Vianch (Cain) Miner were married in 1900.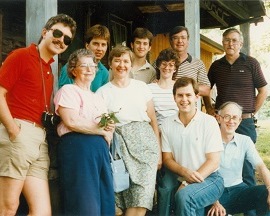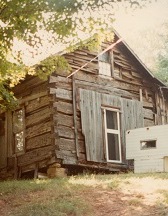 Jack and Elaine and family at the West Virginia log house where his grandmother lived as a young girl.
Jack and Elaine lived in Washington before moving to Silver Spring, MD. There, Elaine was employed at Johns Hopkins Hospital in Baltimore. From there they relocated to Florida, making homes in Hollywood and and eventually for good in Port St. Lucie, FL
Elaine was employed for many years as a registered nurse at Cedars Mount Sinai Hospital in Miami and later HCA Florida St. Lucie Hospital/St. Lucie West Medical Center. She also earned a living as a flight attendant with American Airlines. Among her favorite holiday traditions was watching Christmas movies on the Hallmark Channel. Said the Mon Valley (PA) Independent:
She attended many graduations, weddings, sports games, dance recitals, school events and never passed up an opportunity to babysit her beloved grandkids. Elaine was known for welcoming family and friends to her home for vacation or much needed respite. She was an ace at pool and a card shark, and she will always be remembered by those closest to her as the life of the party. She was truly the matriarch of her family — strong and supportive. Her pure positivity, calming presence and the warmth of her embrace will be missed dearly.
Sadly, while hosting a party on Christmas Eve 2022, and watching the Pittsburgh Steelers game on television, she suffered an aneurysm and died at the age of 76.
Daughter Cathy Ann Schultz was joined in wedlock with Donald Duchess. She is the mother of Victoria Lynne Kosharsky, Valerie Renae McClain, Veronica Lea "Vee" and Vanessa Martha. Cathy lives in Canonsburg and works as a certified nurses aide at McMurray Hills Manor Nursing Home.
Granddaughter Victoria Lynne ( ? -living) wed (?) Kosharsky
Granddaughter Valerie Renae ( ? -living) is married to Terrell McClain.
Granddaughter Veronica Lea "Vee" ( ? -living)
Vanessa Martha ( ? -living)
Son Jack David Schultz II was married to Sharon. He is the father of Jack David Schultz III. Jack relocated to Washington State. Circa 2004, he was employed as a senior inspector in construction management with the Metro Transit Division of King County Metro. In 2022, their home was in Bellevue, WA.
Grandson Jack David Schultz III ( ? -living)
Son Brian Charles Schultz wedded Terry Carpenter. They are the parents of Wray Charles Schultz. They have dwelled in Pittsburgh's South Park section.
Grandson Wray Charles Schultz ( ? -living)
Stepson Thomas Patrick Stablein married Sommer. They live in Tampa.
Stepdaughter Kristin Margaret Lavelle-Stablein is married to Donna. Circa 2022, their home was in Fort Lauderdale.
Stepdaughter Mary Cathleen Stablein is a companion or spouse of Lawson. They dwell in Miami.
~ Daughter Karen Schultz ~
Daughter Karen Schultz ( ? -living) grew up in Washington.
She attended Washington High School with her cousin Kenneth Richard Miner. Later, she studied at Penn Commercial and Clayton State University.
She married John W. Eustis and lived in Washington.
The couple were the parents of Jonathan Eustis and Amber Darby.
In the early 2000s, she was employed at South Fulton Medical in College Park, GA. She also has resided in Fort Worth, TX.
Today she is wedded to Albert Carder ( ? -living). They have resided in Tulsa.
Daughter Amber Leigh Eustis ( ? -living) is married to (?) Darby ( ? -living). They live in Cumming, GA.
Son Jonathan Eustis ( ? -living)
Copyright © 2001-2005, 2007-2008, 2011, 2021-2023 Mark A. Miner
This page is in loving tribute to Jessie by an ever-grateful grand-nephew.