Home



Harry and Armena
Harry Orlan Miner was born on July 21, 1877 near rural Nineveh, Greene County, PA, the son of Andrew Jackson and Mary Louise (Johnston) Miner. A grandson and great-great grandson also share Harry's birth month and date.
As a boy, Harry resided with his parents and siblings near Hundred, Wetzel County, WV and Chartiers Twp., Washington County, PA. He loved to read his pocket New Testament, into which he once slipped a braided brown lock of hair of his sweetheart, Armena Viancy Cain (1882-1972), the daughter of James C. and Margaret Ellen (White) Cain.
(The Miners and the Cains were neighbors, and also close friends. Harry's brother Will later married Armena's sister Osta. Click here to see old color postcards of Hundred from the early 1900s.)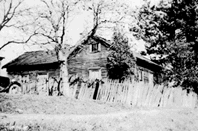 Log house where Armena was married
On Jan. 24, 1900, at the age of 23, Harry married 17-year-old Armena at her parents' log cabin at Rock Camp, near Hundred. (The old log house is seen here.) The ceremony was performed by Rev. W.W. Roberts, a 56-year-old Civil War veteran and circuit preacher with the Church of Christ. Roberts was known locally for his more than 30 years as a clergyman at churches in Glen Easton, Glover's Gap and Rivesville, WV, and also as a shoemaker and publisher of the Wetzel Independent newspaper based in Hundred. [View the original of their marriage license, signed by Rev. Roberts]
Among the wedding gifts given to the young couple was a glazed milk pitcher with blue highlights showing a kiss between a Dutch boy and girl, who are standing in front of a windmill. The pitcher remained in the family's possession for decades, and was passed down among the generations.
Just 11 months after their wedding, however, the newlywed Miners were shocked to learn that the preacher who had officiated at their wedding, Rev. Roberts, had died on Christmas Eve 1900 at his home in Hundred. For the rest of her life, Armena kept Rev. Roberts' photograph tucked between the pages of her family Bible, as pictured on one side of an old Sunday School flyer produced by his firm, Hundred Publishing Co., and headlined "What Must We Do?" [View the flyer]

A Miner wedding gift and the preacher
who married them, W.W. Roberts
The Miners together produced a brood seven children, born between 1901 and 1918 -- Grace Olive White, Ollie Margaret Plants, Odger Miner, Orlan Lloyd Miner, Edward John Miner, Jessie Elizabeth Schultz and Anna Arminta Neely. Though raised on farms, Armena later complained that her mother did not tell her about the facts of life, and that her husband "never told me that I would get a baby."
Shortly after marriage, Harry and Armena moved into Pennsylvania and rented a house in the Meadowlands, near Washington, Washington County, PA. One of their sons later recalled that this first cottage was on Chestnut Street near where the Ross Independent Oil Company warehouse stood circa 1992. It was on the northeast side of the "Tucker homestead" otherwise known as the "Hays homestead."
Upon arriving in Washington, Harry joined the local carpenters union, known as the United Brotherhood of Carpenters and Joiners of America. He was a member of union local No. 541 for 18 years and eight months, from about December 1900 or January 1901 until his death in 1919. Controversy arose in the summer of 1903, when "a number of union carpenters were called off work outside of Washington, where coal companies need men and where the jurisdiction of the local union did not extend," reported the Canonsburg (PA) Daily Notes. In response, "the women of about fifty Washington homes petitioned the union to not add any amendment to their bylaws extending authority over territory outside of the county seat." Armena was named in the Daily Notes article as one of the signers of the petition, which read as follows:
Inasmuch as there is not sufficient carpenter work within the town for all our workmen, we most earnestly request that our fathers, husbands, brothers and sons be allowed to secure suitable work as near their homes as possible, unmolested by walking delegates and unbound by hindering rules. And we further pray that our homes not be impoverished by forced idleness of those to whom we look for support; that our children lack not for shelter, clothing, food and medicine, and that our breadwinners be not driven long distances from home to secure work and be exposed to evil influences, improper food, impure water and sickness. Lastly, we implore you, for the sake of the prosperity of the town, and the good will of the people, for the sake of unbroken home ties and the reputation of the Union to unanimously grant our petition.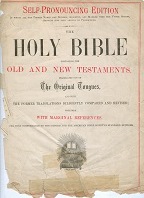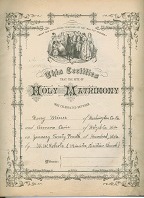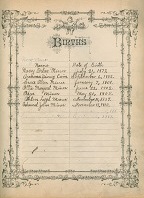 The Miners' family Bible -- title, marriage and births pages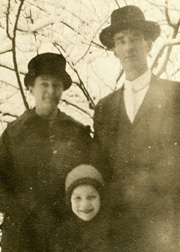 Armena, Harry, son Ed
The Miners are seen at right with a young boy whose identity is not known but who is believed to have been their third son Edward.
In about 1903, the Miners purchased a house at 242 Fayette Street in West Washington, which Harry later expanded in size. He bought property from his brother Ward, who had moved to Wyoming, and rented it for income. He also cultivated a "Victory Garden" near Hays Avenue during World War I, where son Ed recalled going to get pumpkin blossoms.
They joined the West Washington Methodist Episcopal Church, where Harry sang in the choir with his sister Emma. Armena was an active member of the church, including membership in the Orion Sunday School class for more than 60 years. She also was a member emeritus of the official board of the church, and fervently belonged to the Women's Christian Temperance Union (WCTU).
Heartache shook the family in the first few weeks of 1907. Harry was busy working, and Armena raising three young children under the age of seven. Her unmarried, 20-year-old sister Susan J. Cain moved into their home, likely to help with the child-rearing. She became deathly ill with influenza, or "la grippe" as it was then called. She was unable to recover, and succumbed on Jan. 23, 1907, in the Miner home. Harry was the informant on her official Pennsylvania certificate of death.
Harry worked in a glass factory before he obtained enough carpentry work to keep him busy full time. Circa 1919, he was employed by Peter Gasper, a prominent contractor who built fine homes and an office building for Jessop Steel Company, among other structures, in Washington. (In the federal census of 1910, Gasper was listed as a "Carpenter-House Contractor" and lived on East Maiden Street.)
During the year 1910, the City of Washington held its centennial anniversary with parades and special celebrations. The Miners and their young children assuredly must have witnessed and perhaps participated in these exciting events.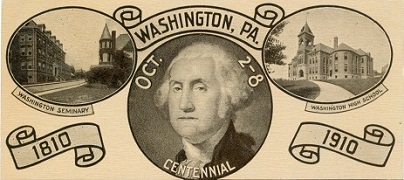 Above: Penny postcard from Washington's centennial celebration in 1910. Below: Washington as seen from Washington Cemetery in 1901.

Harry doubled the size of their home circa 1914 by adding the entire left side. He also built the bannister of the stairway leading to the second floor, and added a corner cabinet in the kitchen. He once found young son Ed on his work bench in the basement of their home, holding a planing tool. He said "You've got the right tool, son, but it'd be better if you were on your feet."
Before going to work in the morning, Harry would often ask his brother Will, also a carpenter, to do small wood-working jobs around Harry's house. Will obliged, but his efforts were not up to Harry's standards. When Harry got home in the evening, he would tear out Will's work, and re-do it himself.
They kept a cow in a shed in the back yard of their house on Fayette Street. It once ate a piece of baling wire, and "didn't live long after that," a son recalled.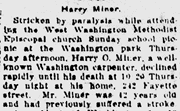 Washington Observer, 1919
Harry registered for the military draft during World War I, and listed his occupation as carpenter for P.J. Gasper of Washington.
Harry was in poor health during the spring of 1919. One story says that he suffered sun stroke when replacing a roof in the hot sun on a very hot day. It affected his mind so much that he felt everybody was plotting against him. His weakened condition led to his final demise. Had he survived, Armena later told their children, he would have been difficult to live with.
After Harry was visibly sick following the first stroke, his brother Will began to pack to leave for California. "He didn't want to be stuck with his brother's children," a niece later recalled.
On July 24, 1919, while at a church Sunday School picnic at Washington Park, Harry collapsed to the ground with his second stroke in three months. Son Ed was present and watched him fall. Half-paralyzed, Harry was taken home on a streetcar, and carried to bed in their second-floor bedroom. Reported the Washington Observer:
Stricken with paralysis while attending the West Washington Methodist Episcopal church Sunday school picnic at the Washington park Thursday afternoon, Harry O. Miner, a well-known Washington carpenter, declined rapidly until his death at 10:20 Thursday night at his home, 242 Fayette street. Mr. Miner was 42 years old and had previously suffered a stroke. A resident of Washington for 19 years, Mr. Miner was well known as a citizen and carpenter.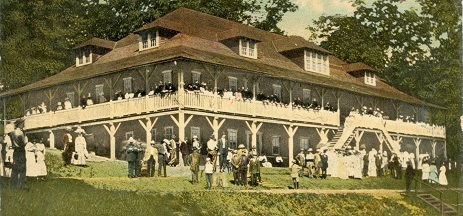 Washington Park's pavilion, where Harry fell with his fatal stroke. Below: his son Edward, in older years, on the spot where his father collapsed.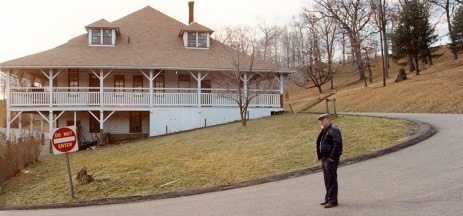 The funeral was conducted by their pastor, Rev. T.H. Morris. Harry was laid to rest in the Washington Cemetery, in the family plot where his brother Ward had been buried five years earlier. Armena was thus suddenly rendered a widow and left with seven children, ranging in age from two to 18. At the funeral, Harry's brother Will announced that he was leaving for California within a few days.

Rev. Hodge
The family's former pastor, Rev. Harley W. Hodge (seen here), was shocked by the news. He had known the Miners for two years, since 1917 when he was transferred to the West Washington church from St. John's River, and had "been most cordially received by his people," said the Pittsburgh Christian Advocate, a newspaper of the Pittsburgh, North-East Ohio and West Virginia Conferences of the Methodist Church. "He has won the confidence and good will of all." Hodge apparently was transferred again to Delta, OH, where he was when he learned about Harry's death. From Delta, Hodge wrote a very moving letter of condolence to the grieving Armena.
We were greatly shocked and grieved to learn of your great bereavement. It is certainly dreadful to even think about, without the heartbreak of the experience. It is certainly too bad that a good man, and one who is needed so badly should be taken, while so many unworthy men should be spared... I am praying also that [God] may so constantly sustain you and help you that you may be able to keep your dear children together and raise them up in the "Fear of the Lord"...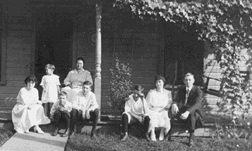 Widowed Armena and her children, 1920
Click here to see an image of the actual letter.
The family is shown here a year later, on the front porch of their home. Armena is seated just to the left of the post, and, left to right: Grace, Jessie, Ed, Odger, Orlan, Ollie and future son in law John Plants. Relatives and friends fretted how Armena would keep together her family of younger children. Harry's brother Will, who was about to move to California, offered to take Jessie, the next to youngest daughter. But Armena refused. Almost every Sunday, she led her younger children in a walk to the cemetery to have a picnic on Harry's grave, a common practice of the time which seems morbid today.
Much needed financial relief came to Armena in August or September of 1919. Having filed a claim with Harry's union, the United Brotherhood of Carpenters, she received a check in the amount of $300, a large sum at that time.
To generate badly needed income, Armena got a job as a laundress and as custodian of the church, when it was located in the old building. She also handled sewing projects and was an expert quiltmaker. Eldest daughter Grace and eldest son Odger both quit school to get jobs to help support the family.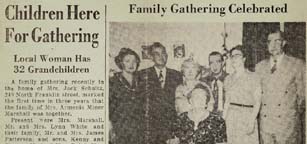 This article in the Washington Reporter is a testament to Armena's growing family, circa 1954

Widowed Armena
Ephraim Jackson book
Armena coped with her loneliness by keeping in touch with her large family of sisters, some of whom lived in Washington, and others who resided in the northern panhandle of West Virginia. During at least two summers, she took her children to the home of her sister Josephine Darrow at Rosbys Rock, WV, where they spent two weeks of rest and relaxation. As her children grew up, got married and had children of their own, she loved to get together and visit with them when they could.
Armena -- seen here in her earlier widowed years, likely in the 1920s -- especially enjoyed taking her children to the Cain-Jackson reunions in Mannington, WV. The memorable events were organized by her cousin Enos Perry Jackson, son of John J. and Lydia (Cain) Jackson, and he served as president from 1925 to 1942.
There always were questions among the reunion attendees as to whether the Jacksons were related to famed Confederate General Stonewall Jackson, whose name would have still been well-known despite the passage of many decades after the Civil War. The question was put to rest in the red-covered book, The Jackson Family, published in 1961 by Jesse Calvin Cross, where he wrote:
As long as [the author] can remember, it has been claimed that our family were of the same ancestry as "Stonewall" Jackson ... This belief was quickly dispelled after making a trip to Charleston, W.Va., to consult Dr. Roy Bird Cook, the foremost historian of "Stonewall" Jackson. An examination of his records disclosed that there were no connecting links between "Stonewall's" ancestry and our lineage.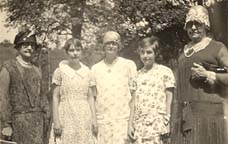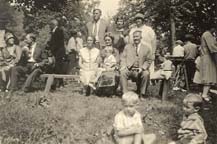 Snapshots from the Cain-Jackson Reunion, 1930s -- left, Armena stands at center, between daughters Jessie and Anna, with Jackson cousins at both ends. Right: cousins of the Jackson and Sims family sit for photos, with "Hulda" and "Cindy" standing behind the bench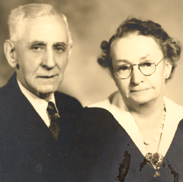 Newlyweds Ben and Armena
On Sept. 11, 1934, after 15 years as a widow, 52-year-old Armena married 58-year-old divorcee Benjamin Franklin Marshall Jr. (1876-1950), son of Benjamin Franklin and Emeline (Preth) Marshall Sr. of Smithfield, Fayette County, PA. Ben at one time was a steelworker for the Waynesburg Tin Mill and the Washington Tin Plate Company, and since 1922 had been divorced after a 20-year marriage to Mary Grace McMasters.
Their wedding took place at the home of Armena's eldest son Odger, in nearby Aliquippa, Beaver County, PA, officiated by Rev. L.M. Bonner. Because Odger was incapacitated in bed at the time, suffering from severe stomach ulcers, the ceremony was held right in his bedroom.
Armena and Ben were said to have met when son Orlan coaxed his mother into making dinner for a friend of his at work. But Armena also would have known Ben for many years as the brother of her brother in law Edward Marshall, married to her sister Eliza Cain.
Ben moved into Armena's residence on Fayette Street in West Washington. He was kindly and gentle and affectionately known as "Grandpa Ben" to Armena's many grandchildren.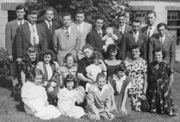 Armena and grandkids, 1950
In the 1940s, sons Odger and Ed installed a full bathroom in the second floor of Armena's house, giving her and Ben the luxury of indoor plumbing for the first time in her life.
Ben retired from his labors in the steel industry, and spent his final years with Armena in their home at 750 Fayette Street. In late 1948, he was diagnosed with cancer of his right lung. He lived for another 19 months but finally succumbed on June 4, 1950, at the age of 73. The funeral brought together Armena's large family of offspring of the White, Plants, Schultz, Neely and Miner offspring, including 18 grandchildren who posed with her for a photograph in the back yard. Ben's remains were placed in the Miner family plot, two graves away from Armena's first husband.
In about 1955, Armena sold her house and all its belongings in an auction held on her front porch. Son Odger, son in law Jack Schultz and grandson Donald W. Miner were "runners" that day, bringing items to the porch one by one for bidding.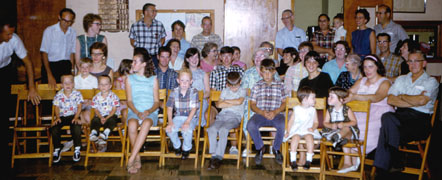 Armena and her massive brood at a Miner Reunion in 1966, in the basement of the Ohio United Presbyterian Church in Hopewell near Aliquippa, PA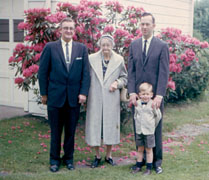 4 generations: with Odger-Wayne-Mark
After the sale, Armena traveled to California where she spent a year or so residing with son Orlan and his family, before moving back to Washington. During that time, in 1957, she gave her granddaughter Louise an old book of psalms which she had received as a teenager. It was inscribed: "Given to Viancy A. Cain on her 15th birthday, Sept. 6, 1897." It is small, with a soft black cover.
Armena then rented an apartment just up the street from her former home. Later in life, she moved into the home of her daughter Jessie.
In May 1965, when she was age 83, Armena visited the home of her son Odger in Hopewell Township, near Aliquippa. While there, she posed for a four-generation photograph with Odger (60), grandson Wayne (35) and great-grandson Mark (4). The image is seen at left.
A remarkable conversation took place with Armena the day after Christmas 1971. It was the last Christmas she was alive. Her grandson Wayne Miner had purchased a cassette tape recorder for Christmas, brought it to her home, quietly placed it beside her rocking chair and began asking her questions. The dialogue planted the seeds for what evolved into the development of this website. Click to read a transcript.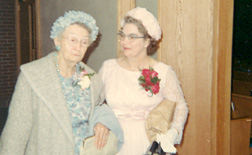 Armena and daughter Jessie in church, 1967
Seen here, daughter Jessie escorts Armena into the sanctuary at the West Washington Methodist Church in April 1967. It was a special morning for Armena, as she was honored for more than 65 years of membership in the congregation. Many family members residing locally attended this service, including the founder of this website.
Remarkably, but with a full share of accompanying heartache, Armena outlived four of her adult children and several grandchildren. On Sept. 6, 1972, she celebrated her 90th birthday.
Lost family tree
Just three days later, however, she passed away at Washington Hospital. At the time, she was survived by 34 grandchildren, 77 great-grandchildren and five great-great grandchildren. She is buried with both husbands at Washington Cemetery.
A family tree chart, seen here, was prepared in the 1930s by Armena's adult children. The chart was displayed on the wall at one or more of the family's reunions at Washington Park. The chart has become lost over the years, and its whereabouts today are unknown. Can anyone help?
For more information on this line, contact great-grandson Mark A. Miner, the founder of this website.
Copyright © 2000-2011, 2014-2015., 2017-2020 Mark A. Miner