Grace Olive (Miner) White
(1901-1970)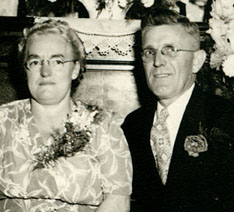 Grace and Lynn White
Grace Olive (Miner) White was born on Jan. 7, 1901, in the Meadowlands area of Washington, Washington County, PA, the eldest of seven children of Harry Orlan and Armena Viancy (Cain) Miner.
A number of photographic images were taken of Grace during her growing-up years, some posed by herself, and others with her siblings and beloved aunt aunt Emma (Miner) White, who later became her sister in law. (They married brothers, who were many years apart in age.)
When her father died unexpectedly in the summer of 1919, when Grace was age 18, she quit high school and went to work making wicker carriages in a local factory in Washington.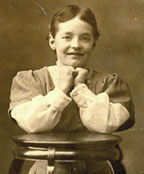 Grace, age about 5
In 1921, Grace is known to have traveled by railroad train to Indiana with her youngest sister Anna. The purpose was to visit their elderly grandmother Mary Louise (Johnston) Miner, who was residing with family in the town of Upland and not expected to live much longer.
On Aug. 22, 1923, when she was age 22, Grace married 24-year-old Lynn Forrest White (June 9, 1899-1966) at her mother's home on Fayette Street in Washington. He was the son of Homer C. and Mary J. (Rodgers) White of Wolfdale, Washington County. Lynn's brother, Rev. Lester Allen White, who also was Grace's uncle and also brother in law by marriage, performed the ceremony. A Washington newspaper reported that the "bridal party entered the parlor to the strains of the Mendelssohn wedding march…. The bride was beautifully attired in white georgette and carried white roses." Grace's brother Odger Miner served as best man.
The couple went on to produce a brood of five children – Harry Edward White, Marjorie Elizabeth Ann "Marge" Morris, Ruth Lois Patterson Redman, Ronald Lynn White and Phyllis Arlene White.
Grief cascaded throughout the family when their youngest daughter, Phyllis, became stricken with inflamed small intestine and colon. Sadly, she died at the age of four months and 18 days on May 25, 1939. Her tender remains were buried in Washington Cemetery.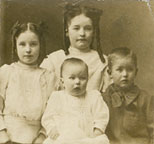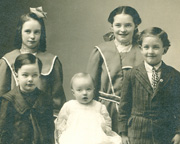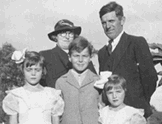 Grace and Lynn with Marge,
Harry and Ruth, 1935
At the time of marriage, Grace was a clerk, and Lynn earned a living as a truck driver for the Washington Grain and Feed Company. Within a few years, they moved to New Alexandria, Westmoreland County, PA, where their eldest son was born.
In time they moved back to Washington, where they occupied a house along Route 40 (popularly known as the National Highway, the National Road and the National Pike).
Lynn spent his entire working career as a truck driver. In 1947, he joined the Coen Oil Company of Washington, and "drove truck" there until his retirement on New Year's Day 1965. Coen Oil had been founded in 1923 by Raymond Ross, who called the brand "First Chance, Last Chance." He did so, reported the Pittsburgh Business Times, "because it provided the initial opportunity for folks driving into Washington, Pa. to fueld up or, for departing motorists, the last chance to fill the tank before heading out of town."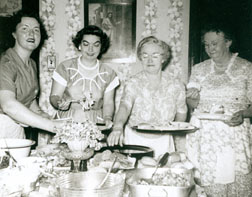 L-R: Anna Neely, Jessie Schultz,
Grace White, Armena Miner Marshall
Grace was said to be high strung, and to have suffered nearly 25 mini-strokes during her lifetime.
The Whites enjoyed attending Miner family gatherings. In the photo seen at right, of a family dinner in 1952,. Grace is second from right, with, from left to right, her sisters Anna and Jessie, and their mother Armena.
Grace and Lynn were longtime members of the West Washington Methodist Church, following in the footsteps of her parents, uncles, aunts and many cousins. Lynn was a member of the church board for several years, and Grace and her mother were members of the Sunday School class.
In August 1963, Grace and Lynn celebrated their 40th wedding anniversary with a family dinner at the Mansion House in Washington.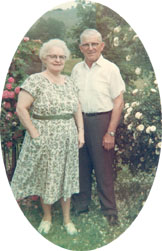 Grace and Lynn, 1965
They are pictured here posed with beautiful pink and white blossoms that Grace is thought to have cultivated. The image was taken in 1965 by Grace's widowed brother Orlan Lloyd Miner, who had returned to Pennsylvania from California for a visit following the passing of his wife.
Lynn was diagnosed with prostate cancer in about 1963. He endured the illness for three years, but there was to be no recovery. Sadly, he died at home in the early morning hours of Feb. 4, 1966, at the age of 67.
Grace outlived him by four years. Her strokes left her unable to walk, and she thus was forced to use a wheelchair. She and her mother were honored over the weekend of June 1-2, 1968, when the West Washington Methodist Church paid tribute to quite a number of its congregation who had been members for at least half a century. In addition to being identified by name at the Sunday morning worship service, the honorees posed as a group for a photograph, with Grace and Armena sitting in the center of the front row. Rev. Ferd B. Park sent each individual a print of the photo, and in an accompanying letter, he wrote:
I personally thought we had a wonderful weekend on Saturday and Sunday... We thought you would want a souvenir of that memorable occasion in which you were able to participate. Please accept the enclosed picture, compliments of the William O. Ruschel Studio, as a memento of our weekend honoring and recognizing the 50-year members of our church. I have a copy and I will always treasure it and the wonderful occasion it brings to mind. I was so very pleased you could be with us for that occasion.
Grace spent her final years at the Ullom Nursing Home in Washington. She passed away there of the lingering effects of a stroke on Nov. 11, 1970, at the age of 69. (The founder of this website remembers attending her viewing at the funeral home.) She was laid to rest beside her husband at Washington Cemetery.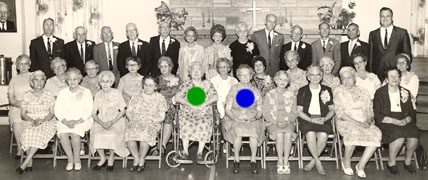 Above: In 1968, the West Washington Methodist Church honored Grace (green dot) and her mother Armena (blue) among its 50-year members. Below: Grace (far left) at a 1966 Miner Reunion in Hopewell/Aliquippa, PA.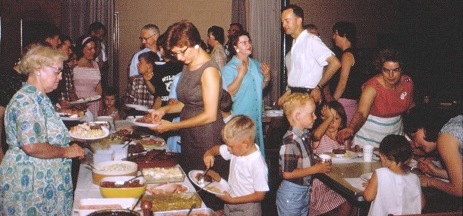 ~ Son Harry Edward White ~

Harry White
Son Harry Edward White (1927-2000) was born on New Year's Day 1927 in New Alexandria, Westmoreland County, PA.
He grew up in his parents' hometown of Washington, Washington County, PA. He stood 5 feet, 8 inches tall, and had blue eyes, brown hair and a light complexion.
During World War II, he served in the U.S. Navy. Evidence suggests that he was stationed on the Great Lakes and that he fathered a daughter in Wisconsin in 1944. He received his honorable discharge on March 21, 1946.
Following the war's end, he returned home and was married at least three times.
In 1948, when he was 21 years of age, Harry eloped to be joined in holy matrimony with his first wife, 18-year-old Mary Brincko (July 26, 1930-2014). She was one of 13 children of John and Mary (Jarosik) Brincko of the Meadow Lands near Washington. The couple tied the knot in Danville, Frederick County, VA, by the hand of Rev. Robert A. Whitten of the Congregational Christian Church. On their marriage license, he stated that he was a farmer, and she fibbed about her age, stating that she was 21.
Harry and Mary were the parents of three children, Charles Myron "Chuck" White Sr., Evelyn Bails Gostic and David Lynn White.

Harry and son Chuck
At right, Harry holds his eldest son Chuck at the funeral of step-grandfather Benjamin Franklin Marshall in May 1950.
During his first marriage, Harry is said to have "made babies" all over Washington. He is known to have had a relationship at that time with Mary Jane Romano ( ? - ? ), daughter of Frank and Anna Romano. She became pregnant at the age of 19.
Six weeks after the birth of Harry and Mary's youngest son, having already borne three babies by the age of 21, Mary learned of her husband's infidelity and asked him to leave. The couple eventually divorced.
Harry then moved to Lexington, KY, and brought his pregnant girlfriend there. They made a home in an apartment at 574 West Short Street, and he found a job driving a truck for Lexon Bakery. No evidence exists to suggest that they married. Over the next few years, in 1953-1954, two sons were born to the couple -- Kenneth Eugene and Roger. When the relationship ended, Mary Jane and sons moved back to Washington. Her son Kenneth was adopted by Mary Jane's parents and was re-named "Kenneth Romano." Mary Jane raised her son Roger and in time married Paul Boardley ( ? - ? ), then renamed the son "Roger Boardley."
Reported the Warren (OH) Tribune-Chronicle, Harry "was a self-employed truck driver for 30 years, before retiring [and] had worked for four years as a realtor with Jim Ryan Real Estate.... He was a member of Tri-State Country Music Association, Trumbull County Alert and enjoyed camping, fishing, and was an avid CB radio operator with the handle 'White Stallion'."
In 1956, Harry wed his second wife, Mabel (Pierce) Loomis ( ? -1973). Circa 1970, Harry resided in Conneaut, Ashtabula County, OH.
Then on Dec. 15, 1973, when both were age 46, he married for a third time, to LoVerna E. "Pepper" Reed (1927-1992), on Dec. 15, 1973. They relocated from Ashtabula, Ashtabula County, OH to Bristolville, Trumbull County, in 1975. Later, they made their home in Kinsman, Trumbull County.
Harry and LoVerna attended one or more reunions of the Miner family held at the Valley Skating Center roller rink owned by a cousin in Donora, Washington County, PA in the early 1990s. They also came to the 50th wedding anniversary party for his uncle and aunt, Edward and Anna (Beddow) Miner, in Washington circa 1989.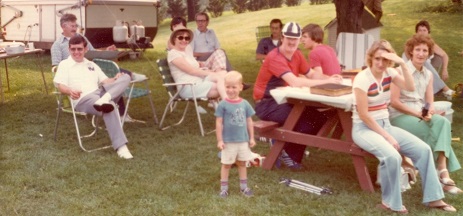 Harry's ex Mary attended the Miner Reunion in 1977 at the home of Richard and Deanna (Schultz) Meloy. She is seated at right wearing the light green slacks, next to daughter-in-law Peggy and across from son Chuck, wearing the cap and red shirt, with Chuck and Peggy's young son Kevin standing in front.
Sadly, LoVerna died on Dec. 3, 1992, following 19 years of marriage.
Harry remained in Kinsman for the remaining eight years of his life. He passed away at the age of 73 on Jan. 23, 2000. His cremated remains were laid in repose at Meadowbrook Memorial Park in Champion, Trumbull County.
Former wife Mary began dating again in about 1953 with Raymond Allison "Ray" Kifer (Sept. 23, 1924-2013), native of Canonsburg and the son of Raymond W. and Ora Marie (Champ) Kifer. On May 14, 1971, they married. He was a father figure to her children and "Pap" to the grandchildren. They were together until his death on May 14, 2013. Said an obituary, Mary "was a member of Shiloh Bible Fellowship. She was a homemaker, and was employed as a hairdresser in many salons. She enjoyed day cleaning in private homes and loved bowling, riding motorcycles, polka music, dancing, crafts and gardening. She enjoyed all of her great memories with her entire family." Mary passed into eternity on Sept. 18, 2014 at home. Following funeral services led by Rev. Edward Popovich, her remains were interred in Forest Lawn Gardens in McMurray, Washington County.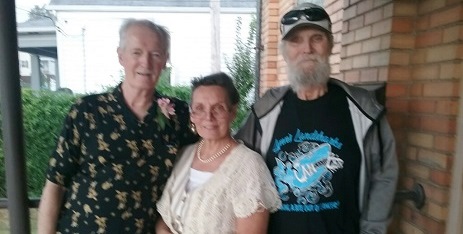 L-R: Charles M. White, Evelyn Bails Gostic, David L. White, Aug. 2019
Son Charles Myron "Chuck" White (1949 -living) was born in about 1948. On Aug. 17, 1969, he married Margaret "Peggy" ( ? -living). The couple produced four sons, Charles Myron White Jr., Kevin Vincent White, Daniel Bernard White and Douglas Matthew White. They have made a home in Claysville, Washington County. Chuck is a graduate of what is now California University of Pennsylvania. He is retired after a long career with the Social Security Administration. Chuck attended our 1999 national reunion on the theme of Coal-Coke-Steel, including a tour of a former coal mine in Tarentum, PA. The couple celebrated their golden wedding anniversary in August 2019.
Grandson

Charles Myron White Jr. (1971-living) was born in 1971.
Grandson Kevin Vincent White (1973-living) was born in 1973.
Grandson Daniel Bernard White (1979-living) was born in 1979.
Grandson Douglas Matthew White (1986-living) was born in 1986.
Daughter Evelyn White (1950-living) was born in 1950. She studied elementary education at Waynesburg University and was a substitute teacher in the Trinity Area School District. Evelyn has been married twice. Her first spouse was Raymond Bails ( ? - ? ). The children born to this union were Denise Raye Bails, Andrew Wallace Bails, Jonathan Edward Bails and Mary Beth Grace Bails. Later, she married Michael A. Gostic Sr. (Jan. 11, 1946-2009), son of Joseph and Margaret (Nemeth) Gostic. The couple resided in Strabane Township, Washington County. Their union endured for about a year-and-a-half until cleaved apart with his untimely death on Jan. 24, 2009. She has lived over the years in the Washington area as well as in Connecticut and Oklahoma.
Granddaughter

Denise Raye Bails (1972-living) was born in 1972.
Grandson Andrew Wallace Bails (1973-living) was born in 1973.
Grandson

Jonathan Edward Bails (1980-living) was born in 1980.
Granddaughter Mary Beth Grace Bails (1982-living) was born in 1982.
Son David Lynn White (1952- ? ) was born in 1952 and was only six weeks old when his father left the family. In an interesting twist, his personality is said to have been a clone to his father's. His first wife was Lisa Sweets ( ? - ? ). Their one known son is Lynn Forrest White, named after his great-grandfather, and born in Connecticut. The couple eventually divorced when their son was age one or two. David married again to Maria ( ? - ? ). He resided for many years in Minnesota. He returned to Washington in his later years when he needed a liver transplant and contracted prostate cancer. He died in Washington at the age of 68 on Dec. 10, 2020.
Grandson

Lynn Forrest White

(1981- ? ) was born in July 1981 in Connecticut. The only known time he visited with his father's family in southwestern Pennsylvania was when he was age nine. He eventually relocated to Maine.
Son Roger Romano (1953-living) was born in 1953 in Lexington, KY. He grew up in Washington, PA with his mother and stepfather Paul Boardley and was renamed "Roger Boardley." He was married and the father of Brittany Renaldi and Kourtney Boardley. His home in 2020 was in Washington.
Son Kenneth Eugene Romano (1954-2020) was born on June 8, 1954 in Lexington, KY. He was raised in Washington, PA by his Romano grandparents. On Oct. 18, 1975, he was joined in wedlock with Sherri Twardon ( ? - ? ). The couple went on to bear two sons, Mark Ryan Romano and Michael Paul Romano. For 35 years, Kenneth earned a living through his work for U.S. Foods, ultimately achieving the title of territory manager. He liked to bowl, fish, golf and play softball and to coach his son sin sports. Kenneth passed into eternity at the age of 65 on May 3, 2020. An obituary was printed in the Washington Observer-Reporter.
~ Daughter Ruth Lois (White) Patterson Redman ~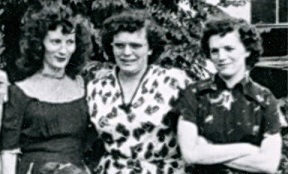 Ruth, center, with sister in law
Mary (left) and sister Marge, 1950
Daughter Ruth Lois White (1929-2003) was born in 1929.
Ruth was married twice. After graduation from Trinity High School in Washington, at the age of 17, she married her first husband, James D. Patterson Sr. (1927- ? ), son of Hugh and Sara (Mustard) Patterson. Their wedding was held on Aug. 21, 1946.
They produced five children -- James D. Patterson Jr., Barbara Spease, Kenneth Patterson, Wayne Patterson and Jeffrey Patterson.
The family made their home in Bentleyville, Washington County, and Ruth was employed by Bobbie Brooks Garment Factory for 18 years, said the Washington Observer-Reporter.
After a divorce, Ruth made a home at 281 Locust Avenue in Washington.
Ruth married her second husband, 32-year-old divorced steelworker Frank A. Redman ( ? - ? ), son of John and Lottie Freda (Scott) Redman of Carmichaels, Greene County. They eloped to Winchester, Frederick County, VA where they were wed on Nov. 14, 1964 by the hand of Rev. G.R. Womeldorf of the Presbyterian Church.
At the time of marriage, Frank's address was 255 East Hallam Avenue in Washington.
Sometime after 1970, they moved from Washington to Mercer, Mercer County, PA. Later, the Redmans relocated to Florida, settling in Davenport, Polk County, where they were members of the Davenport Methodist Church.
Ruth died at age 74 on Sept. 6, 2003, in the Bishop Gray Nursing Home in Davenport.
Frank's fate is not known.
Former husband James D. Patterson married a second time to Marge and has lived for many years in Pickerington, OH.
Son Kenneth Eugene Patterson Sr. (1946-2012) was born on Dec. 5, 1946 in Washington. He was a veteran of the U.S. Navy and received an associate degree in science. Kenneth was married twice. His first bride was Rebecca L. "Becki" Simpson ( ? - ? ), daughter of Richard P. and Ruth E. Simpson Sr. and a graduate of the Art Institute of Pittsburgh. They produced two children, Kelly Elaine "Kellie" Patterson and Kenneth Eugene Patterson Jr. During the Vietnam War, Kenneth served in the U.S. Navy. The couple divorced on Dec. 5, 1977. Kenneth wedded again on March 4, 1978 to Rosemary Di Michele ( ? -living), daughter of Samuel and Josephine Di Michele. Their marriage ceremony was held in Glassboro, NJ, with the couple then putting down roots in Escondido near San Diego, CA. The couple did not reproduce. In 1982, using a decade of experience he had gained in the hearing aid industry, he and Rosemarie founded Auditory Assistants Hearing Aid Center. Said the North County (CA) Times, "His granddad taught him to love nature, fish, hunt and that a man was only as good as his word. That a handshake was a binding contract. He was the last of the Renaissance men. His talents were endless. He could do anything, but, the thing he did best was teach men how to love their wives by example. He would cry at a beautiful sunset yet stare death in the face with fortitude." They made a home in the Escondido area of San Diego and celebrated their 30th wedding anniversary in 2008. Kenneth also was a member of the Masons and Shrine, the National Rifle Association, Rocky Mountain Elk Foundation, and Escondido Fish and Game. The family was rocked when Kenneth was diagnosed with bladder cancer in 2009. He endured the illness for 30 months until swept away by the Grim Reaper in Escondido on Feb. 9, 2012. In an obituary, the family asked that any memorial donations be made to the Scripps Mercy Foundation.
Kellie Patterson

Granddaughter Kelly Elaine "Kellie" Patterson (1970-1987

) was born on Aug. 31, 1970 in Washington.

After her parents divorced, she went to Southern California with her father, attending San Pasqual High School and working at Fedco. She also was a member of the International Order of Rainbow Girls. Tragedy struck on Oct. 26, 1987, when 17-year-old Kelly died mysteriously while hunting with her father in the mountains of Salmon, Idaho. Her body was found lying in a cold mountain stream, and with her head resting on a rock. A hunter from Kentucky discovered the body, and remained there until it could be removed. Her remains were transported to San Diego to rest ni Eternal Hills Memorial Park in Oceanside. An obituary was published several months later in the Escondido (CA) Times-Advocate, which reported that the cause of death was "injuries sustained in an auto accident." Kelly's mother Rebecca has created a special series of webpages honoring Kelly's memory -- link.
Grandson Kenneth Eugene Patterson Jr. ( ? - ? ) lived in Reading, Berks County, PA in 198. He married Janet ( ? - ? ). Circa 2012, their home was in Pennsylvania. The couple provided care for Kenneth's ailing cousin Barbara Spease until her untimely passing in May 2020.
Son James D. Patterson served in the U.S. Navy and was twice married. He died in Virginia prior to 2003 and is buried there.
Son Wayne Patterson lived in Ohio in 2003.
Son Jeffrey Patterson resided in 2003 in Rock Hill, SC.
Daughter Barbara Patterson (1961-2020) was born on May 3, 1961 in Washington. She grew up in Washington and was a graduate of Trinity High School. Barbara was united in matrimony with Ronald Edward Spease (March 26, 1964-2000). Ronald brought a son into the marriage, Troy Spease. The couple established a residence in Charleroi, Washington County. They did not reproduce. Sadness blanketed the family when Ronald died on Jan. 15, 2000 at the age of 35. Barbara outlived her spouse by more than 17 years and maintained a home in Washington. She spent her career as a live-in caretaker for Christine's Domiciliary Care Home in West Washington, providing services to clients with disabilities. One of her favorite remarks was "Never get tired of doing things for others. Sometimes those little things occupy the biggest part of their hearts." She also liked to quote from Proverbs 19:17: "Whoever is kind to the poor lends to the Lord, and he will reward them for what they have done." As Barbara's health failed, she received treatment of her own in Washington Hospital and the University of Pittsburgh Medical Center. The Angel of Death carried her away at the age of 59 on May 18, 2020, as a patient in Heartland Hospice. Because of the coronavirus quarantine, the funeral and burial were private. Her Washington Observer-Reporter obituary asked that any memorial donations be made to the Washington Area Humane Society.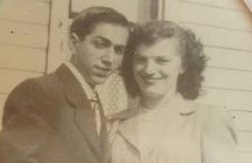 Ralph and Marge, wedding day, 1947
Courtesy Tammy (Morris) Strickhorn
~ Daughter Marjorie Elizabeth Ann "Marge" (White) Morris ~
Daughter Marjorie Elizabeth Ann "Marge" White (1931-2000) was born in 1931.
On Oct. 18, 1947, when she was 16 years of age, Marjorie married 20-year-old service station attendant Ralph Morris (Dec. 10, 1926-2021). He was the son of Wayne and Ethel (Ammons) Morris of Washington. Rev. John H. DeBolt officiated at the wedding.
The Morrises together bore a family of four children -- William D. Morris, Larry A. Morris, Rick D. Morris and Beverly A. Ivy.
During World War II, Ralph had served in the U.S. Armed Forces, seeing duty in Japan.
The Morrises initially resided in Washington and in 1962 moved to Winter Haven, Polk County, FL. Winter Haven was known for a series of lakes, gardens and water life, also with a reputation for a large fruit packing industry.
Marge was employed as a nurse at Winter Haven Hospital, and they were members of the First Baptist Church. Ralph was employed for many years with Western Southern Insurance, a position from which he eventually retired.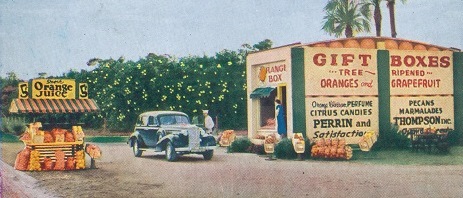 The Orange Box, a tourist attraction in Winter Haven
Marge passed away at the age of 69 on Nov. 25, 2000, at Winter Haven Hospital. At the time she and Ralph had produced nine grandchildren and four great-grandchildren.
Ralph spent his retirement years working part-time as a bagboy for SE Plaza Publix and at DollyWood, a theme park in Pigeon Forge, TN co-owned by singer and actress Dolly Parton. He was "a charismatic man," said the family, who made friends wherever he went.
Ralph married a second time to Mary Frances Dees and relocated to her hometown of Thomasville, GA. She brought adult stepchildren into the union, Michael Dees and Teresa Smith.
Sadly, Ralph died on July 20, 2021. Interment of the remains was in Rolling Hills Cemetery in Winter Haven.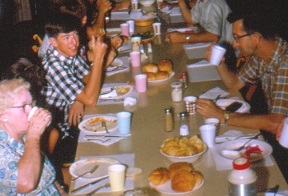 Rick Morris in black and white checked shirt, talks with Neely cousins, 1966 Miner Reunion
Son William D. Morris ( ? -living) was born in (?). In 1969, he married Jane Ann Schutte (April 6, 1951-2016). They produced two known children, Tammy Strickhorn and William "Billy" Morris Jr.. The couple divorced in 1980. Jane Ann married again to John Allen Cooper ( ? - ? ), daughter of Albert and Loretta (Bowman) Schutte of Evansville, IN and stepdaughter of Betty Schutte. She was employed with State Farm Insurance in Duluth, GA, later obtained a medical degree at Emory University and processed claims for Progressive and United HeathCare in Georgia. In 2002, she relocated to Florida where she worked for Lakeland Regional Medical Center. Stricken with cancer, Jane Ann passed away on March 21, 2016 at Good Shepherd Hospice in Lakeland, FL. Mass of Christian Burial was sung at St. Joseph's Catholic Church Chapel in Winter Haven. Today William is married to Linda.
Son Larry A. Morris ( ? -living) is wedded to Cyndie.
Son Rick D. Morris (1963-living) was born in 1963. He was a graduate of Winter Haven High School and served in the U.S. Air Force. On Nov. 14, 1985, he entered into wedlock with Janice Alter ( ? - ? ). They are the parents of Ron Morris and Bradley Morris. Over the years, he has owned Family & Adolescent Counseling Services and worked as a behavioral health program manager for Centene/WellCare Health Plans Inc.
Daughter Beverly Ivy ( ? -living) was born in (?). On Nov. 25, 1970, she married 19-year-old Larry Sim Ivy (1951-2016), son of Rev. Sim and Willa Mae (Borders) Ivy Jr. of Daytona, FL. He served in the Florida National Guard. Over the years, Larry was employed as a Code Enforcement Officer for Grady County, GA. They made their home in Whigham, GA and were members of the El Bethel Baptist Church. Their two children include Curtis Ivy and Elizabeth Iggy Ivy. Sadly, Larry died on July 28, 2016 at the age of 65 at Grady General Hospital in nearby Cairo, GA. A memorial service was held at the family church in Whigham, officiated by Rev. Bob Knight.
Granddaughter Elizabeth Iggy Ivy

Ronald White
~ Son Ronald Lynn White ~
Son Ronald Lynn White (1937-2010) was born on Dec. 6, 1937 in Waynesburg, Greene County, PA. He was married thrice.
Prior to marriage, he is said by relatives to have fathered a daughter named Ruth.
Ronald's first wife was Marion Post ( ? - ? ), daughter of Harold W. and Hilda B. Post.
Their four children were Harold L. "Buddy" White, Roger Lee White, Donald R. White and Phyllis Ross.
Ronald and Marian divorced, and she married again to John D. Mounts, son of Abraham and Rosella Mounts.
His second wife was Quinnie Maze (Jan. 14, 1943- ? ). They had two children -- Rhonda Heasley and Glenn Edward White.
Ronald and his family relocated at some point in time to Conneaut, Ashtabula County, OH. There, he was employed by Union Carbide's Linde Wire Division. He also was a member of the Conneaut Moose Club and attended the Methodist church. He elder brother Harry also lived in the Conneaut area.
His third wife was Emma Pollock ( ? - ? ). She brought at least one grown son to the marriage, Randy Pollock.
He died of bladder cancer at the age of 72 on Oct. 21, 2010, in Select Specialty Hospital in Erie, Erie County, PA. An obituary was published in the Ashtabula Star Beacon.
Son Harold L. "Buddy" White ( ? - ? )
Son Roger Lee White (1959-2014) was born on June 21, 1959 in Washington. A member of the U.S. Navy, he was a cook on the U.S.S. Comte de Grasse. Later, he worked at Providence Hospital in South Carolina as a nurse's aide. He especially enjoyed fishing and spending time with his dogs. He died in Washington Hospital at the age of 54 on May 13, 2014. Burial was in Claysville Cemetery. His obituary was printed in the Washington Observer-Reporter.
Son Donald R. "Don" White (1961- ? ) was born in about 1961. He is the father of Justin White and Danielle White. He resides in Claysville and is a long-distance driver for All-Clad Metalcrafters and a sprinter driver for XPO Logistics Inc.
Daughter Rhonda White (1964-living) was born on Oct. 3, 1964. She has a son, Joshua Allen White, born in 1986. On June 24, 1999, at the age of 34, she was joined in wedlock with Scott Heasley ( ? - ? ). He had been married previously and brought several children to the second union, among them Stephanie Hesley. They resided in Sebring, FL and today are in Cedartown, GA.
Grandson Joshua Allen White (1986-living) was born on Oct. 3, 1964. He has a daughter, Izabella Makenzie Joyce White.
Step-granddaughter Stephanie Heasley resided in the early 2000s in or near Hermitage, TN. She is the mother of Sophia Jaden Heasley and Zaylee Heasley. Circa 2009, the family relocated to Florida.

Unspeakable grief enveloped this family on March 23, 2021 when 18-year-old daughter Sophia was shot and killed at 11:45 p.m. in Avon Park, Sebring, FL, along South Verona Avenue.

An obituary said that she had "worked as a hostess in the food industry. She enjoyed volleyball, soccer, spending time with friends. She loved her family, her kitten and going to the beach."
Son Glenn Edward White ( ? -living) has three children -- Ryan White, Kayla White and Tayna White.
Copyright © 2000, 2009, 2010, 2012, 2014, 2016, 2017, 2020 Mark A. Miner