Catherine (Miner) Bedillion
(1850-1903)


Kate and John Bedillion
Catherine "Kate" (Miner) Bedillion was born on June 1, 1850 (or 1855), presumably on the family farm at Hexebarger near Kingwood, Somerset County, PA, the daughter of Henry and Polly (Younkin) Minerd.
As a young girl, after a fire burned their farmhouse to the ground, Kate moved with her parents to Beeler Station, Marshall County, WV. She is shown as a 10-year-old in her parents' household, as enumerated in the 1860 federal census. Within a few years, they moved again, just across the state line into Greene County, PA.
When Kate was age 15, in 1865, she and her sister Susan were admitted to membership of the Enon Baptist Church in West Finley Twp., Washington County, PA. This occurred on Sept. 1, 1865, at a meeting held by "Bro. D.G. Zook," pastor of the church. Her brother Andrew joined the church three years later. These records were published circa 1990 by the church's Historical Committee in the History & Biographical Record of the Enon Baptist Church.
In 1869, when she was 19 years of age, and before she was married, Kate gave birth to a daughter Elizabeth. The girl was given her mother's maiden name, Miner.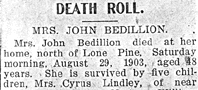 Obituary, 1903
For many years until she married, Kate and her eldest daughter lived with her parents in and around Greene County and Washington County. She was said to have been a tall, large woman.
On Oct. 21, 1883, at the age of 33, Kate married 27-year-old John M. Bedillion (1856-1921). He was six years younger than his wife, and the son of John and Anna (Allen) Bedillion.
They went on to have four children: Norton Miner Bedillion, Golie Cephas Bedillion, William R. Bedillion and Lucy Estella Martin.
Two years after the Bedillions' marriage, when teenage daughter Elizabeth sought to marry an older Civil War veteran, Kate signed her legal consent, a document that is still on file at the Washington County courthouse.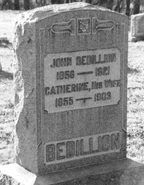 Lone Pine Cemetery
The Bedillions made their residence in Washington County, PA, north of the village of Lone Pine in South Franklin and Amwell Townships, where she was a member of the Methodist Episcopal Church.
Sadly, Kate passed away on Aug. 29, 1903 at age 54 of lung trouble. She died at home near Lone Pine, Washington County. Leaving behind four young children, she was eulogized in a local newspaper as "a kind mother and good neighbor." She is buried at the Lone Pine Cemetery. Her grave marker gives her birthdate as 1855, but the actual date was 1850 as shown by federal census records.
John outlived his wife by 18 years and earned a living as a day laborer. His home in 1920-1921 was on 324 Addison Street in West Washington.
Suffering from influenza and bronchial pneumonia, he died at the age of 64 on Jan. 20, 1921. He was laid to rest beside Catherine. His married daughter Lucy Martin was the informant for his official death certificate.
~ Legacy ~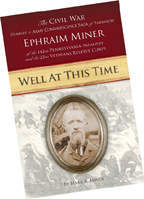 Book about Kate's brother
In 1935, when widespread research was being done by Catherine's Younkin cousins coast to coast, to determine how everyone fit into the massive clan, and to organize a national home-coming reunion, Catherine was mentioned in a letter authored by Charles Arthur Younkin. Click to see this letter, dated Feb. 19, 1935. Charles wrote: "I have learned the whereabouts of several of the Farabees also Burches and Bedillions but as yet have not come into contact in person but hope to do so in the near future." It's unknown if Charles was successful in meeting or interviewing any of Catherine's children or grandchildren as future letters and records as late as 1940 are silent on the matter.
Catherine is mentioned in a 2011 book about one of her elder brothers who served in the Civil War -- Well At This Time: the Civil War Diaries and Army Convalescence Saga of Farmboy Ephraim Miner. [More]
Great-great grandson Bil Dicks has provided sigificant information on this family.
Copyright © 2000, 2002-2005, 2014, 2018 Mark A. Miner