Norton Miner Bedillion
(1886-1965)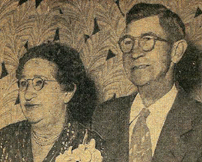 Margaret and Norton Bedillion
Norton Miner Bedillion was born on April 15 or 24, 1886 in South Franklin Township, Washington County, PA, the son of John M. and Catherine (Miner) Bedillion. He typically spelled his middle name as "Minor."
On Sept. 6, 1906, at South Canonsburg, Washington County, the 20-year-old Norton was united in the bonds of matrimony with 18-year-old Mary "Margaret" Fisher (Nov. 11, 1888-1961), the daughter of James and Maria (Phillips) Fisher of Oak Forest, Greene County, PA.
One of Norton's uncles, Elias Minor, resided in the Oak Forest area, and it is possible that Norton met his future wife through this connection.
As a young girl, Margaret attended the St. Philomena Roman Catholic Church in Pittsburgh, where services were held in the German language. She celebrated her first holy communion on June 2, 1901, and was confirmed into membership the same day.

As a young man
The Bedillions together produced a brood of seven children – John William "Jiggers" Bedillion, Walter K. "Dick" Bedillion, Lloyd James "Tater" Bedillion, Olive Ellen Bedillion and three unnamed stillborn sons who died on Sept. 23, 1907; March 30, 1910; and April 22, 1921, respectively. The elder two babies' remains were placed into rest at the Warrick Cemetery, while the youngest was interred in Washington Cemetery.
Norton and Margaret resided on at least three addresses on Broad Street in West Washington -- among them 350 Broad (in 1910), 385 Broad (in 1918-1926) and later at 865 Broad (1942 to the end of their lives).
In September 1918, during World War I, Norton was required to register for the military draft. He was marked as of medium height and build, with grey eyes and brown hair.
They were longtime members of the West Washington Methodist Church, where she regularly attended the Orion Sunday School class. Several of Norton 's first cousins also belonged to the church, including Harry Orlan and Armena Miner, Ward C. Miner and Lester and Emma (Miner) White.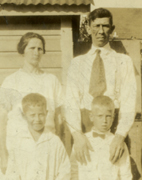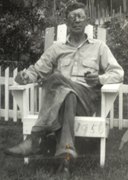 Left: Norton, Margaret and sons; and relaxing in 1956
Heartache swept over the family , at age 17, their daughter Olive Ellen (May 12, 1909-1926) died on April 30, 1926 after a four-week battle with the flu and pneumonia, with acute arthritis as a contributing factor. Her young remains were placed into repose in Washington Cemetery. She had enjoyed singing in the choir of the West Washington church. The loss was devastating to the family.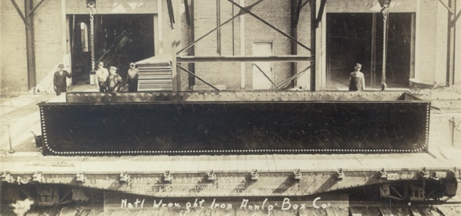 Norton ( far right) with a large completed project at National Annealing Box in Washington, 1926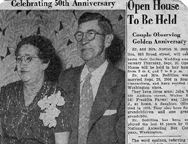 50th anniversary, 1956
For nearly five decades, Norton worked as a laborer and heater for the National Wrought Iron Annealing Box Company in Washington. In April of 1926, he and his co-workers completed a large project -- riveting a 16-ton piece of iron seen on this page. According to notes on the back of the photograph, the item was "40 wide, 48 deep and 32 feet long. Bottom and Ends 1¼ thick. 2-sided plates 1¾ thick. 4 x 4 x ¾ angles on sides. 1 1/8 x 5 rivets corners rivets 1 1/8 x 6¼." Fellow riveters were B. Donley and Jim Hamrak.
During World War II, in 1942, Norton again registered for the military draft, and was measured as 5 feet, 9 inches tall, weighing 185 lbs., and with "blindness (total)." It's doubtful that the blindness was accurate as he continued to work for another 11 years.
Norton retired from National Annealing Box in 1953 after a long, productive career.
On Sept. 20, 1956, the Bedillions celebrated their golden wedding anniversary. To mark the occasion, they held with an open house at their home. The special event was featured in an article in the Washington Observer-Reporter newspaper.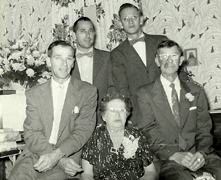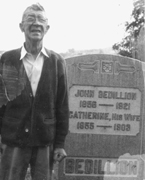 The Bedillions and sons on their 50th wedding anniversary. Right: Norton at his parents' grave near Lone Pine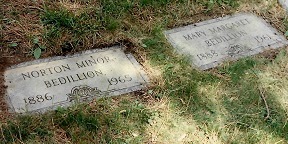 Washington Cemetery
Margaret suffered in her later years with hardening of the arteries, hypertension and diabetes.
With her health failing, she was admitted to Washington Hospital. Sadly, she passed away there on Dec. 17, 1961 at the age of 73 years. Funeral services were conducted by Rev. Fred B. Grimm and Rev. John H. DeBolt.
Norton outlived Margaret by nearly four years. He was burdened with heart disease and went for treatment to Torrance State Hospital in Derry Township, Westmoreland County, PA.
Stricken also with pneumonia, he died on Nov. 22, 1965. Co-officiating his funeral services were his pastors Rev. Ferd B. Park and Rev. John H. DeBolt.
His remains were lowered into eternal rest beside his wife's in the sacred soil of Washington Cemetery.
~ Son John William "Jiggers" Bedillion Sr. ~
Son John William "Jiggers" Bedillion Sr. (1913-1975) was born on Nov. 4, 1913 in Washington.
His first wife was Betty Lee Conner (June 12, 1912-2002).
John and Betty produced three children -- John William Bedillion Jr., Kenneth Bedillion and Shirley Wise.
When the federal census was enumerated in 1940, John, Betty and Shirley lived together on Addison Street. The census-taker recorded that John was employed as a "screw boy" in a tin mill, likely Washington Tin Plate Company.
John also worked for the Baltimore & Ohio Railroad and the Suwak Trucking Company. He also "owned and operated his own trucking business," said the Washington Observer-Reporter. John and retired in mid-1972.
He served in the National Guard's 110th Infantry. The family held a membership in the Hart Avenue Church of the Nazarene.
After a divorce, John wedded again on July 1, 1968 to Beatrice June (Roberts) Richmond (May 16, 1930-2018). She was the daughter of Harry and Florence (Walker) Roberts. (In an interesting twist, Beatrice's uncle Dolph Walker married John's cousin Hazel May Farabee of the family of Cleveland Farabee of Waynesburg.)
Beatrice had been married previously and brought two children to the union -- Donald Lee Richmond and Linda Mankey Denton. She was employed in Waynesburg by Greenway and was a member of Lone Pine Christian Church.
John was ill for the final year of his life. He succumbed at home in Washington on Nov. 27, 1975 at the age of 62. Following funeral services in the family church, conducted by Rev. William Williams, his remains were interred in Washington Cemetery. The Washington Observer-Reporter published an obituary.
Beatrice survived her husband by an astonishing 43 years. She maintained her home in Washington. She died at the age of 88 on June 6, 2018.
Former wife Betty Lee spent her final years in Washington. She passed away on Aug. 27, 2002 at the age of 90. Burial was in Claysville Cemetery.
Son John William "Bill" Bedillion Jr. (1942-2013) was born on May 14, 1942, in Washington. He wed Nancy Ellen Jones (April 9, 1945- ? ) on Aug. 6, 1960, when he was age 18 and she 15. Their six children were Michael Bedillion, Timothy Bedillion, Thomas "Tommy" Bedillion, Tammy Morabito, Tina Ehnert and Pamela Masteller. Bill followed his father's occupation in the transportation business, and was employed as a truck driver for Sam Cohen and Son (20 years' service), McLean Trucking (15 years) and Suwak. In his spare time, he enjoyed NASCAR races, gardening and camping at Bells Lake. Bill died in Washington Hospital at the age of 1 on Sept. 17, 2013. At his passing, he was survived by 14 grandchildren. In an obituary, the family asked that any memorial donations be made to Washington City Mission.
Grandson

Michael Bedillion

( ? - ? ) was born in (?). In about 1983, he married Lynn, and they dwelled in Washington.
Grandson

Timothy Bedillion

( ? - ? ) was born in (?). In about 1991, he was joined in wedlock with Judi. Their home has been in Oakdale, PA.
Grandson

Thomas "Tommy" Bedillion

( ? - ? ) was born in (?). In about 1991, he was united in matrimony with Charlene. They live in Washington.
Granddaughter

Tammy

Bedillion

( ? - ? ) was born in (?). Circa 1986, she wedded Nicholas "Nick" Morabito

. Their home in 2013 was in Ona, WV.
Granddaughter

Tina

Bedillion

( ? - ? ) was born in (?). In about 1996, she was married to Hank Ehnert. They've resided in Washington.
Granddaughter

Pamela

Bedillion

( ? - ? ) was born in (?). Circa 1994, she was joined in marital union with James "Jim" Masteller

. They dwell in West Alexander, Washington County.
Son Kenneth Bedillion resided in Washington in 1975-2013.
Daughter Shirley Bedillion (1935- ? ) was born in 1935 in West Washington. She married Donald Wise ( ? - ? ). In 1975-2013, they dwelled in Washington. She was still living in 2013 when named in the obituary of her brother John William.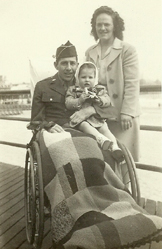 Dick, Betty, Judy, 1945
~ Son Walter Kenneth "Dick" Bedillion ~
Son Walter Kenneth "Dick" Bedillion (1917-1999) was born on July 17, 1917 in Washington.
In 1939, at the age of 22, he married Elizabeth "Betty" Roach (1918-2005), daughter of Preston G. and Madeline (Chesser) Roach.
They had one daughter, Judith Ann Dicks.
Dick was a hammer driver for Jessop Steel Corp. in Washington. The family were members of West Washington Methodist Church.
During World War II, he served in the 1st Division of the US Army in the European Theatre. At the Battle of the Hurtgen Forest in Belgium in November 1944, he was hit in the neck with enemy mortar fire. The shrapnel severed key nerves controlling use of his legs and arms. He lay in a snowy foxhole for six hours until he was evacuated by a team of Army medics and taken to a barn for initial treatment. For the remaining 50-plus years of his life, Dick tackled life every day as a quadriplegic, always with grit, determination and a smile.
Later, despite a handicap as a quadriplegic, he used his mind, positive attitude and limited physical resources to become a life member of the North Franklin Township Volunteer Fire Department, and become president, director and chief of police in North Franklin, near Washington.
Dick passed away on Nov. 6, 1999 at the age of 82. His remains were lowered into repose in Washington Cemetery.
Betty survived him by six years, and died in 2005.
Images of Dick's remarkable recovery were featured as Minerd.com's "Photo of the Month" in February 2007.
Daughter Judith Bedillion (1943-living) was born on Jan. 28, 1943. She married William G. Dicks (May 26, 1935-2008). They made a home in Washington and bore two children, William "Bil" Dicks and Lori Davis Head. Sadly, William succumbed on Nov. 25, 2008. He rests in the Bedillion/Dicks plot at Washington Cemetery.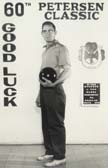 Tater, 1970
~ Son Lloyd James "Tater" Bedillion ~
Son Lloyd James "Tater" Bedillion (1918-1995) was born on Dec. 13, 1918 in Washington.
He served in the U.S. Navy during World War II. Lloyd never married and lived in the old family home at 865 Broad Street in West Washington.
Lloyd was a championship bowler, and was inducted into a bowlers hall of fame. He is known to have taken part in the 60th Annual Petersen Classic, held in Hoffman Estates, IL in May 1970, where the photo seen here was taken. Major national superstar bowlers such as the late Dick Weber are known to have bowled in the Petersen event during the years when he was involved.
Circa 1989, the founder of this website, accompanied by his great-uncle Edward John Miner, a lifelong friend of Tater's, attempted to track down Tater one Sunday afternoon in Washington, but were unsuccessful.
Lloyd passed away in Pittsburgh at the age of 76 on May 29, 1995. He rests for eternity in Washington Cemetery.
Copyright © 2001, 2004-2005, 2010, 2013, 2018, 2022 Mark A. Miner
William "Bil" Dicks and Lori Davis Head graciously have contributed content and images for this biography.