Lucy (Bedillion) Martin
(1885-1967)


Lucy Estella (Bedillion) Martin was born on Jan. 29, 1885 in Washington County, PA, the daughter of John M. and Catherine (Miner) Bedillion.
On Sept. 26, 1905, Lucy married Elmas Martin (1880-1936), the son of I.N. Martin.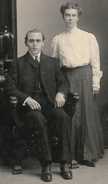 Their wedding portrait is seen at right. Lucy's brother Norton graciously paid to have the photograph made.
They had no children.
Lucy must have enjoyed visiting with her mother's relatives. She is known to have had a special friendship with her first cousin, Minnie (Miner) Gary of near Kingwood, Somerset County, PA.
Both Lucy and Elmas were "faithful" members of West Washington Methodist Episcopal Church, where Elmas was a member of its Board of Trustees. Several of Lucy's first cousins also were long-time members of the West Washington church, including Will Miner, Harry O. Miner, Ward Miner and Emma White. Lucy was active in many church committees and women's issues. She belonged to the Women's Christian Temperance Union (WCTU) and to the Women's Society of Christian Service (WSCS) and served for many years on the local boards of both organizations.
For more than a quarter century, Elmas worked for the Tyler Tube & Pipe Company in Washington. Then, said the Washington Daily Reporter, "for the last nine years [of his life he] was an employe of the Molybdenum Corporation."

Tyler Tube's manufacturing plant in Washington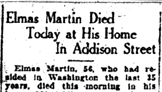 Elmas died at their home on Addison Street in Washington at the age of 56 on March 26, 1936. He was laid to rest in Washington Cemetery.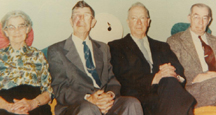 Lucy outlived her husband by more than 30 years. She is seen at left seated with her brothers, left to right: Nort, Will and Golie. The photograph is believed to have been taken circa 1960 at Nort's home.
Lucy passed away on June 17, 1967, in a rest home in Washington. She is buried beside her husband.
Years later, in about 1981, cousins of the Farabee branch visited Lucy's cousin Minnie Gary at her home in Somerset County. Afterward, Minnie sent them a card, and, not knowing whether Lucy was dead or alive, Minnie asked, "Did you hear [any word] from Emma [White] or Lucy Martin?"
Copyright © 2001-2002, 2005 Mark A. Miner