Elizabeth (Miner) Lindley
(1869-1913)

Lizzie and Cyrus Lindley
Elizabeth "Lizzie" (Miner) Lindley was born on Dec. 14, 1869, likely in Greene County, PA, the daughter of Catherine (Miner) Bedillion.
She and her husband were filled with repeated heartache over the years as they suffered the untimely deaths of many loved ones. A Civil War veteran, he was married three times and had a total of 17 children.
As a young girl, Lizzie was raised under her mother's maiden name, generally spelled "Minor." They resided with her grandparents, Henry and Polly (Younkin) Minerd, in rural Greene County. In 1889, Lizzie and her mother were living in Lagonda, Washington County, PA.
On the Fourth of July 1889, at age 19, Lizzie married Cyrus Lindley (1840-1908), the son of Daniel and Mary (Farabee) Lindley, and a native of Prosperity, Washington County. The marriage ceremony was held in Washington, Washington County, and was conducted by Rev. R.G. White.
Cyrus was a relative of Lizzie's uncle and aunt, Spencer and Nancy (Minor) Farabee. He had a fair complexion, blue eyes and brown hair.
At the time of marriage, Cyrus was a twice-widowed, 47-year-old Civil War veteran. Because Lizzie was so young, her mother had to sign a formal consent. The document, now on file at the Washington County Courthouse, was witnessed by Enoch Mounts and George H. Reynolds.
Records in the archives of Washington and Jefferson College show that on Feb. 4, 1861, at Upper Ten Mile Church in Prosperity, Cyrus was among "persons [who] were examined as to their knowledge & experimental acquaintance with religion." A few weeks later, they "were baptized after making a public profession of their faith before the congregation..." The old building is said to have been constructed upon the site of the original church at Demas Lindley's Fort dating to the 1770s.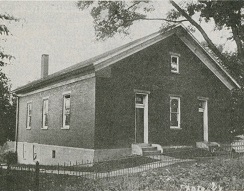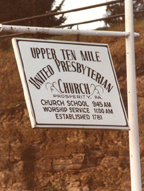 Upper Ten Mile Presbyterian Church, 1928 and signage 1988
Cyrus's first wife was Lucinda J. McAllister ( ? -1863). Little is known about Lucinda, other than one of her aunts was Permelia D. Andrews (1833- ? ) of Washington. Cyrus and Lucinda are thought to have had two children, Oliver Lindley and an unnamed infant.
During the Civil War, Cyrus enlisted in the Union Army on Aug. 9, 1962. He was assigned to Company D of the 140th Pennsylvania Volunteer Infantry. He enlisted on Aug. 9, 1862. In a cruel twist of fate, his wife Lucinda gave birth while he "was absent serving in the Army" but she and the baby died in childbirth. In his own words, Cyrus "did not get home even to attend the funeral." Lucinda's remains were laid to rest in the "cemetery at Prosperity," said her aunt Permelia Andrews.
With the 140th Pennsylvania, Cyrus and his fellow soldiers were bloodied in some of the fiercest action known during the war. During the Battle of Chancellorsville, on May 3, 1863, he "received a shell wound of the left hip [or back] while supporting battery" of cannon. A loud shell explosion also caused him some deafness. While in the Battle of Gettysburg just two months later, he was wounded again during the fighting at the Wheat Field and on Little Round Top. He received a bayonet wound in the right leg "while charging on enemy" during the final day's action on July 3, 1863.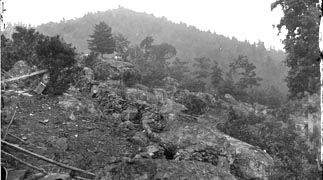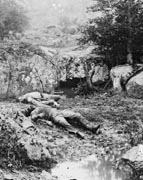 Breastworks and Confederate dead at Gettysburg's Little Round top, where Cyrus received a bayonet wound on the third day of fighting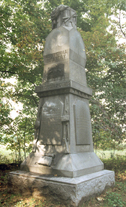 Gettysburg monument
The 140th Pennsylvania today is memorialized at Gettysburg with two large monuments in and around Little Round Top. The more prominent of the two is seen here. One of the plaques, dedicated in 1885, reads:
140th Regt. Penna. Vols. Col. R.P. Roberts Commanding. Zook's Brig., Caldwell's Div., Hancock's Corps. July 2nd, 1863. (Succeeded 5, Corps Troops). Carried into action 29 officers and 560 enlisted men. Lost in action, 14 officers and 227 enlisted men, as follows: Killed, 3 officers and 34 enlisted men. Died of wounds, 1 officer and 16 enlisted men. Wounded, 7 officers and 120 enlisted men. Capt'd and missing, 3 officers and 57 enlisted men. In memory of our comrades, 1885.

Pennsylvania Monument, Gettysburg
Cyrus' name also appears on the Pennsylvania Monument at Gettysburg, along with the names of all the other members of the 140th PA Infantry and other Pennsylvania regiments who served in action at the bloody battle. Lizzie's uncle, Samuel Birch, also is named on the monument, on the panel honoring the 16th Pennsylvania Cavalry.
According to Cyrus' Civil War pension file, held at the National Archives in Washington, DC, he later was captured and held as a prisoner of war. The capture is said to have occurred at Peola Mills, MS, on July 1, 1864, though his regiment was not known to have ever been in Mississippi. He was confined to Confederate prisons at Richmond, VA and Andersonville, SC before being released at Charleston, SC, on Dec. 16, 1864. Five or six weeks before his discharge, he came down with the measles, his eyes became "sore," and he had trouble with his vision.
He was honorably discharged on May 31, 1865 at Alexandria, VA. Cyrus returned to Washington County, PA, and built carriages for a living. His eyesight improved somewhat, though it began to decline again in about 1896, causing difficulty with the precise work needed of a wagon builder.


Doctor's sketches of Cyrus's battle wounds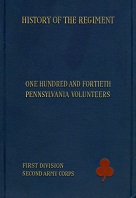 History of Cyrus' regiment
Circa 1865, he married his second wife, Nannie A. (or "Nettie") Reeves ( ? -1884). They had at least seven children, born between the years 1866 and 1880 -- James Hamilton Lindley, Mary "Emma" Huff, Nora May Ebberts, Sarah L. "Sadie" DeUnger, Edward Lindley [later renamed John William Lindley], Charles Benson Lindley and Celesta Lindley.
Heartache and tragedy struck the family in waves in 1883-1884. In 1883, son Oliver died in Prosperity. The following year, wife Nannie passed away in Washington, PA on June 19, 1884, and infant daughter Celesta died in August of that year, age three months. Nannie's brother, B.F. Reeves (1853- ? ) of Deerlick, Greene County, wrote that he "visited her frequently during her last sickness. I saw in her casket and attended her funeral."
Cyrus was left with six motherless children to raise.
Five years later, in 1889, Cyrus married his third wife, our Lizzie Miner. They went on to have eight children of their own -- Isa Reynolds, Homer Randall Lindley, Hazel Anna Headley, Albert Leon Lindley, Wilda Pauline Lindley, Wilma Irene Lindley, Thelma Stella Lindley and William Earl Lindley.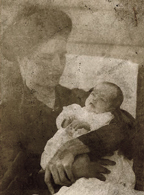 Lizzie and a newborn
Lizzie is pictured here with one of her newborn babies, an image substantially touched up from a very badly faded original photo.
At some point in the 1890s, the Lindleys moved from their small farm near Prosperity into the city of Washington. Perhaps this was due to the increasing urban need for builders of carriages. There they remained for many years, although they apparently retained ownership of the farm.
As he aged, Cyrus began to feel the effects of his wartime illnesses. He applied for and began receiving a pension from the federal government as compensation. Circa 1900, he was receiving $6 per month through the pension agency in Pittsburgh. During an 1892 medical examination, required to maintain his pension, he stood 5 feet, 7 inches tall, weighed 122 lbs., and had a pulse rate of 72. In 1898, a physician wrote: "[His] nutrition is good, muscular development fair, his palms show evidence of hard labor done in the past, at present quite soft." Cyrus's original pension file is held today at the National Archives in Washington, DC, with a copy in the Minerd-Minard-Miner-Minor Archives.

Will Miner
By 1900, when the federal census was taken, the Lindleys had purchased a home at 338 Fayette Street in West Washington, just down the street from where Lizzie's uncle Andrew Jackson Miner and other relatives lived. That year, they provided housing for five boarders who were local laborers, including their son Charley. Another of the boarders was Lizzie's first cousin, William Allen Miner, who was a packer in a glass house. The other boarders were tin mill laborers Thomas King and Lilburn Newland and carpenter David Sprowles.
The shadow of death continued to take its relentless toll on the family in the 1890s. On Jan. 10, 1891, son Homer died in Washington, PA, and twin daughters Wilma (March 13, 1897) and Wilda (Dec. 2, 1898) passed away, also in Washington. Then on Aug. 10, 1904, daughter Thelma died at age two, in Washington. We cannot imagine the enormous emotional burden that Cyrus and Lizzie felt over these deaths. Over the span of 40 years, Cyrus had lost two wives and eight children.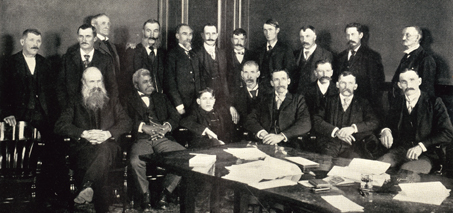 Cyrus at far right, back row, with fellow members of the first grand jury assembled in the new Washington County Courthouse, in 1900. Photograph by Hallam, halftone by Bragdon. From Bench and Bar of Washington County, Pennsylvania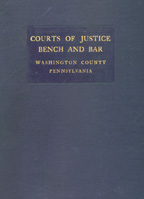 Book mentioning Cyrus
Cyrus achieved immortality of sorts when, on Nov. 12, 1900, following construction of the new Washington County Courthouse, he was named to a grand jury. Said the 1902 book, Courts of Justice: Bench and Bar of Washington County, authored by Boyd Crumrine, the jury "appeared in session in court-room No. 1, to join in the first act of judicial business ever transacted in the new court-house." Cyrus was mentioned in the book, and also pictured in a group photograph of that initial grand jury. The book, seen here, is preserved today in the family archives. [Note -- another cousin mentioned in the book is George Walters Henshaw, who married into the prominent McGiffin family of Washington.]
In 1904, Cyrus became ill and could not attend his annual medical checkup. He wrote that he "was confined to the house for seven weeks - am totally disabled and cannot go before any board for examination unless in a carriage to Washington Pa. which is only three miles to travel." He was pronounced as having a total inability to earn support by manual labor, and his pension payments increased to $12 per month.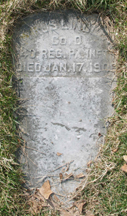 Cyrus' grave, Washington Cemetery
Death finally took Cyrus at age 69 at their Amwell Township home, on Jan. 17, 1908. The Washington Reporter said he was "an old soldier" and that his "death was sudden, as he had been sick only about eight hours."
He was laid to rest in the Washington Cemetery, in the Civil War veterans' section near the large statue, seen here. His marker is in the foreground, directly below the flag. The funeral was overseen by Rev. Cole.
The administrator of Cyrus' estate held an auction to raise funds to pay debts. Held on Feb. 12, 1908, the sale included some 90 items that are typical of what a carriage builder and farmer would have owned at that time. These ranges from a buggy harness and feed cutters to hogs, a shotgun and bedsprings. A full list is in the Minerd-Miner-Minor Archives.
Among the purchasers was Lizzie's first cousin, Andrew J. Birch, who bought a wagon and wagon wheels for $1.00. Lizzie's brother in law, Elmas Martin, purchased a square for 35 cents, and Howard Lindley (connection unknown) bought hammers, a clamp and plaster.

Andrew Birch
As a widow with young children, Lizzie rented a home at 32 East Cherry Avenue in Washington. She was a "faithful member" of the Christian Missionary Alliance Church. When her late late husband's estate was administered, the total assets came to $76.75.
Later in 1908, Lizzie applied for her late husband's federal pension. Among others, testifying on her behalf were her uncle, Andrew Jackson Miner, of Washington, and Andrew's brother in law, Stephen W. Johnston, of nearby Canton Township. They attested that they had "known her ever since she was a little girl and they know the fact that she had not been married previously." In a separate affidavit, Andrew and S.S. Lloyd of Amwell Township confirmed that the Lindleys owned a house and three acres of land in Amwell, valued at $625, and renting for $75 per year -- comprising all the property they owned of any kind. Andrew also witnessed an affidavit with testimony from one of Cyrus's former brothers in law, B.F. Reeves of Deerlick, Greene County. Also signing affidavits of support around that time were Nettie Kelsey (age 19), Parker Clark (age 45) and Emma Shanley (age 54).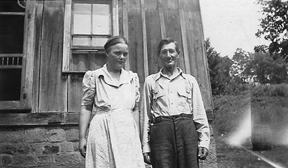 Lizzie and Cyrus, presumably at their farm
Washington Reporter, 1908
Lizzie appears to have been talented as a seamstress and as a baker of pies. When the federal census was taken in 1910, she was listed as a "Dressmaker - Own Shop." She also is said to have "taught many generations of women to bake apple pie a certain way," a tradition which continues in this branch of the family.
In 1912, Cyrus was mentioned by name twice in Robert Laird Stewart's book, History of the One Hundred and Fortieth Pennsylvania Volunteers.

Washington Observer, 1913
Sadly, completing the cycle of tragedy in the family, Lizzie died just five years after her husband. Suddenly infected with peritonitis, she was rushed to Washington Hospital in early October 1913. After just 12 hours of treatment, she passed away just after midnight on Oct. 6, 1913, at the tender age of 44. The Washington Reporter said her death occurred "due to a complication of diseases. She had been ill but a few days, and was in the hospital only since Sunday morning."
Her funeral arrangements were handled by Charles W. Devore of Washington. Lizzie is buried at Washington Cemetery -- far apart from Cyrus. She rests for eternity in an unmarked grave (Block 5, Range I, Grave 22). Stepson Charles Lindley was the informant for her death certificate, but did not know the names of her parents. He also gave her birth year as "1871" rather than the correct "1869" -- a difference in two years.
Seen here is a rare old photographic postcard showing the entrance to the cemetery.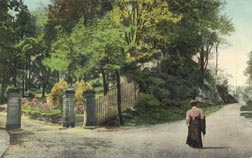 Washington Cemetery entrance
Because her personal estate was insufficient to pay her debts, their tract of two acres, perhaps the farm in Amwell or Prosperity, was sold to Grant Moninger and raised $600 in proceeds.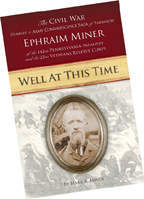 Book naming Lizzie
The Lindleys are memorialized in the book Genealogy of the Farabees in America by Louis Thomas Farabee. The date of publication is unknown but was sometime after Sept. 9, 1917, the most recent date listed in the book. The volume provides a wealth of vital statistics about the various Lindley children.
As well, Cyrus' role on the first jury held in the new county courthouse is mentioned in the 1926 book History of Washington County, Pennsylvania, authored by Earle Robert Forrest (Chicago: S.J. Clarke Publishing Company).
Lizzie and Cyrus are in a lavishly illustrated, 2011 book about her uncle who also was a Civil War veteran -- entitled Well At This Time: the Civil War Diaries and Army Convalescence Saga of Farmboy Ephraim Miner. The book, authored by the founder of this website, is seen here. [More]
~ Daughter Hazel (Lindley) Headley ~
Daughter Hazel Lindley (1892-1991) was born in 1892.
Initially she worked as a "Sales Lady - Dept. Store" in Washington.
In 1910, when she was age 18, she married 21-year-old Edward L. Headley (1889-1968), a native of Greene County or Washington, Washington County, PA.
They bore one known daughter, Thelma Speer Sprague.
The 1910 census shows the Headleys residing at 299 Addison Street in Washington. They were listed at the same address circa 1916-1917 when named in the book, Genealogy of the Farabees in America.
Because her young brother William was just a boy when their mother died, Hazel was appointed as his guardian on May 5, 1914. The Washington County records contain detailed accounts of expenses she paid to support her brother's welfare between 1914 and 1918. These ranged from shoes and stockings to train fare and legal fees.
By 1917, Hazel and Edward had moved to Akron, Summit County, OH, residing at 196˝ South High Street. By the following year, they had moved to 231 State Street.

Miller Rubber Co. in Akron, Edward Headley's employer in 1917, later acquired by B.F. Goodrich
When Edward filled out his World War I military draft application, in about 1917, he listed his occupation as painter for the Miller Rubber Company. He noted on his registration card that he was married and had a child and a brother in law dependent on him for support. Miller Rubber was one of the largest rubber factories in the nation at the time. Its sprawling facilities in Akron covered 1.25 million sq. ft. of space.
The federal census of 1920 shows Edward and Hazel and their daughter Thelma, brother William E. Lindley and cousin Ray F. Headley in the household. That year, Edward ran his own painting business.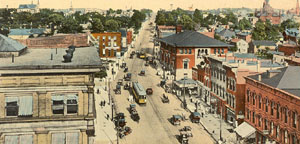 Bird's-eye view of Akron, Ohio
When the 1930 census was taken, Edward was continuing his work as a painting contractor, and their married daughter and son in law, Thelma and Elmer Speer, and granddaughter Darlores Speer lived under their roof.
Edward continued his work as a painter and interior decorator through the 1930s. Sadly, however, his eyesight began to fail, and he became blind. He thus was forced to retire in 1940 at the age of only 51.
At the age of 80, Edward succumbed to death on March 15, 1968 as a patient in Akron's City Hospital. An obituary in the Akron Beacon Journal noted that his had been "a long illness." He was survived by three grandchildren and 10 great-grandchildren. Interment of the remains was in Rose Hill Cemetery.
Hazel resided in the Akron area for the remaining years of her life. She passed away at the age of 98 in Akron on March 17, 1991. The Beacon Journal said she had been "an Akron resident most of her life."
Daughter Thelma May Headley (1911-1992) was born on May 22, 1911 in Washington, Washington County, PA. As a young girl she migrated to Akron, Summit County, OH with her parents. Her address in 1928 was 214 West Senter Street, and she earned a living as a beauty operator. At the age of 17, on July 30, 1928, she was united in the bonds of holy matrimony with 26-year-old building carpenter Elmer L. Speer (1904- ? ). The nuptials were held in Summit County, officiated by Rev. F.W. Kirkpatrick. Because Thelma was underage, both of her parents had to swear in open court their approval to the marriage. Elmer was a native of Green County, TN and the son of W.K. and Angie (Collins) Speer. One daughter was born to this union, Dolores Jeanne Whitney. The newlyweds resided with Thelma's parents in Canton, Stark County, OH circa 1930. The couple divorced, with Elmer marrying again and relocating to California. Thelma went on to marry again to Richard A. Sprague ( ? - ? ). The couple together produced two sons of their own -- Richard Bert Sprague and Robert Sprague. The family's address in 1955 is believed to have been 317 Poplar Street. The Spragues' marriage fell apart, and Thelma filed for divorce in September 1958. In 1968, she resided in West Richfield. Thelma passed away on Christmas Eve 1992, at the age of 81, in Akron. She was laid to rest at Rose Hill Burial Park in Akron. At the time of her death, said the Beacon Journal, she had 11 grandchildren and 15 great-grandchildren.
Granddaughter Dolores Jeanne Speer

(1929-1987) was born on June 21, 1929 in Akron, Summit County. She wedded Thomas Roger Whitney (Jan. 3, 1925-1990), a native of Guilford, Guilford County, NC and the son of Newton Whitney. The couple's four offspring were Roger Thomas Whitney, David Whitney, Linda Clark and Pamela Puchalsky. The Whitneys made their residence in Richfield near Akron. They were plunged into heartache which turned to grief when their son Roger was diagnosed with cancer and, following surgery at the Cleveland Clinic, died at the age of five on July 19, 1957. Sadly, Dolores died at the age of 58 on Sept. 27, 1987. Rev. Dr. Charles F. Billington presided at the funeral, with burial in Rose Hill Burial Park. An obituary was published in the

Akron Beacon Journal

. The widowed Thomas only survived his wife by three years. He passed away in Sharon, PA at the age of 65 on May 18, 1990.
Great-grandson David Whitney resided in Richfield, OH in 1987 and in Bath, OH in 1990.
Great-granddaughter Linda Whitney was joined in wedlock with (?) Clark. Circa 1987, they dwelled in Norton, OH.
Great-granddaughter Pamela Whitney ( / - ? ) was born in (?). In young womanhood she was employed by the Akron Credit Bureau. On Sept. 3, 1983, she was united in matrimony with John Puchalsky ( ? - ? ). The wedding was held at Falls Baptist Temple in Munroe Falls, OH. At the time, John earned a living with Ryder/Pacific Intermountain Express, having attended the University of Akron. News of the marriage was announced on the pages of the Akron Beacon Journal. Their home in 1987 was in Barberton, OH.
Grandson Richard Bert Sprague (1936-2004) was born on Dec. 17, 1936 in Akron, Summit County. In his late teens, he joined the U.S. Air Force and remained in service for 23 years, and is considered a veteran of the Vietnam War. On June 12, 1956, when he was 19, he wedded 19-year-old beauty operator Janet Rae Linderman (Oct. 29, 1936- ? ), daughter of James Henry and Helen (Cooley) Linderman. Rev. Rex E. Humbard -- who went on to national fame as a television evangelist with his Ohio-based Cathedral of Tomorrow airing on hundreds of stations -- officiated the wedding ceremony in Akron. Because Janet was legally too young to marry, her parents had to express their pre-approval to Summit County officials. Their union endured for 47 years. Together, they bore four daughters -- Janene Boles, Judith Swarts, Jennifer Peden and Jayne Sprague. Richard was stationed at Dayton, OH in 1968. He retired in 1979. At some point they relocated to Texas and put down roots in Deer Park near Houston. Richard was employed in La Porte, TX for 13 years by Union Carbide/Lindee. Richard and Janet belonged to Bayshore Baptist Church, and he held a membership in the Vietnam Veterans Association and the Veterans of Foreign Wars and American Legion posts in Pasadena, TX. Richard contracted cancer and bore the illness for a lengthy time until death swept him away at the age of 67 on Feb. 2, 2004. An obituary in the Houston Chronicle said he "came to know the Lord and serve Christ later in life" and that he was survived by 10 grandchildren and four great-grandchildren. The remains were interred in Grand View Memorial Park in Pasadena.
Great-granddaughter Janene Sprague married Dewayne Boles. Their home has been in Pasadena, TX.
Great-granddaughter Judith Sprague wedded Jim Swarts. They established a residence in Houston.
Great-granddaughter Jennifer Sprague entered into wedlock with Byron Peden. The couple has dwelled in La Porte, TX.
Great-granddaughter Jayne Sprague lived in New Caney, TX.
Grandson Robert Sprague ( ? - ? ) dwelled in Akron during the 1980s and into the early 2000s.
~ Son William Earl Lindley ~
Son William Earl Lindley (1903- ? ) was born on Dec. 27, 1903 in Washington, Washington County, PA. He was only a boy when both of his parents died.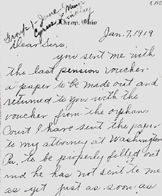 Hazel's letter on William's behalf
At the age of 10, the orphaned William moved into the home of his married sister, Hazel Headley, in Akron, Summit County, OH. She was an advocate for him in obtaining financial assistance from the county, and also obtaining his late father's Civil War pension payments.
A letter Hazel wrote on his behalf in 1919, to the federal pension commissioner, is seen here. William stopped receiving his father's pension payments upon turning age 16 on Dec. 26, 1919. He remained in Akron for the remainder of his life.
When the federal census was taken in 1920, the 16-year-old William was continuing to make his home with the Headleys in Akron.
On July 1, 1929, at the age of 26, he was joined in marital union with 23-year-old Geraldine Mary Kathryn Black (Oct. 1906- ? ), a native of Volant near New Castle, Lawrence County, PA and the daughter of Harry and Margaret (McCracken) Black. At the time, Geraldine was a sales lady living at 487 Ohio Street in Akron. Rev. W.W. Dieterich officiated the nuptials.
Together, the couple produced an only son, Kenneth William Lindley.
They dwelled in 1937 at 242 McGowan Street.
For three decades, William earned a living as a taxi driver for Yellow Cab Company. He made news in a harrowing experience in September 1937 when two prisoners at Summit County Jail broke out and kidnapped him at gunpoint, using what later was revealed as fake weapons. The bandits ordered him to drive them to the state capitol in Columbus. Six hours later, at the outskirts of Columbus, said the Beacon Journal, the men stole $5 and "stripped him of all but his underwear and kicked him out, ... then speeded south through Columbus."
William again was in the news in January 1940 when he rescued a golden-eyed duck, with its wings laden with ice in the foggy morning, landed on Main Street and could not move.
He held memberships in the Coventry lodge of the Masons, the Yusel-Khan Grotto and the Stark Consistory of the Shrine. The family address in the late 1950s was at 695 East Exchange Street, Akron.
Geraldine earned income as a food products demonstrator in the Akron area circa 1940.
Sadly, at the age of 55, William was stricken with a heart attack and died suddenly on Feb. 13, 1959. Dr. James M. Lichliter -- of St. Paul's Episcopal Church -- officiated the funeral service, with the remains interred in Rose Hill Burial Park. An obituary was printed in the Akron Beacon Journal.
Geraldine outlived her husband by 36 years and married again to Donald Baker ( ? - ? ). She belonged to the Firestone post of the Veterans of Foreign Wars and St. Bernard Church. She was widowed a second time and spent her final years in Grove City, PA. She died in nearby Mercer, PA at the age of 88 on July 10, 1995. An obituary in the Beacon Journal did not mention their son but noted that she had been "a resident of Akron for 65 years." Burial was in Holy Cross Cemetery, with Fr. Paul Schindler leading the funeral proceedings.
Son Kenneth William Lindley (1933- ? ) was born in about 1933 in Akron. Artistically talented, he sang in the choir at St. Paul's Episcopal Church. He also learned to tap-dance and, in January 1951, won first place in the Terrace Room Talent Preview held at Akron's Mayflower Hotel. He was featured several times on the Gene Carroll television show broadcast on WEWS-TV. Kenneth joined the U.S. Marine Corps in the mid-1950s and was assigned to the 3rd Engineers Division. His tour of duty took him to Japan, the Philippines and Okinawa. He is known to have been stationed in California in 1958-1959. At the age of about 25, on July 18, 1958, he was united in wedlock with 19-year-old Faith A. Leshner (Oct. 6, 1938-1989), daughter of Edmund Leshner. The wedding was held in All Saints Episcopal Church of Beverly Hills, Los Angeles County, with the news printed in the Akron Beacon Journal. Evidence suggests that Faith may married a second time to (?) Tackett and passed away in Los Angeles on April 13, 1989. Her remains were lowered into eternal sleep in Westwood Memorial Park in Los Angeles. One her memorial plaque, her name was inscribed as "Lindley," along with the phrase "Beloved mother and grandmother." Nothing more about Kenneth is known.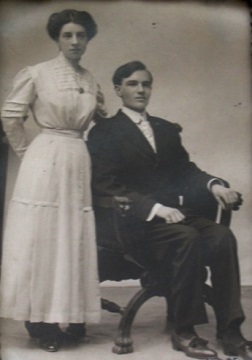 Isa and Bertram
~ Daughter Isa Ellen (Lindley) Reynolds ~
Daughter Isa Ellen (Lindley) Reynolds (1888-1967) was born in 1888.
She married Bertram Hoyt Reynolds (1889-1958), a native of Buffalo Township, Washington County. They were wed in 1913, when she was age 25, and he 24, and in the same year as her mother died. He was slender, and of medium build, and had grey eyes and brown hair.
They are seen here in an old studio portrait. While Bertram's parents' names are not yet known, his mother's middle name has been identified as "Blood."
The Reynoldses went on to have four children -- Helen Corinne Walker, Merlin Bertram Reynolds, Beulah L. Windham and Mildred Irene Betts.
Circa 1914, they resided at 208 Brookside Avenue in Washington circa 1914, when Isa was age 25. By June 1917, they had moved to Charleroi, Washington County, making their home at 1005 Crest. That year, when Bertram filled out his World War I military draft registration, he reported that he was employed as a lineman for the West Penn Power Company in Charleroi. (Many cousins in the extended family worked for West Penn over many decades of time.)
In 1920, when the census was taken, they made their home on Knox Avenue in Monessen, Westmoreland County, PA, where Bertram labored as a general electrician.
Unfortunately, not only did Isa suffer from respiratory ailments, but she is said to have contracted a case of the dreaded Spanish Flu epidemic that spread through our nation in 1919. Doctors advised Isa to move to a warm climate, and the family relocated to Southern California early in the 1920s.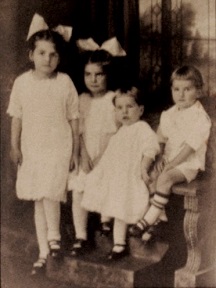 The Reynolds children, l-r: Beulah,
Helen, Mildred and Merlin, 1919
The Reynoldses often spoke of an "Uncle Ward" with great affection and regret, and it's believed they were referring to Isa's cousin, Ward C. Miner, a talented photographer who died in his early 30s of incurable tuberculosis.
By 1930, the address of the family was on 35th Street in San Diego, San Diego County, CA. The census-taker recorded Bertram's employment as "electrical contractor."
The census of 1940 shows Isa and Bertram residing at 3727 Utah Street in San Diego, with their married daughter and son in law Helen and Charles Walker living under their roof. Bertram maintained his work that year owning his own electrical business. His son Merlin worked for the family firm as an electrician.
They spent the remaining several decades of their lives in San Diego.
Bertram died in San Diego on March 12, 1958, at the age of 69.
Isa outlived him by nine years. She passed away at the age of 79 in San Diego on Jan. 19, 1967.
Daughter Beulah L. Reynolds (1910-1983) was born on Oct. 21, 1910 in Pennsylvania. She married Milton Windham (May 5, 1912-1990), a native of Oklahoma. Among the pair's known offspring were Rev. Albert Windham and Margaret Bennett. Federal census enumeration records for 1940 show the family in San Diego, with Milton earning a living as a motorman for a transportation company. Beulah died in San Diego on Feb. 23, 1983. Interment of her remains was in Greenwood Memorial Park in San Diego. Martin outlived his bride by nearly seven years. He succumbed to death in San Diego on Jan. 22, 1990.
Grandson

Rev. Albert Windham

(1930-2014) was born in about 1930 in California. He was joined in marriage with Carol ( ? - ? ), who was raised by an uncle and aunt, Harry and Elizabeth S. Bessey. Their union endured for an extradinary 62 years. The two children born in this family were Christine Sheetz and Mark Windham. Albert received his education at Viola Bible Institute in Los Angeles and Bethel College and Seminary in St. Paul, MN. While at Bethel, he was valedictorian of the Class of 1955. During his early career in Christian ministry, he pastored the Pine Street Baptist Church of Gardner, MA. Then in August 1957, he was tapped to be served as director of Christian Education at Northwest Baptist Church in Chicago. After four years in Chicago, in December 1961 he was named pastor of Bethany Baptist Church in Roseville, MN, with the news reported in the

Minneapolis Star

. At one time he was employed as director of pastoral care at Midway Hospital. Their final home was in Falcon Heights, MN. Albert died at the age of 84 on Sept. 11, 2014. His obituary was printed in the

Park Bugle

in Minnesota.
Granddaughter Margaret Windham

(1937- ? ) was born in about 1937 in San Diego. Evidence suggests that was wedded twice. On May 18, 1957, when she was 20 years of age, she entered into wedlock with 22-year-old Robert L. Williams ( ? - ? ). The nuptials were held in San Diego. Later, she married Charles Bennett ( ? - ? )
Son Merlin Bertram Reynolds (1914-1986) was born on Sept. 22, 1914 in Washington, Washington County, PA. He relocated with his parents and family to Southern California and apparently spent the rest of his life in San Diego. He stood 5 feet, 11 inches tall, weighted 160 lbs. and had hazel eyes and light brown hair. Merlin was united in holy matrimony with Florette June Vigneault (Nov. 30, 1918-2006), a native of Manchester, NH. They produced two known daughters, Barbara June Seery and Merleen O'Keefe. United States Census records for 1940 show the young family in San Diego, with Merlin employed as an electrician by an electrical service company, his father's contracting firm. Their address at that time was 4477 Utah Street. He died in San Diego at the age of 72 on Feb. 4, 1986. His remains were placed ito eternal sleep in Greenwood Memorial Park in San Diego. Florette lived for another two decades and married again to Leo E. Lusitana (Oct. 4, 1906-1997). He was a World War II veteran who had worked for 22 years for the San Diego County Sheriff's Department. She became a widow again when Leo passed away at the age of 90 on June 5, 1997. After that time, she appears to have moved in with or near her daughter Merleen O'Keefe in El Cajon, CA. Death swept her away in San Diego two days after Christmas 2006. Her funeral mass was held in the Queen of Angels Catholic Church in Alpine, CA, and her remains were entombed in the Greenwood Bible Mausoleum. An obituary in the San Diego Union-Tribune reported that she was survived by 10 grandchildren and a dozen great-grandchildren.
Granddaughter

Barbara June Reynolds

(1938- ? ) was born in about 1938 in San Diego. She wedded Ronald Seery ( ? - ? ), son of James A. and Violet A. (Epps) Seery. In 2006, she was in Marshfield, MO.
Daughter Mildred Irene Reynolds (1915-1993) was born on Dec. 1, 1915 in Washington, Washington County, PA. She moved to Southern California with her family. Sometime in or before 1935, she was united in matrimony with Charles F. Betts Jr. (1915- ? ), a native of Florida. Circa 1935-1940, the pair dwelled in San Diego. The federal census enumeration of 1940 shows Charles earning a living as a guard at a museum project. Mildred died in San Diego on New Year's Day 1993.


Helen and Charles H. Walker
Courtesy family of Charles and Helen Walker
Daughter Helen Corinne "Jackie" (Reynolds) Walker (1912-2004) was born on Aug. 4, 1912 in Washington, Washington County, PA. When she was 21 years of age, in Nov. 2003, she entered into holy matrimony with Charles Henry Walker (Jan. 22, 1909-2004), a native of North Carolina. Their marriage endured for an extraordinary 70 years. Together, the couple produced a family of three children, all of whom have been educators -- Charlotte Zoe Walker, Marian Louise Stauffer and Stan Walker.

Circa 1935, the family lived in New Orleans, LA, where their eldest daughter was born. By 1939, they had relocated to San Diego, San Diego County, CA, where Charles had enlisted in the United States Navy. Charles spent 29 years of active duty with the Navy and eventually was promoted to naval commander, a position from which he retired. The federal census of 1940 shows Helen, Charles and their two children living with her parents on Utah Street in San Diego. That year, his employment was marked by the census-taker as "Radio-Man" with the Navy.
Charles was posted to Honolulu as World War II loomed. He is known to have been aboard the USS Arctic in Maui on Dec. 6-Dec. 7, 1941, in preparation for a voyage to San Francisco. The Arctic, a fully armed refrigerator cargo vessel, was in Maui to be de-magnetized to prevent the hull from attracting underwater mines. As the ship's radioman, Charles received an urgent message about the surprise Japanese attack on battleship row. General quarters was sounded, with all available men ordered to battle stations and all guns immediately loaded. Unidentified aircraft could be seen in the distance. In his memoir Roots and Consequences: An Autobiography, Charles writes about the decisions facing the ship's captain – whether to head out to sea and risk detection – or remain in port – while the Arctic maintained radio silence. The captain's final decision was to say put, with guns ready, in the event further action was needed. Later that day, Charles intercepted a coded message instructing the ship to proceed to the mainland as originally planned.

USS Arctic, the refrigerated cargo ship Charles Walker was aboard in Maui the morning of the Dec. 7, 1941 surprise Japanese attack at Pearl Harbor. Below: Charles (standing, center) with Arctic crewmates in 1939, and going through the Panama Canal. Courtesy family of Charles and Helen Walker.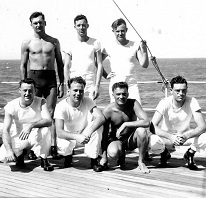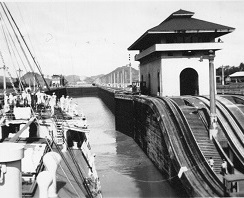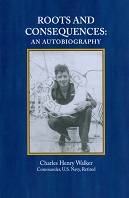 Charles' memoir
Then during the Korean War, Charles served as a communication officer for Task Force 77. He also helped to develop the first guided missile school in Quantico, VA and later held the role of commanding officer of the Naval Reserve Training Center in Colorado Springs. After his retirement he attended Colorado College, paid for by the G.I. Bill, and obtained a degree in history. He went on to teach history in the Denver Public Schools. In his spare time, he liked to read about world affairs and American and Naval history.

Reported the Florida Times-Union, Helen " was a loving, gentle person of natural grace and wisdom. She spent many years as a Navy wife.... Like many service wives, she kept up the homefront through hard times, grew a Victory Garden, and didn't know for many weeks whether or not her husband had survived Pearl Harbor."
The couple is lovingly named and described in the dedication of the book The Art of Seeing Things, authored by their daughter Charlotte. The pair celebrated their 70th wedding anniversary on Nov. 25, with a gathering of family and friends in Jacksonville, FL. Sadly, bringing their seven-decade union to a close, Charles passed into eternity in Jacksonville on Jan. 18, 2004. Just six weeks later, Helen followed him into death at the age of 91 on Feb. 24, 2004. As had been done for Charles, Helen's funeral services were conducted in the South Jacksonville Presbyterian Church, officiated by Rev. Dr. Vincent K. Kolb. Following their death, Charlotte retyped her father's lengthy manuscript autobiography, which he had penned after seeing the popular television mini-series Roots. Charlotte had it published under the title Roots and Consequences (Leaf & Tendril Books, June 30, 2017). The book includes, among other things, the absorbing story of Charles' difficult childhood in rural North Carolina, as well as his many years of service in the Navy, rich with human interest and historical detail.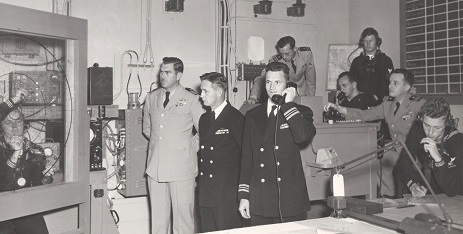 Charles (on phone), Combat Information Center, 1949. Below: the couple in their retirement years.
Courtesy family of Charles and Helen Walker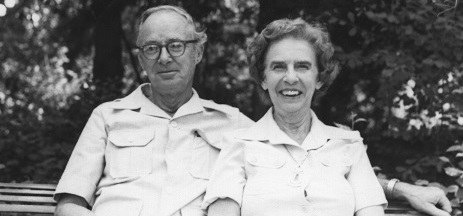 Charlotte Walker
Granddaughter Charlotte Zoe Walker (1935-2021) was born on July 13, 1935 in Louisiana. Her first spouse was J.I. Mendez ( ? - ? ). They bore together three children, David Mendez, Rebecca Mendez and Rachel Mendez. She was a longtime English Professor at the State University of New York, College at Oneonta, and edited two books about the 19th century nature writer John Burroughs. In her dedication to The Art of Seeing Things, Charlotte wrote: "...to all our farming ancestors, brought to life again in the writing of Burroughs, and all those who carryon today the natural ways of farming that are so threatened in our time." Her extensive list of publications is online, showing among many others that her writings have been published in Ms. Magazine, Good Housekeeping, the Virginia Woolf Quarterly, the North American Review and Woman's World. Her novel, Condor and Hummingbird, was published with Alice Walker's Wild Trees Press. Her short story, "The Very Pineapple," received an O. Henry Award in 1991, and her "Goat's Milk" short story was named one of the Best American Short Stories of 1993. Among her more recent books is The Fur Coats for All the Ladies Christmas, a family memoir about her grandparents. In an author autobiography, she wrote: "I live on a country hillside

with my dear husband, Dutch ironsmith Roland Greefkes-- and, despite my complete lack of talent, I love learning to play the cello."

She made contact with the founder of this website in about 2001 and provided important content and images for this biography. One of her final works was in 2017, retyping, editing and publishing her father's manuscript of memories, entitled Roots and Consequences. Sadly, after a diagnosis of leukemia, she passed away in Portland, OR on New Year's Day 2021. See the detailed memoir, "Charlotte Zoë Walker: A Remembrance," authored by her daughter Rebecca.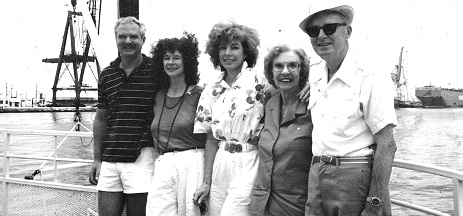 The Walkers, Jacksonville, FL, L-R: Stan, Marian, Charlotte, Helen and Charles. Courtesy family of Charles and Helen Walker. Below: some of Charlotte's books.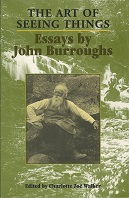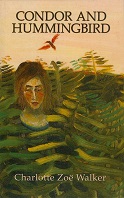 Grandson Stanley Walker (1939- ? ) was born in 1939 on Mare Island near San Diego. In his youth, he traveled around the country as his Navy father was transferred. In 1956, he graduated from Colorado Springs High School. He then earned a bachelor of arts degree in art education in 1960 from the University of Northern Colorado. His first art teaching position was a U.S. government assignment in Guam, from 1960 to 1962. He also traveled in Japan, Russia via the Trans-Siberian Railway and in Europe. After returning to the United States, he accepted an art teaching position in New Hampshire. There, in 1963, he was joined in the bonds of wedlock with Susan Appleton ( ? -living), a resident of Gorham, NH. They became the parents of Libby Davidson, Adam Walker and Eli Walker. Stanley then pursued his master's of education degree from Indiana University. In 1966, the family settled in Montpelier, VT, with him employed teaching studio art for a decade at Vermont College. He himself oil-painted in abstract expressionistic styles. His final work, until retirement in 2004, was art education in the Waterbury (VT) School System. Said an obituary:

Stan was known by many for his easy laugh, comforting smile, and witty conversation. His discerning eye for visual design was apparent, whether he was appreciating an art exhibit or enjoying the outdoors. An avid fisherman from a young age, he developed a keen interest in fly-tying and the craft of the sport in freshwater and saltwater settings. His sports enthusiasm inspired his family, through his passion for tennis, nordic skiing, running, canoeing, and golf. He was comfortable talking with most anyone, whether about Red Sox baseball highlights, travel, literature, or his love of music, stemming from his early performances as a member of the 1960s folk trio "The Jolly Rogues" on Guam.

Sadly, with his health failing, Stanley was treated at the Central Vermont Medical Center, University of Vermont Medical Center and finally the McClure Miller Respite House. He passed away on March 26, 2022. In an obituary, the family asked that any memorial donations be made to either the Kellogg Hubbard Library or the Nature Conservancy in Vermont.

Great-granddaughter Libby Walker married (?) Davidson. She is the mother of Charles Davidson and Mason Davidson. Circa 2022, she dwelled in Colchester, VT.



Great-grandson Adam Walker wed Rachel Jolly. They have resided in Burlington, VT.


Great-grandson Eli Walker made his home in 2022 in Intervale, NH.
Marian Stauffer

Granddaughter Marian Louise (Walker) Stauffer (1944-2012) was born on Oct. 6, 1944 in Hayward, CA. She "loved learning throughout her life, and had many interests," said the Florida Times-Union. "In addition to her work in psychology, Marian had a kind and generous spirit, an enthusiastic love of life, history and art, and enjoyed playing the piano." She received her bachelor's degree in political science and history from the University of Denver, and then obtained master's degrees in child development from Virginia Polytechnic Institute and counseling and educational psychology at the University of Houston. She married Thomas Stauffer ( ? - ? ), and they had three children -- Amity Juliet Stauffer, Winston Thomas Stauffer and Courtney Voskuhl. For many years, Marian was a school psychologist in the public education system in Houston, and took Ph.D. studies at her alma mater. Later, after a divorce, she relocated to Jacksonville, FL in 2004. There, she was a member of the South Jacksonville Presbyterian Church and was active in its social justice ministry. In about 2005, she made contact with the founder of this website, and graciously provided information about her branch of the family. Marian passed away at the age of 68 on Oct. 11, 2012, at Memorial Hospital in Jacksonville.
~ Stepson James Hamilton Lindley ~
Son James Hamilton Lindley (1866-1929) was born on May 10, 1866.
He was a farmer and married Ida ( ? - ? ).
The couple resided at 274 Alice Street in East Palestine, Columbiana County, OH circa 1917.
By the late 1920s, he had relocated to a farm in or near Slippery Rock, Butler County, PA.
On Sept. 24, 1929, at the age of 63, he suffered a stroke of apoplexy and died the same day. An obituary was printed in the Butler Eagle and Butler County Record. His remains were sent back to Washington County for burial in the Lone Pine Cemetery. His grave is not believed to be marked.
~ Stepdaughter Nora May (Lindley) Ebberts ~
Daughter Nora May Lindley (1868- ? ) was born in 1868.
She married (?) Ebberts ( ? - ? ).
She lived in Pittsburgh in 1908 at 1523 Fifth Avenue.
Evidence hints that she may have died in 1917, but this is not proven. Her fate also is not known.
~ Stepdaughter Sarah L. "Sade" (Lindley) DeUnger ~
Daughter Sarah L. "Sade" Lindley (1868-1963) was born on Dec. 21, 1868 (or 1870) in Clarktown, PA.
She was wedded to John Henry DeUnger (1868- ? ).
The couple bore one known daughter, Anna M. DeUnger.
Circa 1910, federal census enumeration records show the family in Washington. At that time, John earned a living as a foreman in a tube mill, likely Tyler Tube Company. Daughter Anna earned a living as a sales lady in a music store.

Tyler Tube Company in Washington, PA
The DeUngers resided at 1226 Jefferson Avenue in Washington in about 1917 and at 1198 West Wylie Avenue in 1963.
Suffering from hypertension which led to a heart attack, Sarah died at the age of 94 in the Ankrom Nursing Home on July 2, 1963. Interment was in Washington Cemetery.
Daughter Anna M. DeUnger (1892- ? ) was born in about 1892.
~ Stepson Edward Lindley - a.k.a. John William Lindley ~
Son Edward Lindley (1873- ? ) -- later renamed " John William Lindley" -- was born in 1873.
Circa 1917, when the book Genealogy of the Farabees in America was printed, his whereabouts were unknown.
~ Stepdaughter Mary "Emma" (Lindley) Huff ~
Daughter Mary "Emma" Lindley (1875- ? ) was born in 1875.
She married (?) Huff ( ? - ? ).
Circa 1908, she resided in New York and after 1917 was in Montreal, Canada.
Her fate is unknown.
~ Stepson Charles Beeson Lindley ~
Son Charles Benson Lindley (1879-1949) was born on Oct. 2 or 9, 1879 at Jollytown, Greene County.
On April 30, 1904, when he was age 25, he married 19-year-old Catherine M. Dornberger (1885- ? ), daughter of John Dornberger. Justice of the peace James A. Magill officiated.
Charles was tall, of medium build, and had brown eyes and brown hair. At the time of marriage, he resided in Washington and earned a living as a steel worker.
In 1917 they lived at 6 Grove Street in the Bellvue section of Washington, PA. When he filled out his World War I military draft registration card in 1917, Charles listed his occupation as laborer at the Washington Brewery. When the federal census of 1920 was taken, Charles and Catherine were recorded on Grove Street, in North Franklin Township in Washington. His occupation was listed as general teamster.
In 1948, the Lindleys lived on Jennings Lane in Washington, where he earned a living as a gardener.
Charles became stricken with cancer of the jaw in 1945 and suffered for four years. He succumbed from the illness at the age of 69 on March 22, 1949. His remains were lowered into repose in Washington Cemetery. On his death certificate, his father's first name was spelled as "Siras."
Copyright © 1994, 2000-2006, 2008-2010, 2013, 2016, 2018, 2021 Mark A. Miner
Little Round Top photos courtesy Library of Congress.