Home

West Penn Power and Railways
Steady Employer for Many Branches of Our Family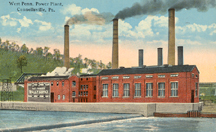 Power plant in Connellsville
Because there is such a concentration of Minerd-Minard-Miner-Minor cousins residing in the Pittsburgh region of Western Pennsylvania, it should be no surprise that many have been employed by West Penn Power Company and its affiliate, West Penn Railways.
The company was formed in 1916 as the amalgamation of some 62 local light, heat and power companies. The oldest of these smaller gas firms was Brownsville Gas Company, founded in 1860; and the first electric firm to be included was Edison Electric Illuminating Company, of Bellefonte, created in 1883.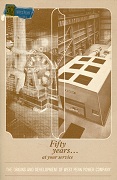 50th anniversary booklet
West Penn generously provided free transportation to the community for special occasions. Among our cousins known to have participated are Isaac F. Minerd and George W. Turner, in going to the Fayette County Veterans Association annual reunion in Uniontown in 1919.
The company also furnished special services for guests coming to the 1931 Minerd Reunion, held at Lake Forest Park in Scottdale. Said the Connellsville Daily Courier, "It will be an all-day affair with transportation provided from the West Penn Railways station and Pennsylvania Railroad station, Scottdale, to the park between the hours of 10:30 and 11:30 o'clock in the morning. All relatives and friends are invited."
Tragically, several cousins also lost their lives over the years in accidents involving West Penn facilities. These include Stephen Robbins, killed by a moving streetcar in Connellsville in November 1917, and William Hugh Wilson, who was electrocuted at work in February 1936 while working on a transformer in the power house in Connellsville.
In a booklet published in 1965 to celebrate the company's golden anniversary, chairman S.L. Drumm wrote:
Since those origins, many have contributed to the development and growth of the company. Among them: Pioneers, who started small, local electric operations in many communities ... employes of West Penn and predecessor companies whose loyalty, long service, and hard work have been a keystone ... investors who have furnished the funds for continuing capital expansion through the years ... local and area government officials who have made it possible for a utility to function in the best competitive enterprise tradition ... and the increasing number of customers whose use of electric service has constantly grown.
Known Cousins Employed by West Penn Power
and West Penn Railways
Brooks, Oscar O. - lineman for West Penn Power
Brooks, Russell Ray - motorman for West Penn Railways Company
Bunting, Evelyn (Robbins) - IBM computer operator in Connellsville, 1956
Colbert, Harold W. - employed circa 1953
Crawford, Ira D. - longtime employee of West Penn Power
Echard, Peter - construction of electrical pole lines for West Penn Power; served for 28 years, retiring in 1949
Eutsey, Clyde E. - employed with West Penn Power for 27 years
Evans, Elbert Charles "Chick" - more than 40 years with the West Penn Power stores department
Firestone, David L. - 30 years of service as lineman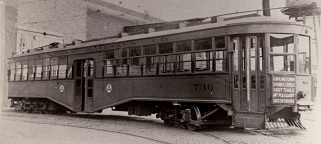 West Penn Railways car, with stops in Uniontown, Connellsville, Scottdale, Mt. Pleasant and Greensburg
Firestone, Leroy - West Penn Power in Greensburg
Friend, James Dolliver - began working for Monongahela-West Penn in West Virginia in 1913 and continued for several years.
Hough, Harold Joseph - West Penn Power store clerk
Hough, John Walter Jr. - employed in 1952 as a mail clerk with the Laurel Division of West Penn Power. Became a lineman and received a 25th anniversary service award
Inks, Sanford M. "Sam" - worked in the West Penn Power billing department in Connellsville, retiring as supervisor
Kennick, George Jr. - employee of West Penn Railways
Kimmell, Irvin Lester Sr. - crane operator for West Penn Railways
Lemon, Harold Boydell "Boyd" - lineman who performed a "daring rescue" to help a trapped colleague near Ohiopyle, PA in 1937
Long, William Jacob - served from 1909, when he joined West Penn Power as a lumber inspector, until retirement in 1936
McManus, Edna - employed by West Penn Power in Connellsville circa 1940-1941
Miller, Arthur Denver - meter electrician for South Penn Power, later acquired by West Penn Power
Minerd, John Albert "Bert" - machinist with West Penn Power in Connellsville, 1918
Miner, Russell William "Billy" - 32 years of service - lineman (1936), foreman (1949)
Oliver, John - mechanic for 11 years
Overholt, Ruby (Beer) - employed at West Penn Power circa 1947
Pecil, Elaine (Quairiere) - worked for West Penn Power
Pritts, William "Clyde" - laborer with West Penn Railways circa 1917
Quairiere, Herman - seven years of employment with West Penn Power
Reynolds, Bertram - lineman for West Penn Power in Charleroi circa 1917
Rowan, J. Domer - longtime line foreman for West Penn Power
Shoaf, Jesse - construction gang worker for West Penn Power in Irwin, and survived an electrocution circa 1927-1928.
Sleasman, Alvie - employed at West Penn Power's plant in Connellsville in 1918.
Wilson, William Hugh - was working in the power house in Connellsville in 1936 when he was electrocuted to death.
West Penn Railways photo by John C. Roberts, Columbus, Ohio
Copyright © 2012-2013, 2017, 2023 Mark A. Miner