Emma Jane (Fuller) Robbins
(1865-1957)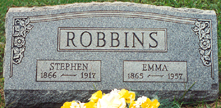 Mt. Auburn Cemetery
Emma (Fuller) Robbins was born on June 2, 1865 at Brownfield or Hopwood, Fayette County, PA, the daughter of Presley and Nancy (Warman) Fuller.
After her father died, Emma's mother married again to James Valentine Minerd. It's clear from the oral tradition of the family that the Minerds considered Emma one of their own. She occasionally used the maiden name "Minerd."
On Oct. 26, 1888, at the age of 23, Emma married stone mason 22-year-old Stephen Robbins (1866-1917). He was a year younger than his bride, and was the son of Bishop and Mary (Richey) Robbins of Connellsville, Fayette County.
They had four children, of whom three are known -- Bartholomew "Beth" Robbins, John B. Robbins and Mary May Robbins. An unnamed infant daughter died at birth on Dec. 23, 1907, with Dr. B. Colley attended.
The Robbinses lived in the Dunbar area of Connellsville, Fayette County for many years. Once, while laboring as a brakeman on the Pennsylvania Railroad, Stephen lost an arm in an accident.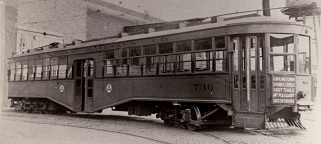 West Penn Railways car, typical of the vehicle which fatally struck Stephen in Connellsville.
Daily Courier, 1917
By 1910, the young family had moved to Dunbar, PA. They boarded with Emma's parents, and Stephen worked as a one-armed pumper at the Dunbar Furnace. He also worked as a carpenter, and circa 1917 his employer was American Manganese Company.
On Nov. 16, 1917, tragedy struck when Stephen was killed in Connellsville. As he was walking along a busy sidewalk, a moving West Penn Railways street car struck him. Reported the Connellsville Daily Courier:
...Witnesses said he stepped from the curb a few feet above the Arcade Theatre, just as the car was passing. He was not touched by the wheels. The headlight of the car was broken, the man's head probably hitting against it. The fender kept him from going under the wheels, and his fractured skull was the only injury, aside from being bruised by the force of the fall.
A Connellsville crew, Conductor E.S. Hebehtnal, and Motorman A.R. Pirl, were in charge of the car. The car was not running fast at the time, having slowed down for a switch, over which a car must not travel over four miles and hour, and it was quickly brought to a stop. Robbins was removed to the hospital, where his death occurred this morning. There were many witnesses to the accident, a crowd of persons standing in front of the waiting room for the car seeing the man struck.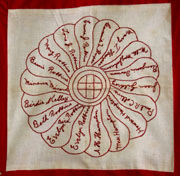 Flower pattern, Ladies Aid quilt
Stephen was rushed to Connellsville's Cottage State Hospital, where he died of a fractured skull. He was laid to rest at Mt. Auburn Cemetery in Dunbar.
When the federal census was taken in 1920, the widowed Emma and her son Beth and daughter Mary lived with her parents in their Water Street home in Dunbar.
Little is known about the rest of Emma's long life. She survived her husband by 40 years.
In later age, she resided in the home of her unmarried daughter Mary Robbins in Bryson Hill near Dunbar. In 1947, she suffered the death of 23-year-old granddaughter Bessie Mae Robbins, and again in 1953 endured the passing of her adult grandson, Paul Robbins.

Emma's name-petal
At some point in time, the local Ladies Aid Society in Dunbar sold "name petals" for 10 cents each to the people of Dunbar in order to raise needed funds. Emma was one of the purchasers, among others including her son Beth and sister in law Minerva (Bodkin) Minerd. Each donor's name was stitched with red threads onto white fabric petals which eventually formed the shape of flowers superimposed on top of squares. The squares were sewn together into an attractive red and white banner, in the collection of resident Mae Hardy, who passed it down to her niece Doris (Porter) Rockwell.
Years later, in September 2002, the banner was placed on display at the Dunbar-Fest Community event, and has continued to be shown at the annual "fests." Seen here is the flower pattern as well as Emma's individual name petal at right. Click here to see the quilt at a larger size in our "Online Quilt Museum."
On June 2, 1955, Emma celebrated her 90th birthday. The Courier reported that "In honor of the occasion many of the neighbors and friends called at the home of Mrs. James Minerd, who resides next door, to extend felicitations and bring gifts to the honoree. Mrs. Arthur Dolan and Miss Mary Lou Cherry baked cakes for Mrs. Robbins. Both were decorated in keeping with the birthday traditions." At the time, her daughter Mary and son John resided in her home.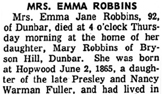 Obituary, 1957
Emma died at age 92 in 1957, and was buried beside her husband. Her obituary was carried in a local newspaper, and is preserved today by the Dunbar Historical Society. At her death, she had five grandchildren, 11 great-grandchildren and seven great-great grandchildren.
~ Son Bartholomew "Beth" Robbins ~
Son Bartholomew Robbins (1905-1996) was born on May 10, 1905 and apparently was named after a half-uncle, Bartholomew "Beth" Minerd.
On April 9, 1931, at the age of 25, Beth was united in holy matrimony with Evelyn Bird Kelley (Oct. 2, 2907-1987).
The couple bore two children -- Evelyn "Honey Girl" Bunting and Edwin Bartholomew "Ed" Robbins.
When the federal census enumeration was made in 1940, the young family made its home with Evelyn's mother and stepfather Mary B. and Alfred H. Hampton in Dunbar. Their next-door neighbors were Beth's uncle and aunt, James William and Minerva J. (Bodkin) Minerd. That year, Beth was employed as a "table man" for the wire glass manufacturing company in Dunbar.
Later, the couple resided in Dunbar on Railroad Street.
On April 9, 1957, they celebrated their 26th wedding anniversary with a family dinner at Oakhurst Restaurant near Somerset, Somerset County, PA. Reported the Connellsville Daily Courier, "Mrs. Robbins was presented an orchid corsage .... Pictures were taken of the family group. After dinner, dancing and reminiscing were the concluding festivities."
Sadly, Evelyn passed away at the age of 79 in June 1987. Burial was in Connellsville's Hill Grove Cemetery.
Beth outlived his wife by almost nine years. He died at the age of 91, in Dunbar, on March 25, 1996.
Daughter Evelyn B. "Honey Girl" Robbins (1932- ? ) was born in about 1932. In about 1956, at the age of 24, she married a distant cousin, John P. Bunting ( ? - ? ), son of Harry Clay and Anna (Hoye) Bunting. See the Hoye/Bunting biography for more.
Son Edwin Bartholomew "Ed" Robbins (1949-2019) was born in about 1949 in Dunbar. As a teenager, he played bass for a band known as The Lost Souls and later was a backup singer for the bands Punch and Capture. At the age of about 22, in 1971, he was united in wedlock with Cynthia "Cindi" Snair ( ? -living). They were the parents of Lucinda Robbins, Heather Robbins and Edwin L. Robbins. He received an associate's degree from Pennsylvania State University and spent three decades of employment with the Pennsylvania Department of Transportation. He specialized in traffic aspect of highway and bridge construction and repair, and after retiring from PennDOT worked for SPK Engineering. He also was a member of the U.S. Army Reserve and enjoyed motorcycling with fellow Harley-Davidson riders. Edwin passed away at the age of 69 on Feb. 10, 2019. In an obituary in the Connellsville Daily Courier, the family asked that any memorial donations be made to the Cure Alzheimer's Fund, the Cerebral Amyloid Angiopathy Research Center or the Connellsville Area Community Ministries.
~ Daughter Mary May Robbins ~
Daughter Mary May Robbins (1906-1996), born on Nov. 10, 1906 in Dunbar Township, Fayette County.
At the age of 16, in March 1923, Mary gave birth to a daughter, Bessie Mae Robbins. The identity of the father is not known.
The U.S. Census of 1930, Mary and Bessie are shown residing in the home of Mary's widowed mother in Dunbar's Pechin community. At the time, Mary worked as a laundress for a private family.
The Great Depression years would have been difficult for this family. Mary obtained employment as a dress maker with the Works Progress Administration (WPA). The WPA was one of the ways President Roosevelt and the federal government tried to overcome unemployment. Millions of out-of-work individuals were hired to build public works projects, such as roads, bridges, retaining walls and buildings, apparently as well as making clothing. The WPA is widely considered one of the Roosevelt's largest and most ambitious undertakings of his "New Deal" to get the nation back on sound economic footing.
Circa 1935, Mary bore a second daughter, Lois J. Robbins.
In 1940, still living in Pechin, Mary and her mother and daughters were still under the same roof. Widower John Beal, age 79, boarded in the household that year.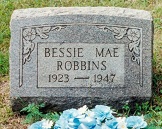 Mt. Auburn Cemetery
Tragedy rocked this family when Bessie died at age 23 on Jan. 4, 1947 "following a lingering illness," said the Uniontown Morning Herald. Bessie Mae left behind her mother, grandmother and a young daughter.
In 1955, Mary lived in Dunbar with her mother. After her mother's passing in 1957, she made her home on Bryson Hill.
Mary succumbed to the Grim Reaper at the age of 89 on March 28, 1996. Burial was in Mount Auburn.
Daughter Bessie Mae Robbins (1923-1947) was born on March 27, 1923 in Dunbar. In November 1947, she began to suffer from pregnancy-related pelvic peritonitis and then developed a lung abscess. She was admitted to Connellsville State Hospital and remained for eight weeks but could not rally. Grief blanketed the family when, at the age of 23, on Jan. 4, 1947, she passed into eternity. She was laid to rest in the Mt. Auburn Cemetery in Dunbar.
Granddaughter

Nancy June Robbins
Daughter Lois J. Robbins (1935- ? ) was born in about 1935 in Dunbar.
~ Son John B. Robbins ~
Son John B. Robbins (1887-1978) was born in 1887.
On Oct. 10, 1906, when he was age 19, John married 20-year-old Caroline Patterson Swearingen (1886-1917), daughter of Andrew and Nancy (Sering) Swearingen. At the time, John was a railroader, living in Dunbar, while Caroline was a clerk, making her home n Mt. Braddock, Fayette County. Because both bride and groom were legally underage, their fathers signed their consents to the union. Rev. J. Sala Leland performed the nuptials in a ceremony at Uniontown.
They had at least one son, Paul Robbins.
Sadly, Carrie was infected with a deadly case of typhoid fever in October 1917, added to heart problems. She was unable to recover, and died on Oct. 26, 1917, at the age of 31. Burial was at Mt. Auburn Cemetery.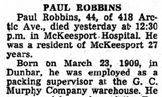 Obituary, 1978
As a widower, John resided in McKeesport, Allegheny County, perhaps as early as 1926. He outlived his wife by a staggering 61 years.
He died in 1978, at the age of 91, and was buried beside Carrie at Mt. Auburn Cemetery in Dunbar.
Son Paul Robbins ( ? -1978), married Mary Brletic ( ? - ? ). They resided in McKeesport. Paul was employed as a packing supervisor at a warehouse of G.C. Murphy Company, and died in 1978. Paul is buried at Versailles Cemetery in McKeesport.

Graves of John and Caroline Robbins at hilly Mt. Auburn Cemetery
Copyright © 2000-2002, 2005-2006, 2008, 2012-2014, 2018-2019 Mark A. Miner
West Penn Railways photo by John C. Roberts, Columbus, Ohio. Emma and Paul Robbins obituaries courtesy of the Dunbar Historical Society.