Anna (Hoye) Bunting
(1886-1968)
Anna (Hoye) Bunting was born on July 27, 1886 in Dunbar, Fayette County, PA, the daughter of John J.P. and Louisa (Minerd) Hoye Sr.
On Dec. 20, 1913, Anna married Harry Clay Bunting Sr. (Feb. 17, 1884-1964), son of Henry and Phoebe (Wood) Bunting of Dunbar. The wedding took place at Scottdale, Westmoreland County, PA, by the hand of Rev. James E. Hutchinson of the Presbyterian Church. Anna was age 27, and Harry 29, at the time of the nuptials.
They went on to produce four children -- Robert Hoye Bunting, Harry C. Bunting Jr., Redding W. Bunting Sr. and John Paul Bunting.
The Buntings resided for decades at 64 Woodvale Street in Dunbar. Harry worked as a carpenter at the time of marriage and through the 1910s and 1920s. Later, he earned a living as a pattern maker, according to the 1942 book, The Hoyes of Maryland, authored by Capt. Charles E. Hoye.
Said the Connellsville Daily Courier, Harry was an "employe of the Pennsylvania Wire Glass Co. and a self-employed carpenter ... [He] retired in 1948."

Pennsylvania Railroad depot in Dunbar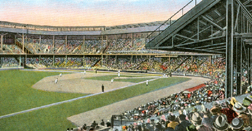 Detroit's Briggs Stadium, where Harry saw
1909 World Series games between the Tigers and Pittsburgh Pirates.
Harry was a fan of Major League baseball. In October 1909, when the Pittsburgh Pirates were battling the Detroit Tigers in the World Series -- pitting future hall of famers Honus Wagner against Ty Cobb -- Harry traveled to the Motor City to attend some of the games. In its "Dunbar" section, the Daily Courier reported: "Harry Bunting, who has been attending the Detroit and Pittsburg games at Detroit, returned home Wednesday."
In 1920, one of the Buntings' neighbors on Woodvale Street was a distant cousin, the famed "blacksmith-preacher," Rev. David Ewing Minerd. In 1921, David became the Buntings' brother in law when he married Harry's widowed sister, Rose Ella (Bunting) Hodgkins.
Anna enjoyed visiting her sister Margaret McClain in Smithfield, Fayette County, and hosted Margaret's daughter Bess for a visit of several weeks in August 1935. In 1937, she was an active volunteer with the Home Economics Club and held social meetings in her home. In July 1938, they traveled to Gettysburg to attend the Blue and Gray Reunion.
The Buntings celebrated their golden wedding anniversary on Dec. 20, 1963 with a turkey dinner at their home on Woodvale Street. Said the Daily Courier, "Twenty members of the immediate family attended the anniversary dinner. the couple received many gifts... Two anniversary cakes for the affair were baked by Mrs. Grover Nelson, a niece of the celebrants, and Mrs. John P. Bunting, their daughter in law."
Suffering from senility and a gall bladder infection (choleocystitis), Harry passed away at age 80 on April 5, 1964, just a few days after the death of his brother Joseph.
In late February 1965, the widowed Anna and her daughter in law Evelyn and grandson J.P. Bunting flew to West Palm Beach, FL, to visit Anna's son Redding Bunting. The Daily Courier reported that Anna planned to remain there for "a couple of months."
Anna passed away unexpectedly at home in Dunbar on May 15, 1968. She was age 82. She was laid to rest at the Mount Auburn Cemetery. At the time of her death, she was survived by nine grandchildren.
~ Son Robert Hoye Bunting ~
Son Robert Hoye Bunting (1914-1996) was born on Sept. 24, 1914 in Dunbar, Fayette County.
Unmarried in 1940 at the age of 25, he lived with his parents in Dunbar and earned income as an operator of a theatre, known as a "picture show" at the time. At some point that year he obtained employment with the U.S. Post Office in Dunbar. He stood 5 feet, 9 inches tall, weighed 135 lbs. and had brown eyes and brown hair.
Robert served during World War II with the U.S. Navy, joining the service on June 25, 1942 and receiving his discharge in Bainbridge, MD on Jan. 28, 1946. During that time, he trained at the U.S. Naval Training Station in Newport, RI and then in radio school in Chicago. In June 1944, the Navy sent him to Texas A&M College for four months and then it was back to radio school in Chicago. From June 1945 to January 1946, he served aboard the destroyer USS Gandy, DE 764.
He married Edith Balazick ( ? - ? ), daughter of Slovak immigrant Charles Balazick Sr. and his wife Helen of Clarksville, Greene County, PA. Edith's father was a prominent builder of roads and bridges in the Pittsburgh regional counties of Cambria, Fayette, Greene, Somerset and Washington as well as in West Virginia.
Three children were produced by this union -- Dr. Susan L. Bunting, Helen Louise Engle and Robert Clay Bunting.
In 1949-1950, the Buntings lived in Flint and Bay City, MI, at the addess of 216 North Madison Avenue. In May 1965, Edith traveled to Dunbar to visit with Robert's aged mother, as reported by the Daily Courier. Later, they resided in Addison, DuPage County, IL.
Said the Connellsville Daily Courier, he was a "theatre sound engineer for RCA. He was a member of the American Legion Post 146 of Dunbar, Pa., a member of the Elks."
Robert passed away in Addison, IL on March 7, 1996, at the age of 81. His obituary was printed in the Chicago Tribune. Funeral services were held in the Good Samaritan United Methodist Church.
Edith outlived her husband by many years. She is known to have relocated by 2006 to Arkansas.
Daughter Dr. Susan L. Bunting ( ? - ? ) received three degrees from Illinois State University -- bachelor's and master's degrees followed in 1987 by a doctorate of education in curriculum and instruction. For more than 25 years, she worked at Chestnut Health Systems to help troubled youth. Circa 1987, she was employed as an instuctor for the ISU Department of Counselor Education and by Lighthouse as an adolescent addiction therapist. She was united in wedlock with Kenneth Strand. They made their residence in Bloomington, IL and are the parents of three known sons -- Michael Strand, Eric Strand and David Robert Nelson Strand. The couple appears to have separated by 2006, with Susan moving to Watseka and Kenneth remaining in Bloomington. Susan has published several letters to the editor over the years in the Bloomington Pantagraph.
Grandson

Michael Strand

(1977- ? ) was born in about 1977 and grew up in Bloomington, IL.
Grandson Eric Strand

(1983- ? ) was born in about 1983. In 2006, he and Terri Power, daughter of John and Marty Power of Bloomington, bore a son, Payton Jordan Strand.
Grandson David Robert Nelson Strand

(1987- ? ) was born in 1987. News of his birth was announced on the pages of the

Bloomington Pantagraph

, which said he was named for a paternal uncle, maternal grandfather and paternal great-grandparents.
Daughter Helen Louise Bunting ( ? - ? ) married John "Jack" Engle ( ? - ? ), son of Robert and Mary Engle. The couple were the parents of Kelly Elizabeth Moran and Gregory Engle. Circa 2007, the family dwelled in Kingwood, TX.
Granddaughter Kelly Elizabeth Engle ( ? - ? ) was born in (?). As a young woman, she received a bachelor's degree in psychology from the University of Texas at Austin. She then became employed with the National Multiple Sclerosis Society in Houston. On May 26, 2007, she was united in wedlock with Garrett Michael Moran ( ? - ? ), son of Michael R. and Shanna (Hawk) Moran of Midland, TX. The nuptials were held in Hotel Galvez on Galveston Island in Texas. Garrett's cousin, Rev. Dr. James Hawk, officiated. The marriage was announced in the Midland (TX) Reporter-Telegram. Garrett had received both a bachelor's degree (2002) and master's degree in aerospace engineering and structural dynamics (2004), also from UT Austin. At the time of marriage, he earned a living in Houston with the Boeing Company.
Son Robert Clay Bunting ( ? - ? ) - nothing more is known.
~ Son Redding W. Bunting Sr. ~
Son Redding W. Bunting Sr. (1917-1996 ) was born on Dec. 28, 1917 in Dunbar, Fayette County, PA.
Circa 1940, a bachelor at the age of 22, he was employed in Dunbar as a cover cap man for a wire glass manufacturing company.
During World War II, Redding served with the U.S. Army Air Force as a "hurricane hunter." In this role, he and his crewmates made two patrol flights a day to observe weather, locate disturbances, identify the center and course and estimate intensity. In September 1945, he was aboard a plane which rode "into the very center of a vicious storm sweeping toward Florida," reported the Connellsville Daily Courier. "After three days of playing tag with the storm and following its trail for more than 1,500 miles toward the coast, the fliers returned to their base nursing bruises and aches. At one time a motor quit and they struggled for 100 miles toward Cuba before it smoothed out. In the center of the storm the plan ws struck time and again by lightning, which arced about the cabin."
At a wedding ceremony held in the chapel at Columbia Air Base in Columbus, SC, on Feb. 19, 1944,the 26-year-old Redding was united in holy matrimony with Mary Catherine Bigley ( ? - ? ), daughter of John B. Bigley of Trotter/Dunbar. Officiating was Catholic priest Rev. Aquintas Brinker. Said the Daily Courier, the bride "was attractive in a brown silk gabardine suit with matching accessories. Her corsage was of orchids, and for her 'soldthing old' she wore a gold bracelet which belonged to her mother. She carried a white prayer book and gold rosary, the bridegroom's gifts."
As an infant, Mary had been taken into the home of her paternal grandparents B.J. and Mary McGivern of Dunbar and raised with them to adulthood. Prior to marriage, Mary had studied at Seton Hill College in nearby Greensburg, PA, and at a U.S. government school in Pittsburgh, followed by employment for a year and a half as a government inspector at the Acme Dye Company plant in Latrobe, PA.
The couple bore four children -- Rosemary Riggen Copple, Robert M. Bunting, Redding W. Bunting Jr. and Harry Joseph Bunting.
Sadness blanketed the family when son Harry -- a breech baby -- died at just two days of age on April 5, 1947, having suffered bleeding on the brain and lung problems.
Redding was a longtime contractor, said the Daily Courier. He held a contract in 1968 with Vanderbilt Borough Council to provide street repairs. Circa 1970, the board of supervisors of Redstone Township awarded him a contract to provide oil for road paving, and in 1973, the supervisors of Dunbar Township did likewise. In late December 1967, a bucket and highlift he was using for a Pennsylvania Department of Highways project was used in a vain attempt to rescue a 10-year-old girl from drowning after she fell through ice in the Youghiogheny River. His name also was in newspapers in the 1960s when his controversial plant in Dunbar, used to produce an asphalt-type substance known as amiesite, was objected to by local residents, and he was issued a restraining order.
Redding and Mary Catherine eventually divorced. By 1969, she married a second time to Dale Shipley and had moved to Masontown, Fayette County.
Redding passed away at age 78 on Sept. 16, 1996, and is buried at Mt. Auburn Cemetery, Dunbar.
Daughter Rosemary Bunting (1949- ? ) was born in about 1949. She was active in the Fayette County Young Republicans as a teenager in 1968. She then moved to Cleveland, Cuyahoga County, OH, where she worked as a secretary for Ryerson Steel Company. She appears to have been twice-wed. On May 24, 1969, she entered into marriage with her first spouse, George T. Riggen Jr. ( ? - ? ), son of George T. Riggen Sr. of Cleveland, Cuyahoga County, OH. Their wedding ceremony was presided over by Rev. Vincent J. Ricco at St. Aloysius Roman Catholic Church of Dunbar. In reporting on the nuptials, the Connellsville Daily Courier observed that Rosemary wore "a floor-length A-line gown of imported organza with venice lace trim. The empire bodice featured a jewel neckline and organza bishop sleeves, the upper portion of the bodice and sleeves of the venice lace. The bride's mantilla of illusion, edged with the venice lace, cascaed over the folowing chapel-length train." She wore diamond earrings which had belonged to her grandmother Anna (Hoye) bunting. The newlyweds made their first home in Cleveland, where George was employed as a tree surgeon by Asplundh Tree Experts. In time, she married (?) Copple ( ? - ? ).
Son Robert M. Bunting (1952- ? ) was born in about 1952.
Son Redding W. Bunting Jr. (1957- ? ) was born in 1957. At his third birthday, he was pictured in the Connellsville Daily Courier. Evidence hints that he was a Republican candidate for Dunbar Borough Council in the 1970s and a member of the Dunbar Volunteer Fire Department, competing in the Western Pennsylvania Firemen's Association's famed "battle of the barrel." In more recent years he has been employed with Michels Corporation of Connellsville as a right-of-way coordinator.

John P. Bunting
~ Son John Paul Bunting ~
Son John Paul Bunting (1925-1997) was born on Sept. 22, 1924 in Dunbar, Fayette County.
He attended Dunbar Township High School and served in the U.S. Army during World War II. He entered the service on June 12, 1943 and trained as an aviation cadet.
On Christmas Eve 1945, at the age of 20, while still in the military, John wedded Helen Hunter (1924-2015), daughter of Harry M. and Grace Margaret (Grimm) Hunter of Indian Head, Fayette County. The ceremony took place in Warren, Trumbull County, OH at the First Reformed Church, officiated by Rev. Mathis. News of the wedding was announced in the Connellsville Daily Courier.
The couple together produced at least one son, Mark Edward Bunting.

News story, 1956
Immediately upon marriage, John received orders to report to Florida where he received further training at pilot school in Courtland, learning how to operate a four-engine B-24 bomber. Helen made her residence during that period in Decatur, AL. He received his honorable discharge at Fort Douglas, Utah in March 1946.
The couple eventually divorced, with Helen making a new home in Scottdale, Fayette County.
Then in January 1956, John entered into wedlock with 25-year-old Evelyn Bud "Honeygirl" Robbins (Oct. 25, 1931-2021), of Dunbar, the daughter of Beth and Evelyn Bud (Kelley) Robbins and granddaughter of a distant step-cousin, Emma (Fuller) Robbins. Their nuptials were held at the First Presbyterian Church, presided over by Rev. William Strohm.
Two offspring were born to this marriage, John Paul "J.P." Bunting and Salene Callahan.
The Buntings' address for many years was 73 Woodvale Street, Dunbar.
In about 1953, John joined American Oil Company in Uniontown. Then in 1962, having worked for American Oil as an asphalt terminal operator in nearby North Charleroi, he was named as a bulk station agent for its facility in Uniontown. He is pictured in the book, Young American Patriots, World War II, Pennsylvania, accompanied by a short biographical profile.
Evelyn, a former piano teacher, worked in 1956 as an IBM computer operator at the West Penn Power Company in Connellsville, one of many cousins in the extended family to be employed by the utility. She also was a 50-year member of the Dunbar Presbyterian Church, where she was a longtime organist.
They enjoyed vacations to Deep Creek Lake in Maryland. In February 1965, Evelyn and her mother and son flew to Florida to visit relatives in WEst Palm Beach.
Said the Daily Courier, "People often share the phrase, 'bloom where you're planted,' and Honeygirl certainly did. She was born in Dunbar, grew deep roots, and lived there happily all her years creating a life filled with music, family, fellowship, and love. She was a homemaker who loved organization and routine (and laundry!). She was a terrific baker and her door was always open."
Sadly, John passed away on April 15, 1997, bringing to a close their marriage which had spanned four decades.
At the age of 89, as a patient in Uniontown Hospital, Evelyn passed away on St. Patrick's Day 2021. Funeral services were held in the family church, led by Pastor David Douthitt. Burial was at Green Ridge Memorial Park. An obituary appeared in the Daily Courier.
John's ex wife Helen died on Dec. 9, 2015.
Son Mark Edward Bunting (1953- ? ) was born in about 1953. He married Tammy ( ? - ? )..
Son John Paul Bunting Jr. (1958- ? ) was born in about 1958. He is believed to have been a member of the 1976 graduating class of Connellsville Area High School. Evidence suggests that circa 1976 he competed as a professional motocross rider in an American Motorcycle Association race at Keyser's Ridge, Maryland. He wedded Michelle ( ? - ? ).
Daughter Salene Ann Bunting (1963- ? ) was born in 1963. She received the rite of infant baptism at the Dunbar Presbyterian Church at the hand of Rev. Wendell Harford, and the news was printed in the gossip columns of the Connellsville Daily Courier. Then at her seventh birthday, her photograph was printed in the Daily Courier. She was joined in wedlock with Terry Callahan ( ? - ? ).
Copyright © 2005, 2008, 2012, 2014, 2021 Mark A. Miner