Margaret (Hoye) McClain
(1878-1959)


Margaret and Charles McClain
Margaret "Maggie" (Hoye) McClain was born on June 27, 1878 in Oakland, Garrett County, MD, the daughter of John J.P. and Louisa (Minerd) Hoye Sr.
When Margaret was about two years old, she moved with her parents to the booming industrial town of Dunbar, Fayette County, PA, where she grew to adulthood.
On June 11, 1898, at the age of 19, Margaret married 23-year-old Charles D. McClain ( ? -1967), a resident of Dunbar Township. Rev. James O. Martin oversaw the wedding ceremony at the home of Margaret's parents. Their wedding photograph portrait is seen here.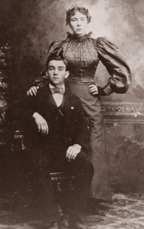 Wedding portrait
The McClains became the parents of a brood of six children -- Perry Harlan McClain, Louise Schrenckengost, Mabel Lloyd, Ruth McClain, James Paul McClain and Beatrice Smith Kollar.
Sadly, daughter Ruth died at the tender age of 10 months on Nov. 16, 1907.
Charles was employed as a teamster at the time of their marriage. He also worked as a stable boss for the Oliver Coal Company. The family resided circa 1906 in Mt. Braddock and in 1911 in Oliver, both of which were coke works towns near Uniontown, Fayette County.
Later, they moved to R.D. 3, Smithfield, Nicholson Township, also near Uniontown, and remained there for three decades.
According to the 1942 book, The Hoyes of Maryland, by Capt. Charles E. Hoye, Charles also was a farmer.
Obituary, 1959
Margaret suffered from heart disease and hardening of the arteries as well as diabetes. She passed away from their effects at the age of 80 on May 16, 1959. She was laid to rest at Mount Moriah Baptist Cemetery in Smithfield.
Charles outlived his wife by eight years. He died on March 30, 1967, and also rests for eternity at Mount Moriah Cemetery.
~ Daughter Louise (McClain) Schreckengost ~
Daughter Louise McClain (1901-1995) was born in 1901.
When she was age 23, in November 1924, Louise was joined in wedlock with Frederick Schrenckengost ( ? - ? ).
They resided in Fairchance, near Smithfield, and circa 1959 in Haddenville, along the National Road/U.S. Route 40 west of Uniontown. Haddenville was a small community which among other things featured an Amoco gasoline station and furnished cabins for tourists.
Frederick was a glazier (glassmaker). They had one son, Frederick Homer Schreckengost.

Haddenville, near Uniontown
Louise died at the age of 94 on Aug. 22, 1995.
Son Frederick Homer Schreckengost (1925-1953) was born five days before Christmas 1924. He served in the U.S. Armed Forces, likely during World War II. After the war, he resided near Uniontown and earned a living as a machinist. Frederick was married, but the name of his bride is unknown. At the age of 28, he was stricken with encephalitis, and was admitted to the Veterans Affairs Hospital in Aspinwall, near Pittsburgh. He died just two days later on Oct. 14, 1953. His remains were brought back to Fayette County for interment in Lafayette Memorial Park.
~ Son Perry McClain ~
Son Perry McClain (1899-1987) was born in about 1899.
On Dec. 11, 1922 in Uniontown, the 23-year-old Perry was united in holy matrimony with 19-year-old Thelma Weir (1903-1989).
Perry was employed as a mechanic in Uniontown.
They had four children -- Betty Ruth Stewart, Charles "William" McClain, Robert Daniel McClain (1926-1988) and Carol Glover.

Heartache, 1944
During World War II, both of the McClain sons served in the U.S. military -- Robert in the Navy in the submarine service, and William as a paratrooper. One of them -- William -- paid the supreme sacrifice by giving his life for the cause, one of far too many cousins who were military casualties in our collective family history.
Perry died on Oct. 17, 1987, at the age of 88.
Thelma only outlived her husband by less than two years. She passed away on July 5, 1989.
Son Charles "William" McClain ( ? -1944) took part in the June 1944 D-Day invasion in France, "and was wounded shortly after the first outfit of paratroopers landed in Normandy," said a newspaper. "Returning to England, young McClain recovered in a base hospital and returned to duty. Several weeks later he was fatally wounded in the leg." He succumbed to his wounds on Oct. 6, 1944, in Holland. His remains were not returned home for five years. His funeral was held on Feb. 5, 1949, with burial at Sylvan Heights Cemetery in Uniontown.
Daughter Betty Ruth McClain (1923-2019) was born on June 5, 1923 in Oliver, Fayette County. She was united in holy matrimony with (?) Stewart ( ? - ? ). toward the end of her life, Betty lived in Uniontown. She passed away at the age of 96 on June 22, 2019. An obituary was published in the Uniontown Herald-Standard.
Son Robert Daniel McClain (1926-1988) was born in 1926. He died in 1988.
Daughter Carol McClain ( ? - ? ) wedded (?) Glover.
~ Daughter Mabel (McClain) Lloyd ~
Daughter Mabel McClain (1906-2007) was born in 1906.
She married Raymond Lloyd (1904-1980) on Dec. 17, 1926. They also lived in Fairchance, where Raymond worked as a clerk. Raymond also labored as a coal miner. They were members of the First Baptist Church of Fairchance, and Mabel also attended the Wharton Furnace Union Chapel.
The Lloyds had two daughters, Marguerite Edwards and Donna Smithburger.
Raymond died in 1980.
Mabel outlived him by more than a quarter of a century, and she celebrated her 100th birthday on Jan. 4, 2006. She passed away the following year, on the Fourth of July 2007, at the age of 101. She was laid to rest in the Mount Moriah Baptist Cemetery in Smithfield, Fayette County.
Early view of unpaved Morgantown Street in Fairchance
~ Son James Paul McClain ~
Son James Paul McClain (1911-2004) was born in 1911.
He married Mildred Pugh ( ? - ? ) on Feb. 2, 1934.
They had two sons -- Frederick "Lee" McClain and Charles Andrew McClain.
He later married Rose Gerard ( ? - ? ). Said the Uniontown Herald-Standard, Jim "was a heavy equipment operator with Operating Engineers Local 66 and Labor Union Local 1058 until his retirement and a local farmer in the Smithfield area where he and his family lived all of their life."
James died in 2004.
Son Frederick "Lee" McClain ( ? -living) was born in (?). After graduation from high school, he served for four years in the U.S. Navy as a boiler technician. Later, he accepted a position with Fry Stone and Coal Company. On Oct. 28, 1961, he married Mary Louise Opalko ( ? - ? ), daughter of Charles Opalko of Uniontown. The nuptaisl were held at Saints Cyril and Methodius Roman Catholic Church, officiated by Rev. John Burke. At the time of marriage, Mary Louise worked at Jenny's Restaurant in Fairchance.
Son Charles Andrew McClain ( ? -living) was born in (?). He worked for Vesco Corporation of Lake Lynn as a young man. In about 1960, he wedded Carol Ann Hixenbaugh (Aug. 19, 1942-2019), daughter of John and Sara (Moody) Hixenbaugh of Allison, Fayette County. At the time of marriage, Carol was preparing to enroll in Uniontown Commercial Institute. The marriage endured for 58 years. The couple bore these offspring -- Charles "Chuck" McClain and Sara Reinhard. The McClains lived for decades in Smithfield and wee members of Oak Hill Baptist Church. For more than four decades, Carol also volunteered with the Cub Scouts as a pack leader. Sadly, on Jan. 14, 2019, Carol passed away. Burial was in Mount Moriah Baptist Cemetery in Smithfield, and the Uniontown Herald-Standard printed an obituary.
~ Daughter Beatrice (McClain) Smith ~
Daughter Beatrice McClain (1916-2005) was born in 1916.
She married Thomas Smith ( ? - ? ). They had two children, Thomas Smith and Lou Ann Smith.
The Smiths resided in St. Petersburg, FL in 1959.
Later, Beatrice married George Kollal ( ? - ? ).
Beatrice passed away in 2005.
Copyright © 2005, 2007, 2009, 2012, 2016 Mark A. Miner