Home

Honor Roll: 97 Military Casualties
~ So We Will Never Forget ~
In the course of carrying out their mission to serve and protect our nation, far too many of our cousins in the military -- comprised of Minerd-Minard-Miner-Minor cousins and their spouses -- have made the ultimate sacrifice of giving their lives. This page honors each one so that his memory will never be forgotten.
x

x

x

x

Burkett M. Fawcett, Masontown (WV) Cemetery

- Courtesy Tammy Clark

Lewis Shirar - Knoxville National Cemetery

- Courtesy Howard. A. Sutherland

x

x

Dillon W. Moffitt, Mound City
National Cemetery, IL (disease).
Courtesy Randy Watkins

David C. Parish

, Edgar Cemetery,
Paris, IL (killed at Nashville)
Courtesy Phyllis Sutton

Solomon Sturtz

, Vicksburg National Cemetery (disease)


Courtesy Jeffry Burden

Anthony Gaumer

- Chattanooga
National Cemetery (disease) -

Courtesy Marvin and Samme Templin

Michael Sturtz - Little Rock
National Cemetery (disease)


Courtesy DaveCHCIO

Franklin Lewis Gaumer - Arlington National Cemetery (killed in action). Courtesy U.S. Army
Philippine Insurrection/Spanish American (1)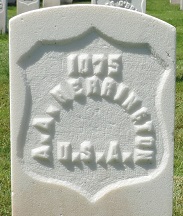 Albert H. Herrington - San Francisco
National Cemetery - Courtesy Carol Farrant
World War II (39)



L-R: Richard Nathan Reese - Alvin Glen Ream - Louis E. Younkin - Earl Jack Peters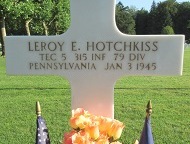 L-R: Robert William Eckert, Arlington National Cemetery - Robert E. Holdsworth, Punxsutawney, PA. Courtesy Marianne Fisher.- Leroy Eugene Hotchkiss, Epinal American Cemetery, France. Courtesy Dwight Anderson.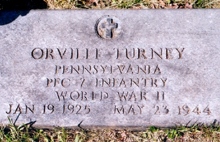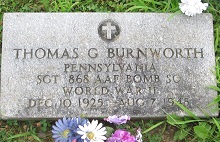 L-R: Orville Turney, Connellsville, PA - Thomas Glenn Burnworth, Confluence, PA

William T. Beal, Courts of the Missing, Honolulu
(courtesy Sherry Staley Harysch)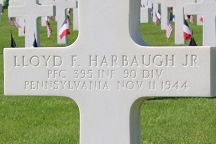 Jack Clayton Reisinger, Tablets of the Missing, Sicily-Rome American Cemetery and Memorial. (courtesy John Richter)
No known images of these World War II casualties: Jack Barr - Alan Durham Carroll - Amos Bartholomew "A.B." Clark - Raymond W. Colflesh - Garfield Gerald Gaumer - Jack Jennings - Arthur Hammond Keeney Jr. - William "Neal" Martin - James H. Meitzler - Blair E. Miller - Oliver Wendell Minard - John Louis Richter - Edsel Stuckman - LeRoy S. Stengel - Harold Gordon Walsh - Kenneth Young.