Charles Minor White
(1884-1944)

Charles Minor White was born on Leap Day (Feb. 29), 1884 at Haseville, Linn County, MO, the son of Lester and Susan (McCarty) White. His only son was killed in military service during the Korean War.
As a newborn, Charles moved with his parents to Isabel, Barber County, KS, shortly afterward to be joined by his grandparents, uncles, aunts and young cousins.
Charles was tall and of medium build as an adult, with blue eyes and brown hair.
In about 1910, when both were about age 26, Charles married Fay Stark Shoemaker (1884-1951), daughter of John and Fay (Stark) Shoemaker. She is said to have been a seamstress, animal lover and piano player.
One son born to this union was Minor Fay White.
In 1910, the federal census shows the newlywed couple residing in Valley Township in Barber County. Under their roof that year was Fay's widowed mother. Living next door was Charles' sister and brother in law, Nona and George Washington Sellers and children. Both men were listed with occupations as farmers.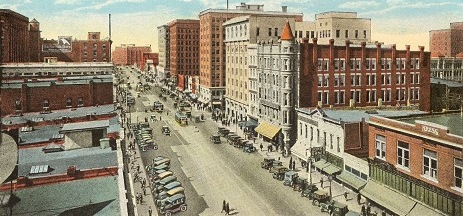 Wichita's busy Douglas Avenue

Charles was required to register for the military draft during World War I. He disclosed that he was self-employed in farming and that Fay was his next of kin.
As farmers, Charles and Fay lived near Nashville, Kingman County, KS, in the mid-1920s and early 1930s. In 1932, they relocated again to Wichita, where he labored as a flour mill operator. Their son is known to have moved to Wichita in 1926, so perhaps the entire family was there at that time as well.
Charles died at the age of 60 in Wichita, in 1944. The details are not known.
Fay outlived him by several years. She passed away in 1951, at the age of 67. They are buried at Wichita Park Cemetery, beside their son Minor and grandson Charles.
~ Son Minor Fay White ~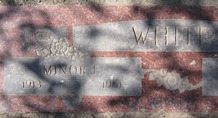 Son Minor Fay White (1913-1951) was born in 1913 in Isabel.
He moved to Wichita in 1926, when he was age 13, although his parents are not known to have relocated there until about 1932.
He married Nina Mae Sutter (1911-1991), also spelled "Sutten."
They produced two known sons, Charles Minor White and Harry Minor White.
Minor spent three years in the US Air Force during World War II. Said the Wichita Eagle, "He served as engineer-pilot of the C-47 veteran, 'Nina Mae,' which was the lead plane on a number of important missions for paratroop-drops in the European theater," including at Normandy, France on D-Day in June 1944. He also took part part in the invasions of Sicily and Italy, and served in England, Germany, Holland, Belgium, Austria, Africa, South America and Ireland. Said the Eagle, "He received many distinguished honors, among them the presidential citation from General Eisenhower; the enlisted air crew badge; American theater ribbon; American defense ribbon; E.A.M.E. ribbon; good conduct medal; air medal with three oak leaf clusters; distinguished unit bade with one oak leaf cluster; American air force distinctive service patch."
During the Korean War, he served again and was wounded in an evacuation, receiving the Purple Heart. That that time, he resided in Spanaway, WA, and was a crew chief on a C-124 airplane, stationed at McChord Air Field near Tacoma.

McChord Air Field's camouflaged airplane hangars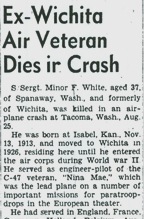 Wichita Eagle, 1951
On Aug. 25, 1951, while on maneuvers at McChord, Minor tragically was killed in an airplane crash, a casualty of the Korean War. The Air Force did not publicly release the details of Minor's grisly death are known. In a news story, the Wichita Eagle simply reported that he "was killed in an airplane crash at Tacoma...."
Minor's remains were returned to Kansas for burial with his parents at Wichita Park Cemetery. The funeral was led by Rev. R.L. Woods of the Meridian Baptist Church. He rests under a beautiful, flat red barre granite marker.
Minor's widow, Nina Mae, was "a teacher of educable retarded children" for a number of years in Wichita, according to the 1971 book, Ancestral and Chronological History and Lineage of the Family of Luther White and Mahala (Minor) White, Their Forbears and Descendants, 1665-1971, by Jeanette Blanche (Clark) Tarter, Edith M. (Peterie) Hoyt and Verda (White) Richey.
Nina maintained relations with her late husband's family. She spent time in August 1975 with Minor's cousin Blanche Tarter, author of the White book. Blanche in turn wrote of this visit to her son Paul, with the son replying: "Your visit with Mrs. Nina White (I notivrf she is about my age) must have been interesting and rewarding. Inasmuch as both of her sons' middle names are Minor, either she or her husband must have been proud of the name."
In October 1977, Nina is known to have visited again with Blanche Tarter in the Tarter home in Raytown, near Kansas City. "We talked a good deal about the Minor History," Blanche wrote in a letter to her son:
Capt. Minor White, as you know, was stationed several years in Germany. He married Sharron McFarland of Houston, Texas and he had an apartment over there. Nina went over there to visit them and toured the country as much as she could. She saw in Heidelberg, Germany, a bust of a man named Sir Minor, among busts of famous men. She is positive that he was our ancestor and I think so too.
She died in 1991, at the age of 80, and is buried with her husband.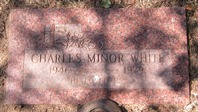 Wichita Park Cemetery
Son Charles Minor White (1946-1979) was born on Oct. 5, 1946 in Kansas, presumably in Wichita. He married Sharon McFarland ( ? - ? ) and was a pilot and captain in the U.S. Air Force. A son was born to the couple, Brandon White. For many years he was stationed in Germany. Circa 1977, he resided in Ogden, Utah, at the address of 22425 East Bonneville Terrace Drive, and traveled frequently on Air Force business to Dayton, Ohio. He is known to have been a member of the 421st Tactical Fighter Squadron and instrumental in helping to develop a F-16 fighter simulator. The F-16, known as the "Fighting Falcon" and "Viper," was a supersonic, single-engine multirole fighter that could be deployed in any weather. Today it's not only used by the Air Force but also the U.S. Navy and the Air Force Thunderbirds, an air demonstration squadron, as well as scores of other countries' air forces. Then from 1977 to 1979, he was part of the 4444th Operations Squadron. Grief blanketed the family when Charles was diagnosed with lymphoma. As the cancer spread widely, he was admitted to the Wilford Hall Air Force Medical Center at Lackland Air Force Base in Bexar County, TX, where he underwent treatment for 125 days. There was no possible cure. He passed away on Jan. 10, 1979 at the untimely age of 32. He is interred with his parents and grandparents at Wichita Park Cemetery. The inscription on his marker reads: "He loved us." Circa 1982, the F-16 simulator facility at Hill Air Force Base in Utah was dedicated in his name.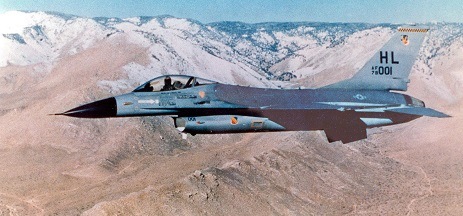 An early F-16 Fighting Falcon aircraft in flight. U.S. Air Force courtesy photo.
Son Harry Minor White (1950-2010) was born on Sept. 27, 1950 and was only 10 months old when his father was killed. He was married and the father of two sons, Benjamin Minor White and Austin James White. Harry was employed as an engineer with Cessna Aircraft Company, headquartered in Wichita, and resided in Connecticut circa 1975. He passed away in Kansas at the age of 59 on Feb. 4, 2010. Funeral services were held in the College Hill United Methodist Church. An obituary was published in the Wichita Eagle.
Grandson

Benjamin Minor White

( ? -living) has two sons, Henry Minor White and Julian James White.
Grandson Austin James White
Copyright © 2000, 2006, 2010-2011, 2018, 2020 Mark A. Miner