Home

Nona (White) Sellers
(1875-1911)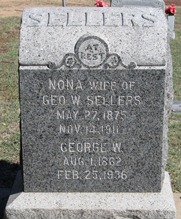 Isabel Cemetery
Nona (White) Sellers was born on May 27, 1875 at Haseville, Linn County, MO, the daughter of Lester and Susan (McCarty) White.
Her tragic story, and stories of her offspring, are chronicled in the book, Ancestral and Chronological History and Lineage of the Family of Luther White and Mahala (Minor) White, Their Forbears and Descendants, 1665-1971. The book was authored in 1971 by Jeanette Blanche (Clark) Tarter, Edith (Peterie) Hoyt and Verda (White) Richey.
At the age of nine, in the spring of 1884, she moved with her parents and grandparents to Isabel, Barber County, KS.
Tragedy struck without warning during the summer harvest of 1889, with Nona receiving a serious injury. On July 8, 1889, Nona and her aunt Nettie Bailey went to visit neighbor William R. and Anna Sellers and help them during the summer harvest. A number of relatives and friends were there, including Nona's future husband George Washington Sellers. A hard rain approached from the south just after the midday dinner.
Every one of the dozen or so gathered there stopped to watch as the torrents came closer, with the children dispatched to the dugout cellar for safekeeping. As the storm hit, the adult women also fled to the cellar, with the men taking refuge in the first floor, leaving a door open to watch the rain. When lightning flashed to the south, the men closed the door for fear of another strike.
Five minutes later, when the rain seemed to abate, Nona and Nettie decided to ascend from the cellar and investigate. As they reached the cellar door, a blinding bolt of lightning struck the flue pipe on the roof of the Sellers house. What happened next was told in exquisite, tragic detail by the Cresset:
The lightning ... passed down the stove pipe, divided at the stove -- a current passing down each back leg and through the floor into the basement and into the ground. Mrs. Bailey was standing directly under one current. The bolt struck her on the left shoulder and passing down her body passed off her right foot. her clothing was not torn in the least and only a small mark was left on her body; her right shoe was torn off. Nona White was almost under the other current, it passing so close to her as to knock her senseless. Mrs. Bailey had her baby in her arms when she was struck, and strange to say the baby was not injured. The men rushed into the basement and at once carried the woman and girl out into the rain. Miss White soon began to show signs of life, but Mrs. Bailey was dead... Mrs. Bailey's husband was in Missouri and was at once telegraphed. Altogether the fatality is very sad indeed and has cast gloom over the entire community.
Nona slowly recovered from the shock of the lightning strike, and entered her years of womanhood. She professed her faith in Christ at the age of 15, in 1890, and joined the Methodist Episcopal Church in town.
On May 27, 1893, at the age of 18, Nona married 30-year-old George Washington Sellers (Aug. 1, 1862-1936), a native of Greenville, Green County, TN, and the son of Hiram and Mary (Morris) Sellers. They had known each other for at least nine years, and were 13 years apart in age. Rev. S.L. Hayes performed the ceremony.
Among George's siblings were William R. Sellers, Enoch Sellers and Rachel Chamberlain. As a boy of nine, George and his parents and siblings migrated to Missouri, settling in Ridgeway, Harrison County. George grew to manhood in Ridgeway, but needing a change of climate for his health, came further west to south-central Kansas in 1884, the same year Nona and her family relocated there.
Nona was described as "a kind and loving mother, wife and daughter."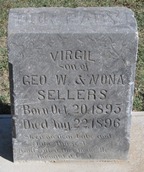 Isabel Cemetery
They had six children -- Arlis Marion Sellers, Virgil Lester Sellers, Floy White Sellers, Merl Lester "Jack" Sellers, Paul Laverne Sellers and Vina Susan Sellers.
Sadly, son Virgil died on Aug. 22, 1896, when he was but a tender 10 months of age. His little body was placed at rest in the Isabel Cemetery, where his parents would join him in due time. Inscribed on his upright grave marker is this poem: "Sleep on dear babe and take thy rest. God called thee home. He thought it best."
Early in their marriage, the Sellerses moved to Oklahoma, and remained in the community of Alva for a period of six years. Said the Barber County Index, "He was among those who won a claim in the famous run that opened the Strip in 1893. He lived on his claim for six years before returning to Isabel."
George served as a school teacher for 17 years. He also was a local justice of the peace for many years, and a member of the International Order of Odd Fellows (IOOF) lodge in Isabel. He is mentioned in the 1980 book, Chosen Land: Barber County, Kansas.
When the federal census of 1900 was enumerated, the family made its residence in the Valley Township section of Barber County. George was listed as a "farmer," and his 22-year-old brother Otis Sellers lived under their roof, working as a "farm laborer."
By 1910, the census of Valley Township shows the family had five children, but that one had not survived. Living next door was Nona's newlywed brother Charles Minor White, and his wife Faye and mother in law. Both men were listed with occupations as farmers.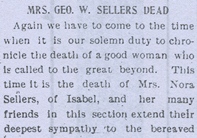 Medicine Lodge Crescent, 1911
Tragically, Nona died eight days after giving birth to their only daughter, Vina, on Nov. 14, 1911, in Isabel. She was only 36 years, five months and 19 days old.
In a lengthy obituary, the Medicine Lodge Cresset began: "Again we have to come to the time when it is our solemn duty to chronicle the death of a good woman who is called to the great beyond. This time it is the death of Mrs. Nona Sellers, of Isabel, and her many friends in this section extend their deepest sympathy to the bereaved husband."
The Isabel Star newspaper noted that "Before her death, Mrs. Sellers expressed her desire to live with her family if it was the Lord's will. If not she was prepared and ready to go."
In a funeral in Nona's home church in Isabel, the Methodist-Episcopal congregation, Rev. V.G. Thomas conducted the service, followed by burial in the Isabel Cemetery. "The floral offerings were many and beautiful," reported the Star. "The bereaved family have the sympathy of the entire community in this their hour of deepest sorrow."
After Nona's death, George arranged for his sister Nancy Dickerson to help raise the children. After a year of that arrangement, Vina was taken into the home of Belle Wohlford in Ashton, KS.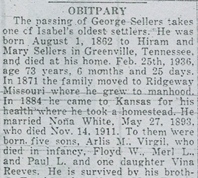 Barber County Index, 1936
Later, Mary Moriah (Buckingham) Stafford came to live in the Sellers home to help provide care for the boys.
Four years after his wife's death, on June 23, 1915, George married Dr. Annie Stanley ( ? - ? ), an osteopathic physician. They enjoyed more than two decades of marriage. Annie's role as step-mother allowed them to bring back George's youngest, Vina, to be raised to adulthood in their home.
In the winter of 1936, George contracted a life-threatening case of pneumonia. His health sunk ever lower, and on Feb. 25, 1936, at the age of 74, he succumbed at home in Isabel. His remains were laid to rest in Isabel beside his first wife, Nona, following a funeral at the Methodist church. An obituary in the Barber County Index stated that he was "one of Isabel's oldest settlers.... he was a good man, kindly, honest and just, and was one of the pioneer builders of the community."
As a widow, Annie remained in Isabel for a period of time. Later, she moved to Anthony, KS and lived for another 16 years, passing away in about 1952.
~ Son Arlis Marion Sellers ~
Son Arlis Marion Sellers (1884- ? ) was born on Jan. 27, 1894 in Isabel.
On Aug. 15, 1916, in Cullison, KS, he married Flora Ann Toothacre (1894- ? ), the daughter of Thomas Blakeway and Honora (Fitzgerald) Toothaker. He was age 32, and she was a decade younger.
He served in the U.S. Navy during World War I, enlisting on Sept. 1, 1917 and receiving his discharge in April 1919. At the time, he was a farmer in Mud Creek, CO. The draft registrar noted that he had light blue eyes and light hair, and was tall with a slender build.
They had three children -- Marion Lester Sellers, Mary Ellen Sellers and Lois Elaine Sellers.
After the war, Arlis and Flora were educators in Colorado, near "where he had taken a homestead near Lamar" circa 1920, said the 1971 Ancestral History. The federal census of 1920 shows the family in Carlton, Prowers County, CO, where Arlis was employed as a clerk in a sugar beet farm.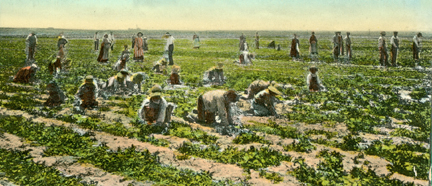 Laborers thinning sugar beets in Colorado at the type of farm where Arlis was employed as a clerk circa 1920
Arlis left his family at some point, possibly changed his name, and his family never saw him again. When his grandfather Lester White died in 1934, and Arlis was named in the will to receive a bequest of $5 cash, his whereabouts were unknown, and a court document stated that "he has not been heard from for many years." The amount was forfeited to be divided among the remaining heirs.
Son Marion Lester Sellers, a member of a Pratt County high school debating team in the winter of 1936, "won a trip to Kansas City to take part in a state contest there," reported the Barber County Index. "The subject for debate is, 'Is it Right for Every Person in Kansas to Have Free Medical Service'. Marion has the negative side."
In November 1936, at the untimely death of his sister Vina Reeves, the Hardin County (KS) Index reported that Arlis was living in Pratt, Pratt County, KS.
Circa 1971, when the family history was published, Flora made her home at Route #3, Pratt.
The family has been eager to learn whatever happened to Arlis. In a posting on Ancestry.com in May 1999, his grandson Paul Blakeway Sellers said the Arlis had disappeared in about 1930 from Pratt, KS, and was rumored to have been in California in the 1950s and '60s. At one point he told his son Marion that he wanted to meet, "but was gone when Marion arrived," said a relative.
~ Son Floy White Sellers (a.k.a. "Sellars") ~
Son Floy White Sellers (1897-1980) was born on Dec. 29, 1897 in Mingonia, KS.
He was a longtime newspaper publisher and editor and is said to have been "the first Isabel High School graduate to enlist for service in World War I," serving as a radio operator with the Marine Corps Heavy Artillery Force. While in the army, he occasionally wrote letters home to family and friends. One of them, a letter received by Dr. L.L. Osborn, was written from Paris Island, S.C., and was republished in the Barber County Index.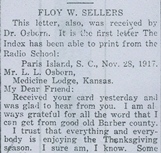 One of Floy's wartime letters printed in a local newspaper
After his honorable discharge on April 21, 1919, he returned home.
At the age of 24, on June 1, 1921, he married 19-year-old Edith "Lucille" Bird (1902-1964), the daughter of James R. and Hattie B. (Austin) Bird. He resided in Medicine Lodge at the time, and she in Isabel. Rev. S.A. Whyson, of the Presbyterian Church in Medicine Lodge, performed the nuptials. Their marriage certificate is still on file today in the Barber County Courthouse.
They had four children -- Richard Paul Sellers, Jacqueline Lucile Johnson, Patricia Ann Mathisen and Floy White Sellers Jr.
Said the 1971 Ancestral History:
A newspaper man, [Floy] and his family lived several places, including his boyhood home, Isabel. There he helped his father with the ranch during the failing economy of 1933. At one place he served as Postmaster. He was a councilman in two other places. Now retired as a result of a broken right shoulder in an automobile accident 13 November 1970.
Among the Kansas newspapers for which he was publisher were the Isabel County-Liner (1935) and the Galena Times-Republican, a weekly, Democratic slanted paper that came out on Fridays. He also edited The Hardin News in Missouri circa 1936. When Floy traveled back to Isabel for the funeral of his father in February 1936, "Bob Anderson" took care of producing that week's newspaper during Floy's absence.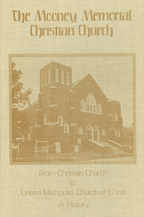 Book naming Floy
While in Hardin, in November 1936, Floy received word of the untimely death of his 25-year-old sister Vina Reeves, struck down by typhoid fever.
One of his employees in Hardin, Lea Meador, later wrote about his experiences: "Other parts of the job, when Floy Sellers was editor, were news reporting, running the job press, and eventually running the cylinder press which was moved to Richmond when the Ray County Herald was founded by my second boss, Howard A. Rhodes. I learned the linotype, the type case, found out about type lice, learned to cast mats type high and saw them up, to make up and tear pages, solicit advertising and subscriptions for which sometimes an old hen would but six months." (See "Meadortations: 'On 1986'," in the Richmond Daily News, January 1986.)
When the federal census was taken in 1930, Floy, Lucile and six-year-old son Richard lived in Towanda, Butler County, KS, in a home on North Fourth Street, where Floy had accepted a position as postmaster. He continued in the role of postmaster at least until 1933, when he was listed in this position in the booklet Kansas Facts, published by Kansas Facts Publishing Co.
Active in church life, Floy was a trustee of the Mooney Memorial Christian Church circa 1926. He is mentioned in a 1978 history of the congregation authored by Dorothy Starr, entitled The Mooney Memorial Christian Church: From Christian Church to United Methodist Church of Christ: A History (North Newton, KS: Mennonite Press). The volume states that he was a member when the new building was dedicated circa 1926, when the name was changed from "Towanda Christian Church" to "Mooney Memorial Christian Church, and under the pastorship of Rev. R.L. Hendrickson. At that time, "A spirit of renewed zeal and enthusiasm took hold of the congregation, and the influence of the church was evident in the lives of the members."
In the 1960s, Floy and Lucille made their home at Aransas Pass, TX.
Sadly, Lucile died there at age 62 on Aug. 25, 1964.
Floy outlived her by 16 years, making his home in Aransas Pass. He died on Aug. 17, 1980, at the age of 82.
Daughter Patricia Ann Sellers (1932-1985) was born on July 2, 1932 in Towanda, KS. She married (?) Mathisen and had five children -- Linda Chaney, Karen Rae Matthews, Larry Truitt, Lionel Vasquez and Marlon Vasquez. Circa 1985, she was employed by Mr. Higgs and lived in Victoria, TX. She died at age 52, on April 30, 1985, and was laid to rest in the Colonial Gardens Cemetery.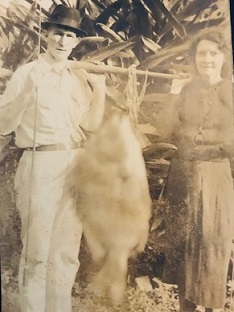 Merl and Irma and catch at Happy
Jacks Boat Launch, Louisiana
~ Son Merl Lester "Jack"Sellers ~
Son Merl Lester "Jack" Sellers (1899-1986) was born on Oct. 8, 1899 in Alva, Woods County, OK. He grew up in Isabel, Barber County, KS.
In adulthood Merl stood 5 ft., 10 inches tall and had blue eyes, light brown hair and a fair complexion. He learned the trade of tailoring.
Merl joined the U.S. Marine Corps during World War I, going to Wichita on April 15, 1917 for his enlistment. He trained at Paris Island, SC and spent the rest of the war in New Orleans. He is known to have traveled to Isabel, KS in July 1919 to see his father and stepmother. Reported the Medicine Lodge Republican, "His advent here was a jolly surprise for every one since he was not expecting a leave of absence until later in the year.... Lieutenant Sellers is deserving of the most high compliments on his success as a soldier. Having enlisted as a private and climbed the military ladder to a commission is an achievement that any man could well be proud of."
Upon the end of the war, he accepted a commission in the Marine Corps Reserves, working at the Officer's Training Camp at Quantico, VA. He remained in the Marines until June 1922.
On Nov. 4, 1925, in Miami, Dade County, FL, the 27-year-old Merl wedded 26-year-old Irma Annie Pottharst (Oct. 19, 1898-1966), daughter of August "Herman" and Annie (Schedler) Pottharst and a resident of Princeton, FL. A Dade County judge performed the nuptials. News of their marriage license was published in the Miami Tribune.
The couple produced a family of two children -- Nona Sellers and Lois Graci.
Grief blanketed the family when daughter Nona, believed to have been born with spina bifida, died in infancy in New Orleans on May 26, 1927.
By 1936, they had returned to Isabel. That year, Merl was named in the Hardin County Index obituary of his sister, Vina Reeves.
In the late 1930s, he and family resided in Galena, KS, with Merl selling advertising for his brother Floy's newspaper.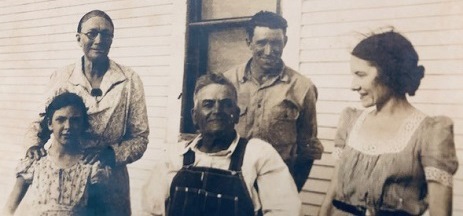 Above: Irma Sellers (far right) with relatives.
Courtesy Glenda (Graci) Parks.
Below: Lois Graci's handwritten notes in her copy of the Luther White book.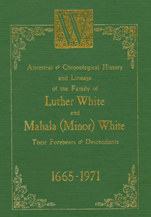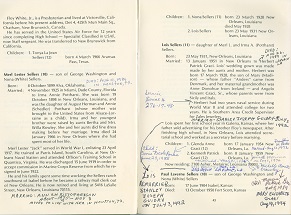 Said the Luther White book, Merl "and his family spent some time working the Sellers ranch southwest of Isabel before he became a railway mail clerk out of New Orleans. He is now retired and living at 5416 LaSalle Street, New Orleans."
Irma passed away in New Orleans on Jan. 24, 1966.
The widowed Merl remained in New Orleans. Then at the age of 75, on Nov. 8, 1974, he married for a second time, to 70-year-old Ann Lillian Christopherson (1904-2000), of Houston, TX, with whom he had had a relationship for many years previously. Their marriage license was cited in the El Paso (TX) Herald-Post. Merl moved to Houston to make a home with his new bride.
Sadly, on Aug. 11, 1986, Merl died in Houston after having endured Alzheimer's for some time. Interment of the remains is believed to have been made in New Orleans.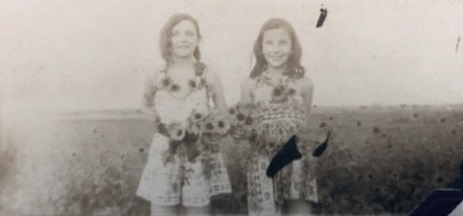 Lois Sellers (left) with Mary Helen McIntire. Courtesy Glenda (Graci) Parks
Daughter Lois Sellers (1931- ? ) was born on May 23, 1931 in New Orleans. As a child she moved to Galena, KS where her father was in newspaper advertising sales. But soonafter they relocated back to New Orleans. She attended secretarial school and was employed as a secretary prior to marriage. In Jan. 1951, when she was 19 years of age, she was joined in the bonds of wedlock with Herbert Patrick Graci (March 17, 1928-1989), the son of Angelo Vincent and Mary (Madison) Graci. Their wedding was held in New Orleans, and her gown was created by her mother and aunts. They bore two children, Glen Parks and Kenneth Patrick Graci. In 1946-1947, Herbert had served in the U.S. Navy and then attended college for two years. He earned a living as Southern Area Credit Supervisor for Zales Jewelers. In the 1980s, they made a home in LaPlace, St. John the Baptist Parish, LA. Sadly, Herbert was spirited away by the Angel of Death in LaPlace on Aug. 26, 1989. Lois outlived her husband by about a dozen years and during that time dwelled in Metairie and LaPlace, LA. She married again on July 3, 1992 to widower Stanley Joseph Guidry (Nov. 14, 1928-2010), son of Noah and Jeanne Guidry. His children to a previous marriage were Wayne Guidry, Kenneth Guidry, Ruth G. Ballam, Patricia Guidry and Michael Guidry. Their marriage endured for nine years until the separation of death. Lois succumbed in about 2001. Stanley remained in LaPlace as a widower and outlived Lois by about nine years. He passed into eternity on Sept. 21, 2010. His funeral mass was held at St. Charles Borromeo Catholic Church in Destrehan, LA, with interment in the church mausoleum. An obituary was printed in the New Orleans Times-Picayune.
Granddaugher Glenda Anne "Glen" Graci

(1954-living)

was born in 1954 in New Orleans. On Aug. 12, 1972, she was joined in marriage with Franklin W. Parks ( ? -living). Their only child is Carrie Nicole Knight. The couple makes a home in Baton Rouge.
Grandson Kenneth Patrick Graci

(1959-living)

was born in 1959 in New Orleans. He joined the U.S. Marine Corps in 1976 at the age of 17. On May 31, 1986, he wedded Michelle Annette Crawley ( ? -living). They are the parents of Marcus Patrick Graci and Mary Elizabeth Graci.
~ Son Paul Laverne Sellers ~
Son Paul Laverne Sellers (1904-1950) was born in 1904.
He married Mary "Alberta" Downey (1905- ? ), daughter of Albert James and Ellen Louise (Schenck) Downey.
Paul and Alberta bore three children -- Harry Leland Sellers, Ronald D. Sellers and Garland Dell Sellers.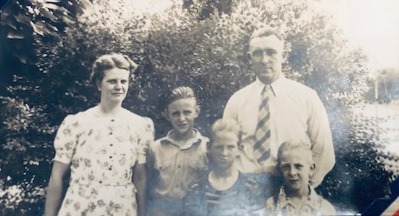 Alberta, Paul and sons, Mound City, KS. Courtesy Glenda (Graci) Parks
Paul was a prominent educator, and Alberta was a county and hospital administrator. Said the 1971 Ancestral History:
Paul taught at "Sand Creek," a Kansas rural school, before attending Kansas State Teachers College. There he drilled with the National Guard and worked in the college's print shop to pay his expenses. He received his B.S. in Education there in 1927 and his M.S. at Pittsburg State College in 1943. He was a teacher (and coach) at Athol, Kansas, before going to Fort Scott, where he was Principal of an Intermediate School at the time of his death due to a heart attack... He was a captain in the Kansas State Guard when it was disbanded after World War II... Alberta attended Kansas State Teachers College at Emporia, where she was preparing to teach. She later worked in the school office where Paul was principal. She was elected and served as County Treasurer. Now Ward Clerk at Mercy Hospital, Fort Scott...
He is known to have taught school and moved to to be administrator of schools in Pratt County, Athol and Centerville. He was superintendent of schools in Linn County from 1937 to 1943. When the federal census enumeration was made in 1940, the Sellerses made a home in Mound City, Linn County, KS. Paul's occupation was marked as superintendent of education for the county government. In 1946, he was principal of the Fort Scott Junior High School.
The seat of Bourbon County, Fort Scott in the mid-20th century had a population of about 12,000. It was known for manufactured products such as work clothes, packing house products, brick for paving and building, pottery, store fixtures, dairy products, flour and poultry. It also was the site of railroad repair shops of the Missouri Pacific Lines and the Frisco Railroad.
In his free time, Paul was a member of the Masons lodge and the Mirza Shrine of Pittsburg and helped found the Lions Club in Mound City.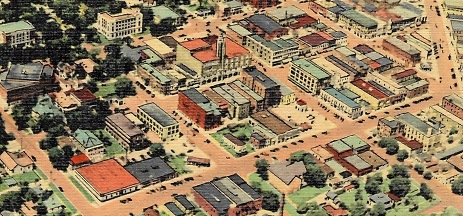 Fort Scott, Kansas, home of the Paul Sellers family
Grief cascaded over the family when Paul was stricken by a heart attack and died at the age of 46 in Fort Scott, KS on Oct. 13, 1950. An obituary in the Emporia Gazette said that he had "attended the annual carnival at the school last night and later in the evening took part in degree work at the Scottish Rite temple." Burial was at the Fort Scott Evergreen Cemetery.
Alberta remained in Fort Scott as a widow. She was active with the Business and Professional Women's Club. At the age of 84, she was spirited away by the spectre of death on Oct. 6, 1989.
Son Harry Leland Sellers (1927-2012) was born on July 3, 1927 in Centerville, KS. During World War II, he served with the U.S. Army. On June 12, 1948, when he was 20 years of age, Harry married Betty Faye Flora (Aug. 18, 1923-1986), daughter of Ernest Carlton and Viola Jane (Duncan) Flora. Their wedding ceremony was held in Fort Scott. The couple dwelled in Fort Scott and were the parents of two known daughters, Linda Sellers and Janice Elaine Sellers. For four decades, Harry was employed by Western Insurance Companies. He retired in 1987. Sadly, Betty Faye died on July 8, 1986, ending their union which had lasted for 38 years. Burial was in Fort Scott National Cemetery. Harry lived as a widower until May 16, 1992 when he wedded a second time to Priscilla (Isaac) Todd ( ? - ? ), also in Fort Scott. She had been married previously and brought two children to the union, Jeffrey M. Todd and Liesl A. Todd. They remained in the town for the balance of their lives. In retirement, Harry was a bus tour guide of Fort Scott and the Fort Scott National Historic Site. He also was a disc jockey on weekends for KMDO, using the name "Happy Harry," and enjoyed doing pantomime. As Harry's health failed, he was admitted to St. Luke's Hospital in Kansas City, where he succumbed at the age of 84 on Jan. 18, 2012. Following funeral services led by Rev. Phil Wilson, of the First Church of God, the remains were laid to rest in Fort Scott National Cemetery, under a standard military issue grave marker, inscribed at the bottom "Happy Hairy signing off." An obituary was published in the Pittsburg Morning Sun.
Son Ronald D. Sellers (1930-1998) was born on Oct. 9, 1930. Little is known of his life. He died in Bourbon County, KS at the age of 67 on July 11, 1998. He rests for all time in Evergreen Cemetery in Fort Scott.
Son Garland Dell Sellers (1931-2015) was born on Dec. 30, 1931 in Athol, Smith County, KS. When in his 20s, Garland graduated from Fort Scott Junior College and joined Western Insurance Company in Fort Scott. On Feb. 2, 1958, in nuptials held at the home of his brother Harry, Garland was joined in marriage with Norma Jean Quick ( ? - ? ). She was the daughter of Charles W. and Hilda H. (Vincent) Quick of rural Iola, KS. News of the wedding was printed in the Iola Register, which reported that she wore "a white dress and lavender orchid corsage." At the time of their nuptials, Norma was a registered nurse at Mercy Hospital in Fort Scott, having graduated from the hospital's school of nursing. The couple were members of the First United Methodist church in Fort Scott. Garland died at the age of 83 on June 14, 2015 in Fort Scott. Interment of the remains was in the local Evergreen Cemetery.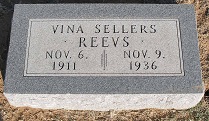 Highland Cemetery, Medicine Lodge
~ Daughter Vina Susan (Sellers) Reeves ~
Daughter Vina Susan Sellers (1911-1935) was born on Nov. 6, 1911 at Isabel. She was just eight days old when her mother died.
She was taken into the home of her paternal aunt, Nancy Dickerson, and after a year's time was brought under the care of Anna Belle Wohlford in Ashton, KS. Never in one place for very long during her growing-up years, she then went into the household of her aunt, Mrs. Sarah Sellers.
When her father remarried in 1915, Vina was age four, and "returned home to live with her father and brothers," said the Hardin County (KS) Index.
On Valentine's Day (or Feb. 19), 1934, at Wellington, KS, when she was 22 years of age, Vina married Thomas Calvin Reeves (Feb. 14, 1897-1955), a resident of Medicine Lodge, Barber County.
They produced one known daughter, Nona Christine Jackson.

Unpaved main street, intersected by railroad tracks, in early Ashton, KS, where Vina Sellers was raised for a few years after the untimely death of her mother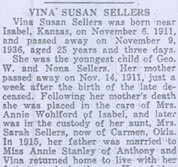 Hardin County Index, 1936
Converted to Christianity when she was age 13, Vina was said to have been "a religious young woman," known as a "devout and sincere follower of the Cross." She was a graduate of the Southwestern Bible School at Enid, OK, trained for ministry in the Pentecostal Church. After her marriage, however, she "abandoned the profession on account of her health."
Heartache rocked the family twice within nine months in 1936. In February of that year, Vina lost her father, who was age 74 at his death.
Later that fall, Vina contracted typhoid fever and was sent for treatment to Anthony, Harper County, KS. Unable to rally, she died on Nov. 9, 1936, just three days after her 25th birthday. She was laid to rest in Section 4, Lot 505 of the Highland Cemetery in Medicine Lodge. The Hardin County Index carried a long, detailed obituary of her promising life cut short.
Thomas outlived his wife by 19 years. He relocated to the Pacific Northwest. He died at the age of 58 on July 27, 1955, with interment of the remains made in Lone Fir Pioneer Cemetery in Portland.
Daughter Nona Christine Reeves (1935-1963) was born on Jan. 12, 1935. She was only about a year old when her mother died, and she also had her life taken away as a young adult. When she was a high schooler in Canby, OR, a juvenile court assigned Nona to be the ward of Mrs. I.M. Hostetter. Soon after her high school graduation, Nona married Raymond Howard Jackson (Aug. 17, 1931-2006), son of Roy Tillford and Mollie R. (Ludwig) Jackson. Raymond was a native of Ava, Douglas County, MO, and a U.S. Air Force veteran of the Korean War. The couple produced a family of three daughters. When military service took Raymond to Alaska, Nona dwelled in Canby. Nona and Raymond eventually divorced, likely in late 1962, with him making a home in Oregon City. After the couple separated, she asked her guardian for a job, and from Christmas 1962 to February 1963 earned a living as a clerk at the New Julian Motor Hotel in Corvallis, working for Mrs. Hostetter. Then she found a job in Portland as a cocktail waitress at a bowling alley. At the age of 28, she went missing in June 1963 after failing to show up for court-approved visits with the girls. Four months later, in late October 1963, her skeletal remains were discovered in brush along a "lover's lane" area near Gresham, OR. Sheriff Donald Clark told a reporter with the United Press International that she had been slain and dead for three months or more. The UPI story, published in newspapers throughout the state, said that the "young woman's hands apparently had been tied with a plastic covered wire and she was nude except for a swimming suit pulled over her arms above her head. There were no obvious signs of fractures or wounds in preliminary studies." A ring on her decomposed finger matched one that her husband had given her many years earlier, as well as her shoes and the swimming suit, were keys to identifying the remains. In her purse was found a traffic ticket written on May 26 in Rainier. Despite an investigation by the Detective's Division of Multnomah County, including a search by military mine detection equipment, no progress was made, and her killer was never apprehended. Her and her father's remains are in eternal sleep in Lone Fir Pioneer Cemetery in Portland. Raymond survived his former wife by more than four decades. His final years were spent in or around Molalla, Clackamas County, OR. There, he succumbed to death on Feb. 11, 2006, at the age of 74. He rests in Portland's Willamette National Cemetery.
Copyright © 2000, 2010-2011, 2017, 2020 Mark A. Miner
Janet (Hoyt) Sperry and Glenda (Graci) Parks graciously have shared content and knowledge for this biography.