Blanche Ethel (Bailey) Peterie
(1888-1964)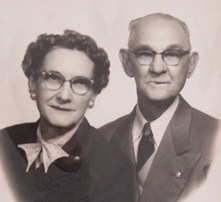 Blanche and Jesse Peterie
Blanche Ethel (Bailey) Peterie was born on May 18, 1888 at Isabel, Barber County, KS, the daughter of Randolph D. "Dick" and Frances Jeanette "Nettie" (White) Bailey.
When Blanche was the tender age of one, she was in her mother's arms when the mother was tragically struck and killed by a freak bolt of lightning during a Kansas harvest. Thus never remembering her mother, the little girl was taken into the Isabel home of her uncle and aunt, Lester and Susan (McCarty) White, while her sister Mabel was brought into the household of their aunt, Helen (White) Clark, in Laredo, Grundy County, MO.
She is said to have "enjoyed school, and knew the joys and sorrows of being a child of the Kansas Prairie."
At age 13, Blanche's uncle Layton White was named guardian for her and her sister Mabel. To provide sufficient "education, support and maintenance" for the girls, Layton petitioned the Barber County Probate Court to sell real estate in which they had a one-third interest each. Four town lots were involved, in Section 6, Township 30, Range 11, except for right of way held by the Central Kansas Railroad Company, and one-acre tracts which already had been sold to B.F. Coffman and Nancy Roby.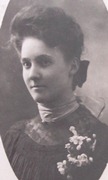 Blanche
While studying at a business college in Missouri, Blanche came down with typhoid fever, and had to give up her ambitions and come home to recuperate.
At the age of 19, Blanche married 23-year-old farmer Jesse Thomas Peterie (1882-1969) at Medicine Lodge, Barber County, on St. Patrick's Day, 1906. Probate Judge C.S. Gleason performed the wedding ceremony.
Jesse was born on Sept. 27, 1882 at Laredo, Grundy County, MO, the son of William Greene and Mary Elizabeth (Davis) Peterie. He was of medium height and build, with grey eyes and brown hair. Growing up in Missouri, he became interested in better educational facilities for young people, and was "strongly influenced as a Christian by his mother's teachings and by his grandfather -- a Christian minister," said the Barber County Index.
Jesse and his parents and siblings migrated to Kansas in 1903, when Jesse was age 20. Having both lived in Laredo in the early 1880s, the White and Peterie clans were close. In fact, Blanche's cousin Frank "Berton" White married Jesse's sister, Maude Lucinda Peterie, and lived in Isabel over the years.
They had four children: Thelma Fanelle Lamkins, Edith Marguerite Hoyt, Jeanette "Claudine" Raleigh and William Gerald Peterie.
When the federal census was taken in 1910, Jesse and Blanche made their home in Paxon Township, Pratt County, KS with their two eldest daughters, ages three and one. There, Jesse and his brother Buck "farmed on newly broken prairie land northeast of Sawyer," said the Barber County Index. By 1912, they moved back to Isabel, where he joined the local lodge of the International Order of Odd Fellows. He was a member of the IOOF for 57 years.

Kansas Standard Atlas of 1923 showing Isabel. The red dot shows the farm Jesse owned that year, while the green dot marks the farm where he grew up.

School bell monument in
Isabel, erected 1957
In 1918, Jesse was required to register for the military draft during World War I. On his registration card, filled out on Sept. 12, 1918, he listed his age as 35, and his occupation as a self-employed farmer in Isabel.
By the time of World War I, with Germany as an enemy of the United States, any traces of the White family's German origins had been erased. One of the Peterie granddaughters said that there would "never have been any talk of being German. They would have hidden it." Daughter Edith used to say she knew how bad the war was by the size of the newspaper headlines.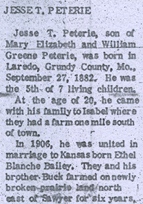 Barber County Index, 1969
The 1920 census shows Jesse as a farmer and that all four of their four children were in the household. Said the Index, "He loved the land -- the Good Earth -- and farmed until he was 75 years of age." In a family history written by daughter Edith Marguerite Hoyt, co-authored with cousins
Jeanette "Blanche" (Clark) Tarter
and Verda (White) Richey, Blanche was described as being " happy as a farm wife and mother of four children.
"
Active in the community, Jesse served for many years on the Isabel school board "through the years of consolidation and two new buildings." In 1957, the school's alumni association mounted the school bell on a brick-lined monument in town, "as a memorial of the years it has served the Isabel School." He also was on the Isabel Cemetery board for two decades, a property established in the 1880s by Blanche's uncle Lester White.
When his father died in February 1930, Jesse was named a co-executor of the estate, and received $125 as his share of the assets. Interestingly, the estate owed $34.40 to Blanche's uncle Lester White for insurance he had underwritten for the buildings on their property.
When the census again was taken in 1930, the Peteries had a full house -- with all of their children under their roof plus their new son-in-law, Charles Lamkins (misspelled "Lampkins" by the census-taker). Daughters Fanelle (age 23) and Edith (age 21) were employed as "public school instructors," while son in law Lamkins was a college student.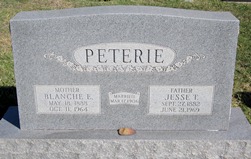 Isabel Cemetery
The era of the Great Depression was of extreme difficulty for farmers on the prairies of Kansas, as dust storms, coupled with lack of "shelter belt" trees providing wind breaks, devastated farm fields and destroyed crops. It's said that the book The Worst Hard Time is an apt description of the heartache and never-ending troubles these families faced on the Kansas prairie.
After many years of failing health and caring for her husband, Blanche died as she slept quietly" on Oct. 11, 1964, at the age of 76. A search for her newspaper obituary in the Barber County Index was not successful.
Jesse outlived her by five years, making his home with their adult children. As his health declined, "he showed fortitude and great patience in his many illnesses...," said the Index. "He was a good man, a friend to all, loved and respected by many, a devoted husband and a kind and loving father and grandfather." At age 86, he passed away on June 21, 1969, at Medicine Lodge Memorial Hospital. He was placed into eternal rest beside Blanche at the Isabel Cemetery where he had long served on the board.
To honor their memory, the Peteries' children donated a new Hammond organ to the Isabel United Methodist Church in 1970. A plaque on the organ bore their names. Today, the church building has been closed, and is in private ownership, and the whereabouts of the plaque are unknown.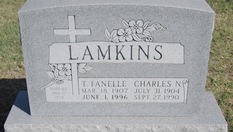 Isabel Cemetery
~ Daughter Thelma "Fanelle" (Peterie) Lamkins ~
Daughter Thelma "Fanelle" (Peterie) Lamkins (1907-1996) was born on March 18, 1907, near Sawyer, Pratt County, a few miles northwest of Isabel. She and her parents moved back to Isabel in about 1912, when she was age five.
After graduating from Isabel schools in 1925, Fanelle received a teaching certificate from the Emporia State Teachers College. She then taught elementary school for five years in Barber County, KS until shortly after she was married. The last two years of her teaching were in Isabel.
Fanelle married Charles Nelson Lamkins (1904-1990) in 1929, when she was age 22, and he was 25. He was the son of Robert Greenberry and Martha Lizzie (Nelson) Lamkins. Born in Red Oak, Iowa, Charles came to Kansas as an infant with his parents. He grew up on a farm southeast of Medicine Lodge.
They had one son, Robert "Gerald" Lamkins.

Medicine Lodge, Kansas, 1920s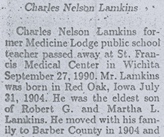 Barber County Index, 1990

In the 1930s, Fanelle and Charles, along with Fanelle's younger sister Edith, embarked on a long driving vacation to visit their aunt Mabel (Bailey) Philp in Davis, California. When their Model T Ford gave out while climbing the mountain passes, Charles would stop to make repairs. They reached their destination, creating a lifetime of memories, including having a picnic lunch on the ocean beach and seeing the Redwood trees.

Charles also was an educator, and taught for 43 years, including in Medicine Lodge (from 1930 to 1942) and Wichita (1942-1968). While in Medicine Lodge, he was president of the Barber County Teachers Association. Said the Barber County Index, "At that time he worked with Clifford Freeman, then County Superintendent, and Riley McGreagor, then a state senator - in establishment of a pension system for Kansas teachers. That was the very beginning of a teachers pension for Kansas teachers, which has become 'The Kansas Employees Pension Plan' known as 'KEPER's'."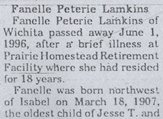 Barber County Index, 1996
Upon moving to Wichita in 1942, Fanelle "was a mother, homemaker, church and community leader and for 15 years was associated with the Wichita Credit Bureau," said the Barber County Index. Hired in 1953, Fanelle first worked as a clearance operator for the credit bureau and in 1960 was named a "skip tracer." She retired in February 1969.
Their address was 218 North Gordon in Wichita. She and Charles authored chapters about the Lamkins family in the 1980 book, Chosen Land: Barber County, Kansas.
In about 1978, Fanelle and Gerald went to live in the Prairie Homestead Retirement Facility. Charles passed away on Sept. 27, 1990, in the St. Francis Medical Center in Wichita, ending a marriage of more than six decades.
Fanelle lived another six years as a widow. She died at the Prairie Homestead Retirement Facility on June 1, 1996, having resided there for 18 years. Following a funeral at St. Lukes Methodist Church in Wichita, her remains were brought to the Isabel Cemetery to join her husband in eternal rest.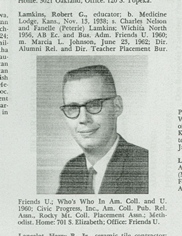 Who's Who in Greater Wichita
Son Robert Gerald "Bob" Lamkins (1938-2005) was born on Nov. 13, 1938 in Medicine Lodge. He is pictured and featured in a short biographical entry in the book, 1963 Who's Who in Greater Wichita. He received his bachelor's degree in economics and business administration from Friends University in 1960.
He wed Marcia L. Johnson on June 23, 1962, when he was age 24. They made their home at 701 South Elizabeth in Wichita. They had two daughters -- Carla Elaine Lamkins and Martha Elizabeth Lamkins.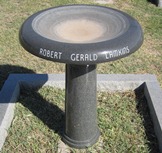 Isabel Cemetery
Circa 1968, Gerald served as director of alumni relations and director of the teacher placement bureau at Friends University. During his career, he was a member of Civic Progress, Inc.; the American College Public Relations Association; and the Rocky Mountain College Placement Association.
Later, Gerald obtained a master's degree from the School of Public Relations at Boston University in Boston, MA. While studying there, in 1966, he authored a 155-page book, The Development Concept: Its Meaning in Privately Endowed Institutions of Higher Education.
He accepted a position as director of annual giving at the California Institute of Technology in Pasadena, and moved there to a new home in San Gabriel. In the 2000s, they resided in Rancho Palos Verdes, Los Angeles County, CA.
Gerald died at the age of 66 on Aug. 5, 2005. He is interred in Green Hills Memorial Park in Rancho Palos Verdes. As an additional memorial, a fountain-shaped stone was erected in the Isabel Cemetery, a beloved place where he and his cousins played as children. The monument was placed adjacent to the final resting places of his parents among four generations of the Minor/White clan who repose there.
~ Daughter Edith Marguerite (Peterie) Hoyt ~

Edith Hoyt
Daughter Edith Marguerite Peterie (1909-2008) was born on May 8, 1909 near Sawyer, Pratt County, KS.
She later wrote that her birthplace was "at the first home of her parents -- a new house built on the booming grounds of the prairie chickens." She and her parents moved to Isabel in about 1912, when she was age three.
As a girl, Edith helped her father with farm chores in the fields, orchards and with cattle. She could never eat chicken as a teenager and adult, as in childhood she had held the responsibility for caring for baby chicks. When the prairie would freeze in the winter, with her coat held outward, she enjoyed sailing on the low, icy spots. She and a friend traveled to Chicago in 1933 to view the "Century of Progress" exhibit at the World's Fair, traveling by train with their money carefully sewn in their undergarments.
Edith attended Kansas State Teachers College in Emporia, and spent eight years as an educator, teaching elementary grades in Tennessee, Pratt County (two years) and in Isabel (six years).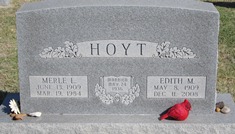 Isabel Cemetery
At the age of 27, on May 24, 1936, Edith was united in the bonds of holy matrimony with Merle Lee Hoyt (1910-1984), son of Gus L. and Vida Mae (Meeks) Hoyt. The ceremony was held at her parents' farmhouse, with "a trellis with flowers sent by Aunt Mabel [Philp] all the way from Davis, California," said a family memoir. "Her Dad cried."
Merle was born in a sod house in Beaver County, OK, his parents having been homesteaders of Oklahoma.
They together produced one daughter, Janet Sue Sperry, born in their new house in Wichita.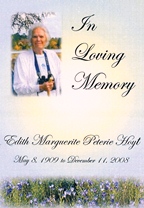 Edith's funeral card
In 1948, after a dozen years of marriage, when presented with an attractive business opportunity, the Hoyts moved to Dallas, where Merle established "Like Nu Auto Paint Works," an automotive paint and body shop. They remained there for the rest of their lives. Edith also was active in the Ingalls School parent-teacher association, Girl Scouts and conservation groups such as the Dallas Audubon Society.
Deeply interested in her family roots, Edith and her cousins Jeanette "Blanche" (Clark) Tarter and Verda (White) Richey collaborated on the landmark 1971 family volume, Ancestral and Chronological History and Lineage of the Family of Luther White and Mahala (Minor) White, Their Forbears and Descendants, 1665-1971. She also wrote chapters abut the Hoyt, Peterie and White families in the 1980 book, Chosen Land: Barber County, Kansas.
Merle passed away on March 19, 1984.
Over the ensuing nearly quarter of a century of widowed life, Edith gradually lost her eyesight and hearing, but she enjoyed nature and was tutored by Dr. Eula Whitehouse, a botanist with Southern Methodist University. She loved to take her walking stick and stroll through the Kansas prairie, identifying wildflowers and grasses.
She also held title to her parents' farm of 160 acres in Isabel, never relinquishing that tangible part of her heritage. She dreamed of the farm toward the end of her life.
Edith passed away in Dallas, at the age of 99, on Dec. 11, 2008. Following cremation, her ashes were laid to rest beside her husband in the Isabel Cemetery. Her daughter prepared an attractive, eight-page color booklet filled with photos and stories of Edith's full life. On what would have been her 100th birthday, on May 8, 2009, some of her ashes were scattered on her beloved Kansas prairie near Isabel.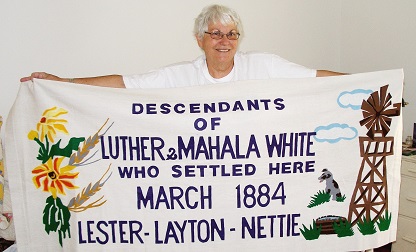 Janet (Hoyt) Sperry with the banner she and other relatives carried in Isabel's centennial parade in 1987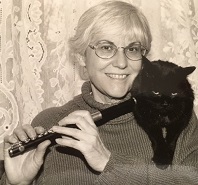 Janet Sperry

Daughter Janet Sue Hoyt ( ? -2021) was born in (?). Janet received her bachelor of science degree in biology from the University of New Mexico. While in Albuquerque, she was employed in the state health laboratory and in a research position with Lovelace Foundation. She entered into marriage with Samuel Sperry ( ? - ? ), a native of Albuquerque and the son of Hillard and Edna Sperry. Their two daughters were Susan Rebecca Sperry and Janet "Elizabeth" Sperry. In the early 1960s, the Sperrys made a home in Albuquerque, and then in August 1962 relocated to Durango, CO. Their home in Durango was an old farmhouse on 10 acres of cherry and apricot orchards. They could hear the daily whistle of the Denver & Rio Grande Western Railraod trains as they passed nearby. In the autumn of 1966, they migrated yet again to Southampton, MA, and from there to Missoula, MT. The family's final large move was to Helena, MT, where they owned and preserved the historic T.H. Kleinschmidt mansion on the National Register of Historic Places. The couple eventually divorced, with Sam moving back to Albuquerque. Janet was a preservationist and cataloguer in Helena with the Montana Historical Society for 20 years. Deeply interested in her family genealogy, she preserved the work that her mother and others had kept. In 1987, with her mother and aunts Fanelle and Claudine, and uncle Gerald, with some cousins, she marched in Isabel's centennial anniversary parade, carrying a hand-stitched banner honoring Luther and Mahala (Minor) White, the town's early pioneer settlers. "All ages were represented," she said. She served n the board of directors of the Mai Way Society in Butte, MT and made a donation creating the Merle and Edith Hoyt Curatorial Chair. She also was a supporter of the National Willa Cather Center and the Montana Preservation Alliance and in 2018 created Two Meadowlarks Foundation Inc. She and the founder of this website met quite by accident in Medicine Lodge, KS in October 2011 in the middle of Highland Cemetery, both seeking to locate the grave marker of Vina Susan (Sellers) Reeves of the family of Nona (White) Sellers. Janet in turn told him her story which was recounted as the "Photo of the Month" for November 2011. Sadly, Janet endured the untimely death of her daugher Susan Rebecca in June 2017. Janet outlived her daughter by four years. She died in Helena at the age of 82 on Aug. 16, 2021. A notice of her passing was published in the Helena Independent Record. Minerd.com extends its gratutide to Janet for all she has graciously shared for this website.
Susan Sperry. Courtesy Janet (Hoyt) Sperry

Granddaughter Susan Rebecca Sperry (1961-2017) was born on July 29, 1961 in Albuquerque, NM. Her growing-up years were spent in Durango, CO; Southampton, MA; and Missoula and Helena, MT. She embraced flute-playing in the fifth grade and continued with the instrument for the rest of her life. She played in the Helena Symphony Orchestra and State Capital Band and was awarded a music scholarship to the University of Montana, where she earned her bachelor's degree. During her junior year, she studied at the University of Oregon. Susan then pursued a master's degree in music at Arizona State University, learning the piccolo, and performing with the Mexico City Philharmonic Orchestra. But fate cruelly intervened to end her music career. She began to lose her hearing in 2004 and within two weeks was entirely deaf. She received cochlear implants which allowed her to understand speech, but she could no longer hear music. In an effort to move ahead, she volunteered with a number of community groups including a bead store, bookstore and kennel club. She gave of her time with the Race to the Sky, a 300-mile dogsled race through the picturesque Blackfoot and Clearwater Valleys. She also became employed as public relations with the Montana Telecommunications Access Program to help the disabled gain access to devices with which they can communicate. Sadly, she died in the Masonic Home of the Helena Valley on Jan. 7, 2017. In an obituary published in the Helena Independent Record, the family asked that any memorial donations be made to the Montana Wildlife Federation. A memorial concert was held in her name in Helena on June 16, 2017 featuring Margaret Lund Schuberg on flute, Jennifer Gookin Cavanaugh on oboe, Christine Ranf Sopko on cello and Dorothy Beck Peterson on piano.
Granddaughter Janet "Elizabeth" Sperry (1970-living) was born in 1970 in Missoula, MT. Her home in 2017 was in Stevensville, MT.


Blanche and Jesse Peterie
~ Daughter Claudine (Peterie) Raleigh ~
Daughter Claudine Peterie (1915-1987) was born on Feb. 4, 1915 on the Peterie family farm near Isabel. As a young woman, she learned the licensed beauty profession in Wichita and later owned her own store in Medicine Lodge, called Nordine's Gift Shop.
At the age of 25, on June 16, 1940, at the parsonage of the Isabel Methodist Church, Claudine wed 24-year-old Norman Cecil Raleigh (1916-1986). He was the son of Edd H. and Nannie (McKay) Raleigh of Isabel.
They had one son, Richard Norman Raleigh.
Norman served in the 87th Division in the U.S. Army during World War II. With his unit serving in Italy, he was taken prisoner in September 1944. He was held as a POW in a camp in Northern Italy for nearly two weeks, and then was shipped in the hold of a boxcar through the Swiss Alps to the Stalag 7A prison camp. As a POW, he was forced to work on the German railroad system in Munich before being sent deeper into Germany to a work camp in Krumback, making marmalade and dehydrated potatoes. The Allied Army liberated him and fellow POWs on April 27, 1945, after the Germans had surrendered.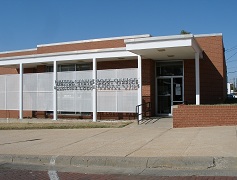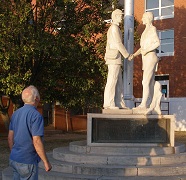 Left: U.S. Post Office in Medicine Lodge. Right: Medicine Lodge statue commemorating treaties signed with the Five Tribes of Plains Indians in 1867.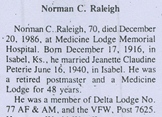 Obituary, 1986
While Norman was on active duty in Europe, Claudine went to Wichita to serve as a volunteer nurse's aid at Wesley Hospital, "wearing the dusky blue pinafore with white blouse and the emblem of the Red Cross," said the Ancestral and Chronological History book. She also was employed in 1944 in the office of Beech Aircraft in Wichita.
Upon returning home, Norman secured employment as a shop foreman in a Chevrolet garage in Medicine Lodge. In August 1950, he and Claudine became proprietors of the Gyp Mills Motel, and over the span of a decade expanded it from five to 20 rooms, and added a restaurant.
In 1959, Norman went to work for the United States Post Office in Medicine Lodge, and was appointed as postmaster in June 1960. He served in this role for 18 years, until suffering his first heart attack and retiring in April 1978.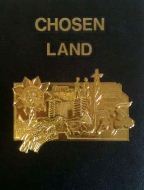 Chosen Land book
Active in the community, Claudine served as superintendent of the United Methodist Church in Medicine Lodge and volunteered in several offices of its Circle Group and United Methodist Women, while Norman held a seat on the church board. She also helped organize the annual crusade for the American Cancer Society.
In 1980, Claudine volunteered her time as bookkeeper of the Barber County History Committee which published a book, Chosen Land: Barber County, Kansas. (Click for the full text as posted on KansasHeritage.org.) In this book, she authored a chapter about the town of Isabel as well as sections on the Peterie and Raleigh clans. She also wrote a chapter about the Raleighs in the 1987 book, Isabel, Kansas: The First 100 Years, 1887-1987. (Full text.) Original copies of both books are preserved today in the Minerd- Minard- Miner- Minor Archives.

Highland Cemetery, Medicine Lodge
Norman suffered another heart attack and passed away three days after his 70th birthday, on Dec. 20, 1986.
Claudine joined him in death the following summer, on Aug. 23, 1987, at the age of 72.
On the last night of her life, Claudine read through a stack of letters that had been written a century earlier between her grandmother, Nettie (White) Bailey, and Nettie's sister in Missouri, Helen (White) Clark.
Claudine and Norman rest for eternity in Highland Cemetery in Medicine Lodge.
Son Richard Norman Raleigh married Susan Rapp, and they have two children. He obtained his bachelor of science degree from Southwestern College and his law degree from Washburn Law School. In 1973, he joined the Medicine Lodge legal practice of Bill MacGregor. Today he maintains his own law firm and serves as the city attorney for Medicine Lodge. Among his clients is the County of Barber in various energy-related matters. He has served as president of the Medicine Lodge Peace Treaty Association, along with Steve Bryan, James Colborn and Sara Whelan.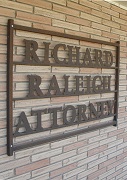 The Peteries' grandson, Richard Norman Raleigh, city attorney for Medicine Lodge, Kansas, and later a local judge.
~ Son William "Gerald" Peterie ~
Son William "Gerald" Peterie (1919-2014) was born on April 11, 1919 on the farm of his uncle Layton White in Isabel.
He married Mary Louise Brant ( ? - ? ), daughter of Charles C. and Zoe Dentler (Thompson) Brant. They were wed for 61 years and had four children -- William Gregg Peterie, Cynthia Louise Peterie, Jerome Thomas Peterie and Jon Charles Peterie.
Gerald served in the Asia-Pacific Theatre during World War II, spending 11 months in Japan and the Philippines. After the war ended, he returned to Isabel. They relocated to Rose Hill, KS, where Gerald began long-term employment with Beech Aircraft. He and his son William were licensed pilots.
Mary Lou was a nurse for several decades with Wesley Medical Center in Wichita. They also owned a vacation home in Gunnison, CO.
Gerald is profiled in the book Chosen Land - Barber County, Kansas. [ more ] The book noted that "In November, 1977, Gerald was honored as a 25-year employee at Beech, having worked in the Engineering Department as a Liaison Engineer, Tool Planning, Sheet Metal Assembler, and Manufacturing Methods Analyst. In 1963 he transferred to the Experimental Department."
After Mary Louise's death, Gerald married again, to Jody Sonderegard. She had been previously married and brought these children into the marriage -- Steve, Mark and Sanna.
Gerald passed away at age 95 on May 21, 2014, in Wichita. His remains were placed at rest in the Ellenwood Cemetery in Sawyer, KS following a funeral service at the First United Methodist Church. In an obituary, the Wichita Eagle noted that he was survived by seven grandchildren and 18 great-grandchildren.
Son William Gregg Peterie wed Anita Sprout and resided in Tulsa, OK. He was a Green Beret and paratrooper during the Vietnam War, serving from 1965 to 1967. They had one known daughter, Lisa Marie Peterie.
Daughter Cynthia Louise Peterie married Thad Goodrich in 1973. Their two daughters were Amy Goodrich and Emilie Goodrich. The family made its home in Newton, KS.
Son Jerome "Thomas" Peterie (1949- ? ) was united in marriage with Nancy Engel. They resided in El Dorado, KS and had two children -- Michelle Peterie and Jason Peterie.
Son Jon Charles Peterie (1951- ? ) married Janet LaClair. They made their home in Denver.
Copyright © 2000, 2008, 2009, 2011, 2018, 2022 Mark A. Miner