Frank 'Berton' White
(1881-1941)

Berton White

Frank "Berton" White was born on Dec. 14, 1881 near Haseville, Linn County, MO, the son of Lester and Susan (McCarty) White.
At the age of three, Bert moved with his parents and grandparents to Isabel, Barber County, KS. There, he grew to manhood.
Said an Isabel newspaper, he "endured the hardships of pioneer life and helped to build the prairie into a prosperous community of which he was very fond." He was tall and of medium build, with blue eyes and dark brown hair.
According to a profile of Bert, authored many years later by his daughter Marjorie (White) LeDou, his growing up years in Barber County were somewhat dangerous despite the fact that treaties with Native American tribes had been signed there a few decades earlier, in the mid-1870s. In the book, Isabel, Kansas, 1887-1987, The 1st 100 Years, Marjorie wrote:
I remember my father and my Aunt Jennie, his sister, telling about the Indian scares they had for many years. A rider would come thru yelling "Indians are coming." They'd gather up food, family, load a wagon and tie a cow on behind so the little ones had milk, and rush north to a place called Bates, town and stockade. Sometimes it was for several days until another rider came and they could return home. I don't think the Indians ever came that far north, but they still lived with the fear at that time.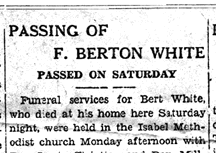 Obituary, 1941

On Jan. 19, 1905, at Sawyer, Pratt County, KS, Bert married Maude Lucinda Peterie (1885-1971). She was born on April 25, 1885 at Laredo, Grundy County, MO, the daughter of William G. and Mary Elizabeth (Davis) Peterie. He was age 24, and she 20, at the time of the nuptials. (She gave her age as 23 on the marriage license, which is on file today at the Barber County Courthouse.)

Maude's father was a Civil War veteran who was captured by Confederates at the Battle of Shiloh. Maude and her parents and siblings migrated to Kansas in 1903. Having both lived in Laredo in the early 1880s, the White and Peterie clans were close. In fact, Frank's cousin Blanche Ethel Bailey married Maude's brother, Jesse Thomas Peterie, and lived in Isabel over the years.

Bert and Maude had two children -- Cecil Claude White and Marjorie Aleene LeDou. Cecil is said to have been "the first of three great grandsons of Luther White to be born on the Layton White farm at the east edge of Isabel."

During World War I, in September 1918, the 36-year-old Bert was required to register for the military draft. He stated that he was self-employed in farming, and that Maude was his nearest relative.

Gypsum plant in nearby Medicine Lodge, where locally mined gypsum minerals were pulverized into a variety of products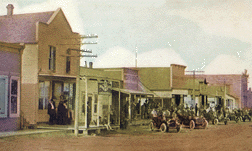 Main Street of Isabel

An Isabel newspaper once said that Bert "was known and liked by everyone and had the true pioneer spirit of pride in his home community that he had helped build." He was a charter member of the Farmers Cooperative Equity Company of Isabel, a grain elevator and granary used to store wheat for shipping. As his daughter Marjorie wrote in the Isabel history, "As time and more settlers came, everything gradually changed. When the railroad came that was the demise of Bates, stockade and town."

Bert often bartered his farming services, "as was the custom," including harvesting, threshing, butchering or mowing. They owned six tracts of real estate totaling more than 280 acres in Isabel and in Sections 27 and 28, Township 29, Range 11, of nearby Pratt County.

He suffered from a heart condition but farmed until about 1935, "when ill health compelled him to retire.

Bert died at the age of 60, on June 28, 1941 at Isabel. He was laid to rest near his parents, siblings and other extended family members at the Isabel Cemetery.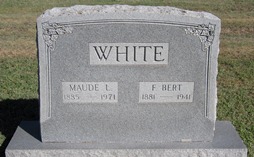 Isabel Cemetery

In his last will and testament, written in January 1937, and on file today at the Barber County Courthouse, Bert empowered Maude to sell, mortgage, renew mortgages, lease for oil, gas, or other minerals, and to execute good, valid instruments for this, or any of these purposes..."

A family history written by Bert's cousins refers to Maude as "a courageous woman!" She owned a restaurant in Isabel for several years before Bert's death. Later, she moved to Wichita with her children, and was a landlord, renting apartments in her house.

In July 1970, she broke her arm, and a year later, on May 10, 1971, she died in Wichita, "the last of that generation of the White family in Kansas." She was buried at Isabel, reunited in death with her husband after a separation of 30 years.

~ Son Cecil Claude White ~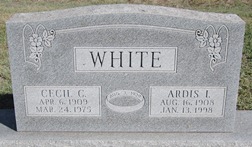 Isabel Cemetery

Son Cecil Claude White (1909-1975) was born on April 6, 1909 in or around Isabel.

On Aug. 1, 1929, when they both were age 19, he married Ardis Irene Ellis (1909-1998), the daughter of Ernest and Eldora Ellis. They had one son, Frank Duane White.

Ardis's parents came to Isabel from Iowa in the early 1900s. The father Ernest is said to have been a carpenter who once was manager of the Farmer's Hardware and Elevator, and later kept a small grocery store.

Cecil and Ardis initially resided in Kingman Township in nearby Kingman County, KS, and were farmers. Their names are listed as residents of Kingman Township in the federal census of 1930, when they were newlyweds.

Ardis authored a chapter about her husband in the book Isabel, Kansas, 1887-1987, The 1st 100 Years. She said that they "farmed until 1941, when they moved to Wichita where they resided until 1968. Ardis worked at Beech Aircraft and Cecil sold real estate until ill health forced him to retire."

Cecil died at the age of 65 on March 24, 1975.

Ardis survived him by 23 years. In retirement, she made her home in Augusta, KS. She passed away on Jan. 13, 1998. They are buried together at Isabel Cemetery.

Son Frank Duane White was born in 1931. He married Nola Mae Wright. They had two daughters, Kathy Lynn and Karen Sue. A graduate of Wichita University, and a veteran of the Korean War, Frank and his family made their home in Auburn, WA.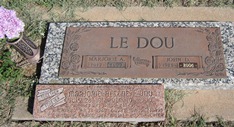 Isabel Cemetery

~ Daughter Marjorie Aleene (White) LeDou ~
Daughter Marjorie Aleene White (1917-2000) was born on July 28, 1917.
At the age of 22, on Jan. 23, 1940, she married 24-year-old John Donald "Don" LeDou (1915-2006). They remained together for six decades.
Their two children were John Steven "Steve" LeDou and Linda Ann Stinson.
Early in marriage they resided in Isabel. By 1942, they made their home at 513 Riverview in Wichita. Over the years they also lived in 99 Springs at medicine Lodge and Conway Springs.
Don was employed for many years, until his retirement, as a manager at Beech Aircraft.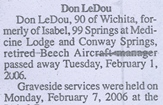 Obituary, 2006

Marjorie had a fondness for local history, and helped to write chapters about her father, grand-uncle Layton White and grandfather Lester White for the book, Isabel, Kansas, 1887-1987, The 1st 100 Years.

She died at the age of 83 on Dec. 16, 2000. She was laid to rest in the Isabel Cemetery, among the many generations of her pioneer family.

Don survived his wife by a little more than five years. He passed away on Feb. 1, 2006 at the age of 90. His remains were returned to Isabel for burial at Isabel Cemetery, with his obituary printed in the Gyp Hill Premiere newspaper.

Copyright © 2000, 2002, 2009, 2011 Mark A. Miner