Home

Helen (White) Clark
(1850-1903)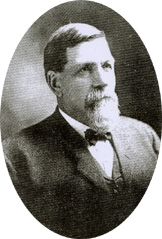 Will Clark
Helen (White) Clark was born on Oct. 11, 1850 near Cardington, Morrow County, OH, the daughter of Luther and Mahala (Minor) White. Though born in different states, she and her husband were pioneer settlers of Missouri.
In 1869, Helen and her parents left Ohio and ventured west, becoming pioneer settlers of Haseville, Linn County, MO. The farm was about seven miles east of Laredo, Grundy County, MO.
On Oct. 8, 1874, at the age of 24, Helen married 30-year-old George William "Will" Clark (Dec. 27, 1844-1917), with the ceremony performed by Rev. S. Knupp. Their marriage license is on file today at the Grundy County courthouse in Trenton, in volume 1, page 250.
He was born near Camargo, Montgomery County, KY. He was the son of James M. and Elizabeth (Clyce) Clark and had come to Laredo at the age of 21 with his parents just after his father's return from the Civil War.
Will's mother had inherited the farm from her foster father, George Cooper, and they "traveled the entire distance in covered wagons, with their household goods aboard," wrote a granddaughter many decades later.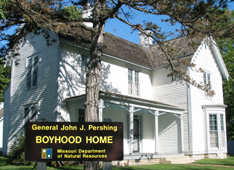 Gen. Pershing's boyhood home, a landmark
[Interestingly, when Helen was age 10, a boy was born to Mr. and Mrs. John F. Pershing in Laclede, Linn County, some 24 miles to the southeast. The lad grew up there, graduated from West Point and during World War I became Commander-in -Chief of the American Expeditionary Forces in France -- Gen. John J. "Black Jack" Pershing. The Pershing home site is seen here.]
Helen and Will went on to have two children -- Roscoe Conkling Clark and Jeannette "Blanche" Tarter.
When her parents and siblings moved again to Kansas in 1884, Helen chose to remain behind in Missouri with her husband and family. They lived on a farm about four miles from Laredo, Grundy County. Starting out with 10 acres inherited from his parents, George built a substantial real estate holding. According to a landmark book by daughter Blanche, Will gradually:
… acquired the interests of the other heirs, until, in 1888, he was the sole owner of the original farm of 160 acres. The originally log house was replaced by a comfortable country home. Their farm, with its well kept fields and beautiful orchards, was one of the "show places" in that vicinity.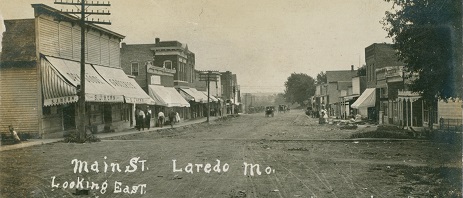 Laredo's Main Street, looking east, at the turn of the century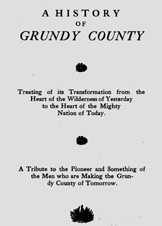 Book profiling the Clarks
The book has the following description of Helen:
Although of frail physique, Helen was a devoted wife and mother. In addition to her household chores, she helped with the daily chores on their pioneer farm. She loved flowers, and had a collection of unusual house plants, and was an excellent seamstress….
Will is pictured in a small booklet published by daughter Blanche, entitled Ancestral and Chronological History and Lineage of George William Clark. His oval portrait, reproduced on this page, shows Will with broad shoulders and sporting a substantial goatee.
They are believed to have had a German psalter, or prayer book, in their home. Presumably this came from Helen's mother, whose Minor ancestors were German, but this is only presumption.
In 1881, when the History of Grundy County, Missouri was being prepared by Birdsall & Dean of Kansas City, Will likely paid a fee to have his biography included. The profile is more about Will's parents and siblings than him, but it mentions his marriage to Helen (misspelling the name of her home county in Ohio as "Morris" rather than "Morrow") and names their two children. The bio concludes, "Mr. C. makes farming his business."
Tragedy struck in 1889 when Helen's sister, Nettie Bailey, was killed by a bolt of lighting in Kansas. Helen later brought Nettie's young daughter Mabel Bailey into their home to raise.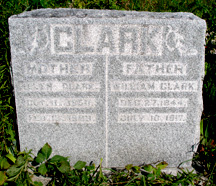 Joab Holloway Cemetery
Will enjoyed fox hunting and was an officer of the First Christian Church of Laredo, despite the fact that Helen was a Methodist. Said the 1908 History, "He is an excellent farmer and an active worker in the Christian church. In politics he is Republican."
Sadly, Helen died on Feb. 13, 1903, at the age of 53, at the family homestead near Laredo. The cause of her passing is unknown. She was laid to rest in the ancient Clark family burying ground at Joab Holloway (Union Grove) Cemetery near their farm. Her and Will's grave marker is seen at left, as photographed in September 2009.
Joab Holloway Cemetery also is known as "Union Grove" and is where Will's parents James M. Clark (1870) and Elizabeth (Clyce) Clark (1872) and their young son James (1872) are buried. The graves are recorded in the 1966 booklet Grundy County Cemeteries, published by Rose Hemley Hoover. The booklet states that the Clark burials are at the southern end of the cemetery, with a yicca bush planted next to the markers. Interestingly, in about 1836, some years before the Clarks arrived, the "Heatherly War" was fought nearby, circa 1836, involving a dispute between the Potawatomi Indians and the Liberty Blues volunteer militia unit.
Five years after his wife's death, Will married Nora E. Lilly (1866-1937) of Laredo on May 3, 1908. Born in Sangamon County, IL to Cyrus and Luzetta Lilly, she migrated to Missouri with her parents in 1880 and settled in Sullivan County, MO. She graduated from Humphreys College in 1886, and "taught school in Sullivan and Grundy counties a number of years and was for some time superintendent of the Wright hospital in Trenton," said the Trenton (MO) Daily Republican.
Above: Helen and Will's farm in Section 32, Township 61, Range 22 marked on an 1876 plat map of Grundy County. Below: the farm today.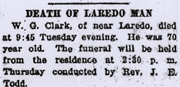 Will's obituary, 1917
In 1908, Will and Nora made their home four miles north of Laredo. He and his son in law Laban Moore Tarter both are profiled, and their homes pictured, in the 1908 book, A History of Grundy County, printed by News Publishing Company in Trenton, MO, and authored by James Everett Ford.
Will died on July 10, 1917 "in the farm home near Laredo … where he had lived for so many years." A brief obituary in the Trenton Daily Reporter noted that he was age 70 and that the funeral was conducted by Rev. J.E. Todd. He was placed at eternal rest beside his first wife at Joab Holloway.
Nora outlived her husband by two decades. In 1927, reported the Daily Republican, she "established a nursing home for elderly and invalid people in Kansas City which she operated until her death." She passed away in Kansas City on Sept. 3, 1937, survived by five sisters and one brother. Her remains were brought from Kansas City to Trenton for burial at the Humphreys Cemetery.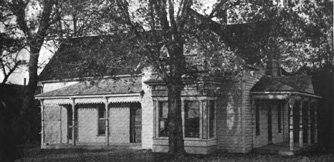 Will and Nora's home, circa 1908, north of Laredo, as published in the 1908 History of Grundy County.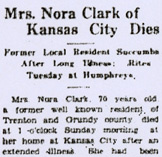 Nora's obituary, 1937
Minerd.com founder Mark A. Miner and longtime cousin researcher Eugene Podraza paid their respects at Helen and Will's grave during a visit to Laredo in September 2009. The cemetery could only be accessed via a rutted dirt road, and was terribly overgrown with weeds and sumac. Even in 1966, when Rose Hemley Hoover published her cemetery book, she observed that the cemetery was only "partially tended with the west third, mowed, and east untended except for brush cutting."
Seen here, Podraza stands at the marker in dense underbrush. Click for an enlarged view, our "Photo of the Month" in February 2010.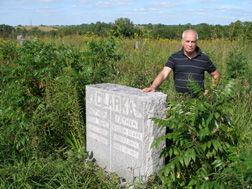 Cousin Eugene Podraza at the Clark grave
Blanche's book is invaluable to our understanding of the members and stories of this pioneer branch. It's entitled Ancestral and Chronological History and Lineage of the Family of Luther White and Mahala (Minor) White -- Their Forbears and Descendants -- 1665-1971. The book has been donated to libraries in Mt. Gilead, OH; Sandusky, OH; Somerset, PA; Indianapolis, IN; Salt Lake City, UT; and to the Minerd-Miner-Minor Archives.
An original copy of Blanche's booklet Ancestral and Chronological History and Lineage of George William Clark is on file today at the Grundy County Genealogical Society at the Jewett Norris Library. In the preface, she writes:
This booklet on the early history of the Clark family has been compiled so that you may know your ancestral background, from the days of the Norman Conquest down through the ages to the resent day, and so you may know of the brave men and women of the Clark lineage who have helped to forge our nation from a primeval state to the most wonderful country in the world today. The ancient Romans, when emigrating to a new country, took with them carved images of their fathers, and set them up in places of honor in their new homes. So it behooves us to hold the lives of our forefathers before us, as an inspiration and as a tribute to our honored ancestry.
Copyright © 2000, 2009, 2011, 2018 Mark A. Miner