Roscoe Conkling Clark
(1877-1956)
Roscoe Conkling Clark was born on Sept. 27, 1877 near Laredo, Grundy County, MO, the son of George "William" and Helen (White) Clark. He was an early certified public accountant (CPA) for what became the accounting giant of Peat Marwick (now KPMG), and founded its office in Memphis, TN.
His 1931 visit to the old Minor and White homesteads in Ohio has provided information and photographs which otherwise would have been lost to history.
Roscoe grew up on his parents' farm. As an adult, he was tall, with a medium build, and light blue eyes with light brown hair.
In September 1902, he married Bertha Longfellow (1878-1909) of Jamesport, MO. Said to be a descendant of famous American poet Henry Wadsworth Longfellow, she was a graduate of the Missouri Wesleyan College, where she majored in music, and where she is thought to have met Roscoe.
They had two children -- Carl William Clark and Helen Frances Clark.
Their life together was tragically short. On Sept. 17, 1909, after just seven years of marriage, the 31-year-old Bertha died, and is buried at Jamesport.
Roscoe remarried in 1911, to Alma Bennett Longshore (July 6, 1891- ? ). She was the daughter of Stephen A.D. and Sarah Margaret (Bennett) Longshore.
They went on to produce one daughter, Rose Margaret Blackburn.
Alma was talented musically, and active in the Linden Avenue Christian Church.
After graduating from Missouri Wesleyan, Roscoe found employment as a bank cashier in St. Joseph, Buchanan County, MO. In September 1918, during the final months of World War I, he was required to register for the military draft. He stated his occupation as a cashier at the St. Joseph Gazette newspaper, located at 215 South Sixth Street in St. Joseph. Listed as his nearest relative was his married sister, J. Blanche Tarter.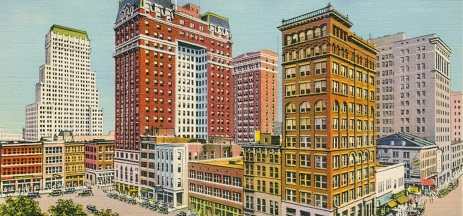 Downtown Memphis skyline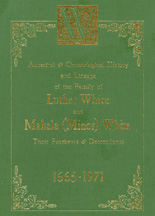 Book naming Roscoe
Later, in 1933, Roscoe earned his CPA license and became a member of the American Institute of Certified Public Accountants (AICPA). He worked for Peat, Marwick, Mitchell & Co. in Kansas City for five years, and then was transferred to Tennessee to open the firm's Memphis branch. There, his offices were located at 875 Shrine Building.
As his sister Blanche Tarter wrote of Roscoe in her 1971 history of the family:
...[He] was held in high esteem by all who knew him, [and his] good judgment was highly regarded. He served his church as an elder and as treasurer for many years. He served his community through civic clubs, and was active in the business societies of his profession."
In 1931, on a visit to the old Minor family homestead in Morrow County, OH, Roscoe, Alma and Rose visited the Bethel Cemetery near Cardington, and viewed the graves of his great-grandparents, Daniel and Peggy (Fluckey) Minor. They also photographed the old Luther White homestead, where "the original building was still standing and occupied by a tenant. The farm was then owned by Mrs. Myrtle Pringle Kelly…." The photo appears on the Minerd.com biography of Mahala (Minor) White.
Roscoe died on Oct. 6, 1956 at Memphis, and is buried in the Memphis Memorial Gardens. Alma's fate is unknown.
~ Son Carl William Clark Sr. ~
Son Carl William Clark Sr. (1904-1977) was born on June 25, 1904 in St. Joseph, MO.
He studied at the Kansas City Art Institute. He spent the early part of his career as a commercial artist and from 1933 to 1946 was a sales representative in Kansas City for a St. Louis printing firm.
On April 10, 1926, in a ceremony held in Liberty, MO, Carl was united in marriage with Lottie Mae Hopper (Oct. 24, 1907-1993), daughter of Thomas Bert and Myrtle Elizabeth (Jackson) Hopper. She was a graduate of the Kansas City Business College.
Their only son was Carl William Clark Jr., born in 1927.
After leaving his sales position, Carl Sr. founded the Clark Printing Co., Inc., of Kansas City in 1947. They operated the business until retirement in January 1969.
Carl and Lottie Mae retired and moved to Sun City, AZ, where he was president of the Sun City Town Hall Art Club, played golf and was active in community and civil affairs.
Carl passed away in July 1977.
Lottie Mae survived her spouse by 16 years. She joined him in death in 1993. They rest in the mausoleum in Mount Moriah Cemetery in Kansas City.
Son Carl William Clark Jr. (1927- ? ) was born on Jan. 19, 1927 in Kansas City, MO. He received a bachelor of science degree from the University of Kansas. At the age of 22, on April 23, 1949, he wedded Betty Jeanne Thompson (Aug. 11, 1925- ? ), a native of Kansas City and the daughter of Paul and Marcia Thompson. The nuptials were held in the Second Presbyterian Church in Kansas City. At the time of marriage, Betty Jeanne was employed as a secretary. The couple produced three sons -- Paul Stephen Clark, George Howard Clark and William Randall Clark. Carl Jr. took the reins as president and treasurer of the family printing company, and published the landmark 1971 family volume, Ancestral and Chronological History and Lineage of the Family of Luther White and Mahala (Minor) White, Their Forbears and Descendants, 1665-1971.
Grandson

Paul Stephen Clark

(1952- ? ) was born on Jan. 12, 1952 in Kansas City. He studied at the University of Kansas.
Grandson George Howard Clark

(1953- ? ) was born on June 8, 1953 in Kansas City. He was a student at the University of Kansas.
Grandson William Randall Clark

(1959- ? ) was born on Jan. 25, 1959.
~ Daughter Helen Frances (Clark) Rice ~
Daughter Helen Frances Clark (1908- ? ) was born on June 11, 1908 in St. Joseph.
At the age of 21, on Oct. 9, 1929, in Memphis, Helen was joined in wedlock with 27-year-old Frank Graham Rice (Aug. 20, 1902-1977). He was the son of Thomas Blaine and Ermine (Darling) Rice of Memphis.
The couple produced two daughters -- Frances Jean Remlinger and Barta Ann Wood.
Helen spent a year studying at the Southwestern University in Memphis and was a graduate of a secretarial training school. When her daughters were born, she put her working career on hold.
After Frances and Berta had grown, Helen re-entered the workforce in 1957 and focused on the field of higher education. She found employment as administrative assistant to the dean of two colleges at the University of Tennessee Medical Units at Memphis, at one time serving as chancellor pro tem. She also served as a thesis consultant in the UT graduate school.
Frank was an architect, specializing in commercial and industrial clients in Memphis for four decades, retiring in 1968.
Sadly, Frank died in 1977. He rests in the mausoleum in Memorial Park Cemetery in Memphis.
Daughter Frances "Jean" Rice (1933-2008) was born on Nov. 9, 1933 in Memphis. On July 15, 1955, when she was 21 years of age, she was united in holy matrimony with U.S. Marine Corps veteran Roderick G. Remlinger (Jan. 14, 1934- ? ), son of Ervin L. and Margaret (Sealls) Remlinger of Seattle. The couple relocated to Seattle and produced two children, Kathleen Jean Remlinger and Kevin Frank Remlinger. Roderick received his higher education at Everett Junior College and went on to a career as an engineering aide for Todd Shipyard Corporation in Seattle. His hobby was prospecting for gold. Circa 1972, their address was 14220 75th Avenue Northeast in Bothell, WA. Later, they moved to Everett, WA. Said the Everett (WA) Herald, Jean "enjoyed sewing, visiting with her friends and purchasing earrings at the Everett Mall." Jean passed away at the age of 75 on Dec. 8, 2008. In an obituary, the family asked that any memorial donations be made to Bethany at Silver Lake in Everett.
Granddaughter

Kathleen Jean Remlinger

(1959- ? ) was born on Feb. 14, 1959 in Seattle.
Grandson Kevin Frank Remlinger

(1967- ? ) was born on May 23, 1967 in Seattle.
Daughter Barta Ann Rice (1938- ? ) was born on Dec. 19, 1938 in Memphis. She studied for two years at Vanderbilt University. Eleven days after her 20th birthday, on Dec. 30, 1958, she wedded Jerry Link Wood (Aug. 12, 1933-2017), son of Dr. Howard Thomas and Jennie (Link) Wood of Wichita Falls, TX and Memphis. Their union lasted for 58 years until cleaved away by death. They were the parents of Debra Leigh Macdonald, Steve Douglas Wood and Tracy Link Wood. Jerry received a bachelor of arts degree in 1955 from Southwestern University. He also obtained education at the Louisiana State University Banking School of the South. Prior to marriage, in the mid-1950s, he was a member of the U.S. Armed Forces in Tokyo as a member of the Adjutant General Corps. His service there included work at the communication center headquarters for the Far East Command and at Fuchu Air Station. After their marriage, Jerry entered the banking field and in 1972 was an assistant vice president and branch manager in Memphis for Union Planters National Bank. In all, he spent 41 years with the bank until retiring as vice president on the last day of 1999. Circa 2004-2005, Barta served as Tennessee State Chapter President of the P.E.O Sisterhood, an international women's philanthropic educational organization benefitting women students. They were members of Kingsway Christian Church, where Jerry served as treasurer for five years and an elder for many years. In 2016, he was named elder emeritus of the congregation. Jerry passed away at the age of 83 on Jan. 13, 2017. Funeral services were held in the family church.
Granddaughter

Debra Leigh Wood

(1961- ? ) was born on Feb. 25, 1961 in Memphis. She married David Macdonald ( ? - ? ). Their known offspring are Margaret "Maggie" Macdonald and James Macdonald. They make a home in Gulf Breeze, FL.
Grandson Steve Douglas Wood

(1965- ? ) was born on Jan. 23, 1965 in Memphis.
Grandson Tracy Link Wood

(1967- ? ) was born on March 8, 1967 in Memphis.
~ Daughter Rose "Margaret" (Clark) Blackburn ~
Daughter Rose "Margaret" Clark (1916-1997) was born on May 2, 1916 in St. Joseph, MO.
At the age of 30, on May 28, 1946, in nuptials held in Kansas City, she was joined in wedlock with 30-year-old William Jackson Blackburn (May 12, 1916-1979). He was a native of Woodlawn, MO and the son of Roy P. and Rubena Blackburn.
Their two daughters were Nancy Malone and Sarah Blackburn.
Margaret worked as a secretary over the years. She also was active with the P.E.O Sisterhood, an international women's philanthropic educational organization benefitting women students.
William was employed by Industrial Control Instruments as a sales engineer. They lived in Kansas City in 1949 and in Denver in 1952.
William died in 1979, with burial in Chapel Hill Memorial Gardens in Littleton, Arapahoe County, CO..
Margaret lived for another 18 years. She followed her husband to the grave in 1997.
Daughter Nancy Blackburn (1949- ? ) was born on Aug. 9, 1949 in Kansas City. She studied languages at Colorado State University. She married a fellow student, electrical engineering major Patrick Malone ( ? - ? ) of Fort Collins. They were the parents of a son, Richard Brian Malone.
Daughter Sarah Blackburn (1952- ? ) was born on Aug. 13, 1952 in Denver. Circa 1972, she was a business administration student at Longview Junior College in Kansas City.
Copyright © 2000, 2004, 2007, 2011, 2018 Mark A. Miner