Scott married Ossie Catherine Michaels (1869-1946), the daughter of William and Rhoda A. Michaels, on June 26, 1887. He was age 26 at the time, and a resident of Stewart Township. She was 17 and from Somerset County, and her father signed his consent to the union. Rev. R. Vanaman performed the nuptials at his residence in Fayette County.
The Harbaughs went on to produce a family of five children -- Lovie Pearl Harbaugh, William Harrison Harbaugh, Andrew Jackson Harbaugh, Lloyd Frederick Harbaugh Sr. and Charles Emmett "Red" Harbaugh. Sadly, daughter Lovie died at the tender age of seven months, on April 1, 1888. Two of their adult sons would go on to meet tragic demises during Ossie's lifetime -- one in a railroad accident, and one in a drowning.
Scott was a farmer in Fayette County, but virtually nothing more is known of his short life.
Tragically, Scott died far too young, on March 10, 1893, at the age of 32. He was laid to rest at the Indian Creek Baptist Church. His grave is part of the old Harbaugh plot, adjacent to where his step-grandmother, Martha (Minerd) Harbaugh, and her father Jacob Minerd Sr., rest for eternity. His tall, upright grave marker was still legible when photographed in May 2008.
Ossie outlived her first husband by more than half a century.
In late 1909 or early 1910, she married again, to 44-year-old Arthur B. Cooper (1866- ? ). Arthur was a Pennsylvania native, and had been married once before, bringing four sons to the marriage with Ossie -- Charles Cooper, Russell Cooper, David S. Cooper and Arnold B. Cooper Jr.
The census of 1910 shows Arthur and Ossie living on Sweetbriar Street in Duquesne Heights, directly above where the Fort Pitt Tunnel later would be constructed. In their household were all four of Arthur's sons, ranging in age from six to 13,, as well as Ossie's sons Andrew Jackson, Lloyd and Charles Harbaugh. The census shows that Arthur worked as a painter in a box factory, while Lloyd and Charles Harbaugh were employed in a rolling mill as "mill-man."
When the federal census was taken in 1920, Ossie (now going by "Catherine"), Arthur and Russell lived on Wallbridge Street in Pittsburgh, with Ossie's sons William H., Charles E. and his wife Elizabeth, and granddaughters Mildred and Gladys Harbaugh living in the household. Arthur, Russell and Charles worked in a print shop, while William was employed as a fireman on a local railroad.
Ossie and Arthur separated after many years of marriage, during the 1920s, but did not divorce. The 1930 census shows Arthur, age 64, living in a boarding house on Perrysville Avenue on Pittsburgh's North Side, in the household of Italian immigrants Samuel and Anna Spacale. That year, he continued his work as a printer in a "job print shop." At the time of her death, son Lloyd, the informant on her death certificate, marked that she was not "widowed" but rather "separated."
Toward the end of her life, Ossie lived with son Lloyd at 302 Journal Street in Pittsburgh. She suffered from chronic myocarditis and hypertension, and died at the age of 76 on Dec. 11, 1946. She was laid to rest beside her son Charles in Chartiers Cemetery in Carnegie.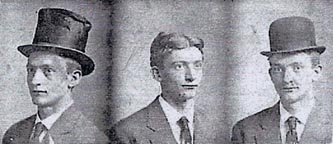 Humorous poses of the ill-fated Andrew Jackson Harbaugh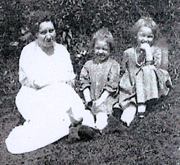 Eva with Mildred and Gladys
Son Andrew Jackson "Jack" Harbaugh (1891-1925) was born in 1891.
He was wedded to Eva May Miller (1892- ? ), the daughter of George W. and May F. Miller, on Sept. 10, 1913, in or near Pittsburgh. He was a longtime railroader, and was employed by the Baltimore and Ohio Railroad in the Braddock community near Pittsburgh.
They had three children -- Mildred Lavata Gallagher, Gladys Irene Utz and Ralph Willard Harbaugh.
Tragically, like his uncle James Harbaugh five years earlier, Andrew was killed in a railroad accident, this time on Christmas Eve, 1925. The county coroner wrote that the "body severed and arms and right leg due to being run over by a train, prob. accidentally." His mangled remains were laid to rest in the Chartiers Cemetery in Pittsburgh. [A 2009 search of the cemetery was unsuccessful in locating his grave.] He and his uncle are among a disturbingly high number of cousins to lose their lives in railroad and streetcar accidents.
Eva May was left alone to raise their children. In 1930, Gladys made her home with her maternal grandparents George W. and May F. Miller in Pittsburgh. Following a troubling pattern, as with her mother in law, Eva May survived her husband by almost 50 years. She died two days before Christmas 1973, and also is buried at Chartiers Cemetery.
Daughter Mildred Lavata (Harbaugh) Gallagher (1915-2004) was born in 1915. In August 1941, she provided information that was published several years later in the 1947 book, Harbaugh History (Evansville, IN), authored by Cora Bell and J.L. Cooprider. Mildred married Robert Gallagher (1913-1974) and had four children -- Robert Gallagher, Grace Elizabeth Smith, Thomas Francis Gallagher and Herbert Patrick Gallagher. Mildred owned and operated her own beauty shop," said the Pittsburgh Post-Gazette. She died in Imperial, Allegheny County, at the age of 88 on Jan. 31, 2004. At her death, she had 15 grandchildren, 20 great-grandchildren and six great-great grandchildren.
Daughter Gladys Irene Harbaugh (1916-1996) was born in 1916. She married Wilbert Utz and lived in Tampa, Hillsborough County, FL. They had three children -- Nancy Utz, Wilbert Utz and George Utz.
The fate of son Ralph Willard Harbaugh is unknown.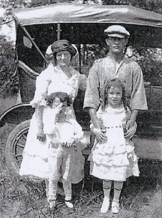 Mary, Lloyd and the children
~ Son Lloyd Frederick Harbaugh Sr. ~
Son Lloyd Frederick Harbaugh Sr. (1893-1957) was born in 1893.
On March 29, 1913, he married Mary/Marie Hurley (Jan. 18, 1890-1960), the daughter of John and Mary (McLaughlin) Hurley of Pittsburgh.
They had two children -- Ossie "Catherine" Phillips and Lloyd Frederick "Buddy" Harbaugh Jr.
They made their home in Pittsburgh, where Lloyd Sr. was a lineman for a local electric utility company. When the census was taken in 1920, they lived on Mansfield Street. In 1930, their home was on Wever ("Weaver"?) Street in Pittsburgh. Seen at left is a photograph of the family posed next to their automobile.
Lloyd and Marie later divorced.
In the 1940s, Lloyd resided at 302 Journal Street in Pittsburgh. He suffered what must have been unknowable pain during World War II when his son Lloyd "Buddy" Jr. was killed in battle in Metz, France.
In the 1950s, he married again to Susan Swantkowski ( ? - ? ), and they are believed to have had a daughter, Saundra Lee Harbaugh.
Lloyd Sr. retired from Bell Telephone Company of Pittsburgh in April 1957 after 42 years and three months of employment. The company held a retirement dinner in his honor in Carnegie and presented him with a wristwatch and a U.S. savings bond, reported the Pittsburgh Press.
Sadly, later that same month, Lloyd suffered from hardening of the arteries and heart disease, and died on April 27, 1957, at the age of 64. His remains were buried at Chartiers Cemetery. [A 2009 search of the cemetery was unsuccessful in locating his grave.]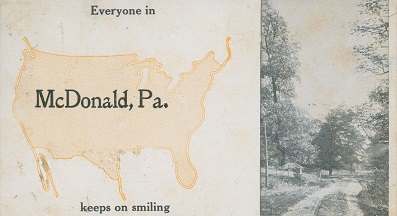 Greetings from McDonald, PA
Ex-wife Mary spent her later years living with her married daughter Catherine Phillips in McDonald, rural Cecil Township, PA. Mary was stricken by a cerebral hemorrhage and passed away three years later, on Sept. 10, 1960, at the age of 70. She also rests at Chartiers Cemetery.
Daughter Ossie Catherine Harbaugh (1913-1993) was born in 1913. She wed Ferdinand Phillips (1906-1982). The couple resided in the 1940s in Laurel Hill near Connellsvile and in the 1950s in McDonald, Washington County, PA. Ferdinand died in 1982. Catherine outlived him by 11 years. She passed away in 1993. Burial was in Robinson Run Cemetery in McDonald, PA.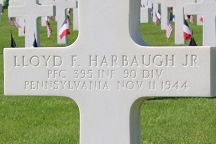 Lorraine American Cemetery, Saint-Avold, France
(courtesy J. Pechman)
Son Lloyd Frederick "Buddy" Harbaugh Jr. (1916-1944) was born on June 4, 1914. He was employed in young manhood with the Pennsylvania Railroad and worked as a brakeman. Lloyd was joined in holy wedlock with Ethel Morrison ( ? - ? ). The couple dwelled in Midway, Washington County, PA. During World War II, on Dec. 16, 1942, he joined the U.S. Army. He was assigned to the 395th Infantry of the 90th Division and was deployed to Europe in March 1944. Tragically, at the age of 28, he was killed in the Battle of Metz in France on Nov. 11, 1944. Details are not yet known. One source, WarfareHistoryNetwork.com, calls the fighting at Metz "Patton's Bloody Fortress Battle" and said that in the fall of 1944, the Third Army's "eastward dash ran into well-entrenched Germans and miserable weather at Europe's strongest fortress." Lloyd's remains were interred with honor in the Lorraine American Cemetery in Saint-Avold, Lorraine, France. Word was telegraphed to his widow and reported in the Connellsville Daily Courier. His death was confirmed in print in the Feb. 16, 1945 editions of the Pittsburgh Press and the Pittsburgh Sun-Telegraph, along with his photograph. Ethel was awarded a Silver Star Medical in October 1945 as recogntion of her loss. The event was recorded on the pages of the Monongahela (PA) Daily Republican. Ethel's story and final fate will be added here once learned.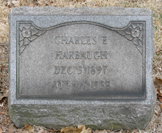 Chartiers Cemetery
~ Son Charles Emmett Harbaugh ~
Son Charles Emmett Harbaugh (1897-1938) was born in 1897.
He married Mabel Maust (or "Ingram") ( ? - ? ). The marriage did not last, and they divorced.
He was employed as a fireman on the Pittsburgh and Lake Erie Railroad, and, according to Chartiers Cemetery records, lived on Mt. Washington above Pittsburgh's famed "Point."
At the age of 41, on Aug. 14, 1938, he drove to North Park Lake in Shaler Township, Allegheny County, for a swim to beat the heat. Tragically, he drowned in the lake despite the best efforts of life guards who tried to revive him for two hours. A newspaper reported the following:
Nine tanks of oxygen were used by the life-saving crew, in addition to artificial respiration methods. Hundreds of park visitors watched the grim scene... [He] was identified through papers found in his clothing... Two women motorists notified guards at the boathouse that a man was wading in the lagoon as they drove by. Chief Life Guard William Ferris went to the place to warn the wader of the danger and found the body floating face downward. Life Guards John Beckert, Floyd Keller, Edward Steiner and Robert Schooley joined Ferris and began the battle to revive the victim. Other persons who saw the man wading said they believed he was signaling a skiff and waded out, thinking he could get into it.
He was laid to rest at Chartiers Cemetery along Noblestown road in Carnegie, near Pittsburgh. His grave marker, stained black with the residue of industrial pollution and acid rain, is seen on this page as photographed in March 2009.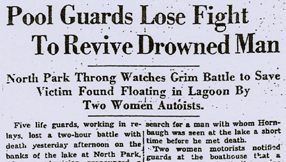 News coverage of Charles' tragic drowning, and North Park Lake and boathouse near where his death occurred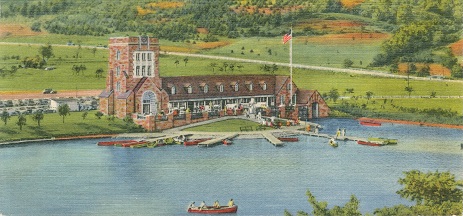 ~ Son William Harrison Harbaugh ~
Son William Harrison Harbaugh (1895-1952) was born in 1895.
He had a daughter Eleanor Pearl Caliguiri, born in 1919. He made his home with his mother and step-father in Pittsburgh when the federal census was taken in 1920 -- along with his brother Charles, Charles' wife Elizabeth and fatherless nieces Mildred and Gladys.
Circa 1920, he labored as a fireman on the railroad in Pittsburgh. William later moved to Chicago by the 1950s.
He died in Chicago at the age of 57 on April 30, 1952. His remains were shipped to Pittsburgh in early June of that year, with his brother Lloyd accompanying the body to be buried in Chartiers Cemetery. [A 2009 search of the cemetery was unsuccessful in locating his grave.]
Daughter Eleanor Pearl Harbaugh (1919-2001) married Anthony Murray Caliguiri (1917-1961). Anthony served in World War II as a member of Company C of the 67th Signal Corps. they had two children -- Anthony Caliguiri and Catherine Sauro. Pearl lived on Capital Drive in Carnegie, Allegheny County. She died at the age of 81 on April 11, 2001.
Copyright © 2007-2009, 2018, 2021 Mark A. Miner