Joseph Harbaugh
(1806-1874)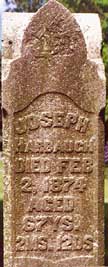 Indian Creek
Baptist Church
Joseph Harbaugh was born on Sept. 20, 1806 in or near Rockwood, Somerset County, PA, the eldest son of Leonard and Elizabeth (Pritts) Harbaugh Sr.
Joseph and his sister Mary were twins. When he was a boy, his mother died, and his father then married widow Martha (Minerd) Imel when Joseph was about the age of 13.
As a teenager, Joseph and his parents moved to a farm at what is now Clairton Lake near Scullton, Somerset County, very close to the mountainous border of Fayette County, PA.
After many years as a bachelor, Joseph married Jane Williams (Sept. 20, 1832-1908) on Oct. 6, 1853. He was age 47 at the time, and she was just 21, with a separation in age of more than a quarter of a century. She was the daughter of Rev. John and Elizabeth (Galloway) Williams.
The Harbaugh and Williams families were close. Joseph's nephew Allen Edward Harbaugh married Jane's sister Margaret Williams, and their cousin Jonas Rowan wedded another of the sisters, Julia Ann Williams.
The Harbaughs went on to produce seven children -- Elizabeth "Lizzie" Anderson Bilby, John Harbaugh, William "Hickman" Harbaugh, Winfield "Scott" Harbaugh, Mary Eliza Hall, Marshall Harbaugh and James Harbaugh. Sadly, son Hickman passed away on Aug. 23, 1863, at the tender age of four and a half years.
Joseph was age 65 when his youngest son James was born.
When the federal census was taken in 1860, they lived on the family farm compound next to his parents and half-brother David Harbaugh. Joseph is marked as a farmer and Jane as a "spinster." The 1870 census shows the 63-year-old Joseph and 32-year-old Jane and four young children in the home. Joseph was a farm laborer and Jane occupied "keeping home." Among their immediate neighbors were his married sister and brother in law, Adaline and Charles Minerd, and presumed sister in law and her husband, Julia and Jonas Rowan.
Joseph and his younger half-brother David Harbaugh (who were a quarter of a century years apart in age) both bought tracts of their father's farm. (Marked "J.&D.Harbaugh," the farm appears at right on a rare 1860 map of the county, with the original housed in the Pennsylvania State Archives in Harrisburg. The dotted line to the left of their farm is the county border.) That farm today is part of the Clairton Anglers Club. The letters "S.H." may stand for "School House," and that property is thought to have been the site of the old, one-room Harbaugh School.

Joseph's farm (circled) next to the farm of his father and brother ("L. & D. Harbaugh" and close to the diagonal dotted line of the Somerset/Fayette County border.
Courtesy Library of Congress.
Very little is known of Joseph and Jane's adult lives.
Joseph died on Feb. 3, 1874, at the age of 68. He was laid to rest at the Indian Creek Baptist Church at Mill Run, Fayette County. At the time, his youngest son James was just two and a half years of age.
Jane outlived him by more than 30 years. When the federal census was enumerated in 1880, she dwelled in Stewart Township, Fayette County, with all six of her surviving children under her roof, ranging in age from 9 to 26.
By 1900, the census shows that she had moved into the residence of her son and daughter in law Marshall and Annie Harbaugh and their children in or near Nicolay, Stewart Township, along with her 28-year-old unmarried son James. Their near neighbors that year included kinsmen Winfield S. and Josephine (Minerd) Hall, Lawson and Lutitia (Steyer) Minerd, Martha (Minerd) Gorsuch, Robert Bacom and Elizabeth (Long) Harbaugh Sr. and Allen and Annie (Linderman) Rowan.
Suffering from influenza ("the grip") and a severe cough, Jane died on Nov. 10, 1908 at the age of 76. An observer wrote: "Died suddenly before Doctor could Reach her." Her husband's step-cousin and nephew by marriage, Lawson Minerd of Nicolay, signed the death certificate. Her remains were placed into eternal repose beside her husband. Their grave marker has faded, and is in some danger of becoming illegible.
Copyright © 2000-2003, 2006-2007, 2020, 2023 Mark A. Miner
Joseph Harbaugh's grave marker photo by Sharon (Sheldon) Kern