Marshall Harbaugh
(1867-1941)
Marshall Harbaugh was born on Feb. 23, 1867 in or near Nicolay, on the mountainous border of Fayette and Somerset Counties, PA, the son of Joseph and Jane (Williams) Harbaugh.
As a man of age 28, Marshall married 16-year-old Annie M. Shroyer (1880-1910), the daughter of farmers Adam and Lydia (Linderman) Shroyer of Mill Run. The wedding took place on Nov. 17, 1895, officiated by Rev. J.H. Means. Annie could not read or write, and signed her name on her marriage license with an "X."
The Harbaughs resided on a farm at Maple Summit, near Ohiopyle, Fayette County.
The eight children born to this union were Nora Pearl Ream, William Elliot Harbaugh, Marshall Joseph Harbaugh, Elmer Roosevelt Harbaugh, James Franklin Harbaugh, and triplets Lawson Frederick Harbaugh, Lutitia Jane Harbaugh and Bertha Ruth Harbaugh. The triplets apparently were named, in part, for Marshall's cousin and wife, Lawson and Lutitia (Steyer) Minerd of Mill Run.
In 1908, running on the Republican ticket, Marshall was elected Road Supervisor of Stewart Township, beating John Sailor, 74 votes to 44.

Connellsville Daily Courier
Tragically, in January 1910, Annie died at the age of 30 after giving birth to the triplets, who in turn all died within a few days. A physician who helped treat her noted that her death was caused by kidney failure -- "Delivered of triplets Jan. 3, 1910 by midwife. Retention of urine relieved by catheter 1 a.m. Jan. 7, 1910. Uremia Edema of feet & ankles with cough for some time previous to confinement." The Connellsville Daily Courier said she "was a woman of estimable character. Her death has cast a gloom over the community." She was laid to rest in the quiet country churchyard of the Maple Summit Church of God.
After 20 months as a widower, Marshall married Mary Jane "Elizabeth" Sands (1885-1956) on Sept. 18, 1911. She was the daughter of John and Catherine (Linderman) Sands.
The couple lived in Bidwell and produced five more children -- David G. Harbaugh, Homer Lewis Harbaugh, Bert Raymond Harbaugh and Joseph Harbaugh. A baby was born dead on June 28, 1914.
Sadly, son David died at the tender age of four days, on Nov. 5, 1923. A physician noted the baby had been born prematurely and was "poorly developed." Interment was at Maple Summit.
In August 1932, he served as president of the annual Harbaugh Reunion. Marshall kept family records that were published in the 1947 book, Harbaugh History (Evansville, IN), authored by Cora Bell and J.L. Cooprider.
Marshall and Mary sold 72 acres of their Stewart Township farm to son Elmer for a token one dollar in September 1937.

Marshall and Annie's grave at Maple Summit Church
Two of Marshall and Annie's adult children, Nora Pearl and William Eliot, married Harbaugh-Minerd cousins -- Nora to Cyril "Edgar" Ream and William to Ethel Irene Ream.
Marshall passed away on June 18, 1941, at the age of 74. He is buried beside his first wife at Maple Summit.
As a widow, Mary went to live with her son Bert in Lorain, Cuyahoga County, OH. She died at his home at the age of 70 on July 15, 1956. Her remains were returned to Confluence for the funeral, followed by burial at Maple Summit Cemetery. At the time of her death, she was survived by 10 grandchildren and 10 great-grandchildren.
~ Son Elmer Roosevelt Harbaugh ~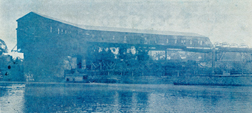 Vesta Mine tipple at California, PA
Son Elmer Roosevelt Harbaugh (1904-1963) was born on Jan. 11, 1904.
At the age of 32, on July 3, 1936, he wed 18-year-old Pearl Irene Sands (1918-1991).
They had three children, Elizabeth Pearl Waltes, Barbara Diane Harbaugh and Hugh Marshall Harbaugh.
Circa 1942, the Harbaughs moved to Deemston near Fredericktown, Washington County, where Elmer obtained employment.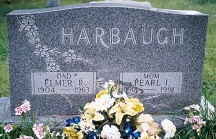 Maple Summit Cemetery
An old blue-tinted postcard view of Vesta's tipple at California, Washington County is seen here -- with a daily capacity of 7,000 tons, it was the largest bituminous coal mine in the world.
Said the Daily Courier, Elmer "was a member, deacon and Sunday school teacher of East Bethlehem Baptist Church and a member of Vestaburg Local No. 762, UMWA, and was employed at Jones and Laughlin Steel Corp's Vesta No. 5 Mine."
Elmer suffered from hardening of the arteries for five years and diabetes for two. He died from a sudden heart attack at home on March 19, 1963, at the age of 59. Burial was in Maple Summit Cemetery near Mill Run.
Pearl survived her husband by 28 years. She died in 1991.
~ Son Bert Raymond Harbaugh ~
Son Bert Raymond Harbaugh (1915-1971) was born in 1915.
He lived as an adult in Lorain, Cuyahoga County, OH (1950s and '60s) and in Long Beach, CA (1970s).
He died in Long Beach at the age of 56 on March 25, 1971. He was laid to rest in Long Beach. His brief obituary was published in the Connellsville Daily Courier.
Copyright © 2007, 2009, 2014, 2016 Mark A. Miner