The Harbaugh School
1888? to 1930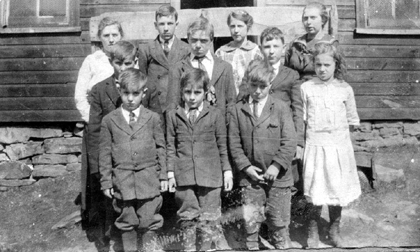 Harbaugh School, 1920s. Teacher Nan Whipkey is in back, far left
Our family claims a school named after one of its major branches. The one-room Harbaugh School was open from 1889 to 1930 in Lower Turkeyfoot Township, Somerset County, PA. The schoolhouse was near the old homestead of half-brothers Joseph Harbaugh and David Harbaugh, whose parents, Leonard and Martha (Minerd) Harbaugh, settled there in 1837. The school site is now owned by the Pennsylvania Game Commission, and the farm by the Clairton Anglers Club.
The first known reference to the school is found in a Meyersdale Commercial newspaper article in 1888.
The first teacher was Alice C. Eyer in 1889, with 34 pupils enrolled but with average attendance of only 15. Her monthly salary was $23.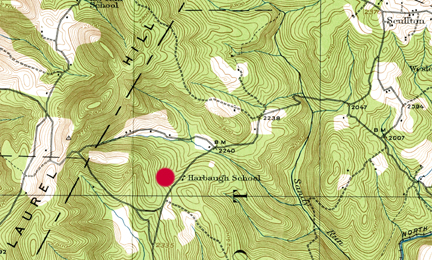 1931 U.S. Geological Survey map (with a red dot added) showing the school's precise location, about a mile east of the Fayette/Somerset County border ("Laurel Hill"), and southwest of the town of Scullton (upper right).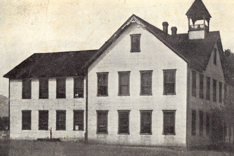 New public school in Confluence
Over the years, some of the teachers were Thelma B. Glover, Nancy "Nan" Whipkey King, Grover Nichols, George W. Steyer, Daniel "Garfield" Younkin (son of James "Dempsey" Younkin) and Emma Younkin (daughter of Colwell Seveno Younkin of the family of Jacob J. Younkin).
When Emma Younkin signed her contract in July 1918 with the Lower Turkeyfoot School Board, having recently graduated from Connellsville High School, the Meyersdale Republican stated that "Being a bright, intelligent young lady and much interested in the study of botany, there is no doubt that she will make a very successful teacher."
The following March, the Republican reported that she "has been doing good work since taking charge of the school, and is giving entire satisfaction. Two weeks ago she held a box social at the school house which netted about $20 which was expended in procuring a globe for the use of the school. The globe is something that is very useful to the advanced classes in geography." Evidence suggests that she only spent the 1918-1919 school year at Harbaugh.
In 1930, the school was closed during the Great Depression, as part of a township-wide consolidation to cut costs and offer better advantages to children. The students were bused to Confluence Public Schools where they were admitted on a "straight tuition basis."
We would love to someday find a photograph of the entire Harbaugh School building.
If you might know where we might find such an image, please contact us via email.
Copyright © 1997, 2002, 2007, 2010, 2020 Mark A. Miner
Some of this text was published in our 1997 reunion booklet, A Sense of Wonder.