James 'Dempsey' Younkin
(1860-1892)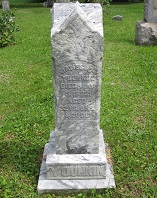 Dempsey's grave, Imel Cemetery
James Dempsey "Demp" Younkin was born in about 1860 in Clay Run, Fayette County, the son of George and Charlotta (Younkin) Younkin, first cousins who had married each other.
He married Phoebe "Ann" Burkholder (1858-1937), daughter of Daniel and Catharine (Cramer) Burkholder of Somerset County.
They produced a family of six known children -- John J. Younkin, Ella Younkin, Daniel Garfield Younkin, Daisy Catharine Fosbrink, James G. "Blaine" Younkin and Bessie Grace Shannon.
The Younkins resided at Draketown, Somerset County.
James was stricken with a serious case of consumption, known today as tuberculosis, and passed away at the age of 32 years, nine months and 20 days on May 2, 1892. His remains were laid to rest in the Imel Cemetery.
After James' death, the 34-year-old Phoebe was left to raise four underage children and with no source of income. She applied to the County of Somerset for "out-door relief," and received a payment of $8.00, with a notice published in the Somerset Herald. Her brother William Burkholder -- married to Josephine Gorsuch -- was named as the youths' guardian.
She advised the Orphans Court of Somerset County that her husband's property consisted of items worth $130 plus a 90-acre farm adjoining the lands of Eli Conn, George Romesburg, Sarah Colborn, Andrew Moon, Jacob Sterner and W.M. Burkholder. While the farm was worth $300, there was a $150 encumbrance on the tract from an unpaid debt owed to Allen Hyatt. An inventory of the estate was conducted, and the following items were identified -- a cow, pair of harness, shovel, hog, two stoves, table, six chairs, crib, clock, Bible, bedstead, brace and two bits, grindstone, churn, meat stand, half a barrel of salt, a saw and chest.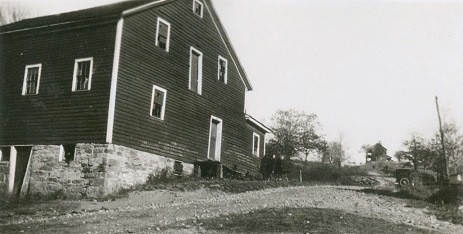 A Draketown gristmill, said to have been the "last enterprise left in town" as of the 1920s.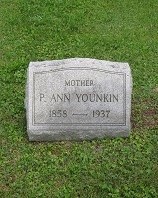 Phoebe "Ann's" grave
On March 5, 1895, Phoebe Ann remarried to her husband's cousin Andrew Jackson Younkin (1847-1916), son of "Devil Jake" Younkin. The couple made its home in Fort Hill, Somerset County, PA. Andrew and Phoebe Ann went on to bear two more daughters of their own, Lydia F. "Edna" Lang Arndt Ostberg and Martha Mefford.
In an interesting twist, Phoebe's sister Ida was married to James Franklin Younkin, brother Daniel McKinley married to Kathryn Miner, and sister Rebecca Jane to Otis "Freed" Minerd.
But the second marriage apparently did not last, and by 1900, the federal census-taker recorded Andrew residing as a single man and boarder in the home of Henry J. Leichliter.
Phoebe Ann lived for many more decades, and dwelled at Draketown, Somerset County, where she was a member of the United Brethren Church. In 1920, her next-door neighbors were Cyril "Edgar" and Nora (Harbaugh) Ream.
She died at the home of her son James G. "Blaine" Younkin in Confluence, Somerset County at the age of 82 on Nov. 17, 1937. She was laid to rest in the Imel Cemetery. Her obituary in the Daily Courier only noted that she "was the widow of J.B. Younkin" and did not mention Andrew.
But when her obituary was republished in the inaugural edition of the Younkin Family News Bulletin (Christmas 1937) it included Andrew's name as her spouse. Andrew and Phoebe are mentioned in an August 1961 article in the Laurel Messenger newsletter, headlined "Burkholder Family Background." Phoebe's son Garfield resided in Mesa, AZ in 1939, while son Blaine lived in Confluence.
In a December 1937 letter to a cousin, her nephew Charles Arthur Younkin wrote: "I was at the funeral of my father's only brother's widow's funeral she being in her 79th year."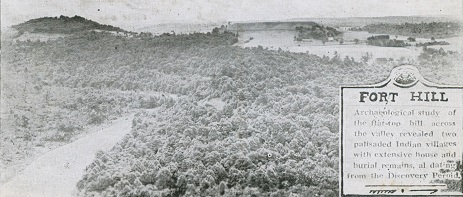 Fort Hill, Somerset County
Imel Cemetery
~ Son Daniel Garfield Younkin ~
Son Daniel Garfield Younkin (1880-1949) was born on May 27, 1880. Reflecting his times, Daniel was named in part for James A. Garfield, a candidate for election as President of the United States who went on to win the office but later was assassinated.
He studied at Ohio Northern University and received a degree in law. Circa 1913, he practice in Xenia, Seneca County, OH.
On June 18, 1913, in Seneca County, OH, he married teacher Fay L. Miller (1892- ? ), daughter of William H. and Elmina (Toman) Miller. Rev. J.F. Bender officiated. Daniel was a full decade older than his bride.
The Younkins had two children -- Bruce Younkin and Ruth Lucile Yokela.
During World War I, he served as a captain with the 148th Infantry. He "practiced law for a while, lost his health, and is now principal of schools at Phoenix, Arizona, or near there," recalled Connellsville attorney Frederick E. Younkin.
He later was an educator and, in cooperation with the University of Arizona in 1924, published School Administration Under the City Manager Form of Government. He "has been in various states... for the past several years," reported the Younkin Family News Bulletin in 1938, but was "now located on a ranch at Mesa, Ariz."
In poor health, he returned to Confluence in June 1938 for an extended visit with his brother Blaine. His condition apparently improved and he returned to Tucson. He wrote a letter in 1941, as World War II loomed, and published in the Younkin news bulletin, reading, in part: "We are certain to be called upon to sacrifice much, to work hard and long with no thought of the dividends which might accrue or the wages which could result but I'm sure our Younkin group will do that very thing." In May 1949, he returned to Confluence to spend the summer at the home of his brother Blaine.
He suffered a severe stroke on Aug. 23, 1949, and was sent for medical care to Deshon Veterans Hospital in Butler, Butler County, PA. He hung on for four days, and passed on Aug. 27, 1949, age 69. His remains were returned to Connellsville to be laid to rest in the Imel Cemetery. A standard issue military marker was placed on his grave, and was photographed by the founder of this website in August 2013.
Daughter Ruth Younkin ( ? - ? ) wed Harold Edward Hokela ( ? - ? ) on July 18, 1939, in Reno, NV, an event announced in the August 1939 edition of the Younkin news bulletin.
~ Daughter Daisy Catherine (Younkin) Fosbrink ~
Daughter Daisy Catherine Younkin (1882-1935) was born on Sept. 29, 1882 at Clay Run. She wed Robert Fosbrink ( ? - ? ) and resided in Confluence.
Their children were Velma Bobbs and Kenneth Fosbrink. Sadly, son Kenneth died in infancy.
In about 1934, Bessie was stricken with a serious illness, and in February 1935 became bedfast. She was admitted to Frantz Hospital in Confluence on May 1, 1935, but was unable to recover. She died at the age of 53 on Aug. 28, 1935. Burial was in the Jersey Baptist Church in Confluence.
Daughter Velma Fosbrink married (?) Bobbs and made her home in Confluence in 1935.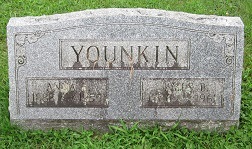 Confluence Baptist cemetery
~ Son James "Blaine" Younkin ~
Son James "Blaine" Younkin (1889-1961) was born on July 30, 1886. He apparently was named for the famed American statesman James G. Blaine, a native of Fayette County.
Circa 1920-1930, federal census records show that Blaine, unmarried, resided with his mother on a farm near Confluence, Somerset County. He assisted his mother as a farm laborer.
At some point he was united in marriage with Anna B. Cunningham (1882-1955) of Lower Turkeyfoot, the daughter of George E. and Cora (McClellan) Cunningham. Their home in the 1950s was at 383 Laurel Avenue in Confluence.
Blaine was named in the obituaries of his sister Daisy Fosbrink in 1935; his mother in 1937; his brother Daniel Garfield Younkin in 1949; and half-sister Edna Ostberg in 1960. He continued his work as a farm laborer until late in life and lived in Confluence at 533 Oden Street.
Sadly, Anna was stricken with hypertension and hardening of the arteries. She had a heart attack in late February 1955 and at some point was admitted to Somerset Community Hospital. There, after a stay of three weeks, she passed away on April 9, 1955, at the age of 72.
Having suffered for two years from the effects of heart disease, Blaine succumbed in Somerset Community Hospital at the age of 75 on Nov. 23, 1961. Burial was in the cemetery of the Turkeyfoot Valley Baptist Church in Confluence.
~ Daughter Bessie "Grace" Catherine (Younkin) Shannon ~
Daughter Bessie "Grace" Younkin (1890-1971) was born in 1890 in Confluence.
At the age of 24, she married Connellsville fireman Charles L. Shannon (1891- ? ), son of Aaron and Susan (Wilhelm) Shannon of Ursina. The ceremony was held at Ursina on Oct. 14, 1914, by the hand of Rev. J.C. Cunningham.
They moved to Connellsville, where their home was at 1109 Vine Street. Bessie was a member of the Connellsville United Presbyterian Church and the Dams of Malta, Pythian Sisters.
They had two children -- Charles L. Shannon and Susann June Kinard.
Bessie passed away at age 82, in Connellsville State General Hospital, on July 8, 1971. Interment was in the Jersey Baptist Church near Confluence, with the funeral conducted by Rev. W. Sheldon Blair.
Copyright © 2013, 2016-2017, 2020-2021 Mark A. Miner
Research for this page graciously shared by the late Olive (Rowan) Duff and the late Donna (Younkin) Logan.