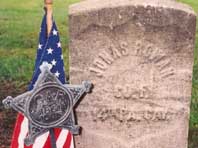 Indian Creek Captist Church
Jonas Rowan was born on Feb. 12, 1833 in Somerset County, PA, the son of James and Catherine (Harbaugh) Rowan. He served in the Civil War, as did his father and three of his brothers, and died as an indirect result of his wartime illnesses.
As a boy, Jonas moved with his parents to nearby Stewart Township, Fayette County. He played with boyhood friends Daniel W. Dull, John Hann, George W. Marietta and Garrett Hall. Abraham Williams called him a "chunk of a boy."
As a young man, Jonas was was strong and able-bodied, weighing 200 lbs., and did farm work for the Marietta and Prinkey families. "He was regarded as one of the stoutest and most healthy men we had in this part of the country," Marietta said.
On Dec. 9, 1858 (or 1859), at age 25, Jonas married 22-year-old Julia Ann "Annie" Williams (1836-1908), daughter of Rev. John A. and Elizabeth (Galloway) Williams. The ceremony was performed by Elijah Harbaugh, a justice of the peace, and a cousin on the Harbaugh side of the family, and took place at the home of Julia's sister and brother-in-law, Mary and Isaac Prinkey.

Julia Rowan
The Rowan/Harbaugh and Williams families were close. Jonas' cousin Joseph Harbaugh wedded Julia's sister Jane Williams, and cousin Allen Edward Harbaugh married another of the sisters, Margaret Williams.
In the 1947 book, Harbaugh History, by Cora Bell and J.L. Cooprider, Julia is stated to have been the widow of his brother Leonard, who had died in the war. However, this is just not true. Julia herself, and many friends, testified that this was a first marriage for both her and Jonas.
The couple produced five children -- Austin Rowan, Rebecca Robbins, George E. Rowan, Martha C. Rowan and Amanda Rowan. Hulda Skinner served as midwife during all of the births. A handwritten record of their births was kept on a piece of paper, said a friend, because "Jonas Rowan was a poor man and had no Bible record of the Births and deaths of their children." Later, to help Jonas' widow obtain a federal pension, the paper record was shown to a notary public as official proof.
The Rowans made their home "on the mountain near Stewart Station" in Fayette County, Julia later said. Their post office was "Elm," later renamed as "Normalville."
When the war broke out, Jonas and his brother David enlisted on Feb. 27, 1864 in Company F of the 14th Pennsylvania Cavalry. Jonas and friend Jacob N. Ritenour "went to Greensburg Pa. together," said Ritenour. "He was examined and accepted."
In addition to his brother, Jonas' step-cousins Adrian Johnson and Andrew Minerd also served in the regiment. All four men are mentioned several times in the 1915 book, The Fourteenth Pennsylvania Volunteer Cavalry in the Civil War, authored by Rev. William Davis Slease.

Cedar Creek battle in Virginia, where Jonas was captured. At this skirmish, Jubal Early's rear guard of Confederates battled the cavalry of Philip Sheridan, with the Union harassing the retreating enemy before they made a stand at Winchester on the way up the Shenandoah Valley.
The 14th Pennsylvania Cavalry did not see battle action for 11 months. On July 3, 1863, the same day the Battle of Gettysburg was concluding in Pennsylvania, Jonas and the regiment saw its first engagement at Beverly, WV. From that time forward, the 14th Pennsylvania took part in 87 other battles and skirmishes, concluding with Ashby's Gap, Virginia on Feb. 19, 1865. It took an active part in General Philip Sheridan's extended campaigns in the Shenandoah and Luray Valley, VA.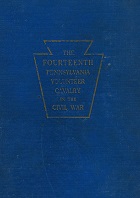 History of Jonas'
Civil War regiment
Among the more significant battles, the 14th Cavalry fought for four days at Rocky Gap, known as White Sulphur Springs, WV, where David's step-cousin Burkett M. Fawcett was killed as a member of the 3rd West Virginia Cavalry. Other fights, as highlighted in Slease's history of the regiment, were at Droop Mountain, WV; Chambersburg, PA; Third Winchester, VA; and Cedar Creek, VA.
On Oct. 19, 1864, at the Battle of Cedar Creek, Jonas was taken prisoner by the enemy. Recalled friend John Hann:
I saw him captured. His horse gone out. I saw him taken off his horse. He got away from the Rebels that night. they took his clothing all off him. He had no hat, coat, pants or boots. He laid out all that night. He got back to our camp the following day. He had a bad cold, had a cough. He continued to cough as long as he was in the service.

Jonas' commanding officer, Col. J.M. Schoonmaker
He was able to escape, despite the bitter cold, recalled Hann, because the enemy soldiers "lay down and went to sleep at night." Jonas "sprained his knee while running to escape from the Rebels after he had been captured and broke away from them," said family friend Hulda Skinner, who heard the story second-hand after the war. He was treated at a field hospital near Winchester, VA.
Jonas eventually was sent to Fort Leavenworth, KS, where he was discharged on Aug. 24, 1865. He returned to his wife and family, a physical wreck. His wife observed that he upon arriving home, he "was 'middlin' thin in flesh - he had a yellow color as clay color."
About a year later, in August 1866, he became bedfast and remained so for about eight months. Treated by Dr. Joseph Rogers, his body weight dropped dramatically to about 125 lbs. After getting a little better, and regaining his strength, Jonas still had severe physical problems. Recalled his wife:
Nothing would lay on his stomach. He would scarcely get through eating until he would go out and throw up -- and especially breakfast. His whole complaint was as to his stomach. He complained of pains in his bones. He complained of pains in his right leg... He had a terrible cough and expectorated freely for 7 months before his death.
Friend George W. Marietta said "He always walked lame after this one leg seemed drawn out of shape as did one shoulder." He occasionally had to use a cane or crutch when walking.
Friend Isaac Prinkey said "He could not stand tramping up and down the hills as he did before [the war]." Friend John Hann said "He used to hold his hands on his sides when he would cough, would say it nearly killed him to cough."
The 1870 census shows Jonas and Julia and their four young children in the home. Joseph was a farmer and Julia as occupied "keeping home." Among their immediate neighbors were his parents, widowed grandmother Martha (Minerd) Harbaugh, uncle and aunt Charles and Adaline (Harbaugh Minerd, and presumed sister in law and her husband, Jane and Joseph Harbaugh.
In the winter of 1872, Jonas contracted a fatal case of typhoid pneumonia. It spread to "all parts of his body," according to his physician, Dr. W.S. Mountain of nearby Confluence, Somerset County. He also was "greatly emaciated, had a severe cough, and lung trouble." After three weeks of fighting the illness, Jonas died on March 10, 1872, at the age of 39. Wrote Mountain: "The real cause of death was Typhoid Pneumonia, but he being physically depleted by exposure in the army was the primary cause of his death, he not having the physical force to stand the disease. I was his physician in his last illness and ... lived within five miles of him."
Jonas rests under a standard issue military grave marker in the Indian Creek Baptist Church Cemetery near Mill Run, PA. He was joined in death four years later by his brother David, who was killed in an 1876 railroad accident in Ohio Pyle. They would be joined there in eternal rest within a few years by their parents and step-grandmother, Martha (Minerd) Harbaugh.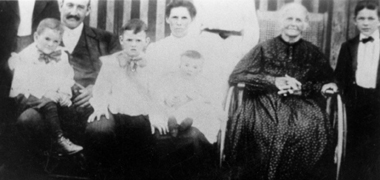 Julia and her family, circa 1910-1911. Front row, L-R: son George holding Earl, Domer Rowan, Althea holding Arthur, Julia (in a wheelchair, having broken her hip in a fall) and ill-fated Charles. Back row (cut off from view): Clark and Jennie.
Julia immediately petitioned the federal government to award Jonas' pension to her as she had young children to raise. She began receiving $8 per month, commencing March 24, 1872.
Further tragedy and heartache struck Julia in 1876. That year, three of their children came down with diphtheria and died within 15 days -- 16-year-old son Austin, seven-year-old daughter Martha and four-year-old daughter Amanda. Julia's grief must have been unspeakable.
Connellsville Weekly Courier, 1899
On March 30, 1884, after 12 years as a widow, Julia married Isaac Prinkey ( ? -1899). The ceremony was performed in the bride's home by justice of the peace W.M. Kern, with Eli S. Showalter as a witness.
Isaac is believed to have had six children to a previous marriage -- William H. Prinkey, Louisa J. Eicher, Eva J. Leichliter, Mary E. Eicher, Isaac Prinkey and Walter Prinkey.
Julia and Isaac's marriage lasted for 15 years, until he passed away of a stroke of apoplexy on May 15, 1899. George W. Prinkey was present at the time of death. The Connellsville Weekly Courier said that he "leaves a wife and family of grown children. The family have the sympathy of the community." He was laid to rest in the Indian Creek Baptist Church cemetery.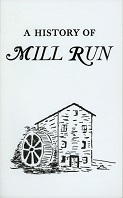 History of Mill Run
Although he wrote no will, the assets in Isaac's estate provided her with an income of $10 per month as his widow, "as the interest on one third of sale of real estate."
Circa 1902, Julia was residing with married daughter Rebecca Robbins in Blue Knob, Blair County, PA. In October of that year, said the Courier, she returned to Connellsville and moved into the home of son George. Yet by 1904, she was residing again with the Robbinses. In official papers of that timeframe, Julia called herself a "helpless invalid."
Julia died in her sleep at age 72 on May 2, 1908 at the home of son George in Normalville. The Courier reported that while she had "been in poor health for some time, but her death was not expected." She was buried at the Indian Creek Baptist Church Cemetery.
In 1915, in a history of Jonas' regiment was published in Pittsburgh, entitled The Fourteenth Pennsylvania Cavalry in the Civil War, authored by Rev. William Davis Slease. It was reprinted in 1999 by Soldiers and Sailors Memorial Hall and Military Museum in Pittsburgh, with a 124-page supplemental roster added by museum curator Ron Gancas. Jonas and his brother David are mentioned on pages 53 and 95 of the original book, and on page 193 of the supplement.
Many years later, in 1970, Jonas and Julia were mentioned in the newly published book, A History of Mill Run.
~ Son Austin Rowan ~
Son Austin Rowan (1859- ? ) was born in about 1859 near Ohio Pyle.
At the age of 11, in 1870, he resided with his parents younger siblings near Ohio Pyle.
He has not yet been located on the 1880 census and may have died young. More will be added here when learned.
~ Daughter Martha C. Rowan ~
Daughter Martha C. Rowan (1869- ? ) was born in about 1869 near Ohio Pyle.
She has not yet been located on the 1880 census and may have died young. More will be added here when discovered.
Copyright © 2001, 2005-2009, 2014-2015, 2018, 2020 Mark A. Miner
Select information provided by Beverly (Murray) Domer.