Catherine (Harbaugh) Rowan
(1808-1893)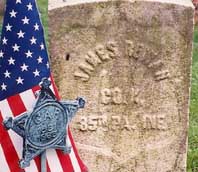 Indian Creek Baptist Church
Catherine (Harbaugh) Rowan was born on July 2, 1808 in or near Rockwood, Somerset County, PA, the daughter of Leonard and Elizabeth (Pritts) Harbaugh. Her husband and four of her sons served in the Civil War. She outlived six of her children, losing two sons from the effects of the war, another son in a railroad accident and two other children in their youth.
When Catherine was a girl, her mother died. When she was 11, her father married widow Martha (Minerd) Imel.
On Oct. 14, 1830, at Normalville, Fayette County, the 22-year-old Catherine was joined in matrimony with 20-year-old James Rowan (1810-1880). He was a native of Addison Township, Somerset County, PA, or possibly of Maryland. (Records differ.)
Their children were Elizabeth Hall, Jonas Rowan, Josiah Rowan, Leonard Rowan, Sabina Rowan, David J. Rowan, Samuel Rowan and Allen H. Rowan. Sadly, Samuel and Sabina died as children.
The Connellsville Courier once said Catherine "was a woman of powerful physique, five feet 10 inches in height, average weight, though not fleshy, was over two hundred (lbs.)." Her husband stood 5 feet 10 inches, with a dark complexion, black eyes and black hair. He was said to be " respected by all respectable citizens. He was a member of the Baptist church. To speak of him politically he was an ardent Republican."
They moved to Fayette County in 1846, and resided on a farm at Maple Summit. In the years before the Civil War, James' income did not exceed 50 cents per day. Another source estimated his pre-war daily wage as no more than 35 cents. Tax assessments show that their personal property was never valued at more than $190 in any one year, and dropped as low as $8.00 during the war.
When the war broke out, James enlisted in the 85th Pennsylvania Volunteer Infantry, along with his son Leonard. Three other sons followed suit in various regiments -- David, Josiah and Jonas. The Uniontown Republican Standard summarized James' wartime experience, saying he:
...was 51 years old when the war broke out, yet was one of the first to enlist when the Eighty-fifth regiment was recruited. He was with his regiment in the battles of Williamsburg and Fair Oaks. He took sick after that, and was discharged and came home, where he remained a while, but old as he was he could not stay at home when his country needed his service, so he re-enlisted in 1864 and stayed in the army until the close of the war, coming home stout and hearty.

Battle action in Williamsburg, VA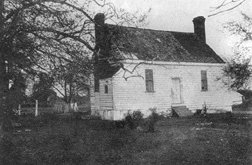 House that saw Civil War action at Seven Pines
The Battle of Fair Oaks, VA, also known as the Battle of Seven Pines, was exceptionally bloody. In fact, cousin Jacob M. Younkin, a member of James' regiment, was killed in this battle. A rare old photographic postcard, showing a house that served as a key landmark at Seven Pines, is seen here. The caption states that the house was:
... a forlorn and silent witness of that Bloody Sunday, June 1st, 1862. While in use as a temporary hospital a fierce onslaught of the opposing force made it the center of the battle zone, and abandonment was necessary. Her bullet scarred sides mutely testify the location on that terrible day.
James' illnesses were due to nerves and diarrhea, and caused him to be out of commission for eight of his 18 months in his first tour of duty. He was treated at various hospitals in Philadelphia. We can only imagine James' heartache during the war when he saw his son and fellow soldier Leonard get sick and die in August 1862 at Harrison's Landing, VA. Records of this period only show that James himself was on "Special Muster" at the time and was "Absent sick on Surgeons leave ... [and he] left camp near Harrison's Landing."
James' re-enlistment may also have been due to the family's need for income. A friend once recalled that "while in the service [James'] family lived on very scant living."

Page from Catherine's pension claim
Tragically, two other sons lost their lives in some way due to the war. Josiah died in July 1865 "on his way home from the war" and Jonas died in March 1872 "of disease contracted in the service."
James and Catherine had little income after the war, and depended heavily on the brawn of their surviving sons. Their few possessions included a tract of "barren mountain land, uncultivated, and one or two cows and one horse…."

James' newspaper obituary, 1880
When the federal census was taken in 1870, the Rowans are shown in Stewart Township, Fayette County, with James employed as a farmer and Catherine as a housekeeper. Also living under their roof that year were Catherine's widowed 81-year-old stepmother, Martha (Minerd) Harbaugh, and 21-year-old niece, Lucinda Minerd. Among their near neighbors were her married half sister Adaline Minerd, brother Joseph Harbaugh and son Jonas Rowan.
Tragedy struck the family in 1876 when son David was killed in a railroad accident in Ohio Pyle. David's young son, Elmer Washington Rowan, was sent to live with Catherine and James in Maple Summit. They are shown together in the federal census enumeration of 1880, when Catherine was age 72, James 70 and Elmer 12.

Catherine's newspaper obituary, 1893
James died of heart disease and "dropsy of the chest" on June 12, 1880, after being treated by Dr. H.Y. Brady and Dr. B.A. Fichtner. He is buried at the Indian Creek Baptist Church Cemetery near his stepmother-in-law, Martha (Minerd) Imel-Harbaugh. Catherine lived the remaining years of her life with son Allen in Maple Summit, Fayette County.
In the 1880s, Catherine successfully petitioned the federal government for a pension owed her husband for his service. This began at $8 per month, starting in June 1880, and increased to $12 monthly in March 1886. She also obtained a "Mother's Pension" due to the death of son Leonard, upon whom she had so heavily depended for support.
Catherine died at son Allen's home in October 1893. It's supposed that she is buried at the Indian Creek cemetery with her husband, but this is not confirmed.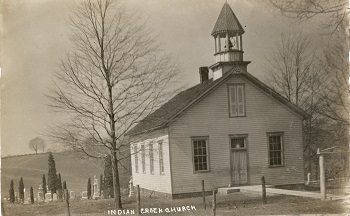 Indian Creek Baptist Church, Mill Run
~ Legacy ~
One of her grandsons, George S. Rowan of Mill Run, PA, had the old Rowan family Bible which was used as source material for the Coopriders' 1947 Harbaugh History (Evansville, IN).
Copyright © 2000, 2004, 2006, 2008, 2014, 2017 Mark A. Miner