David was raised in Stewart Township in nearby Fayette County, PA.
Among the more significant battles, the 14th Cavalry fought for four days at Rocky Gap, known as White Sulphur Springs, WV, where David's step-cousin Burkett M. Fawcett was killed as a member of the 3rd West Virginia Cavalry. Other fights, as highlighted in Slease's history of the regiment, were at Droop Mountain, WV; Chambersburg, PA; Third Winchester, VA; and Cedar Creek, VA.
At the battle of Cedar Creek, David's brother was captured, enduring freezing conditions as a prisoner of war, but soonafter escaped. Jonas was so ill that he was sent to Fort Leavenworth, KS, where he was remained until the end of the war. (In the Slease history, Jonas is referred to as "Joseph.")
While at Jackson River, VA, five days before Christmas 1863, cousin Adrian Johnson drowned while fording the river.
David was discharged from his regiment on Aug. 24, 1865, and returned home. His brother Jonas, discharged the same day, but far away at Fort Leavenworth, also came home, a physical wreck. Jonas' wife observed that upon arriving home, he "was 'middlin' thin in flesh - he had a yellow color as clay color."
Third Battle of Winchester, VA, where David and his brother Jonas and the 14th Pennsylvania Cavalry saw action in September 1864
About nine months after he returned home, David took the marital plunge. On June 3, 1866, he wed Sarah "Catharine" Johnson (1846-1924), daughter of William and Elizabeth "Betsy" (Long) Johnson, of Springfield (formerly Saltlick) Township, Fayette County. David's cousin, Elijah Harbaugh, a justice of the peace, performed the ceremony, and Catharine's brothers Alexander and William Johnson witnessed the marriage.
They had three children – Elmer Washington Rowan (born 1868), Emma A. Derrick (born 1871) and Mary A. LaClair (born 1875).
Of Catharine's given names, she later wrote: "…not liking the name Sarah I have dropped it and have never used it in any way…." Years later, an examination of her family Bible by a notary public showed that it had been purchased by Nathan Long in 1829, "and the page upon which the births are written is yellow and shows much handling, part of the birth record is written in German."
The Rowans resided near Fayette Springs in Wharton Township, Fayette County, where David worked as a laborer for the Baltimore & Ohio Railroad. They were enumerated there in the 1870 federal census, with his occupation listed as "common laborer." The census taker noted that David could not read or write.
David suffered a deep personal loss in March 1872, when his brother Jonas, who had never recovered from his wartime illnesses, died of typhoid pneumonia at the age of 39.
Bur further tragedy lay ahead, and struck the family a year after their youngest child was born. On June 29, 1876, David was killed by a passing train, at Ohio Pyle, Fayette County. The History of Fayette and Greene Counties goes into great detail about his gruesome death:
He and another man were watchmen on several miles of track, and at one time, because of the illness of his companion, he was on duty day and night for a week. He became greatly fatigued and worn out from loss of sleep, and while sitting on the track eating his lunch, fell over in a sleeping stupor and was killed by an express train.
An inquest was held, with a number of local men viewing the mangled condition of his corpse. They reached the conclusion that he:
…came to his death on the night of the 30th day of May A.D. 1876 at about 10:55 o'clock P.M. one mile west of Falls City, near Jim Run water tank in said Co. by being struck by a Locomotive upon the right back part of the head breaking the skull, whilst sitting (probably asleep) upon the Railroad track.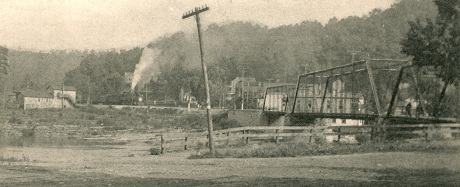 Approaching locomotive near the railroad bridge in otherwise sleepy Ohio Pyle
David's mangled remains were laid to rest in the Indian Creek Baptist Cemetery in Mill Run, PA, near his brother Jonas. They would be joined there in eternal rest within a few years by their parents and step-grandmother, Martha (Minerd) Harbaugh. Catherine survived him by almost a century of time, and never remarried.
With no means of support for herself and her family, Kate allowed the children to be taken into different homes. Son Elmer went to live with his grandparents, James and Catherine (Harbaugh) Rowan, in Maple Summit. He is listed in their household in the 1880 federal census.
In the years after his death, Catharine resided at 86 Connellsville Street in Uniontown, PA, where as of 1890 she drew his Civil War pension of $8 per month. Witnesses in support of her claim wrote that "she has not any property or any income whatever except her daily labour." At one point, the government must have questioned her spelling of her name. In reply, demonstrating her knowledge of penmanship, she wrote:
The proper spelling of my name is Catharine Rowan and I always intend so to write it. And when it appears as Rowon it is caused by hasty writing and neglecting to properly shape the letters….
She was a longtime member of the Second Methodist Protestant Church of Uniontown and "was interested in all church affairs," said the Uniontown Daily News Standard.
When the census was taken in 1900, Catharine (spelled out as "Kate") and her daughter Mary were employed as housekeepers and servants in the Uniontown home of 77-year-old invalid Alexander Sams, on Connellsville Street.
Catharine died of hardening of the arteries on Feb. 4, 1924, at the age of 78, at the home of her daughter Mary LaClair in Uniontown. A story in the Connellsville Daily Courier said her death was caused "from an illness which developed from a fall which she suffered last March and the infirmities of age." The obituary also noted that she was survived by a brother, Alex Johnson of Uniontown, and a sister, Mary Stuck of Braddock.
She was buried in Oak Grove Cemetery in Uniontown.
In 1915, a history of David's regiment was published in Pittsburgh, entitled The Fourteenth Pennsylvania Cavalry in the Civil War, authored by Rev. William Davis Slease. It was reprinted in 1999 by Soldiers and Sailors Memorial Hall and Military Museum in Pittsburgh, with a 124-page supplemental roster added by museum curator Ron Gancas. David and his brother Jonas are mentioned on pages 53 and 95 of the original book, and on page 193 of the supplement.
~ Son Elmer Washington Rowan ~
Son Elmer Washington Rowan (1868- ? ) was born on Feb. 22, 1868 in Fayette County. He was age eight when his father was killed in the railroad accident. He was sent to live with his mother's parents James and Catherine (Harbaugh) Rowan in Maple Summit, Fayette County.
When Elmer was age 12, in 1880, the federal census-taker enumerated the boy in his grandparents' household.
Elmer married Hattie Butler (1872-1930), the daughter of Theresa M. Butler, on April 19, 1892, when he was age 24 and she 19. They were wed in Greensburg, Westmoreland County, PA, by the hand of Rev. Howard S. Wilson. The clerk in the courthouse, when writing out the marriage license, spelled Elmer's last name as "Round."
The Rowans lived in Greensburg and had one known daughter, Hattie E. Rowan.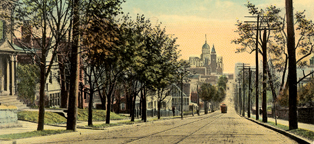 Greensburg's West Pittsburgh Street, looking East. Note the county courthouse dome in the distance.
When the federal census was taken in 1900, the family, including Hattie's widowed mother and single 22-year-old brother Nathaniel J. Butler, lived together in Greensburg. Elmer earned a living that year as a day laborer.
Circa 1930, the Rowans made their home on Southwest Avenue. They were members of the Methodist Church in Greensburg.
Sadly, Hattie died on April 30, 1930, at the age of 58, in their Greensburg home. Following a funeral in their home, she was laid to eternal rest in the St. Clair Cemetery in Greensburg. An obituary was printed in the Uniontown Daily News Standard.
After four years as a widower, and after the death of his sister Emma Derrick in December 1933, Elmer moved from Greensburg to Uniontown, where he rented Emma's former house. The relocation made news in the March 17, 1934 edition of the Daily News Standard.
Nothing else about his life is known.
~ Daughter Emma L. (Rowan) Derrick ~
Daughter Emma L. Rowan (1871-1933) was born in 1871 in or near Fayette Springs in Wharton Township, Fayette County. After her father died when Emma was age five, she and her mother moved into the county seat of Uniontown.
On Sept. 26, 1895, when she was age 24, Emma married 35-year-old Frederick Byrer Derrick (1860-1922), the son of Joseph and Ann Eliza (Byrer) Derrick (a longtime tax collector of South Union Township). Rev. H.F. King performed the nuptials in Uniontown.
The Derricks were farmers. They had no children.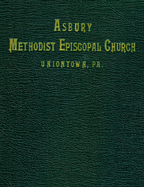 Book naming the Derricks

Emma and Fred made their home at 255 Derrick Avenue in Uniontown. Fred's father had laid out the family's estate, called the Derrick Addition of Uniontown, located between the Chicago and Connellsville Coke Co. land on one side, and property belong to heirs of William Hopwood and the Barton brothers on the other. It comprised 24 lots.

Emma was "prominent in local affairs for many years," said the Uniontown Daily News Standard. "She was a devoted member of the Asbury Methodist Episcopal church and of the Livingston class of the Sunday school."

The Derrick family is profiled in the 1916 book, Asbury Methodist Episcopal Church, and Fred and Emma are mentioned by name. He "served as Secretary and librarian of the Sabbath school for several years," said the book.

Fred was brought low with pneumonia in the spring of 1922. Unable to recover, he passed away on June 14, 1922, at the age of 61. Burial was in Oak Grove Cemetery. Allen Williams of Uniontown was the informant for his state certificate of death.

The Asbury church book says that "His wife only survived him, as no children were born to them."

Emma outlived her husband by 11 years. During that time, newspapers reported on her failing health, and how she was "under the care of two nurses at her home in Derrick Avenue."

At the age of 62, on Dec. 20, 1933, Emma died in her home "from complications following a long illness," said the Daily News Standard. Following a funeral led by Rev. Charles J. Whitlatch, her remains were laid to rest in Oak Grove Cemetery. Emma's will was filed in Fayette County orphan's court, and it made front page news in the Daily News Standard. The story reported that her nephews Fred and William E. LaClair were to receive the bulk of her estate, with Fred to be paid an outright gift of $500.

~ Daughter Mary A. (Rowan) LaClair ~

Daughter Mary A. Rowan (1875-1932) was born on Feb. 15, 1875, in Ohio Pyle, Fayette County. She was but a baby when her father was killed.

At the age of 30, on June 29, 1905, Mary married 30-year-old Leslie LaClair ( ? -1946), son of Joseph W. and Elizabeth A. LaClair of McClellandtown, Fayette County. The ceremony was held at the residence of Rev. W.A. Rush in Uniontown.

Leslie was a carpenter of Unontown, and was well known in the trade for many years.

They had two sons -- Fred L. LaClair and William E. LaClair.

The LaClairs lived in a home on Derrick Avenue, as did Mary's married sister Emma Derrick. In fact, Mary's entire life was spent in Fayette County.

Mary died on Sept. 8, 1932, at home. Her death was caused by "an illness of complications," reported the Uniontown Daily News Standard. She was laid to rest in Uniontown's Oak Grove Cemetery. At the time, both of their adult sons were living at home.

Leslie married again, to Pearl (?), and made his home on Hatfield Road.

Leslie died at home in Uniontown at the age of 71 on Nov. 23, 1946. At the time, he was survived by two grandchildren. Obituaries were printed in the Connellsville Daily Courier and Uniontown newspapers.

Son Frederick L. LaClair (1907-1954) was born in 1907. He wedded Virginia McGregor ( ? - ? ), daughter of Arthur F. and Bina E. McGregor, and stepdaughter of James D. Kelly, manager of the G.C. Murphy Store in Connellsville. The ceremony was performed on Sept. 2, 1939 in the Second Presbyterian Church in Uniontown. At the time, reported the Uniontown Daily News Standard, Fred was employed with the Kraft-Phenix Cheese Company, while Virginia worked for the Uniontown Credit Bureau Inc., located in the Second National Bank building. Later, Fred worked for the Colonial Biscuit Comany of Pittsburgh as a sales representative. They first lived in a newly furnished apartment at 11 West Church Street, and were on West Berkeley Street in 1942 when their first child, Linda Leslie LaClair, was born. Said the Uniontown Morning Herald, "Congratulations and a heap of 'em are being sent to Mr. and Mrs. Fred LaClair...." As a new mother, Virginia was active in the local chapter of the Mothercraft Club, and helped to host social events. Fred was a member of the Westminster Bible Class of Second Presbyterian Church, and a charter member of its Men's Fellowship. In June 1944, Virginia presented a paper on "The Gifted Child" at a Mothercraft Club meeting held in the home of Mrs. J.Y. Chidester Jr. The following January, however, the LaClairs mourned when their infant daughter Jamie Kay LaClair died at the age of 16 days, and was buried in Sylvan Heights Cemetery. Two months later, in March 1945, Virginia was elected president of the Friendly Girls' Class at Second Presbyterian church in Uniontown. A third daughter, Cathy LaClair, was born in October 1946 After her daughters reached school age, Virginia returned to her former employer, the Uniontown Credit Bureau, and by May 1954 was credit manager at Metzler's. From at least as early as June 1950, through the end of his life nearly three years later, Fred was hospitalized in South Mountains Adult Hospital in Mont Alto, PA, a type of sanitarium. Virginia regularly made driving trips there to visit him. Despite his absence, he was elected as a deacon of the Second Presbyterian Church in January 1951. Fred died at South Mountain at age 46 on April 12, 1953. By 1960, Virginia was married to William Wheeler, and lived at 256 Dixon Boulevard. Virginia's final fate is unknown.

Mont Alto Sanitarium campus, where Fred LaClair died in 1953
Granddaughter Linda Leslie LaClair was born in May 1942. After studying at the Presbyterian University Hospital School of Nursing, she obtained a staff nursing position in he orthopedics department at West Virginia University Medical Center in Morgantown. In 1968, she announced her engagement to Thomas R. Mann, son of James and Addie Mann of Beckley, WV. At the time, Thomas was a student in the WVU School of Medicine, after receiving his bachelor of science degree from Morris Harvey College and his master's degree in biology from Marshall University. After marriage, the Manns made their home in Phoenix, AZ in June 1968.
Granddaughter Cathren Dean "Cathy" LaClair studied at West Virginia University, graduating in 1968. On July 27, 1968, she married James Walton Boyd, son of John T. Boyd of Mt. Lebanon, Pittsburgh, and lived in Wheeling, WV. Their son John Thomas Boyd II was born in Ohio Valley General Hospital in April 1969.
Son William E. LaClair (1908-1950) was born in 1908. He was a longtime truck driver in Uniontown for American Oil Company. He married Marie Reed ( ? - ? ), daughter of Josephine Reed, and they lived at 129 Lincoln Street in Uniontown. They did not reproduce. After 22 years of employment with American Oil, William left home one day in March 1950, at the age of 42, saying "I'm going to look for work." He traveled to Pittsburgh's North Side, and shot himself using a .38 caliber revolver on a street corner near John Morrow School. Reported the Uniontown Morning Herald, authorities "added he had been suffering from a nervous disorder" and that "There were no eye-witnesses." As a widow, Marie apparently never remarried. She became manager of the S. & H. Green Stamp Store on East Church Street, maintaining that position for many years.


Copyright © 2001, 2012, 2022 Mark A. Miner