Alice Jane (Minerd) Holdsworth
(1881-1933)
Alice Holdsworth
Alice Jane (Minerd) Holdsworth was born on Sept. 26 or 27, 1881 at Stauffer near Mt. Pleasant, Westmoreland County, PA, the daughter of Charles M. and Sabina "Bina" (Pierce) Minerd.
On Feb. 1, 1904, 22-year-old Alice married 23-year-old James Clinton Holdsworth Sr. (1880-1923). He was the son of English immigrant Thomas Holdsworth and Pennsylvania-born Ivy (Kuntz) Holdsworth, and was born in Allegheny City (now the North Side of Pittsburgh). The ceremony was conducted by Rev. S.G. Gahn in Mt. Pleasant. A copy of their marriage license is on microfilm today at the Westmoreland County Courthouse in Greensburg.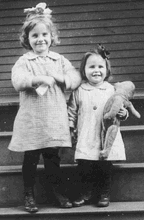 Holdsworth daughters
James was a coal miner at the time of marriage and used his wits and drive to get ahead. The following year, working at the Madison Mine, he applied for and received a certificate as a mine foreman, second grade. In 1908, three years later, his certificate was upgraded to first grade.
Their known children were James Clinton Holdsworth Jr., Iva Holdsworth, Irene Beam, Margaret Jones Chidester, William Holdsworth and Jean Bentz. Two of their daughters, whose identities are not confirmed, are seen here.
Following the availability of coal mining work, the Holdsworths relocated early in their marriage to Carroll, Washington County. When the federal census was enumerated in 1910, they lived on Main Creek Road in Carroll, and James was employed as a coal mine superintendent.
In 1910-1911, James was superintendent for Pittsburg-Westmoreland Coal Co. at its Dunkirk Mine in Monongahela, Washington County. He also held the title of president of the Dunkirk Gas Coal Company.
He used his leadership platform in the industry to be active with the Y.M.C.A. Coal Mining Institute programs throughout Western Pennsylvania. These institutes apparently were held as part of the national Coal Mining Institute of America organization, of which he was a member. His wife's distant cousin by marriage, Harry Oscar Millward, also was a member of the Institute.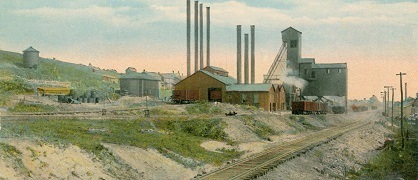 Elk Run coal shaft, Punxsutawney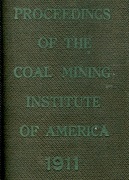 1911 proceedings, Coal Mining Institute
On April 2, 1910, he made a presentation at the Dubois (PA) Institute which "was largely attended," said the The Coal and Coke Operator. "The paper by James Holdsworth was one of the best ever presented at the Institute. It was replete with original thought and suggestions, and evidenced careful research as well as wide experience and acute observation. A warm discussion followed." He was appointed to the committee on arrangements for the 1911 institute.
In the spring of 1911, he served as president of the Pittsburgh District Y.M.C.A. Mining Institute, and delivered an address at its fourth annual meeting held at Monongahela. News of his remarks were printed in the May 11, 1911 edition of The Coal and Coke Operator. Among his fellow officers were W.S. Lewis, first vice president and Pittsburgh-Westmoreland Coal Company superintendent; John C. Rue, second vice president and Star Coal Company superintendent; and F.E. Wood.
Because of his success, James was profiled in the 1912 book Examples of Success By Correspondence Training, written by Thomas J. Foster, president of the International Correspondence Schools of Scranton, PA. The profile read that James:
...was born in 1880 at Pittsburg, Pa., and obtained the beginning of his education in a public school. At the age of 12 he entered the mines. While he was a mine laborer, at the age of 20, when he was earning $2 a day, on January 7, 1901, he enrolled for a Complete Coal Mining Course. He is the superintendent of the Dunkirk Mine for the Pittsburg & Westmoreland Coal Co., having 250 men under his control.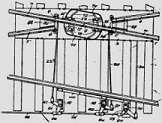 Sketch of James' patented
"switch frog" invention
In March 1911, James and Frank R. Blackburn of Monongahela filed a patent application for a device they had invented. It involved a new type of railroad switch for converging rails, called a "switch frog." When the patent was awarded, a sketch and summary was published in the Dec. 31, 1912 edition of the U.S. Patent Office Official Gazette. News of the device also was printed in The Railway and Engineering Review, Jan. 18, 1913.
At some point, the Holdsworths relocated to Punxsutawney, Jefferson County, PA, where one of their daughters was born in 1921. Their home was located at 114 North Main Street. In Punxsutawney, he earned a living as a safety engineer, likely in a coal mine.
Sadly, James contracted a deadly case of pulmonary tuberculosis in about 1918. He lived with the illness for five years, but his health declined rapidly in the winter of 1923. He died at home on April 11, 1923, just eight days shy of his 43rd birthday. Burial was in Mt. Pleasant Cemetery.

Obituary, 1932
Alice survived her husband by nine years, remaining in Punxsutawney. In September 1924, grief visited her once more when her 18-year-old daughter Iva died of kidney problems.
Suffering from chronic heart disease (endocarditis), Alice died at age 51 on Nov. 28, 1932, at the Punxsutawney Hospital. Her remains were returned to Mt. Pleasant to the home of brother in law C.M. Metz, a City Councilman, for the funeral. She was buried at Mt. Pleasant Cemetery. Daughter Irene provided details for her official death certificate.
~ Son James Clinton Holdsworth Jr. ~
Son James Clinton Holdsworth Jr. (1904-1931) was born on July 25, 1904 in Madison, Westmoreland County, PA. He grew up in Punxsutawney.
Circa 1923, at the age of 19, he wedded 18-year-old Emma Caroline Jones (Oct. 9, 1905-1992), of Brockway, PA and the daughter of Frank and Sarah "Sadie" (Wilson) Jones. News of the marriage license was printed in the Brookville (PA) American.
Two children were born to this union -- Robert E. Holdsworth and Helen "Lois" Holdsworth.
The couple initially lived in Pennsylvania, and between 1925 and 1929, relocated to Warren, Trumbull County, OH. There, James earned a living as a roofer at a steel mill.
With the onset of the Great Depression, the Holdsworths migrated within a year or two to Monroe, Monroe County, MI, where he secured employment as a steelworker with Newton Steel Company. Their address in Monroe the early 1930s was 201 Burgess Avenue.
Sadness enveloped the family when James was diagnosed with mitral stenosis -- a disease of the heart valve when it does not properly open, often a side effect of rheumatic fever. He succumbed to death on Sept. 20, 1931, at the age of 27. The location of his burial is not yet known, but could be in Punxsutawney as marked on the death certificate. An obituary appeared in the Monroe Evening News.
Emma returned to Punxsutawney by 1933, with an address of 230 East Mahoning Street.
Grief again descended upon the Holdsworths when daughter Lois, age four, accidentally ingested medication intended to treat heart problems. The tablets contained strychnine powder, and she died of the accidental poisoning on Sept. 21, 1933. The child's remains were lowered into rest in Circle Hill Cemetery in Punxsutawney.
On June 18, 1935, when she was 29 years of age, Emma eloped to Wellsburg, WV to marry 34-year-old James Henry Braunns (July 1, 1900-1938), also spelled "Brauns." Rev. William J. Frayer officiated. James was the son of John B. and Mary E. Braunns. At the time of marriage, James dwelled in Dubois, PA.
Emma's world again was shattered in the summer of 1938 when her second husband was killed in an automobile accident. On Aug. 15, 1938, while driving on Altman Avenue, James' vehicle collided head-on with another. His skull was badly fractured, and he never regained consciousness. He was rushed to Adrian Hospital and was pronounced dead. The body was laid to rest in Greenwood Cemetery.
By 1940, census records show Emma a widow yet again. The census-taker recorded her as living with her son in her widowed mother's home in Young Township, Jefferson County, PA.
Emma was devastated for a fourth time in 13 years when her son Robert, who had enlisted in the Army during World War II, was killed in the Battle of Leyte in 1944. Six years later, she filed an application to receive compensation for the loss of her son. The World War II Veteran Compensation Bureau of Pennsylvania approved her paperwork, and granted a payment of $500.
She married a third time, to Leonard B. Braunns (Oct. 13, 1905-1972). He may have been a brother-in-law. They lived at 103 Carter Avenue and remained together until his passing in November 1972, at the age of 67.
The couple is believed to have borne four children -- Nancy Hauck, Marlene States, Shirley Forsythe and James Braunns.
With her life more normally settled, Emma earned a living as a self-employed seamstress, operating a clothing alternations business with her daughter Shirley on Morrison Avenue. One of her specialties was creating wedding dresses. She belonged to the Business and Professional Women organization and was a member of the First United Methodist Church of Punxsutawney.

Circle Hill Cemetery
Courtesy Marianne Fisher
As Emma's health failed, she was admitted to Magee-Womens Hospital in Pittsburgh. She was given a blood transfusion and underwent surgery. Six days later, she carried away by the Angel of Death at the age of 86 on July 30, 1992. To the horror of the Magee physicians, it was revealed that she had been given the wrong type of blood, B-positive rather than O-positive, due to mis-labeling by an employee. Allegheny County Coroner Dr. Joshua A. Perper was quoted in news stories about the case. An obituary in the Indiana (PA) Gazette reported that she was survived by eight grandchildren, seven step-grandchildren and three great-grandchildren. Her funeral service was conducted by a trio of clergymen including Rev. Roger C. Saunders, Rev. James H. Braunns and Rev. LaVerne Howard. She and Leonard repose side by side in Circle Hill Cemetery.
Son Robert E. Holdsworth (1925-1944) was born on May 8, 1925 in Pennsylvania. He was six years old and living in Michigan when his father died. The boy and his widowed mother returned to Punxsutawney and moved into the household of a widowed grandmother, Sadie Jones. Robert and his mother were listed in the Jones residence in the 1940 federal census enumeration, when he was age 15. Robert joined the U.S. Army during World War II, enlisting on May 3, 1943 in Altoona, Blair County, PA. He was assigned to the 196th Replacement Company of the 1st Cavalry Division. After basic training he was shipped to the South Pacific theatre. Robert is known to have been posted to Leyte, an island in the Visayas in the Philippines. In the fall of 1944, General Douglas MacArthur made a very famous and well-photographed walk ashore on Leyte, proclaiming "I have returned." In the ensuing fight, considered the largest battle in World War II history, the Japanese fought back ferociously. Tragically, 19-year-old Robert was killed in action on Oct. 24, 1944. His remains were transported back to Punxsutawney to rest in American Legion plot within Circle Hill Cemetery. The Pittsburgh Press published his name in a January 1945 list of 55 western Pennsylvania men among 1,703 recent dead as released by the U.S. War Department. In July 1946, his name was included in a Brookville (PA) American list of Jefferson County's Army dead in the war.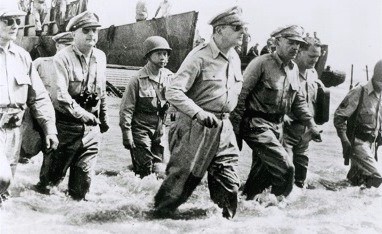 Above: Gen. MacArthur wading ashore at Leyte, the Philippines, just four days before Robert's combat death there. Below: Robert's final resting place, Circle Hill Cemetery, Punxsutawney. Courtesy Marianne Fisher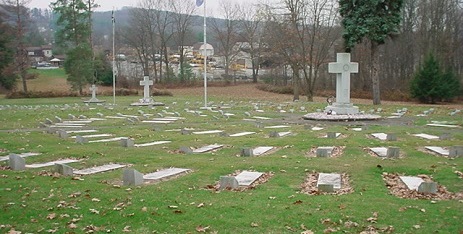 ~ Daughter Iva Holdsworth ~
Daughter Iva Holdsworth (1906-1924) was born on May 21, 1906.
She resided with her parents in Punxsutawney at 114 North Main Street.
Sadly, her body was wracked with arthritis and chronic kidney problems, sending her onto occasional convulsions. After almost two months of suffering, she died at the age of 18 years, four months and four days on Sept. 25, 1924. Her remains were shipped to Mount Pleasant for burial.
~ Daughter Hazel "Irene" (Holdsworth) Beam ~
Daughter Hazel "Irene" Holdsworth (1908- ? ) was born on July 30, 1908 in Carroll Township, Washington Couinty, PA.
She died in 1998.
~ Son William H. Holdsworth ~
Son William H. Holdsworth (1913-1916) was born in 1913.
He resided at Monroe circa 1931, at the age of 18, and obtained employment as a steelworker. Monroe is famed as the home of the family of General George Armstrong Custer.
When he was 21 years of age, on March 15, 1935, William was united in holy wedlock with 18-year-old Shirley E. Gaynier (April 13, 1916-1984), a Monroe resident and the daughter of Ezra and Ada F. (Duvall) Holdsworth. Joseph Lawton, a local priest, officiated at the wedding, with Helen Marie Gessner and Marian Jondra serving as witnesses.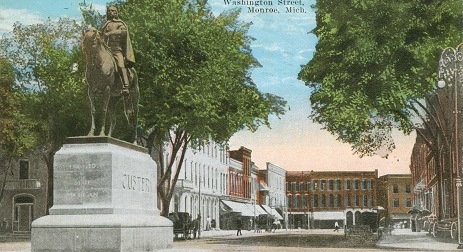 Monroe's Washington Street with its famed statue of General Custer
The Holdsworths relocated to Ohio during the late 1930s and settled in Lakewood, Cuyahoga County. There, as shown in the 1940 federal census enumeration, William earned a living as a shear operator in a steel mill.
William passed away at the age of 47 on July 14, 1960. Burial was in St. Joseph Cemetery, Monroe. The Monroe Evening News printed an obituary.
Shirley survived her spouse by almost a quarter of a century. Her final years were spent in or near Boulder, CO. She was cut away by death on Jan. 29, 1984. Interment of the remains was in Green Mountain Cemetery in Boulder, with an obituary published in the Monroe Evening News.
Son David Holdsworth (1939- ? ) was born in about 1939 in Lakewood, Cuyahoga County, OH.
~ Daughter Jean (Holdsworth) Bentz ~
Daughter Jean Holdsworth (1921-2006) was born in 1921.
She was a registered nurse who graduated from the Indiana School of Nursing, and later worked at Johns Hopkins Hospital, and then for Connellsville Hospital and Frick Hospital.
She married Elmer C. Bentz ( ? -1981) and had two children -- Kathleen Armstrong and Alvin E. Bentz.
They resided in Scottdale, Westmoreland County, at some point in time, where she belonged to the St. Paul's Evangelical Lutheran Church.
Jean passed away in Richmond, VA at age 84 on Feb. 22, 2006. She was laid to rest in the Mount Pleasant Cemetery, with her obituary published in the Greensburg (PA) Tribune-Review.
Learn more about the Minerd-Minard-Miner-Minor family's surprisingly intimate connection with the Custers, which was the theme of our 2003 national reunion.
Copyright © 2001, 2005, 2006, 2012, 2014, 2020 Mark A. Miner
Switch frog sketch courtesy of Google Books. Minerd.com extends its gratitude to Daniel Colflesh for the content shared on his Colflesh Jr. Family Tree page on Ancestry.com.