Pearl A. (Minerd) Millward
(1885-1964)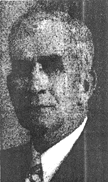 Harry O. Millward
Pearl A. (Minerd) Millward was born the day after Christmas 1885 in Dunbar, Fayette County, PA, the daughter of Huston D. and Mollie (Kissinger) Minerd. Her husband Harry was a leader for 35 years in the coal and coke industries of Western Pennsylvania.
As a young girl, Pearl and her parents and older sister Julia moved to Pittsburgh, where her father is thought to have worked as a blacksmith in the steel mills. Tragedy struck in 1897, when the sister, age 14, died of typhoid fever.
When the federal census was taken in 1900, when Pearl was 15, she and her parents resided at 1211 Wiley Avenue in Pittsburgh.
On Nov. 18, 1908, at the age of 22, Pearl married 22-year-old Harry Oscar Millward (1885-1951), the son of David Bradburn and Anna Rebecca (Mortimer) Millward of Mt. Pleasant, Westmoreland County, PA. The ceremony took place at the Central Christian Church in Pittsburgh, by the hand of Rev. Charles Lloyd Thurgood.
The Millwards had six children -- David Bradburn Millward II, Mary Gaddis, William Henry Millward, Helen Alice King, Pearl Charlotte Millward and Virginia Ruth Johnson.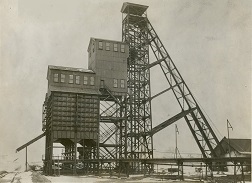 Filbert Mine, H.C. Frick Coke Co.
Harry grew up in an environment of coal and coke business management. His father was a longtime superintendent of the Jamison Coal and Coke Company in Perry Township. Circa 1914, pursuing this same line of career, Harry was employed with the Tower Hill Connellsville Coke Company.
Sadness enveloped the family on July 3, 1918, infant daughter Pearl passed away at the age of four months and 23 days after being stricken with enterocolitis, an infection and
inflammation of her small intestine and colon.
Four years before marriage, in 1904, Harry completed studies with International Correspondence Schools of Scranton, PA in the subject of "Complete Coal Mining." Then in 1908, Harry passed an examination allowing him to become a mine foreman. By the time of their marriage, Harry was a "fire boss" at a coal mine and resided at Brier Hill, Fayette County.
Harry went on to become superintendent of the Filbert Mine of the H.C. Frick Coke Co. Later, he became the company's chief mine inspector, serving in this position for 29 years. He was a member of a number of lodges as well as the Coal Mining Institute of America.
The coal processing plant at Filbert consisted of a modern headframe, bins and trestles, all fabricated from fireproof steel. Rather than process the coal into coke on-site, using traditional beehive ovens, the raw material was transported to the nearby Monongahela River on an underground conveyor and loaded onto barges at Palmer for shipment to the United States Steel mills in Pittsburgh. The plant was served by the Monongahela Valley Railroad. The entire Filbert campus encompassed about 3,000 acres, with the coal mine stretching to a depth of 540 feet. In its heyday, Filbert produced about 5,000 tons of coal each day.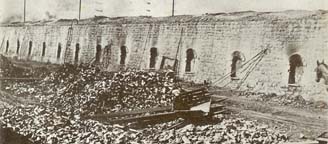 Leckrone coke ovens

Uniontown newspaper, 1951
The Millwards resided for many years in the patch town of Leckrone in German Township, Fayette County. They were members of the Asbury Methodist Church in Uniontown, and Pearl belonged to the Laurette Chapter of the Order of Eastern Star.
When the federal census was taken in 1930, the family was in German Township, with Pearl's 67-year-old, widowed father living under their roof and continuing to earn income as a blacksmith in a local coal mine.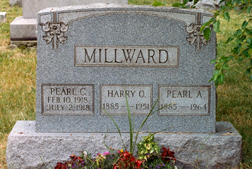 Oak Grove Cemetery, Uniontown
Harry retired at age 59, in about 1945, due to what is believed to have been an extended illness. For 20 years leading up to his death, he suffered from rheumatoid arthritis, and for the last 10 also with diabetes.
He passed away at home on April 22, 1951, at the age of 66. His funeral was held at the Minerd Funeral Home in Uniontown. As a measure of his wide circle of friends, Harry's pallbearers included J.A. Boyle, Thomas McIntyre, M.B. Girod, Walter Cunningham, Walter Kuntz and Thomas Mullan. Honorary pallbearers were John L. Sullivan, Clay F. Lynch, Charles J. Pisula, Edward Wilkinson, Herbert Knapp, J.V. Brothers, A.B. Gault, Clyde Smith, W.B. Beerbower, Frank Miller and Buell B. Whitehill.
In her later years, Pearl moved into the home of her married daughter Mary Gaddis in Clearfield, PA. She died there at age 78, on March 14, 1964. Her remains were brought back to Uniontown for burial at Oak Grove Cemetery. Her funeral also was held at the Minerd Funeral Home.


~ Son David Bradburn Millward II ~
Son David Bradburn Millward (1909-1982) -- named after his paternal grandfather -- was born on Feb. 5, 1909 in Brier Hill, Fayette County. During his career, David held leading positions within the coal mining industry in Pennsylvania.
As a senior at German Township High School, David wrote a yearbook essay about how coal was transported on the world's largest conveyor belt then in service at the Colonial Mine of the H.C. Frick Coke Company. The essay, based on a visit he made to the belt with his father during an inspection, later published in a March 1927 edition of the Uniontown Daily News Standard.
David received his undergraduate education at Ohio Northern University, graduating in 1931, and then obtained additional learning at West Virginia University, graduating in 1934.
David was united in marriage with Velma Bayer ( ? - ? ). They had three known children -- Harry David Millward, Rhetta Mary Jackson and Virginia Pavlick.
They made their home circa 1933 at the Buffington coal mine patch town in Fayette County. Later, in mid-1946, they relocated to Osceola Mills, Clearfield County, PA, where David had received a new position as a district mine inspector with the Pennsylvania Department of Mines. Their address was 96 Lingle Street.
On Nov. 26, 1945, David married his second wife, Charlotte Miles ( ? - ? ). She also had been married previously and brought a son John Egner and daughter Elizabeth Neiffer to the union.
The family endured heartbreak when their 13-year-old son Harry, who had been born with a congenital defect of his central nervous system, and was a complete paraplegic, died of a cerebral hemorrhage on Dec. 8, 1946. The teen's remains were returned to Uniontown for burial.
Said the Uniontown Herald Standard, he was "a life member of the Coal Mining Inspectors Institute of America, he was also a member of the National Mine Rescue Association, a past president of the Moshannon Coal Mining Institute of the Mine North Central Safety Association and of the Mine Inspectors Advisory Association. Active in his community, he also was chairman of the Commission of Education and Counsel of Ministries; treasurer of the Moshannon Shrine Club; treasurer of the Chester Hill Borough Council; and secretary of the Philipsburg-Osceola Joint School Authority." He served as a member of the board of trustees of the Trinity United Methodist Church of Philipsburg, where he was a Sunday School teacher and president of the Methodist men.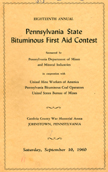 Program booklet, state
conference, 1960
In September 1960, he participated in the 18th annual Pennsylvania State Bituminous First Aid Contest at the Cambria County War Memorial Arena in Johnstown, PA. The program booklet for the context -- seen here and preserved in the Minerd.com Archives -- contains his name as a member of the Team and Judges Registration Committee. Ironically, serving on the General Committee for that same event was Joseph "Jock" Yablonski, a leader in the United Mine Workers union in the 1950s and '60s who was murdered in his home in 1969 by assassins hired by UMW president W.A. "Tony" Boyle, a political opponent.
The Millwards resided at 102 Berkley Street in Philipsburg, Centre County in the early 1980s.
David died on March 6, 1982 at the age of 73. An obituary in the Centre Daily Times reported that his remains were placed into rest in the Tyrone Grand View Cemetery following funeral services at the family church led by Rev. Robert F. Zanker.
Daughter Virginia Millward ( ? - ? ) married (?) Pavlick. In the early 1980s, they dwelled in Philipsburg.
Daughter Rhetta Millward ( ? - ? ) was wedded to (?) Jackson. They lived in Osceola Mills in 1982.
Stepson John Eger resided in Vallejo, CA in 1982.
Stepdaughter Elizabeth Eger married (?) Neiffer and in 1982 made their home in Altoona, PA.


~ Daughter Mary (Millward) Gaddis ~
Daughter Mary Millward (1911-1977) was born on Aug. 21, 1911 in Merrittstown, Fayette County..
She married Perry B. Gaddis (1910-1979). They made their residence in McClellandtown, Fayette County.
The couple produced two children -- Pearl Rockwell and Robert P. Gaddis.
In 1952, the Gaddises relocated to Clearfield County, and established a home at 16 North Fifth Street. Later, they made a new home at 18 Pauline Drive West in Golden Rod Farms. While in Clearfield, Mary was a member of the First United Presbyterian Church, Order of Eastern Star and Order of Amaranth.
In 1964, the Clearfield Progress reported that Perry had been named to the finance committee of the Clearfield District Council, Holmes Safety Association. The following year, he was employed as a Pennsylvania State Mine Inspector.
Mary passed away at the age of 65 on May 19, 1977.
Perry survived his wife by two years, dying in July 1979.
Daughter Pearl Gaddis ( ? - ? ) was born in (?). She relocated to Clearfield with her parents. On Nov. 6, 1955, in a ceremony held in the Methodist Church of Winchester, VA, Pearl married Robert Rockwell ( ? - ? ), son of Delbert Rockwell Sr. of Phillips near Uniontown. Rev. David Garland officiated, and Mary's aunt and uncle, Helen and Isaac King, were the only attendants. At the time of marriage, Pearl was employed as a nurse in Uniontown Hospital's obstetrics department, having obtained her nursing degree from Uniontown School of Nursing. Robert worked for Union Supply Company in Uniontown. In 1977, they dwelled in Philipsburg.
Son Robert Perry Gaddis ( ? - ? ) was born in (?). He relocated to Clearfield with his parents. He attended Tri-State College in Angola, IN and became a mining engineer with Bestwall Gypsum Company of Clarence, NY. On June 21, 1962, Robert was united in marriage with Mona Elaine Fisher ( ? - ? ), daughter of Alvin J. Fisher of 231 Schofield Street in Curwinsville, PA. The nuptial high mass service was held at St. Andrews Episcopal Church of Clearfield, celebrated by Rev. George Clarke. A large feature story about the wedding was published in the Uniontown Evening Standard, including a photograph of Mona in her dress. Prior to marriage, Mona had attended McGill University in Montreal and had taught French in Clearfield Area School District. The Gaddises relocated to Akron, NY, where he continued his work and she was an English teacher in Akron Central School. They continued to make their home in Akron in 1977.


~ Son William Henry Millward ~
Son William Henry Millward (1914-1996) was born on Nov. 4, 1914 in Merrittstown, Fayette County.
He received a bachelor's degree in engineering from the Univesity of Pittsburgh. Circa June 1941, he was employed as an assistant mining engineer with the Butler Consolidated Coal Company.
On June 12, 1941, in a ceremony held at the Glenshaw Presbyterian Community Church near Pittsburgh, the 26-year-old William was united in matrimony with 24-year-old Norma Delle Harvey (1916- ? ). Merle Reade Swihart performed the nuptials. Norma was the daughter of Daniel and Mathilda (Halgate) Harvey of Elm Avenue in Glenshaw and a native of Jamestown, PA. At the time of married, he was employed as an engineer and both resided in Glenshaw. News of their wedding was covered prominently in the Uninotown newspapers.
The Millwards had one known son, William Harvey Millward.
Circa 1944, the family lived on Morgantown Street in Uniontown, and by 1946 had relocated to 279 Derrick Avenue. In 1951, they dwelled at Grantville, PA.
The Millwards eventually retired by 1964 and moved to Fort Lauderdale, FL.
William is believed to have died on June 2, 1996.
Son William Harvey Millward (1946- ? ) was born on Feb. 18, 1946 in Allegheny General Hospital in Pittsburgh.


~ Daughter Helen Alice (Millward) King ~
Daughter Helen Alice Millward (1918-1986) was born on Feb. 10, 1918 in the Filbert coal mine patch town near Uniontown.
When she was age 22, unmarried, she lived at home with her parents in Leckrone.
On Sept. 14, 1946, when she was age 28, Helen was wedded to World War II Army veteran Isaac King ( ? - ? ), son of John M. King of Masontown, Fayette County. Rev. W.L. Hogg, pastor of the Asbury Methodist Church, officiated the ceremony. At the time, Helen worked as a bookkeeper at the Union Supply Company store at the Continental mine, while Isaac was employed with Federal Drug Company.
In 1951, they dwelled in Hopwood and in 1977, they lived in Uniontown. Helen's address was on Brown Street in Uniontown in 1986.
Helen died in Uniontown Hospital at the age of 68 on Ocgt. 9, 1986. Her remains were interred in the mausoleum of Sylvan Heights Cemetery.


~ Daughter Virginia Ruth (Millward) Johnson ~
Daughter Virginia Ruth Millward (1923- ? ) was born in about 1923.
Circa 1942, she attended Beaver College in Jenkintown, a suburb of Philadelphia. She obtained employment with Union Supply Company of Philadelphia as secretary to Vice President J.C. Howard.
On Sept. 20, 1944, when she was 21 years of age, Virginia married Robert Johnson ( ? - ? ), son of J.W. Johnson of Olean, NY.The ceremony was held in the Asbury Methodist Church in Uniontown, officiated by Dr. Francis E. Kearns. An article and photograph of Virginia were printed in the Uniontown Morning Herald.
Robert, who attended Temple University, worked at the time of marriage with Philco Radio Company in Philadelphia.
The Johnsons' home was in Souderton, PA in 1951 -- in Sellersville, PA in 1964 -- and in Philadelphia in 1977.


Copyright © 2001, 2005, 2009, 2010, 2016, 2022 Mark A. Miner