Leroy R. Bush
(1845-1964)
Leroy's grave marker
Leroy R. Bush was born on June 18, 1845 near Zanesville, OH, the son of Christopher and Elizabeth (Miner) Bush. One of five brothers to serve in the Civil War, he died of disease during the service, and is considered a war casualty. He is one of an alarming number of cousins to sacrifice their lives in military service during wartime.
On Nov. 18, 1863, at the age of 18, Leroy enlisted in the 9th Indiana Cavalry, Company B. His activities during his initial months of military service are unknown.
Leroy came down with typhoid fever and was admitted to the general hospital in Indianapolis on May 2, 1864, but was returned to duty shortly afterward. Later, when his regiment moved to Louisville, KY, Leroy remained behind, and entered the post hospital at Camp Carrington near Indianapolis.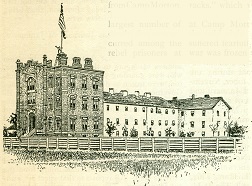 Old city hospital, Indianapolis
He further developed malaria and inflammation of his spinal cord, and was moved to the Indianapolis Hospital and thence to the Soldiers Home in Indianapolis.
His father traveled from Greenfield to Indianapolis three different times to try bring his ailing son back home. In the father's own words:
[My son] was sick at Indianapolis, Ind., and [I] went twice and applied unsuccessfully for leave to bring him home; that [I] went the third time, and called upon Gov. Morton, by whose intervention [I] was permitted to bring said LeRoy home. [My son] was very sick and was carried from hospital to [the railroad] Depot at Indianapolis. That at his own request he was taken to the home of his sister -- Mrs. William E. Boyd ... where he was treated by Dr. N.P. Howard until his death...
Leroy passed away at his sister Maria's home on July 2, 1864, at the tender age of 19.
Still technically a member of the 9th Indiana Cavalry when he died, he was buried at the Old Cemetery in Greenfield.

Greenfield's Old Cemetery with Leroy's shaded burial spot
The government-issue marker is among several Civil War gravestones in a row, shaded by large trees. The graves stand in the center of a virtually otherwise bare cemetery.
Photographed by the founder of this website in August 2000, the marker is still legible and reads:
LEROY BUSH
CO. B
9 IND. CAV.

Copyright © 2000, 2009, 2011, 2016 Mark A. Miner