Alvin Howard Jennings Sr.
(1861-1949)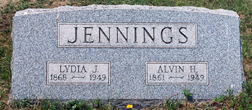 Maple Summit Cemetery
Alvin Howard Jennings Sr. was born on March 20, 1861 near Ursina, Somerset County, PA, the son of John R. and Martha (Knight) Jennings Sr.
A farmer, Alvin married Lydia J. Kemp (1868-1949) in about 1883, when he was age 22, and she 15.
They lived for four decades near Maple Summit, Fayette County, PA.
Among their 11 children were John G. Jennings, Gertrude E. Jennings, Frank R. Jennings, Viola Trump, Eugene Jennings, Edgar Jennings, Harold Jennings and Alvin Howard Jennings Jr. The identities of the other three are not known, but they are believed to have died young, as Lydia is known to have lost four children by the year 1910.
When the federal census of the United States was enumerated in 1900, Alvin and Lydia made their home near Ohiopyle Borough, Fayette County. Alvin's occupation was listed as "Farmer" and son John's as "day laborer." By 1908, the family had relocated to a farm at Maple Summit, three miles from Ohiopyle.
Lydia escaped injury in June 1908 but suffered a major financial loss when burning a fire to eliminate foul smells from their chicken coop. In reporting on the near-tragedy, with a headline reading "Fumigates Coop, Destroys Barn," the Connellsville Daily Courier said: "The effort ... to fumigate her chicken coop resulted disastrously last evening, in doing so the barn ... ignited and was destroyed entailing a loss of about $800... After the flames had attacked the barn, the woman who was alone on the farm did all in her power to rescue the vehicles and farming implements in the burning building and was successful in getting out several pieces."
The census of 1910 shows the family in Stewart Township, Fayette County. At the time, Alvin and Lydia had been married for 27 years. Son Frank, age 17 and living under their roof, was employed at the time as a laborer with the Pittsburgh and Lake Erie Railroad.
Alvin served as a deacon and as an elder in the Maple Summit Church circa 1913-1914. He and sons Eugene, Edgar and Harold were "converted" and joined the church in about 1921. They were members for the remainder of their lives.

Book picturing Alvin
In 1920 and 1930, the census records the family continuing to reside on a farm in Stewart Township, with sons Eugene, Harold, Alvin and Edgar in the home in 1920, and then Harold and Edgar in 1930.
Alvin and Lydia both died in 1949. Lydia passed away first, at home at the age of 80, on April 20, 1949. At the time, she and Alvin had produced 21 grandchildren and 16 great-grandchildren.
After eight months as a widower, Alvin suffered a fatal heart attack and died within 10 minutes on Christmas Eve 1949. His death was due to chronic heart and artery disease and hardening of the arteries.
They are buried together in the quiet country cemetery behind the Maple Summit Church, as are many of their children.
In 1994, a photograph of Alvin was published in the book, Yesteryear in Ohiopyle and Surrounding Communities, Vol. II, compiled by author Marci Lynn McGuinness. Lydia is mentioned in the book Draketown: Past & Present.
~ Son John Etheridge Jennings ~
Son John Etheridge Jennings (1884-1970) was born on July 9, 1884 near Ohiopyle, Fayette County.
He was married twice. His first wife was Goldie Essington ( ? -1951), the daughter of James E. and Martha (Wolfe) Essington of Jefferson Township, Fayette County. The wedding took place on Sept. 9, 1907, in Coraopolis, Allegheny County, PA.
They had one known son, Jack E. Jennings, born in 1916.
While residing in Uniontown as a young woman, Goldie was employed at the Metzler Store.
Family lore has it that when a child, John fell while playing near a railroad track, and his arm was run over by a moving railcar, causing the loss. He was promised a job with the railroad when he grew up, and accepted the offer, using a hook with which he became quite adept. Says a descendant: "He had his cars modified so that he could shift gears with his remaining hand and steer with a hook, using a knob that was attached to the steering wheel."
When the federal census was taken in 1910, John and Goldie, and John's 18-year-old single brother Frank, made their home in Glassport, Allegheny County, PA. The census-taker recorded John's occupation as switchman on the steam railroad and Frank's as paper work on rail road. During World War I, when John registered for the military draft, he and Goldie continued to reside in Glassport. At that time, John had been transferred to the job of conductor with the Pittsburgh and Lake Erie Railroad, based in Newell, Fayette County. His draft registration shows that his right hand was amputated at the wrist.
Again during World War II, when he filled out another draft registration card, John wrote that he and Goldie made their home at 44 Alliquippa in Monessen, Westmoreland County, with John continuing to labor for the P&LE.

Pittsburgh and Lake Erie Railroad station at Monessen, early 1900s
Son Jack enlisted in the U.S. Army Air Corps on June 25, 1941, several months before the attack at Pearl Harbor launched our nation into World War II. He trained at Fort Indiantown Gap. At enlistment, he stood five feet, 10 inches tall and weighed 145 lbs.
Anxiety followed by heartache rocked the family in 1942 when son Jack was taken prisoner by Japanese forces following the 1942 Battle of Bataan in the Philippines. The news was reported back home in the Uniontown (PA) Morning Herald. Along with some 75,000 U.S. and Filipino POWs, Jack was forced to walk for 86 miles in tropical heat to a prison camp, with the Japanese brutally abusing and killing the prisoners along the way. Today it is known as the Bataan Death March and is considered a war crime. Tragically, Jack did not survive the ordeal. The details of his death are not known, but in October 1949, some four years after the war ended, his body was returned stateside to Monessen. A funeral was held at the Monessen Methodist Church at the corner of Schoonmaker and Fourth streets.
The Jenningses' marriage was rocky. John later complained of "fault-finding, nagging and threats against his life and, one one occasion, burning inflicted by a hot iron." Goldie moved out of their home in September 1931. Apparently they remained separated for many years, until September 1946, when John was granted a divorce, having cited "cruel treatment." The news was covered in the Connellsville Daily Courier and Uniontown Morning Herald. At the time of the divorce, John was yardmaster for the P&LE at Newell.
Goldie became ill during the end of 1950. After three months of suffering she died at Monongahela Memorial Hospital on Jan. 17, 1951.
At some point in time John married his second bride, Eula P. Keefer (1892-1993). Eula brought a daughter to the marriage -- Mrs. Robert Williamson.
Circa 1949-1953, they made their home in Westmoreland County, PA, and in 1960-1970 in Confluence, Somerset County.
John passed away at the age of 85, in Somerset Community Hospital, on or about March 16, 1970.
Eula outlived him by 23 years, and reached the landmark age of 100. She died in Mon Valley Hospital on April 30, 1993.
Stepdaughter Dorothy (1913-1993) married Robert James Williamson and lived in Belle Vernon, PA. They had two sons, James Robert Williamson and Ted Williamson. Dorothy died at the age of 80 on Oct. 16, 1993, just a few months after her mother's death. Dorothy was bur
ied at Grandview Cemetery in Monessen.
~ Daughter Gertrude (Jennings) Boyd ~
Daughter Gertrude E. Jennings (1886- ? ) was born in May 1886.
She married (?) Boyd (sometimes misspelled as "Body.").
In 1949-1970, she lived in Coraopolis, Allegheny County, PA.
~ Son Frank R. Jennings ~
Pittsburgh & Lake Erie logo
Son Frank R. Jennings (1893- ? ) was born in March 1893.
Circa 1910, when he was age 17, he was recorded twice on the U.S. census -- in one listing residing with his parents in Stewart Township, Fayette County, and working as a laborer with the Pittsburgh and Lake Erie Railroad; and in the other living with his married brother John in Glassport, Allegheny County, PA, employed by the railroad.
He later relocated to Southern California, and in 1949-1970 resided in Los Angeles.
~ Daughter Viola (Jennings) Trump ~
Daughter Viola Jennings (1896- ? ) was born in November 1896.
She married (?) Trump and made her home in Washington, DC in the 1940s, '50s and '60s.
In 1970, at the death of her brother John, she was residing in New York and was named in the obituary in the Connellsville Daily Courier.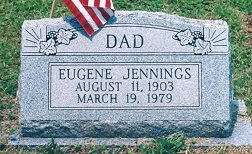 Maple Summit Cemetery
~ Son Eugene "Gene" Jennings ~
Son Eugene "Gene" Jennings (1903-1979) was born on Aug. 11, 1903 in Maple Summit, Stewart Township, Fayette County..
At the age of 19, on July 30, 1923, Eugene eloped to Grantsville, MD to wed 17-year-old Pleasant Burnworth (1905- ? ), daughter of Albert E. Burnworth
The couple produced two sons -- James Lee Jennings and Robert Leo Jennings.
When the United States Census of 1930 was taken, the couple dwelled in Beaver Falls, Beaver County, PA. There, he held a job as a railroad laborer.
The Jenningses' marriage was stormy, and Pleasant left the marriage five or six times. She departed for good on Sept. 1, 1936, with Eugene alleging that she "ran away" with an "18-year-old boy." She ended up in the household of her widowed father in Stewart Township, where she and the boys lived in 1940.
Eugene also returned to Fayette County where he was a longtime coal miner and a member of the United Mine Workers of America (UMWA).
The federal census enumeration of 1940 shows Eugene lodging in the home of 25-year-old Agnes Showman in Dunbar, Fayette County, and earning a living as a coal miner. In 1948, he resided in Stewart Township.
Pleasant made her way to Niagara Falls, NY where she dwelled in the mid-1940s. The couple finally divorced in Fayette County Court in December 1948.
He escaped certain death in January 1957 but a colleague was killed at the West Leisenring mine "when a cable on the winch of the cars snapped, freeing the cars and allowing them to slip backwards," reported the Daily Courier. Fellow laborer John Samuel Uhrin was caught under one of the coal cars and was killed when his skull, back and chest were crushed. Eugene attempted to save Uhrin, but "was forced to jump to save his own life."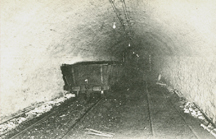 Leisenring No. 3 Mine
His final place of work was United States Steel Corporation's Leisenring No. 3 Mine. A rare postcard is seen here of the tunnel way of Leisenring No. 3, measured to be 575 feet below the surface of the earth.
His home in 1953 was Trotter, Fayette County. Later, he made a home in Leisenring near Uniontown, Fayette County
Eugene passed away on March 19, 1979, and was buried at the cemetery of the Maple Summit Church.
Son James Lee Jennings (1924?- ? ) was born in about 1924.
Son Robert Leo Jennings (1927?- ? ) was born in about 1927.
~ Son Harold Jennings ~
Son Harold Jennings (1906- ? ) was born in 1906.
He married Myrtle Marie Bloom (1917-1971), the daughter of John and Elizabeth (Sanders) Bloom.
Their three known children were Lila Gail Jennings, Gertrude Moser and Harold S. Jennings.
Harold was a longtime coal miner residing circa 1949-1960 at Royal, Fayette County, also known as Chestnut Ridge.
Sadly, Myrtle passed away at the age of 54 on Oct. 17, 1971, in Somerset, PA. At the time, she and Harold were survived by 12 grandchildren. Following a funeral service at Searights Brethren in Christ church, she was laid to rest at Lafayette Memorial Park near Uniontown.
Daughter Lila Jennings lived in Detroit in 1955 and Denbo Heights, PA in 1971.
Daughter Gertrude Jennings married (?) Moser and made her home circa 1971 in Allison, Fayette County.
Son Harold S. Jennings enlisted in the Air Force in 1960, and by 1971 was a staff sergeant stationed at Charleston, SC.
Maple Summit Cemetery
~ Son Alvin Howard Jennings Jr. ~
Son Alvin Howard Jennings Jr. (1909-1960) was born on June 30, 1909.
He married Elizabeth "Betty" Shoemaker (1905-1973). He was four years younger than his bride.
They were longtime farmers and spent their lives at Maple Summit.
Two sons were born to this union -- Charles Richard Jennings and Alvin Howard Jennings III.
Alvin suffered for many years with chronic kidney disease, asthma, hypertension and coronary heart disease. On April 30, 1960 at the age of 50, he sufered a massive heart attack and died 30 minutes later at Price Hospital at Confluence.
Betty outlived him by 13 years. She passed away in 1973, at the age of 68. They are buried together in the cemetery of the Maple Summit Church, near the final resting place of his parents. The Jennings' grave marker was marked with flowers when photographed in the summer of 2000.
Son Charles Richard Jennings made his home in Niagara Falls, NY in 1960.
Son Alvin Howard Jennings resided in 1960 with his parents near Ohiopyle.
~ Son Edgar Jennings ~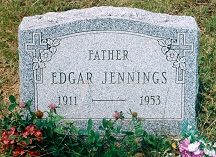 Maple Summit Cemetery
Son Edgar Jennings (1911-1953) was born on Feb. 4, 1911 in Maple Summit, Fayette County.
He was joined in holy wedlock with Thelma Johnson (March 19, 1918-1987), daughter of George Washington and Margaret Ann "Maggie" (Younkin) Johnson of the "Weasel Jake" Younkin family.
The couple produced a clan of seven children -- Margaret Ann Giles, Shirley Jane Nicholson, Dolores Jean Furman, Martha Lee Nicklow Porterfield, Carolyn E. Heater Rose, Jerry E. Jennings and Philip R. Jennings.
Edgar earned a living as a coal miner. The family resided at 302 East Gibson Avenue in Connellsville and were members of the Apostolic Faith Church.
In about 1943, Edgar was diagnosed with cirrhosis of the liver and then in about 1945 with chronic heart disease. In and out of Connellsville State Hospital for several years, Edgar died there at age 42, on June 18, 1953. He was laid to rest in the Maple Summit Church cemetery.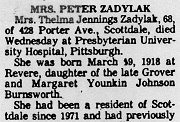 Obituary, 1987
After Edgar's death, Thelma lived in Gibson Terrace in Connellsville. She later was joined in marriage with Peter P. Zadylak ( ? - ? ). They moved from Connellsville to Scottdale, Fayette County in about 1971, residing at 428 Porter Avenue in Scottdale.
Thelma died at Presbyterian University Hospital in Pittsburgh in March 1987.
Daughter Shirley Jane Jennings married Norman E. Nicholson, the son of Harry and Emma Nicholson of Connellsville, on Oct. 16, 1952. They made their home at 96 Gibson Terrace in Connellsville, and had four children -- Kathy Hardin, Carrie Ann Nicholson, James E. Nicholson and Steven E. Nicholson. Norman was employed as a union steward with Atlas Construction. In October 1977, Shirley and Norman celebrated their 25th wedding anniversary with a party organized by their children, with the news covered in the Daily Courier.
Daughter Dolores Jean ("Deloris") Jennings (1938-1972) was born at Maple Summit. She married Robert C. Furman (June 23, 1934-2008), son of Martin J. and Anna (Gansor) Furman of Uniontown. The couple produced three children -- Robert M. Furman, Sharon Elaine McFadden Casini and Kimberly Jean Furman. The family relocated to Cleveland, Cuyahoga County, OH. There, Robert was employed for many years as a heat-treat operator for Atlas Screw and Bolt, eventually retiring from the company. Sadly, Dolores died at the age of 34 on Nov. 25, 1972, at Connellsville State General Hospital. He appears to have married again to Betty J. Furman ( ? - ? ) and became stepfather to Georgenne Kalopodis of Akron, OH. Robert outlived his first wife by 36 years and eventually returned to Connellsville. Toward the end, he became a resident of Hempfield Manor of Greensburg, Westmoreland County. He succumbed to death at the age of 73 on April 3, 2008. A funeral mass led by Rev. Fr. Dennis Bogusz was held at Immaculate Conception Roman Catholic Church, and burial followed in Normalville Cemetery. An obituary appeared in the Connellsville Daily Courier.
Grandson

Robert M. Furman

( ? - ? ) wedded Carolyn ( ? - ? ). The couple dwelled in Cleveland in 2008.
Granddaughter Sharon Elaine Furman

( ? - ? ) was born in (?). On Sept. 29, 1973, in nuptials held in the Pennsville United Methodist Church, she was joined in wedlock with Jeffrey E. McFadden ( ? - ? ), son of Karl E. McFadden of Connellsville. Rev. William Beal led the ceremony. The couple was pictured in a related story in the

Connellsville Daily Courier

, which said that the bride "appeared in a floor-length gown made by her aunt, Mrs. Althea Horvath. Of white polyester crepe, the empire bodice was designed with a high collar or ruffled lace. The long fitted sleeves terminated with lace-edged cuffs extending over the wrists. The ruffled lace was repeated on the upper portion of the bodice and along the shoulders." At the time of marriage, Sharon worked as an admission clerk at Connellsville State General Hospital, while Jeffrey was employed at Lenox Crystal Inc. of Mount Pleasant. Later, she married Daniel Casini ( ? - ? ) and resided in Connellsville.
Granddaughter Kimberly Jean Furman

( ? - ? ) was deceased by 2008.
Son Jerry Jennings made his home circa 1972 in Valley View, OH.
Son Phillip Jennings lived in 1972 in Connellsville.
Daughter Martha Lee Jennings ( ? - ? ) was born in (?). At Christmas 1954, as a seventh grader, she and her grandmother burnsworth traveled to Cleveland together to visit with relatives. She is believed to have been twice married. Her first spouse was a distant couisin, Alvin Nicklow ( ? - ? ), son of Harry and Opal (Gostwick) Nicklow Sr. of the family of Julia Ann (Ream) Nicklow. They produced three children -- Mark W. Nicklow, Michael Nicklow and Cindy Nicklow. The couple separated, with Alvin filing for divorce in February 1960 and remaining in Pennsville. By 1973, she was united in holy matrimony with Robert Porterfield ( ? - ? ), son of Margaret Porterfield. The Porterfields resided in Connellsville and bore a son of their own, Matthew Ray Porterfield. Their address in 1976 was Hosfelt Road. The family grieved in February 2020 at the untimely death of their son Mark.
Granddaughter Cindy Nicklow married Thomas E. Wolfe Jr. They were the parents of Susan Renae Wolfe. The family lived at 92 Gibson Terrace in 1976.
Grandson Mark W. Nicklow (1961-2020) was born on Nov. 10, 1961 in Connellsville. In about 1982, he wedded Cynthia Ann Heater ( ? -living). Their union endured for 37 years until cleaved apart by death. The couple bore three children -- Marcus Nicklow, Ryan Nicklow and Erika Barnhart. Mark earned a living through employment with CSX Transportation. In his free time, he enjoyed the outdoors, especially fishing and hunting. Sadly, at the age of 58, he passed away in Connellsville on Feb. 4, 2020.
Daughter Carolyn Jennings married (?) Rose and circa 1972 maintained her home in Connellsville.
Copyright © 2000, 2002, 2005, 2007, 2009-2010, 2020 Mark A. Miner