Martha J. (Knight) Jennings
(1840-1898) and
John Rayman Jennings Sr.
(1841-1912)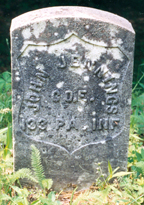 John's grave at Ohiopyle
Martha J. (Knight) Jennings was born in 1840 in Somerset County, PA, the daughter of James and Susanna (Imel) Knight Jr.
Her husband was a veteran of the Civil War.
In 1860, at the age of 19, Martha was joined in the bonds of wedlock with 19-year-old John Rayman Jennings Sr. (1841-1912). He was the son of Thomas and Christina (Ream) Jennings, and step-great-grandson of Martha's great aunt, Catharine (Minerd) Ream, of Ursina, Somerset County.
Martha and John became the parents of eight children -- Alvin Howard Jennings, Mary Todd Shipley, Emma C. Jennings, Martha Jennings, John Rayman Jennings Jr., Robert Edward Lee Jennings, Jennie Griffiths and Lulu Fannie Jennings.
Two years after marriage, John enlisted to serve in the Civil War with Company E of the 133rd Pennsylvania Volunteer Infantry. In August 1862, at Fairfax Seminary, VA, while at work in the hot sun building a breastwork, his eyes became inflamed, impairing his vision. The next month, while marching at Snickers Gap, near Bluemont, VA, he was struck on the left side with the butt of a musket, fracturing his ribs and bruising his heart muscle.
John was "put on an ambulance and hauled about from place to place," including the Mt. Pleasant Hospital and Columbian College Hospital in Washington, DC. A tent-mate observed that "he looked bad and had to walke with a cain." Another said he "never was on duty with the company after that." He was discharged on May 26, 1863 at Harrisburg, PA, and returned home.
Picturesque Snickers Gap, through which both armies passed during the war, and where John was injured.
From 1863 to 1872, the Jennings family lived in Lower Turkeyfoot Township, Somerset County and received their postal mail in the town of Somerfield. They moved to nearby Ohiopyle, Fayette County. A friend later recalled that John "farmed awhile then dug coal and then went back onto the farm."
In 1878, John sued David and James Morrison to obtain an interest in their 142-acre farm when the two men could not repay a debt.
John and Martha separated in 1886 after a tumultuous marriage, and they divorced three years later. An article in the Feb. 1, 1889 edition of the Connellsville Courier goes into graphic description of the deterioration of their relationship:
The case of most interest during the week was the suit for divorce brought by Martha Jennings of Stewart township which came up Wednesday. She was married to John R. Jennings in 1860. Later they moved into the Shipley neighborhood in Stewart township. Jennings forbade his wife associating with the Shipleys but the request was not heeded. In 1879 the husband reproached her for [social] intercourse with the Shipleys and Mrs. Jennings left her husband. After three days she came back of her own accord. In 1885 she left a second time. He sent for her this time and after going for her himself induced her to return to her family of five children. In October 1886, while Jennings was at Ohio Pyle, his wife left his home for the third and last time, going to her son-in-law's home. Evidence was produced to show that Jennings had struck his wife with clubs, cursed her and abused her in a brutal manner.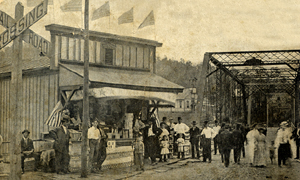 Ohiopyle's Bridge Street and Youghiogheny
River Bridge, early 1900s
A jury ruled in Martha's favor in the divorce. Under terms of the settlement, John gave up their 169-acre farm and "hewed log dwelling houses and outbuildings" as part of the settlement. He also was required to pay her alimony amounting to $100 within a set time of 30 days.
Tragedy struck the already-troubled family in the midst of the divorce proceedings, when unmarried teenage daughter Martha died mysteriously in 1888, shortly after giving birth. Her death was blamed on "blood poisoning originating with the decomposition of the placenta..." There was much gossip about the cause of death, and the coroner was called in to investigate. The baby's fate is unknown.
Single again after a 29-year marriage, Martha bought a town lot in Ohiopyle.
Martha lived in Ohiopyle until her death on Oct. 25, 1898. The Connellsville Daily Courier said that she "had been very ill for about two weeks" and that her death, "though not unexpected, was a shock to her relatives."
From 1892 on, John moved often, to these towns: Somerset County, PA (1892-1899); Fayette County (1899), Westmoreland County, PA (1900-1902); Allegheny County, PA (1902); Fayette County (1903-1904), and with his son Robert at Newell, Fayette County (1905-1912). He may be the same man whose finger was "cut off while at work at Sipe's mill last week," according to an April 27, 1900 story in the Connellsville Daily Courier.
John spent the final few months of his life suffering from heart dilitation and chronic kidney disease. He died from their effects at the age of 71 at Newell on Dec. 8, 1912 and is buried at Sugar Grove Cemetery, Ohiopyle.
Copyright © 2000, 2004-2005, 2017 Mark A. Miner