Robert Edward Lee Jennings
(1876-1934)
Robert Edward Lee Jennings was born on Feb. 27, 1876 at Ohiopyle, Fayette County, PA, the son of John R. and Martha (Knight) Jennings.
His father, a veteran of the Union Army during the Civil War, appears to have named the boy after the famed Confederate general.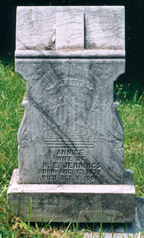 Sugar Grove Cemetery

Robert was a longtime laborer and foreman with the Pittsburgh and Lake Erie Railroad and New York Central Railroad in Fayette County, PA. He was of medium height and build, and had brown hair and brown eyes.

Married twice, Robert's first bride was Nora "Annice" Horton (Aug. 12, 1878-1906), the daughter of William and Mary (Johnson) Horton. They were wed in about 1898, when he was age 22 and she 20.

They produced three children -- Elizabeth Barrows, Norman "Lee" Jennings and Nellie Belch Klingenberg.

The 1900 shows the young family living in Lower Tyrone, Fayette County, probably near Dawson. Under their roof that year also were 10-month-old daughter Elizabeth and John's 58-year-old, widowed father.

Circa 1906, the Jenningses lived in Jefferson Township, Fayette County.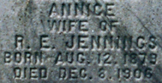 Sugar Grove Cemetery

Sadly, ded after just eight years of marriage, Annice contracted a septic infection sometime in October 1906. After six weeks of suffering, she succumbed and was gathered in by the Grim Reaper, on Dec. 8, 1906, at the age of 27. Her remains were lowered into eternal repose at the Sugar Grove Cemetery near Ohiopyle.

The Dec. 10, 1906 edition of the Connellsville Daily Courier reported that "The remains of Mrs. J. Jennings [sic] were brought to this place yesterday afternoon and laid to rest in Sugar Grove Cemetery at 3:30 P.M. A host of friends followed the remains to the grave." James E. Hanes of Coal Centre, PA signed her official death certificate.

Her upright grave marker is seen here, as photographed in May 1993. A tender epitaph inscribed at the base of the marker reads as follows:

Again we hope to greet thee,
When the day of life is fled;
And in heaven with joy to greet thee,
Where no farewell tear we shed.

Annice's untimely passing left John with three young children to raise.

Two years later, circa 1908, Robert married his second wife, 19-year-old divorcee Izetta "Ida" (Higginbotham) Buchanan (1888-1956). She was a native of Elk Garden, Marion County, WV and the daughter of Leonard and Martha Elizabeth (Kenney) Higginbotham. She was 13 years younger than her husband.

They went on to produce a daughter of their own -- Margaret Jennings.

In 1910, when the federal census was taken, the Jennings family lived at Newell, Fayette County, PA. Residing in their household were daughters Elizabeth, Nellie and Margaret; son Lee; and Robert's father John and nephew Albert Clarence Shipley. Robert was employed that year as a foreman on a "work train."

Robert registered for the military draft in September 1918 during World War I, as did millions of other American men. Age 42 at the time, he listed his occupation as "foreman" with the P&LE at Newell, and marked Ida as his spouse.

Bird's eye view of U-shaped Newell, along the Monongahela River
When the census again was taken in 1920, Robert and Ida and their children Lee, Nellie and Margaret resided near Newell in Fayette County. His occupation continued as a railroad foreman, on the "steam railroad."
In 1927, the Jenningses decided to be formally married in West Virginia. Perhaps complications had arisen due to the legalities of their respective earlier divorces. They again tied the knot in a ceremony held on Nov. 10, 1927, in Morgantown, Monongalia County, WV, by the hand of Rev. W.E. Brooks of the First Presbyterian Church. At the time Robert was age 51 and Ida 39, and lived in Newell.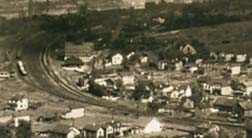 Newell rail lines
By 1930, all of their children had left home. Robert and Ida made their residence in Newell, and again he worked as a foreman on New York Central Railroad, considered a "section worker" and by 1934 as a foreman in the track department. The curved tracks of the rail lines leading into Newell are seen here.
Tragedy struck in late winter 1934 while 58-year-old Robert was inside an improvised box-car shanty, on a P&LE siding, during working hours. On his way to work, Robert had stopped at the shanty, a shelter in inclement weather, to store his lunch and start a fire. With his clothing saturated with oil, they ignited and he was incinerated, dying at the spot about a mile from their home. The March 28, 1934 Connellsville Daily Courier reported that his body had been found "in a lonely tool shanty constructed out of a box car" near Newell, "burned to a crisp ... under mysterious circumstances...."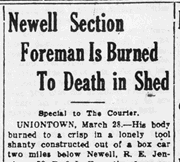 Connellsville Daily Courier
After investigating, the Courier reported that $400 in cash and an un-cashed paycheck for a month's work were found on his body. His wife told police "that it had always been customary for [him] to keep a month's pay in bills on his person." The story said that he had left home at 7:45 a.m. "and went to the tool shed to start the coal stove fire, one of his customary morning duties." A co-worker noticed the building on fire less than an hour later, and "When help arrived, the structure was already consumed. Water from a nearby engine was thrown on the blaze but not before the greater part of the building had been destroyed was Jennings' body removed from the interior." In filling out Robert's death certificate, a deputy coroner wrote that "Death was the result of body being severely burned. Caused by being caught in fire which destroyed small shed. Probably accidental."
His remains were shipped to Fairmont, Marion County, WV for burial in Maple Grove Cemetery. [Find-a-Grave]
Robert's will, probated the following month, made headlines in the Daily Courier. Written "on a plain sheet of paper," it alluded to several thousand dollars on deposit at the Brownsville Monongahela National Bank and First National Bank of Monessen, but at the time he was financially insolvent. Their house and lot worth $2,500 was bequeathed to Ida, with their four children named as beneficiaries in the event of her death.
With no income stream available to support herself, Ida filed a complaint against with the Workmen's Compensation Board, claiming that the P&LE was at fault since her husband had been "fatally hurt while in the employ of the railway," reported the Daily Courier. She sought recompense of $3,000 to cover the period from April 4, 1934 to Jan. 1, 1940, at a rate of $10 per week that Robert apparently would have earned if he were living. As well, she requested that the railroad compensate her for $150 in burial expenses plus another $22.71 in court costs. Following rulings by the board and an appeal to Fayette County Court, the "sole question involved in the appeal was whether the deceased was engaged in interstate transportation at the time of his death," reported the Courier. The case then appealed to the Pennsylvania Superior Court, for hearing in April 1939.
The Pennsylvania Superior Court ruled for Ida on June 29, 1939, citing legal reasoning by Fayette County Judge W. Russell Carr. In Carr's opinion, he wrote:
The shanty was put there for [Robert's] convenience. There were tools, a desk on which to write his reports and a stove to keep the place warm. For what particular purpose he went in is not disclosed. In entering the shanty he did not dissociate himself from his employment, attending to the stove or doing anything else he had a right to do while there there did not interrupt the employment in interstate transportation. We are not here dealing with the situation where a servant passes alternatively from employment in one class of transportation to another but with the case of a servant engaged exclusively in one class of transportation.
During that time, Ida suffered the heartbreak of her only daughter, Margaret, at the age of 27.
After four years as a widow, Ida married James R. Dowler (1890- ? ) on July 3, 1938, at Newell. He was a native of California, PA. The marriage only lasted less than a year, with Ida filing for divorce, claiming "cruel and barbarous treatment," said the Daily Courier. Ida's testimony before an appointed "master" said that James had moved "into her home without any expense," reported the Uniontown Morning Herald. "Later, following arguments over the loss of money he had earned, she said, he moved out, saying he didn't need a wife, only a housekeeper to cook for him and keep his clothes clean."
With the divorce granted in March 1941, she apparently took back her first married name, and thereafter went by "Ida Jennings." She lived for another 15 years, and moved back to Fairmont. Her address there was 910 Gaston Avenue. There, at age 68, she suffered a heart attack on Oct. 19, 1956 and was rushed to Fairmont General Hospital, where she was dead on arrival. She is buried in Fairmont's Maple Grove Cemetery. Fred Higinbotham of Fairmont was the informant on her West Virginia death certificate.
~ Daughter Elizabeth (Jennings) Barrows ~
Daughter Elizabeth Jennings (1900-1951) was born in 1900.
She married Ohio native J. "Theodore" Barrows (1892-1962) in about 1916, when she was 16 years of age, and he was 23. He was the son of Emery L. and Annie L. (Ripley) Barrows.
The couple produced at least four children -- Theodore E. "Ted" Barrows Jr., Richard Barrows, Eleanor Kennedy and Carl Barrows.
They lived in Centerville, Washington County, PA in 1930, with Theodore Sr. laboring as a "tippleman" at a local coal mine. In 1933, their home was in Denbo, Washington County, wherehe worked at the Vesta No. 6 Mine.
Sadly, Elizabeth died in 1951 at the age of about 51. The details and place are not yet known.
Theodore survived his wife by 11 years. His address was 3190 West 44th Street. He passed away in Cleveland, OH on Aug. 2, 1962. Funeral services were held in Bedford, OH, with interment in Crown Hill Cemetery in Twinsburg, Summit County, OH. The Uniontown (PA) Evening Standard and Cleveland Plain Dealer each printed an obituary.
Son Theodore E. "Ted" Barrows Jr. (1918- ? ) was born in about 1918.
Son Richard Barrows (1922- ? ) was born in about 1922.
Daughter Eleanor Barrows (1924- ? ) was born in about 1924. She wedded Lawrence Kennedy ( ? - ? ).
Son Carl Barrows (1927- ? ) was born in about 1927. He may have lived in Cleveland and died on March 25, 1994. This needs to be confirmed.
~ Son Norman Lee Jennings Sr. ~
Son Norman "Lee" Jennings Sr. (1901- ? ) was born on March 28, 1901. He claimed to have been born in Massachusetts.
He learned the trade of painting.
At the age of 22, circa March 1924, he was joined in holy wedlock with 21-year-old telephone operator Bertha Elizabeth Allshouse (March 28, 1902- ? ), daughter of Samuel Douglas and Sarah A. (Sherman) Allshouse. They shared the same birthdays.
The couple's children were Norman Lee Jennings Jr., Robert Lee Jennings, Myron Craft Jennings, Bonnie Sprowls and Leah Hill.
They resided in Bentleyville, Washington County, PA in 1933-1940, where Norman was a painter with his own shop. They were in Fredericktown, Washington County in 1959. By 1963, they relocated to San Diego, CA, and by 1971 had moved to Santa Ana, CA.
In January 1963, Bertha returned to southwestern Pennsylvania to visit her married daughter Bonnie Sprowls and family in Uniontown and married son Myron and family of Washington, PA.
Norman was deceased by 1966.
Bertha lived for another dozen or more years. She passed into the arms of the angels on Feb. 3, 1978, in Yorba Linda, Orange County, CA.
Son Robert Lee Jennings (1927-1971) was born in about 1927 in Fredericktown, Washington County. He married Constance ( ? - ? ). They were the parents of Marilyn Jennings, Donna Jennings, Daniel Jennings and Mark Jennings. The family made its residence in Simi, CA. Sadly, Robert died at the age of 44 in Simi on May 4, 1971. An obituary was published in the Uniontown Morning Herald which noted that he was survived by nine grandchildren.
Granddaughter

Marilyn Jennings
Granddaughter Donna Jennings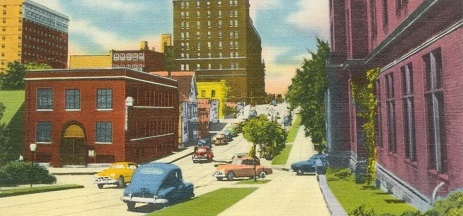 Washington, PA
Son Myron Craft Jennings (1928-1977) was born on Oct. 22, 1928 in Bentleyville, Washington County. In young manhood he stood 5 feet, 10 inches tall and weighed 180 lbs. had black hair and brown eyes. He was unemployed circa 1946 when he made a home in Deemston, Washington County and registered for the military draft in the year following the end of World War II. He found work as as a painter and lived in Fredericktown. On April 25, 1951, at the age of 23, he eloped to be joined in wedlock with 21-year-old cashiere Jeanie B. Kundrick (March 27, 1931-2021), daughter of Peter and Regina (Mickla) Kundrick of Centerville, Washington County. Their nuptials were held in Winchester, Frederick County, PA, led by Rev. Edgar G. Hill of the Methodist Church. The couple dwelled in Washington, Washington County and were the parents of four -- Valerie Shetler, Barbara Orndoff, Scott Jennings and Kenneth Jennings. Jeanie earned income through her work at Washington Hospital and retired in 1993. They belonged to the Jefferson Avenue United Methodist Church. Active in her children's lives, she was a Cub Scouts leader. In her free time she was in a card club and bowling league. Myron sadly died on Jan. 6, 1977 at the age of 48. Jeanie outlived her husband by a remarkable 43 years. Toward the end, she was admitted to Southmont of Presbyterian Seniorcare, where she succumbed to death at the age of 89 on Jan. 30, 2021. An obituary in the Washington Observer-Reporter said she was survived by 13 grandchildren and 15 great-grandchildren.
Granddaughter

Valerie Jennings married Thomas Shetler
Granddaughter Barbara Jennings wedded Robert Orndoff
Grandson

Kenneth Jennings

was united in marriage with Kathi.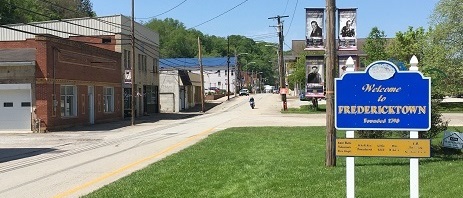 Fredericktown, PA
Daughter Bonnie Lee Jennings (1930-2017) was born on Nov. 18, 1930 in Bentleyville, Washington County. Bonnie as a young woman worked for the law firm of McAlister and Sweet in Washington, Washington County. On Jan. 20, 1950, at the age of 19, she was united in matrimony with Ray Cline Sprowls Sr. (Nov. 18, 1926-2011), son of Alvah G. and Margaret E. (Meese) Sprowls of Brownsville. The marriage was announced in the Uniontown Evening Standard. In an unusual twist, the couple shared birthdays. Their children were Ray Cline Sprowls Jr. and Samuel Jacob Sprowls. In early adulthood, Ray Sr. attended the University of Pittsburgh and obtained a diploma from the RCA Electronics School of New York. At the time of marriage, he was employed by his father, an electrical contractor. They dwelled in Fredericktown, PA in 1956. He was a well-known violinist in the Brownsville area and loved a variety of music, from classical and jazz and to big dance band. He was a member of the Fort Burd United Presbyterian Church, Brownsville and Trinity United Presbyterian Church of Uniontown, PA. Their address in 1959 was 9 Playford Avenue in Brownsville. Ray retired from the International Brotherhood of Electrical Workers local union #5, having spent six decades with the organization. After a lengthy battle with cancer, he died at age 84 in Uniontown Hospital on Sept. 4, 2011. Bonnie survived her husband by six years. She died on Sept. 6, 2017.
Grandson

Samuel Jacob Sprowls (1957- ? ) was born on Jan. 15, 1957. At his second birthday, he was pictured with his brother Ray in the Uniontown Evening Standard.
Son Ray Jennings (1934- ? ) was born in 1934 in Bentleyville.
Son Norman Lee Jennings Jr. (1936- ? ) was born in about 1936 in Centerville/Bentleyville, Washington County. He became employed in 1961 with American Investment Corporation and was based in its office in San Diego. Within a few years he was promoted to senior assistant manager, In October 1964, he was promoted and transferred within the company to become manager of Public Finance Corporation's office at 1300 North Ninth Street in Corvalis, OR. News of the appointment was made in the Corvalis Gazette Times, which noted that American Investment's subsidiary companies operated 725 consumer finance offices in 41 states. By 1971, he had relocated to Santa Ana, CA.
Daughter Leah Jennings ( ? - ? ) married (?) Hill. She lived in Fort Wayne, IN in 1971.
~ Daughter Nellie (Jennings) Belch Klingenberg ~
Daughter Nellie Jennings (1904-1969) was born on April 14, 1904 in Newell. She was married twice.
Her first husband was William L. Belch (Oct. 22, 1900-1951), son of Samuel and Emma (Polle) Belch of Dunbar, Fayette County, PA.
The couple produced two daughters, Hazel Stinson and Ruth Rankin.
William was a longtime railroad employee. They made their home circa 1933 in Newell and in 1935 on Redwood Avenue in Uniontown, Fayette County. In 1948, the relocated to Wilkinsburg near Pittsburgh, with an address of 509 Pitt Street.
Sadly, William was burdened for a decade with heart disease and the effects of rheumatic fever suffered years earlier. He died at home on March 9, 1951 at the age of 50. Burial was in Lafayette Memorial Park near Uniontown.
Nellie married again, to Charles Klingenberg ( ? - ? ). She moved to Athens, Athens County, OH, where she was a member of the First Methodist Church. Charles was a volunteer scoutmaster with the Boy Scouts in Logan, near Athens.
Nellie died at the age of 64, in Athens Hospital, on Jan. 16, 1969. News of her passing was published in obituaries in the Uniontown Evening Standard and Connellsville Daily Courier. Her remains were placed into repose in Lafayette Memorial Park.
Daughter Ruth Jennings ( ? - ? ) married (?) Rankin ( ? - ? ). Her home in 1951 was in Brownsville, Fayette County.
Daughter Hazel Jennings ( ? - ? ) was born in (?). She was joined in wedlock with (?) Stinson. Circa 1969, she dwelled in Mentor, OH.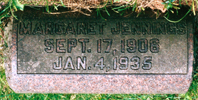 Sugar Grove Cemetery
~ Daughter Margaret Jennings ~
Daughter Margaret Jennings (1906-1933) was born on Sept. 17, 1906 in Newell. She never married.
As a 28-year-old, Margaret worked as a "domestic" in Newell.
Tragically, she was afflicted with an ulcer of her duodenum (intestinal tract) which ruptured and spread toxins throughout her insides. She died of peritonitis in Pittsburgh's Mercy Hospital, four days into the New Year 1933. An autopsy confirmed the cause of death.
Funeral services were held at the home of her married sister Nellie Belch in Newell, followed by a full service at the Newell Methodist Episcopal Church, with Rev. Morris L. Huster officiating. Her remains then were shipped to Ohiopyle for burial near her mother at Sugar Grove Cemetery. An obituary was published in the Monongahela (PA) Daily Republican.
Her red granite, curved grave marker, seen here, was flipped upside down when photographed in May 1993.
Her brother Norman was the informant for her Pennsylvania death certificate.
Copyright © 2000, 2009-2010, 2014, 2017-2018, 2021 Mark A. Miner