Martha Jennings
(1870-1888)
Martha 'Mattie' Jennings was born in the spring of 1870 near Ursina, Somerset County, PA, the daughter of John R. and Martha (Knight) Jennings Sr. Named for her mother and great-grandmother, little is known about Martha's life, except the events leading up to and including her untimely death at age 17 in childbirth.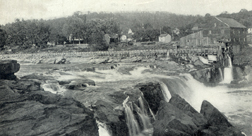 As a teenager, Martha and her mother moved to Ohiopyle, Fayette County, about two years after her parents divorced. Seen at left is a rare old photographic postcard showing the picturesque Youghiogheny River falls at Ohiopyle, near their home.
The April 20, 1888 Connellsville Keystone Courier reported that Mattie "had been living as a domestic with a family near Frost station until about ten days ago when she came home and was placed under Dr. Brady's treatment."
Staying at her mother's home, the pregnant teenager was treated for pneumonia but died shortly after giving birth to a child. The Courier added that "it was noised about that there was something mysterious about her death.... [Some] friends did not feel satisfied with [the doctor's] statements and sent for Coroner Reagan to investigate the case."
The article went on to say that Dr. M.B. Shupe, working with the coroner, "made a post mortem examination which established the fact that death had been caused by blood poisoning originating with the decomposition of the placenta."
A further investigation was held but the result is not known.
Copyright © 2000-2001, 2004 Mark A. Miner