Jesse Ernest Minard
(1892-1981)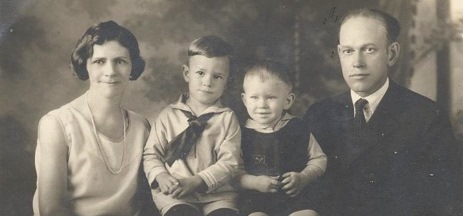 Jesse, Iva and their 2 eldest sons
Jesse Ernest Minard was born on March 4, 1892 in Hawleyville, Page County, IA, the son of Albert Everett and Mary Ellen (Knepple) Minard.
On Feb. 28, 1918, when he was 25 years of age, Jesse married Iva Watkins (Aug. 16, 1891-1972). The wedding ceremony took place in Clarinda, IA, by the hand of Rev. C.W. Stewart.
Iva was a native of Mound City, Holt County, MO and the daughter of John Marion and Martha Jane (Harris) Watkins. Prior to marriage, she taught school in Hawleyville.
The Minards had three sons -- Dr. Eugene Watkins "Gene" Minard, Oliver "Wendell" Minard and Charles Duane Minard.
Federal census records for 1920 show the family making a home in St. Joseph, Buchanan County, MO. That year, Jesse earning a living as an electrician in a local packing plant. Iva's 24-year-old bachelor brother Oliver also lived under their roof and was employed as an insurance agent.
During the decade of the 1920s, after 1925, Jesse and Iva relocated to Southern California. The United States Census of 1930 lists them in Burbank, Los Angeles County, with Jesse supporting the family as a grocery store salesman.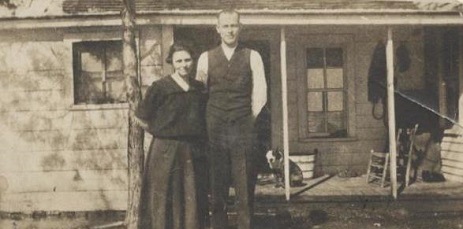 Above and below: Jess and Iva the year they were married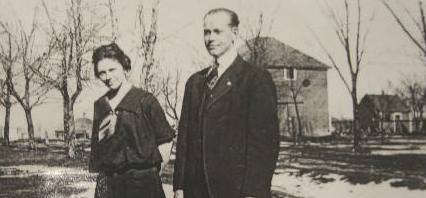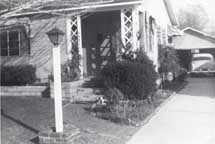 The Minards' house in San Bernardino
By 1935, the family had returned to Iowa, making a home in Page County. Then between 1935 and 1940, they relocated back to St. Joseph, where Jesse had obtained work as a lineman for a telephone company. The census of 1940 shows the family in St. Joseph, with Iva's widowed mother in the household.
They moved again to Kansas City, MO as of 1942.
Later in life, the Minards resided in California in the town of San Bernardino, San Bernardino County.
Sadly, Iva died in San Diego County on June 19, 1972. Burial was in Alta Mesa Memorial Park in Palo Alto, Santa Clara County.
Jesse endured his wife's death and lived for another eight-plus years in San Diego County. He passed away on Jan. 4 or April 1, 1981.
~ Son Dr. Eugene Watkins Minard ~
Son Dr. Eugene Watkins Minard (1924-2015) was born on March 28 1924 in Villisca, Montgomery County, IA.
As did his younger brother Wendell, Eugene joined the U.S. Army Air Corps during World War II, even though he was deaf in one ear. As one of 30 students selected from among 1,000 candidates, he entered the education training program and studied engineering as well as medicine. He earned a degree in public health from the University of California at Berkeley and in medicine from Stanford University Medical School.
In 1948, when he was about 24, he wedded Joyce Andrew ( ? - ? ).
The couple bore a family of five offspring -- Diane C. Wilmert, Scott Minard, Kurt Minard, Mark Minard and Beth West.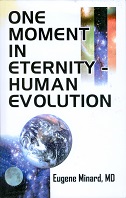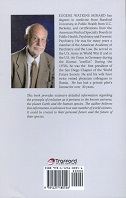 Eugene's book
Eugene spent his career as a forensic psychiatrist and is said to have "loved the tough cases." He was employed for some years by the Oregon State and Dammasch Hospitals. Circa 1956, he served as assistant health officer for San Bernardino County. Among the "tough cases" were determining if certain prisoners were legally sane and could face trial, including numerous instances of murder. Then at the start of 1959, he opened his own private practice, with offices located at 1277 D. Street in San Bernardino.
As he investigated various matters, Eugene was named in many news stories over the years. He also took part in panel discussions and public education conferences. When the Arrowhead Mental Health Center was opened in 1963, he was named to its inaugural board of directors.
He held certifications from professional organizations such as theAmerican Medical Specialty Boards in Public Health, Psychiatry and Forensic Psychiatry and belonged to the American Academy of Psychiatry and the Law. When the San Diego Chapter of the World Future Society was formed, in the 1970s, he was elected its first president.
He also like to fly and successfully secured a private pilot's license, which he held for three decades.
Eugene and Joyce divorced. She made a home in Yucaipa, CA in 1969.
In 1982, when he was age 58, he married a second time to Dr. Doris Cameron ( ? - ? ). Their union endured for 32 years until cleaved apart by death. She had been married before and brought a son to the union, James Cameron.
Over the years, Eugene published a number of books. Among the titles were One Moment in Eternity-Human Evolution and Evolution of Gods: An Alternative Future for Mankind (1987). The volume One Moment was intended, he wrote, to provide "extensive detailed information regarding the principle of evolution as it pertains to the known universe, the planet Earth and tthe human species."
Doris, an educator at Portland State University, was the author of her doctoral dissertation, An Exploratory Study of Student Retention in Kindergarten and Grade One and the Associated Decision Making Processes as Perceived by Principals and Teachers. Based on her experience with her son, she was active in the Oregon chapter of the National Alliance for the Mentally Ill.
The couple's longtime home was in Wilsonville, OR.
Eugene died at the age of 90 on Jan. 4, 2015. An obituary in the Portland Oregonian said that he "liked Democrats, chess, the temporal lobe, reading and the sound of his wife's laughter. And, of course, airplanes. He hated bullies, the telphone, war and losing at chess." In the obituary, the family asked that any memorial donations be made to the National Alliance on Mental Illness.
Daughter Diane C. Minard ( ? - ? ) was born in (?). She attended the University of California at Riverside and was employed there in 1969. On March 22, 1969, she wedded Michael L. Wilmert ( ? - ? ), son of Walter L. Wilmert of Corvallis, OR. The wedding was held at the Chapel of the Rises in Riverside, with the news announced in the San Bernardino County Sun. Diane's uncle Charles D. Minard traveled from San Jose to attend. After marriage, Diane is believed to have pursued additional studies at Oregon State University, where he already was enrolled.
Son Scott Minard ( ? - ? )
Son Kurt Minard ( ? - ? ) married Betty ( ? - ? ).
Son Mark Minard ( ? - ? ) was joined in wedlock with Linda ( ? - ? ).
Daughter Beth Minard ( ? - ? ) was united in matrimony with Raymond West ( ? - ? )
~ Son Oliver "Wendell" Minard ~

Funeral card
Son Oliver "Wendell" Minard (1925-1944) was born on Nov. 10, 1926 in Missouri.
As a young man, he was a delivery carrier for the St. Joseph News Express and Gazette from 1939 to 1941. He then became employed by North American Airlines as an aircraft mechanic.
He joined the U.S. Armed Forces during World War II and trained at the Big Spring Bombardier School in Texas. He later was assigned to the 855th Bomb Squadron, serving as a flight officer. In May 1943, he was shipped overseas to a base in England, where he was part of a crew flying missions in a B-24 bomber.
On the fateful day of July 23, 1944, while on a bombing mission in France, Wendell was killed when his bomber was shot down and burned. He was only age 18. A memorial service was held at the Church of Jesus Christ of Latter Day Saints in Kansas City a month later. A story appeared in the St. Joseph News-Press.
By the time that his remains were returned home for burial, his parents were now living in California. And so interment was held at Alta Mesa Memorial Park in Palo Alto, with services held at the LDS Church. He is one of far too many of our cousins to give their lives serving their nation during wartime.
Wendell was remembered among the St. Joseph war casualties in a story in the Oct. 2, 1994 edition of the St. Joseph News-Press.
~ Son Charles "Duane" Minard ~
Son Charles "Duane" Minard (1932-2006) was born on Nov. 2, 1932 in Missouri.
In 1969, he lived in San Jose, Santa Clara, CA. That year, in March, he made news when he traveled to attend the wedding of his niece Diane C. Minard to Michael L. Wilmert in Riverside, CA.
He later relocated to Oregon.
At the age of 73, he is believed to have succumbed to death on March 11, 2006 in Amity, Yamhill County, OR.
Copyright © 2005-2006, 2020, 2022 Mark A. Miner