Albert Everett Minard
(1859-1929)


Albert and Mary Ellen Minard
Albert Everett Minard was born on Nov. 17, 1859 (or more likely in 1857) in Knox County, OH, the son of Solomon and Rebecca (Metzler) Minard Sr. He and his wife Mary were pioneer settlers of Iowa, and she lived to be more than 100 years old.
Albert's father died on Dec. 2, 1857 -- when Albert would have been but an infant. As he reached adulthood, Albert "drifted across Indiana, Illinois and Iowa," said an unpublished family memoir.
Family papers show that on March 20, 1883, in Clarinda, Page County, IA, the 23-year-old Albert was united in holy matrimony with 17-year-old Mary Ellen Knepple (1866-1967), the daughter of Robert and Rebecca (Hite) Kappel, and a native of Woodhull, Henry County, IL.
Albert was seven years older than Mary.
The Minards produced a large family of 10 children, born in Iowa over more than a quarter century between the years 1883 and 1909 -- Clarence Clyde "C.C." Minard, Eltha Maud Slack, Mabel Mae Goff, Jesse Ernest Minard, twins Oscie "Nettie" Ingersoll Burwell and Ostie Ettie Henneman, Forrest Edwin "Bob" Minard, Lola Rebecca Crawford, George Harold "Bibs" Minard and Albert Dewey Minard.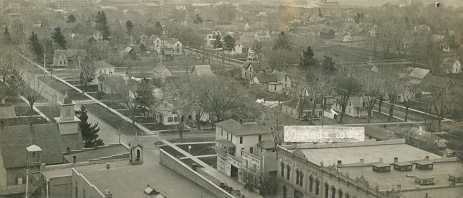 Bird's-eye view of Clarinda, Iowa, early 1900s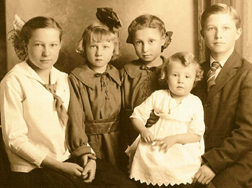 L-R: Mabel, Ostia, Ostie, Lola and Jesse
After marriage, Albert and Mary first lived in Hepburn, Page County, IA. Later, they migrated to Hawleyville, IA.
Seen here is a beautiful portrait of five of the Minard children.
Sadly, son Albert died at age three in 1901, of a deadly case of spinal meningitis. His photograph portrait was preserved by the family, and passed down in the generations, so that he would not be forgotten. It may be seen on his individual biography.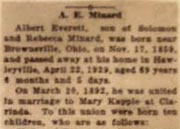 Obituary, 1929
Albert "has for many years been one of the best known and respected citizens of the Hawleysville community," said a local newspaper, "known to all telephone patrons, as he helped with the telephone exchange, besides having a feed grinding business in recent years. His friends are numbered by the thousands."
The family is listed as residing in Hawleysville in 1920, when the federal census enumeration was taken.
Mary was the telephone operator at Hawleyville for many years. She also wrote articles for the local newspaper, the Clarinda Herald Journal.
Albert passed away on April 22, 1929, at the age of 70. He was laid to rest in Hawleyville Cemetery. The local newspaper reported that "Funeral services for this revered old settler were held at the Methodist church in Hawleyville."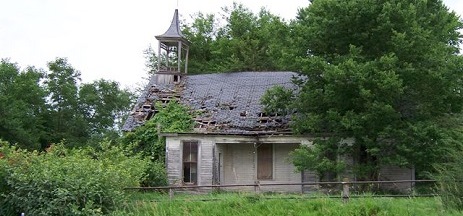 Ruins of the old Hawleyville school, which the Minard children attended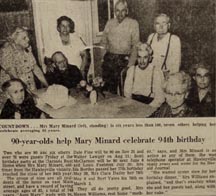 Mary's 94th birthday, 1960
Mary outlived him by nearly 40 years. In 1930, when the United States Census count again was made, she was still residing in Nebraska Township, and working at a switchboard as a telephone operator. Living with her that year was widowed son Bob, age 28, who was working as a carpenter.
During the mid-20th century, including when the 1940 census was made, Mary resided with her son George on a farm in Clarinda, Page County. It was here that her grandchildren and great-grandchildren would come for visits. As she aged into her 90s, however, and became unable to care for herself, she went to live in the Clarinda Rest Home.
Mary's birthdays over the years became notable events. In October 1960, when she turned 94, a group of friends helped her celebrate -- two who were 90 themselves, and six others age 76 or more -- all fellow residents of the Rest Home. Mrs. Mason Williams, manager of the home, was quoted in a newspaper article saying "She wanted oyster stew for her birthday dinner, and that's exactly what she and her guests had, along with her cake." A news article and accompanying photograph were published.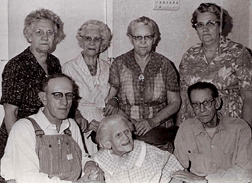 Mary Ellen on her 100th birthday
In the fall of 1966, just a few days before she celebrated her 100th birthday on Oct. 20, 1966, the family gathered for another celebration and grouip photograph, seen here. Click here for an enlarged version of this image, which was our "Photo of the Month" in February 2005.
In the photo, she is surrounded by six of her adult children. Back row, left to right: Ostia (Oscie), Mabel Mae, Ostie and Lola. Bottom row, left to right: George Harold (Bibs), Mary Rebecca and Edwin Forest (Bob).
Mary died on Jan. 21, 1967, at age 100 years, three months and one day.
She was buried with her husband and young son Albert.
Their grave markers were photographed in 2005 by descendant Laresa Roberts.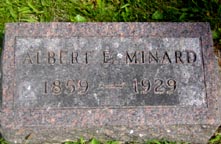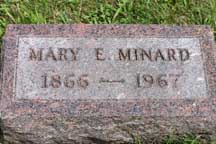 Copyright © 2003-2006, 2020 Mark A. Miner
Grave and school photos courtesy of Laresa Roberts