Albert Dewey Minard
(1898-1901)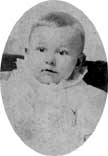 Albert Dewey Minard
Albert Dewey Minard was born on March 11, 1898, in Hawleyville, Page County, IA, the son of Albert Everett and Mary Ellen (Knepple) Minard.
When the federal census enumeration was made in 1900, the little boy was counted as living with his parents and six elder siblings in Nebraska County, IA. This is one of the very few tangible evidences of his short lifetime.
As he was approaching his third birthday, Albert contracted a deadly case of spinal meningitis.
Nothing could be done. Sadly, on Feb. 28, 1901, he passed away of his fatal disease.
Albert's small remains were laid to rest in the Hawleyville Cemetery. An upright stone was erected and stands today. [Find-a-Grave]
An oval photograph portrait was made of his likeness during his brief lifetime. It was preserved by the family so that he would never be forgotten. The heirloom treasure was passed down in the generations and graciously shared with the founder of this website to be published.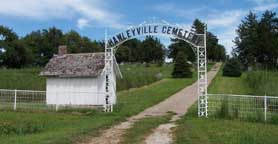 Hawleyville Cemetery, 2005
Copyright © 2005, 2020 Mark A. Miner