Lola Rebecca (Minard) Crawford
(1906-2001)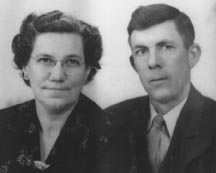 Lola and Homer Crawford
Lola Rebecca (Minard) Crawford was born on March 10, 1906 in Hawleyville, Page County, IA, the daughter of Albert Everett and Mary Ellen (Knepple) Minard.
On Feb. 25, 1922, at the age of 16, Lola married 23-year-old Orga "Homer" Crawford (June 1899-1969). The ceremony was performed by justice of the peace A.C. Trapp, and their wedding attendants were Mr. and Mrs. Roy Graham.
Homer was a native of Greenfield or Greenville, TN.
Lola and Homer produced a family of seven children. Among them were Leonard Crawford, Robert Crawford, Donald Crawford, Iris Carmichael, Doris Renfro Cates, Barbara Ellen Wilson and Keith Crawford.
When the federal census enumeration of 1930 was made, the Crawfords already had four children in eight years and were living in Douglas, Page County, IA. That year, Homer earned a living as a hired manager of a farm.
Then during the first half of the decade of the 1930s, under the grip of the Great Depression, the Crawfords moved into the Page County seat town of Clarinda, Nodaway Township. Clarinda is well known as the birthplace of famed big band leader Glenn Miller ("Moonlight Serenade") who was just two years older than Lola.
U.S. Census records for 1940 show Homer working for the Works Progress Administration (WPA) driving a truck for the construction of a county bridge. The WPA was one of the ways President Franklin D. Roosevelt and the federal government tried to overcome widespread unemployment during that era. The initiative is widely considered one of the Roosevelt's largest and most ambitious undertakings of his "New Deal" to get the nation back on sound economic footing. Over the years, the WPA hired millions of out-of-work individuals to build public works projects, such as roads, bridges, retaining walls and buildings.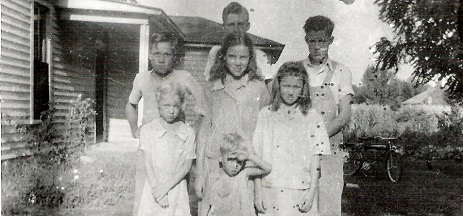 Above: Crawford kids circa 1942: Leonard ( age 19), Robert 17, Donald 15, Iris 13, Doris 11, Barbara 9, Keith 5. Below: Homer and Lola at a quiet Colorado lake.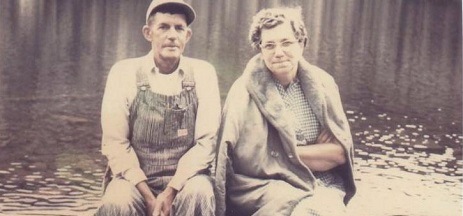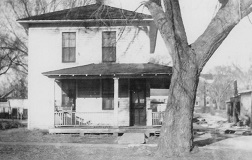 The Crawfords' home, Clarinda, IA
Lola and Homer's longtime and beloved home was located at 404 East Lincoln in Clarinda. The structure is still standing today.
Homer died in Clarinda on Nov. 6, 1969, at the age of 70.
Lola outlived her husband by more than three decades. As a widow, she moved into a mobile home in Bedford, Taylor County, IA.
Sadly, she endured the death of her daughter Barbara at the age of 65 on Nov. 16, 1998.
At the age of 95, the day after Christmas 2001, Lola was carried away by the Angel of Death. She is buried in Old Memory Cemetery.
More will be added here when learned.
~ Son Leonard L. Crawford ~
Son Leonard Crawford (1924-2014) was born in about 1924 in Hawleyville, Page County, IA.
In 1940, as a 16-year-old, Leonard and his brother Robert delivered newspapers in Clarinda to help the family make ends meet.
At the age of 19, on Dec. 19, 1942, he was united in marriage with 16-year-old Eleanor Louise Bordner (Dec. 12, 1926-2005), daughter of Harry Homer and Mattie (Wilson) Bordner.
The couple is believed to have borne two offspring -- Lynn Pattee and Steven Crawford.
Leonard and Eleanor eventually divorced.
He received his bachelor's degree from Simpson College and his master of arts degree from the University of Northern Colorado. He went on to a 44-year career as an educator. He taught for 18 years and then for the next 26 years was an administrator for elementary schools. In 1988, he retired as principal of Central Lee Community Schools.
Active in the profession and the community, Leonard belonged to the Iowa Association of School Administrators, Southeast Iowa Elementary Principals Association and National Education Association. He held a seat on the State Board of the Iowa Association of Disabled Children and was a member of the Lions Club in Montrose, the American Association of Retired Persons, and the First Lutheran Church of Keokuk.
Leonard was wed for a second time, in 1977, to Pauline (Westendorf) Lamprecht (Oct. 17, 1942-2012). Despite an 18-year gap in age, their union lasted for 35 years until her death.
Pauline brought two children from an earlier marriage, D. Edward Lamprecht and Gary Lamprecht.
Former wife Eleanor remarried to Leslie Emil Benjegerdes on July 25, 1981. She spent her final years in Manly, Worth County, IA and died on Aug. 7, 2005. Her remains rest in Hopkins Cemetery in Nodaway County, MO.
The couple spent their final years in Rochester, Olmsted County, MN. At the age of 69, Pauline was cut away by the Grim Reaper on July 8, 2012. Burial was in Memory Cemetery in Page County, IA.
As his health failed, Leonard was admitted to the Humboldt Care Center in Homboldt, IA. There, he died at the age of 91 on Oct. 5, 2014.
Daughter Lynn Crawford married (?) Pattee. Their home in 2014 was in Humboldt, IA.
Son Steven Crawford dwelled in 2014 in Charles City, IA.
~ Son Robert Crawford ~
Son Robert Crawford (1925- ? ) was born in about 1925.
Robert made a home in Clarinda in 1998.
He was deceased by 2014.
~ Son Donald "Donnie" Crawford ~
Son Donald "Donnie" Crawford (1927- ? ) was born in about 1927.
Circa 1998, he resided in Bedford, IA.
Donald resided in Arizona in 2014.
~ Daughter Iris (Crawford) Carmichael ~
Daughter Iris Crawford (1929- ? ) was born in about 1929.
She was joined in wedlock with (?) Carmichael.
They were parents Kenneth Carmichael and Kathy Owens.
Circa 1998, she dwelled in New Market, IA and in 2014, her home was in Clarinda, IA.
Son Kenneth Carmichael resided in Clarinda in 2004.
Daughter Kathy Carmichael married (?) Owens. Circa 2005, they lived in Kansas City, MO and hosted a Crawford family reunion.

Left to right: Doris, Barbara, mother Lola and Iris
~ Daughter Doris (Crawford) Renfro Cates ~
Daughter Doris Crawford (1932- ? ) was born in about 1932 in Page County, IA.
She was twice married. Her first husband was (?) Renfro ( ? - ? ).
The couple had one known daughter, Laresa Roberts.
Later, Doris was united in holy matrimony with (?) Cates.
Her residence in 1998 was in Apple Valley, CA and in 2014 was in Broken Arrow, Oklahoma.
Daughter Laresa Renfro ( ? -living) was born in (?). On Aug. 4, 1972, in Orange County, CA, she was joined in wedlock with her high school boyfriend David Lavern Roberts Jr. (April 22, 1952-2019), son of David Lavern and Mildred (Pergeson) Roberts of Tulsa, OK. They produced two children -- Cory Roberts and Candice Roberts. In the 2000s, the Robertses dwelled in Broken Arrow, OK. David was a longtime member of the Sons of the American Legion Post in The Colony, TX. Sadly, he passed into eternity at the age of 67 on June 14, 2019. A memorial service was held in Arrow Heights Baptist Church in Broken Arrow.
Grandson

Cory Roberts

married Tasha. They have made a home in The Colony, TX.
Granddaughter Candice Roberts

and her fiance Chad LeFevers live in Sapulpa, OK and have a son, Trey LeFevers.
~ Daughter Barbara (Crawford) Wilson ~
Daughter Barbara Ellen Crawford (1934-1998) was born on Nov. 8, 1933 in Essex, Page County, IA.
When she was age 20, on Jan. 16, 1954, she wedded Alfred L. "Bud" Wilson ( ? -1998). The wedding ceremony was held in Platte City, MO.
The Wilsons were the parents of a family of four sons-- James Wilson, Richard Wilson, Geoffrey Wilson and Denzil Wilson.
Barbara had a deep interest in health care and earned a living as a licensed practicel nurse. Said the Bloomington (IL) Pantagraph, "Her hobbies included crocheting, helping others and being involved with the family racing team."
In the 1990s, the couple made their home in Melvin, Ford County, IL.
They died just eight months apart. Death took him away first, on March 22, 1998.
Toward the end, Barbara was admitted to Carle Foundation Hospital in Urbana, IL. Sadly, she passed away one week after her 65th birthday, on Nov. 16, 1998. The funeral service was held at First Baptist church in Fairbury, IL, officiated by Rev. Kevin Comfort. Interment was in Graceland Cemetery, with an obituary published in the Pantagraph. She was survived by 11 grandchildren.
Son James Wilson married Michele and resided in Danville, IL.
Son Richard Wilson wedded Dee and lived in Fairbury, IL.
Son Geoffrey Wilson was joined in wedlock with Dee Dee. Their home in 1998 was in Melvin, IL.
Son Denzil Wilson was united in matrimony with Cherri. The couple dwelled in Chatsworth, IL in 1998.
~ Son Keith Crawford ~
Son Keith Crawford (1938- ? ) was born in about 1938 in Clarinda, Page County, IA.
He lived in Denison, IA in 2014.
Copyright © 2005, 2019 Mark A. Miner
Laresa (Renfro) Roberts graciously has shared information and photos for this page.