Forrest Edwin 'Bob' Minard
(1901-1990)
F.E. "Bob" Minard
Forrest Edwin "Bob" Minard was born on June 14, 1901 in Hawleyville, Page County, IA, the son of Albert Everett and Mary Ellen (Knepple) Minard.
As a young bachelor, in 1930, he earned a living as a carpenter's laborer in Clarinda and dwelled with his mother.

Veleda Minard
On Jan. 12, 1931, when he was age 30, Bob married 20-year-old Veleda Green (1911-2000), in a ceremony held at Red Oak, Montgomery County, IA. Justice of the peace F.P. Greenlee officiated. She was the daughter of Sheridan and Edith (Herriman) Green, and at the time of marriage was a resident of New Market, Taylor County, IA.
They produced an only son, Monte Minard, born in 1937.
Federal census records show that in 1935, Bob and Veleda dwelled in New Market, but by 1940 had relocated to Nebaska Township, Page County. His carpentry work and all types of odd jobs continued to generate income for the family in 1940.
In 1956, when Bob was age 55, he moved to Kansas, settling in Atchison, Atchison County. While in Atchison, "he was employed as a mechanic at Berridge Garage," said the newspaper. "He later worked at Herdman and Sons Construction as a mechanic, retiring in the mid-1960s. He enjoyed working in the garden."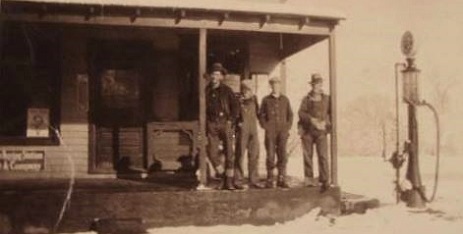 Bob (far left) and friends at a store in Hawleyville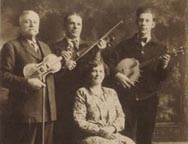 Bob and his combo
Bob also was a talented banjo player. Apparently, at one time, he played in a local combo with two fiddlers and perhaps a piano player. He was photographed with the group, standing at far right.

Obituary, 1990
As his health declined, Bob was admitted to Atchison Medicalodge. There, he passed away at the age of 88 on March 4, 1990. He was laid to rest in at Sunset Memory Gardens in Atchison. At the time of his death, he was survived by two grandchildren and six great-grandchildren.
Veleda, who was 10 years younger than Bob, outlived him by a decade. She died at age 88, just two days into the new millennium, on Jan. 2, 2000.
~ Son Monte Minard ~
Son Monte Minard (1937- ? ) was born in 1937 in New Market, Taylor County, IA.
As a very young boy he migrated with his parents to Nebraska Township, Page County, IA. Later, in the 1950s, they all moved again to Atchison, Atchison County, KS.
In 1958, when he was 21 years of age, Monte married Anna "Marie" Vandrell ( ? -1991), a native of Weston, MO and the daughter of Clay and Anna (Beisinger) Vandrell.
The children born to this marriage were Debbie Jewell Horton and Jeffrey Lynn Minard.
Monte and his business partner Leroy Kiefer owned Monte's and Kiefer's Texaco across the state line in East Atchison, MO and placed advertisements for the business in the Atchison Daily Globe in the mid-1960s. Marie was employed for 21 years with the Sanders Manufacturing Company until ill health forced her to retire.
They were members of the Trinity Lutheran church in Atchison, with Marie teaching Sunday School.
Circa 1967, their address was 1023 Riley Street. In August that year, they vacationed at Yellowstone National Park. By 1973, they moved to 1401 Atchison Street in town. Monte made news in January 1973 when, as he waited for his wife in his automobile, a snow-covered tree limb broke and fell on his vehicle. He was not injured.
Grief swept over the family when Marie was diagnosed with cancer in her 40s. She succumbed to the illness at the age of 49 on Oct. 24, 1991. Interment was in Sunset Memory Gardens in Atchison, with an obituary published in the St. Joseph News-Press.
Monte married again to Susan "Sue" Tull ( ? - ? ), daughter of Blanche Amelia Tull of Effingham, KS.
Daughter Debbie Minard married Randy Jewell. Her home in 1991 was in Atchison. By the early 2000s, she was married to and divorced from Michael Horton. They were the parents of Heather Blacksmith. Circa 2008, Debbie resided in Horton, KS. Evidence suggests that she remarried her first spouse by 2018.
Granddaughter Heather Horton wedded William Allen Blacksmith Sr. They established a home in Horton, KS. They bore three offspring -- Sydney Blacksmith, Brooke Blacksmith and William Allen Blacksmith Jr. Heartache blanketed their lives when their baby William Jr. was stillborn on Jan. 30, 2008.
Son Jeffrey Lynn "Jeff" Minard (1961-2018) was born on May 12, 1961 in Atchison. At the age of 18, on Feb. 24, 1979, he was joined in holy matrimony with Robin Ferris ( ? - ? ), daughter of Charles Ferris. The nuptials were held in the First Christian Church of Huron, KS. Three children born to this union were Ryan Minard, Shane Minard and Amberly Moore. The Minards initially dwelled in Atchison, where he earned a living working in maintenance for Benedictine College and The Mount. In 1991, they relocated to Nebraska, making a new home in Falls City. There, he worked for WASP and the Alamo Group and became plant manager with Vantec Inc. He is said to have been a jack of all trades, especially in carpentry and with vehicle repairs. He also liked to camp, fish and hunt. Jeffrey was swept away in his sleep by the Angel of Death, at age 56, on April 30, 2018. His remains were cremated. The family requested in an obituary that any memorial donations be made to the Andrew J. Somora Foundation.
Copyright © 2005-2006, 2020 Mark A. Miner