Ostie (Minard) Henneman
(1895-1988)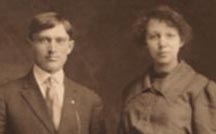 John and Ostie Henneman
Ostie (Minard) Henneman was born on Oct. 7, 1895 in Hawleyville, Page County, IA, the daughter of Albert Everett and Mary Ellen (Knepple) Minard. She and her sister Oscie Ingersoll Burwell were twins.
On Dec. 29, 1915, when she was 20 years of age, Ostie married 27-year-old John Henry Henneman (Oct. 31, 1888-1967), also a native of Page County.
The Hennemans were the parents of one son, Orville Carl Henneman.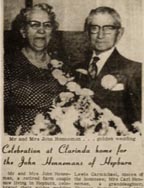 Anniversary, 1965
They were farmers for many years in the Hawleyville area.
After retirement, they moved to the town of Hepburn, Page County.
The Hennemans celebrated their golden wedding anniversary in January 1965. Said a newspaper:
They were honored by over 100 friends and relatives at open house held in the Bruno Steeve home in Clarinda ... Mrs. Henneman's mother, Mary Minard, 99, who is under nursing care, was unable to attend the celebration for her daughter and son in law... Mrs. Homer Crawford, a sister of Mrs. Henneman, registered the guests from Crystal Lake, Kansas City, Villiaca, Yorktown, Red Oak, Braddyville, New Market, College Springs, Hepburn, Bedford, Mt. Ayr, Shenandoah and Nebraska City.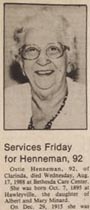 Obituary, 1988
The couple dwelled in Hepburn, IA in 1963.
John died at the age of 78 on April 10, 1967.
Ostie survived her husband by 21-plus years.
She passed away in Clarinda at the age of 92 on Aug. 17, 1988, and is buried in Clarinda Cemetery.
At Ostie's death, she and her husband had produced four grandchildren, one step-grandson, seven great-grandchildren, two step great-grandchildren, and four great-great grandchildren.
~ Son Orville Carl Henneman ~
Son Orville Carl Henneman (1916-1992) was born in about 1916.
He married twice. In 1938, he was united in matrimony with his first wife, Clara Bruce (March 31, 1919-1963), daughter of Robert and Daisy (Barcus) Bruce.
Clara was a nurse.
They produced a family of four -- Allen Duane Henneman, Carl Wayne Henneman, Stephen Ray Henneman and Carol Palmer.
Tragically, on Aug. 1, 1963, she was killed when struck by a moving vehicle while helping someone having car trouble on the east side of Clarinda. Her broken remains were lowered into eternal rest in Clarinda Cemetery.
After two years as a widower, Orville wedded again to widow Betty Jean (Henderson) McKim (April 7, 1925-2019) on Aug. 19, 1965. She originally was from Fisher Township, Fremont County, IA and had been married previously to Virgil Bryant McKim (1906-1962). She brought a son to the second union, Gary McKim.
Orville died at the age of 76 on April 3, 1992, at Omaha, NE. He was laid to rest in the Clarinda Cemetery.
Betty Jean lived for another 27 years. She died on Nov. 20, 2019.
Son Allen Duane Henneman made a home in Denver.
Son Carl Wayne Henneman resided in Fort Carson, Colorado Springs, CO.
Son Stephen Ray Henneman lived in rural Clarinda.
Daughter Carol Henneman married (?) Palmer. In 1963, she was in Denver.
Copyright © 2005-2006, 2020 Mark A. Miner