Oscie (Minard) Ingersoll Burwell
(1895-1983)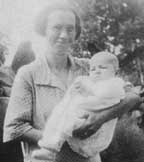 Oscie and Ivan Burwell
Oscie (Minard) Ingersoll Burwell was born on Oct. 7, 1895 in Hawleyville, Page County, IA, the daughter of Albert Everett and Mary Ellen (Knepple) Minard. She and her sister Ostie Henneman were twins.
Oscie's first husband was Fay Robert Ingersoll ( ? - ? ), son of G.S. and Lottie (Moore) Ingersoll of Adams County, IA. They were united in wedlock on Feb. 6, 1914, when both were age 19.
Fay's fate is unknown, but will be reported here when learned. Evidence hints that they divorced.
Later, on Nov. 3, 1921, when she was age 26, Oscie married a second time to 26-year-old Earl W. Burwell (1896-1985), the son of John Orlando and Ida May (Owen) Burwell of Page County. Their nuptials were held in Council Bluffs, Pottawattamie County, IA.
The Burwells bore an only son, Ivan Burwell.

Obituary, 1985
In 1930, the Burwells made a home on a farm in Nebraska Township, Page County. Their were next door neighbors to his parents.
A newspaper once reported that Earl "was a farmer and lived on the same farm in the Hawleyville area after his marriage until coming to the hospital a few days before his death" as an elderly man. Their farm was considered to be in a rural area of Clarinda, Page County.
Oscie passed away on Dec. 1, 1983 and is buried in Clarinda Cemetery. Casket bearers at her funeral were Orville Henneman, Don Crawford, Guy McFarland, John Minard, Monty Minard and Lowell Oxley.
Earl outlived her by two years. He died at age 89, on Sept. 19, 1985, at the Municipal Hospital in Clarinda. He was laid to rest beside his wife. Casket bearers at the funeral were Lloyd Lininger, Marvin Hakes, Bill Kirchner, Don Winger, Kenneth Garrett and Carmen Clement. Ruth Elaine Holmes and Grace Perry performed musical tributes at the funeral, with the service led by Rev. Martin Miller.
~ Son Ivan Burwell ~
Son Ivan Burwell (1925- ? ) was born in about 1925 in Iowa.
On March 19, 1947, Ivan married Marjorie "Jean" Pressly (Sept. 6, 1924-2015), daughter of Dean and Mabel Birdie (Cowan) Pressly.
As a young woman, Jean had studied at a laboratory training institution in St. Louis and then was employed from 1942 to 1948 at the Clarinda Hospital, working as a laboratory and X-ray technician.
The couple bore two sons -- Alan Earl Burwell and Norman Wesley Burwell.
He was a lifelong farmer in and around Clarinda and New Market. Ivan and Clifford Nelson of Clarinda were pictured in the Des Moines Register in September 1968 for their work to "maintain over eight miles of terraces on the sweepstakes award winning farm in Region 8.... The terraces were built to help control small ditches that were common on much of the upland on the1,149-acre farm. Nearly all of the upland area is now in hay or pasture." Every year about that time, they provided 700 hogs and 200 beef cows for market.
The Burwells built a residence in Clarinda. Jean assisted in the farming labor and is known to have hauled fuel, driven wagons to the grain elevators, moved equipment among fields and delivered meals. She belonged to the Methodist Women's Club and was treasurer for the TOPS Club. She liked to fish, ride her bicycle for distances, garden, raise flowers and watch birds. For four straight years, she took part in the Register's Annual Great Bicycle Ride Across Iowa.
Jean was admitted to Nebraska Medical Center in Omaha where she succumbed to the Angel of Death at age 90 on April 17, 2015.
Son Alan Earl Burwell married Leslie and lived in Scottsdale, AZ.
Son Norman Wesley Burwell wedded Kathey. Their home has been in Shenandoah, IA.
Copyright © 2005-2006, 2020 Mark A. Miner