George Harold 'Bibs' Minard
(1909-2003)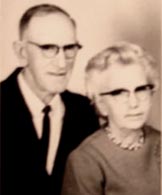 Bibs and Irene
George Harold "Bibs" Minard was born on March 8, 1909 in Hawleyville, Page County, IA, the son of Albert Everett and Mary Ellen (Knepple) Minard.
When he was 20 years of age, on Dec. 11, 1929, Bibs was united in holy matrimony with 17-year-old Iva "Irene" Fleck (1912-1979). She also was a native of Page County and the daughter of John Christopher and Gracie (Davidson) Fleck. Their wedding ceremony was held at the Methodist Parsonage in Clarinda, Page County .

Irene
Irene was photographed as a young woman, wearing a stylish hat of the late 1920s or early 1930s. The image is seen here.
The Minards went on to produce a family of seven children -- Edwin Minard, Dorothy Compton, Clyde Minard, Ronald Douglas Minard, John David Minard, Darlene Garrett and Elaine Luzmoor.
According to the Villisca Review newspaper, Bibs "farmed from 1930-1952 and then operated a road grader for Page County until his retirement."
Federal census enumeration records for 1940 show the Minards living on a farm in Nebraska Township, Page County, with four children in the household as well as Bibs' 73-year-old, widowed mother.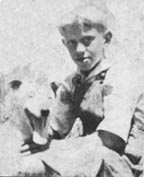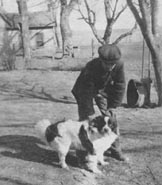 Bibs as a boy with favorite pet dogs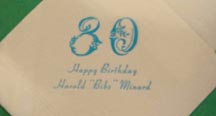 80th birthday souvenir
Sadly, Irene passed away on April 8, 1979 at the age of 67. Burial was in Clarinda Cemetery, with a red barre granite stone marking the grave.
Bibs outlived his wife by nearly a quarter of a century. He also was the last surviving member of his family of brothers and sisters. He spent his remaining years in Clarinda, losing his sight and his hearing, but remaining alert.
Seen here is a commemorative napkin honoring his 80th birthday in 1989.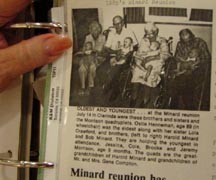 1985 family reunion news story
Over the years, Bibs' family continued holding their annual "Cousins Reunion." In 1985, Bibs and his brother Bob, and sisters Ostie Henneman and Lola Crawford, were photographed together holding Bibs' four great-grandchildren, who were quintuplet babies of the Morrison family. The photograph appeared in a local newspaper article about the reunion. The clipping is seen at left, today preserved in a family scrapbook.
In 2003, the General Assembly of the State of Iowa officially recognized Bibs on his 94th birthday. He was mentioned by name in the Iowa House Journal for March 10, 2003.
Bibs passed away on Aug. 4, 2003, and is buried in Hawleyville Cemetery. At his death, said the Clarinda Herald-Journal, Bibs was survived by 20 grandchildren, 43 great grandchildren and six great-great grandchildren.

Minard Reunion article, 2005
On Aug. 14, 2005, the descendants of Bibs and his brother Clyde Minard and sister Lola Crawford gathered at the Garrett home in Altoona, IA for their annual "Cousins Reunion." They played baseball and croquet, and enjoyed golf cart rides, as well as reminiscing about younger times, and enjoying the countryside view. A story about the "Cousins Reunion" was carried in the local newspaper.
~ Son Howard "Edwin" Minard ~
Son Howard "Edwin" Minard (1931-2011) was born on Jan. 15, 1931 in Hawleyville, Page County, IA.
During the Korean War, he served in the U.S. Army from 1952 to 1954. After the completion of his military duty, he was hired by ASARCO Company in Omaha, workig as a kettleman and furnace operator for more than three decades. he retired in 1994.
Edwin was united in wedlock with Donna Lea Shreeves (March 21, 1940-2007).
The couple produced two daughters, Kris McDonald and Laurie Grote.
Their home in 2003 was in Council Bluffs, IA.
Sadly, Donna died in Council Bluffs on Nov. 20, 2007, at the age of 67.
Edwin lived for another four years and passed into eternity on Sept. 22, 2011. His remains were placed into rest in the Ridgewood Mausoleum, with services provided by the Americal Legion Post. Rev. E. Jon Benson officiated.
Daughter Kris Minard married Arthur "Champ" McDonald. They lived in Council Bluffs.
Daughter Laurie Minard wedded Mark Grove. They also dwelled in Council Bluffs.
~ Daughter Dorothy (Minard) Compton ~
Daughter Dorothy Minard (1933- ? ) was born in about 1933 in Page County, IA.
She married Gene Compton ( ? - ? ).
Her home in 2003-2011 was in Tucson, AZ.
~ Son Clyde Minard ~
Son Clyde Minard (1935- ? ) was born in about 1935 in Page County, IA.
He was joined in matrimony with Ursula Brunhilde Friuend ( ? - ? ), an immigrant from Germany and the daughter of Walter Friuend.
Offspring borne to this union were Sybille Minard, Walter Minard, David Minard and Larry Clyde Minard.
Grief blanketed the family when son Larry died at birth on Dec. 12, 1963. The baby's remains initially were lowered into repose in Clarinda Cemetery. Then in April 1972 they were moved to Des Moines.
The Minards dwelled in Norwalk, IA in the 2000s, where they wee members of St. John's Church.
~ Daughter Darlene (Minard) Garrett ~
Daughter Darlene Minard (1937- ? ) was born in about 1937 in Page County, IA.
She wedded Wayne Garrett ( ? - ? ).
Circa 2011, they were in Altoona, IA.
~ Son Ronald Douglas Minard ~
Son Ronald Douglas Minard ( ? - ? ) was born in (?).
On Nov. 22, 1972, he was joined in wedlock with Madonna Marie White (Aug. 1, 1945-2008), daughter of Robert John and Grace (Oliver) White of Chicago. The nuptials were held in Harrison, Boone County, AR.
Their five children were Scott Douglas Minard, Robert John Minard, Ronald Patrick Minard and Shannon Marie Minard.
Ronald was employed by Great Plains Bag Corporation and was transferred around the country. This included moves to New Philadelphia, OH and to Harrison, AR (1974). In 1976, Ronald began working for an International Harvester dealership in Clarinda. The family relocated again to Jacksonville, AR (1975-1987) and Austin, AR (2000s).
Madonna died in North Little Rock, AR at the age of 63 on Oct. 17, 2008.
Ronald outlived his spouse and maintained a home in Cabot, AR.
Today many of the family work in the healthcare and firefighting fields.
Son Scott Douglas Minard
Son Robert John Minard
Son Ronald Patrick Minard
Daughter Shannon Marie Minard
~ Daughter L. Elaine (Minard) Luzmoor ~
Daughter L. Elaine Minard ( ? - ? ) was born in (?).
She was joined in the bonds of marriage with Richard Luzmoor.
The couple bore a son, Joel Luzmoor.
The Luzmoors made Clarinda their home.
Son Joel Luzmoor received an associate's degree in 2005 from Iowa Western Community College. He was twice wed. He and his first wife were the parents of Josh Luzmoor and Emily Luzmoor. He and his second bride, Janet (Heck) Wilson ( ? - ? ) were joined in marriage circa 2009. She was the daughter of Wayne and Betty Ann (Stadalman) Heck. Joel was employed by Pella Corporation in Shenandoah, IA as a department manager while pursuing a bachelor's degree from Buena Vista College.
~ Son John David Minard ~
Son John David Minard (1944-2011) was born on Feb. 7, 1944 in Clarinda, Page County.
After high school graduation, he studied mechanical technology at Clarinda Community College, graduating in 1965. He then joined the U.S. Air Force and served for four years, from 1965 to 1969.
At the age of 24, on Oct. 20, 1968, he was united in wedlock with Teresa Luree Hummel ( ? - ? ) Wedding services were held in the First Christian Church of Oakland, IA.
The two children born to this union were Lisa Luree Hull and Michael John Minard.
After his military tour ended, he obtained employment with Lisle Corporation, working there for 41 years until retirement in March 2010. During that time, he served with the engineering department and then was named foreman in the turret lathe department.
In his free time, he served on the board of directors of the First Christian Church and Nodaway Valley Historical Museum and was a member of the Tarkio Valley Tractor Club. He liked to fish, hunt and farm, and relaxed doing remodeling carpentry and restoring antique tractors.
He was diagnosed with cancer and died from its effects at age 67, on Oct. 31, 2011, in Clarinda Regional Health Center. Funeral services were held in the family church, led by Rev. Beckie Linn Gregory, with interment in Clarinda Cemetery.
Daughter Lisa Luree Minard married Curtis Hull. Their home has been in Clarinda.
Son Michael John Minard wedded Stacy Novacek. They have made a residence in Omaha.
Copyright © 2005-2006, 2020 Mark A. Miner