Eltha Maud (Minard) Slack
(1887-1964)
Eltha Maud (Minard) Slack was born on Jan. 2, 1887 in Hepburn, Page County, IA, the daughter of Albert Everett and Mary Ellen (Knepple) Minard.
On March 15, 1903, at the age of 16, Eltha married 26-year-old Isaac Lewis Slack (1877-1956), a native of Ireland. They were a decade apart in age.
Having immigrated in 1881, at the age of four, Isaac became a naturalized citizen of the United States in 1919.
They produced one daughter, Dorothy Anderson.
When the federal census enumerations were made in 1920, 1930 and 1940, the Slacks resided on a farm in Nodaway, Taylor County, IA.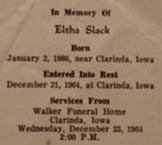 Funeral card, 1964
Isaac died in Clarinda on Aug. 10, 1956, at the age of 79. He was laid to rest in the Dallas Center Cemetery, in New Market, Dallas County, IA.
Eltha lived for eight more years. She passed away in Clarinda on Dec. 21, 1964, and is buried with her husband. According to the funeral card seen at right, the "casket bearers" included Merle Kendrick, Alvin Brummett, Manley Madden Sr., Milo Whitehead, Guy Fielder and Ernie Thompson. Organist was Aletha L. Hutchings, and the service was led by Rev. G.R. McGhaghy.
~ Daughter Dorothy (Slack) Anderson ~
Daughter Dorothy Slack (1905- ? ) was born in about 1905.
She married Joseph Anderson ( ? - ? ).
The couple resided in Shenandoah, Page County circa 1956.
More will be added here when learned.
Copyright © 2005-2006, 2020 Mark A. Miner