Mabel 'Mae' (Minard) Goff
(1889-1970)

Mae Goff
Mabel "Mae" (Minard) Goff was born on Aug. 21, 1889 in Hepburn, Page County, IA, the daughter of Albert Everett and Mary Ellen (Knepple) Minard.
Mae married Lawrence Earl Goff (April 20, 1890-1890), a native of Wyoming and the son of Willard Richard and Mary Frances (Brown) Goff.
Lawrence and Mae produced a family of four children -- they included Jesse W. "Jess" Goff, Clyde M. Goff, Mary Francis Bishop, Bob Gene Goff.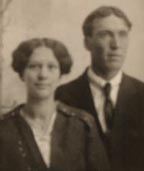 Mae and Lawrence Goff
United States Census records for 1920 show that the Goffs resided in Glenrock, Converse County, WY. That year, Lawrence earned a living as a general laborer, likely on one of the farms or mines in the area.
The family remained in Glenrock during the 1920s as the number of their offspring grew to four. The federal census enumeration for 1930 shows them in the community, with Lawrence laboring as a coal miner.
Despite the grip of the Great Depression of the 1930s, Lawrence appears to have held onto his work in local coal mines. He is shown in this occupation as of 1940.
Later, the family made their hom in Casper, Natrona County, WY.
Sadly, Lawrence died at the age of 57 on Dec. 4, 1947.
Mae survived here spouse by more than two decades. She passed away on March 28, 1970, at the age 81. She and Lawrence rest together for all time in Glenrock Cemetery.

Mae (center) with sisters Ostie (left) and Oscie)
Her final resting place is not yet known, but will be added here when learned.
~ Son Jesse Willard "Jess" Goff ~
Son Jesse Willard Goff (1917- ? ) was born on Oct. 18, 1917 in Glenrock, Converse County, WY.
He was married.
The two known daughters born to this union were Beverly Ann Nigra and Lois Ann Shriver.
The United States Census of 1940 shows him living next door to his parents in Glenrock. His occupation at that time was as a laborer in a local refinery. He was marked as "married," with two daughters in the household, but his wife was not in the home.
He was the father of four other children -- Willis Smith, Kenneth Smith, Virginia Sanford and Louetta Brown.
Jesse is known to have worked as a plumber. He was a member of the Veterans of Foreign Wars.
On Oct. 26, 1954, he married again to Cora Ruth (Curtis) Smith (Nov. 15, 1910-1992), daughter of Roy and Minnie Clementa Curtis of St. Louis, MO. Their nuptials took place in Glenrock, WY. She is believed to have brought several children into the union.
They made a home in Saratoga and in the late 1950s relocated to Thermopolis, Hot Springs County, WY. Cora Ruth earned income through employment in local restaurants.
As his health declined, Jesse was admitted to the Veterans Administration Hospital in Cheyenne, Laramie County, WY.
Jesse passed away in the VA Hospital, at the age of 63, on Aug. 9, 1981. His remains were placed into rest in Monument Hill Cemetery in Thermopolis. An obituary in the Glenrock Independent reported that he was survived by 21 grandchildren.
Cora Ruth spent her final 11 years as a widow. Toward the end, she was admitted to the Bethesda Care Center in Worland. There, she died on July 25, 1992 at the age of 81.
Daughter Beverly Ann Goff (1935- ? ) was born in about 1935 in Glenrock, Converse County, WY. She married (?) Nigra ( ? - ? ). They were in Florissant, MO in 1981.
Daughter Lois Ann Goff (1937- ? ) was born in about 1937 in Glenrock, Converse County, WY. She wedded (?) Shriver ( ? - ? ). They lived in the early 1980s in California.
Son Willis Smith lived in Riverton, WY.
Son Kenneth W. Smith dwelled in Thermopolis, Hot Springs County.
Daughter Virginia Sanford made a home in Casper.
Daughter Louetta Brown resided in Worland, WY.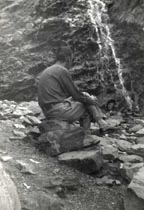 Clyde Goff, Casper, WY
~ Son Clyde M. Goff ~
Son Clyde Goff (1920?- ? ) was born in about 1920 in Glenrock, Converse County, WY.
When he was 20 years of age, unmarried in 1940, he lived at home and worked as a laborer on local roads and highways.
In 1955, Clyde was photographed seated on a pile of large stones, and enjoying a moment of relaxation in the mountains of Casper.
Clyde made a home in Billings, MT in 1981.
~ Daughter Mary Francis (Goff) Bishop ~
Daughter Mary Bishop (1922-2003) was born on Sept. 11, 1922 in Glenrock, Converse County, WY.
On July 19, 1941, when she was 18 years of age, she was joined in holy wedlock with Wilbert Toney Bishop Sr. (Feb. 16, 1922-1998), a native of St. Louis, MO and the son of Conkdey and Mamie Alice (Michaels) Bishop. The nuptials took place in T?orrington.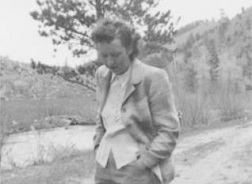 Mary Bishop
The couple were the parents of Judith Dill, Sandy Bishop and Wilbert "Toney" Bishop Jr.
The Glenrock Independent said that Wilbert "worked in the Big Muddy and Edgerton oil fields for the Sinclair Oil Co. They moved to the Jeffrey City area, where he supervised the Jeffrey City and Muddy Gap fields for Sinclair. They moved to Lander in the fall of 1967. He worked for Zanetti Bus Lines and United States Steel, Atlantic City Ore Mine, for 10 years until its closing in 1982."
Mary was employed in the cafeteria of Jeffrey City School District and from 1967 to 1975 at McRae's Drug Store. She spent one year working for Lander Cable Television. She was a leader of the Brownie Girl Scouts and Cub Scouts and was a member of the Rebekah Lodge of Odd Fellows and the First Community Baptist Church.
Wilbert and Mary enjoyed dancing. Said the Independent, "The couple loved pets and every one of their 57 years of marriage included a pet." She also relished attending family reunions in Iowa.
Sadly, Wilbert died on Sept. 9, 1998, at the age of 76. Burial took place in Mount Hope Cemetery in Lander.
Mary survived her husband by five years. She enjoyed needlework and following the Denver Broncos, until Alzheimer's Disease began to take her mind away.
With her health failing, she was admitted to Westward Heights Care Center in Lander. She was gathered in by the Grim Reaper of Death at the age of 80 on Jan. 9, 2003. Rev. Tim Sersen of the Faith Lutheran Church officiated at the funeral service.
Wilbert and Mary, Thermopolis, WY, 1969
Daughter Judith Bishop married (?) Dill. Her home in 2003 was in Loveland, CO.
Daughter Sandra "Sandy" Bishop dwelled in Lander, WY.
Son Wilbert "Toney" Bishop Jr. resided in Bozeman, MT. He was in contact with the founder of this website circa 2005.
~ Son Robert Gene Goff ~
Son Robert Gene "Bob" Goff (1929- ? ) was born in about 1929 in Glenrock, Converse County, WY.
Circa 1981-2003, he dwelled in Anchorage, AK.
Robert Goff and family, Wind River Lake, Thermopolis, WY, circa 1969
Copyright © 2005-2006, 2020 Mark A. Miner
W. Toney Bishop Jr. graciously has provided content for this biography.