Elizabeth 'Betsy' (Sturtz) Comp
(1804-1883)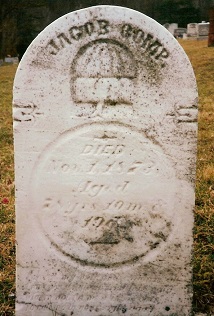 Final resting places of Elizabeth and Jacob Comp, Dry Ridge Cemetery
Courtesy Brian J. Ensley, Find-a-Grave
Elizabeth "Betsy" (Sturtz) Comp was born in about 1804 (or 1809) in Southampton Township, Somerset County, PA, the daughter of John "Adam" and Maria "Catherine" (Gaumer) Sturtz Sr.
She married Jacob Comp (1794-1873), son of John and Elizabeth (Sturner) Comp, the father a native of Berks County, PA and the mother born in Somerset County. Jacob grew up on his parents' farm in Southampton Township in what was popularly known as the "Comp Settlement."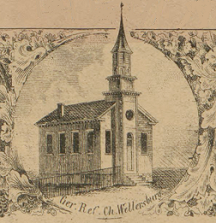 German Reformed Church, Wellersburg,
a local landmark. Library of Congress
Jacob and Elizabeth are named in the 1912 book by John W. Jordan and James Hadden, entitled Genealogical and Personal History of Fayette County, Pennsylvania, Vol. III.
They produced these known children -- Elizabeth Hufferd, Lucinda Geller, Sarah Lepley, John Comp, Solomon Comp, Samuel Comp, Jacob Comp Jr., Adam Andrew Comp, Catherine Ann "Caty" Comp, Matilda Beltz and Hannah Diehl.
The Comps made a home in the 1840s and '50s in Buffalo Mills, Harrison Township, Bedford County.
In about 1853, his mother purchased a family Bible, published a few years before by John B. Pury, 198 Market Street in Philadelphia. Names of their children and birthdates were inscribed in the pages.
The Comps remained in Buffalo Mills circa 1860 when the federal census again was taken. That year, nine-year-old Rocina Craft lived under their roof, and they were next-door neighbors to their son and daughter-in-law, Samuel and Lucy Comp.
Several of their sons, sons-in-law and grandsons served in the Union Army during the Civil War.
Jacob died on Nov. 1, 1873 at the age of about 78. Burial was in Dry Ridge Cemetery, today known as the Trinity United Church of Christ Cemetery in Bedford County. [Find-a-Grave]
Elizabeth outlived her spouse by a decade and succumbed on May 5, 1883. Afterward, the family Bible was placed in the possession of her son Solomon, who had care of it circa 1913.
~ Daughter Catherine Ann "Caty" Comp ~
Daughter Catherine Ann "Caty" Comp (1831?- ? ) was born in about 1831.
Her fate is not known, and she may have died young.
~ More ~
We are grateful for records provided by Gilbert R. Gaumer of Glendale, MO (compiled 1973-1980), Paul K. Gaumer and Mary L. Shirer in the preparation of this biography.
The Gaumer and Hoyman clans are profiled in the 486-page book Some Notes, Quotes, and Quips of the Hoyman Clan and Related Lines, authored by David LeRoy Baldwin and published by Gateway Press in 1993.
Copyright © 2000, 2011, 2015-2019 Mark A. Miner
Contributing their knowledge to this biography have been the late Gilbert R. Gaumer, Barbara (Moss) Wardsworth and Keith Sturts. German Reformed Church illustration courtesy Library of Congress.