Home

Hannah (Comp) Diehl
(1840-1909)
Hannah Comp was born on Dec. 13, 1840, the daughter of Jacob and Elizabeth "Betsy" (Sturtz) Comp Sr. She may also have used the name "Ada."
On Feb. 2, 1860, when she would have been age 19, she was united in holy matrimony with 22-year-old Adam Diehl (July 21, 1838-1910) of Juniata Township. Their wedding vows were made in the presence of justice of the peace David Miller in New Buena Vista. Suffia [Sophia?] Beltz of Manns Choice, PA was a witness.
Adam stood 5 feet, 10 inches tall and in middle age weighed between 167 lbs and 184 lbs.
The couple produced 10 children. The eight known names were Julia Ann England, William Irvin Diehl, Minnie Diehl, Cornelius A. Diehl, Daniel J. Diehl, Minerva Bell "Minnie" Hillegass, Bertha Diehl and George A.C. Diehl. Two of the daughters had some version of the name "Minerva" or "Minnie" suggesting that the first may have died young.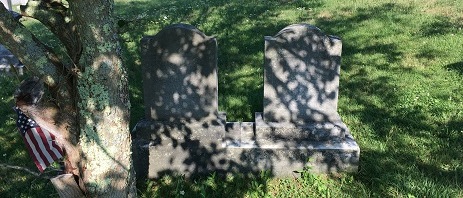 Graves of Hannah and Adam, Dry Ridge/Trinity Church Cemetery
The newlyweds made a home in Harrison Township, receiving their mail through the Dry Ridge post office. Adam is known to have contracted typhoid fever in 1863 and was treated by Dr. John C. Ealy of Schellsburg, with no serious after-effects.
Adam served in the Civil War as a member of the 82nd Pennsylvania Infantry, Company C. He claimed he became injured in the back in June 1865, after the war's end, while on a march from Richmond to Hall's Hill, VA. During that time, the men were forced to sleep on the ground during a hard rain, and also endure hard marching. At no time did he seek medical care from the regiment's physician. Adam's term of service lasted from Nov. 1864 to July 1865, comprising seven months and 29 days. He was honorably discharged at Halls Hill, VA and returned home to Harrison Township.
In March 1867, they relocated to Juniata Township, Bedford County, now getting their mail in Schellsburg, and remained there when the federal census enumeration was made in 1870. Adam earned a living in Juniata as a miller. Two years later, in 1872, the family relocated back to Harrison/Dry Ridge.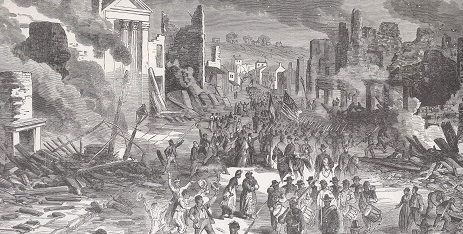 Union troops occupying Richmond at the end of the war.
Then in the spring of 1879, the Diehls moved once more, this time 19 miles distant to a farm in Colerain Township, Bedford County. Adam's bachelor brother Cornelius boarded in their residence that year.
Adam in 1880 was awarded a military pension as compensation for his sufferings. [Invalid App. #388.585 - Cert. #352.021] Among those providing affidavits of support for the claim was John Turner, who said he had known Adam since boyhood, "raised in the same neighborhood, within two miles, and that prior to his entering the service he was a robust young man." But upon returning home, Adam complained to Turner -- who was residing just a mile away -- about pain in his limbs and lower back.
Another friend signing her testimony was Henrietta Stickenons. She said that on and off from 1873 to 1879, she worked for the Diehls, planting corn and harvesting crops. Then after the family moved back to Juniata, in late March or early April 1882/1883, she again was employed by them every year. Adam "was so bad in 1877, I help him to take in oats, he was loading the wagon that he had to quit work, and I hellped him off the wagon, was compelt to walk all drawed up on acount of rrheumatism, in the spring of 1886 I whent to his house to do some washing for his wife and I past him sitting down. I asked him if he was not going to the house, he said he he would not get up on account of having the rheumatism so bad."

Adam's signature

Henry Stickenons recalled that one day in 1878, while working together cradling rye, Adam had to quit due to the pain. Another childhood friend, Daniel H. May, with whom he had attended Sunday School as boys, and then became his tentmate in the 82nd Pennsylvania. May wrote some letters on Adam's behalf, trying to locate their former company commander, only to learn the man was dead. His kinsman Adam Andrew Comp and friend Jacob Corley, also of the 82nd Pennsylvania, gave sworn testimony attesting to Adam's injuries in the field, with Comp saying that he and others had carried Adam's gun and knapsack because the soldier was so exhausted.

During one early examination before a military surgeon, to determine if Adam qualified for a disability pension, he claimed that the meeting was cursory at best. All the surgeon did was examine his throat and nose with a glass, make a very light examination of the chest and felt the back by inserting his hands through Adam's coat, but never asked the old soldier to remove his clothes.

The family lived near New Buena Vista in 1890.

Sadness blanketed the family when son George died at the age of 16 on Oct. 10, 1894. His remains were lowered in the soil in Trinity United Church of Christ Cemetery. He was one of five of the children to die while their parents were still alive.

The Diehls were close with Hannah's family and in the late 1890s are known to have attended a hog butchering at their home.

Circa 1904, the Diehls are thought to have made a residence in New Buena Vista, Bedford County.

Hannah died at the age of 68 on June 11, 1909. Burial was in Dry Ridge, also known as Trinity United Church of Christ Cemetery in Juniata Township, Bedford County, with Rev. C. Gumbert and Rev. C.W. Warlick co-officiating. [Find-a-Grave] The Bedford Gazette said in an obituary that "To all appearances she seemed better, when all of a sudden the Death Angel came and she was no more. Mrs. Diehl was the mother of six children, one of whom preceded her to the spirit world some years ago." The Pennsylvania death certificate lists her father as "Jacob Comp" and her mother, curiously, as "Mary Leydig."

Adam survived his wife by about a year-and-a-half. As of 1910, he was drawing monthly pension payments of $16. When examined by military surgeons in November 1910, they wrote that "This patient is in such condition mentally that there cannot be any intelligence gained from his answers & conditions are much obscured by his being now partially under the influence of morphine to relieve pain from which he suffers all the time... He had a paryletic strokeattack on Sept. 2" 1910 since which time he has been entirely helpless with loss of motion entire in left side and also loss of sensation."

Dr. M.J. Brandt of Buffalo Mills treated Adam after the cerebral hemorrhage.

He succumbed at the age of 72 three days after Christmas 1910. The Gazette obituary noted that he was survived by nine grandchildren and two great-grandchildren as well as siblings Andrew Diehl, Solomon Diehl, Cornelius Diehl, Samuel Diehl, George Diehl and Mrs. Philip Turner. Funeral services were held on New Year's Eve day by Rev. Dr. Emmet M. Adair of the Sulphur Springs Reformed Church.

~ Daughter Julia Ann (Diehl) England ~

Daughter Julia Ann Diehl (1860-1930) -- also spelled Juliann" -- was born on Aug. 18, 1860 in Harrison Township, Bedford County.

She married David P. England ( ? - ? ).

The couple produced five children, among them Harvey E. England, Hattie Dahl and H. Caroline "Carrie" England. A daughter and a son passed in about 1920.

Julia Ann was "a well known and highly respected citizen," said the Bedford Gazette. Their home in 1911 was in Friend's Cove, Bedford County and they were members of the Reformed Church. Said the Gazette in 1930, "She made her home in Friend's Cove until about 8 years ago when they moved to Rainsburg where they resided until about a year ago when she was taken ill and she with her husband moved to Bedford with their son."

Julia Ann died on Aug. 1930. Funeral services were held at the Trinity Reformed Church in Friend's Cove, with Rev. R.R. Jones preaching the funeral sermon. In an obituary, the Meyersdale Republican said that "It was one of the largest funerals held in that community for many years. Mrs. England was loved and respected by a host of relatives and friends who mourn her passing."

David's fate will be added here once learned.

Son Harvey England (1883-1968) was born on April 18, 1883. When he was 25 years of age, on June 16, 1908, he was united in marriage with 21-year-old Grace Elena Shaffer (Sept. 2, 1886-1977). She was a resident of Bedford and the daughter of Samuel and Ida (Pennell) Shaffer, the father having served as a Bedford County Director of the Poor. Rev. Ellis H. Jones officiated at the ceremony, held in the Shaffer residence, with about 100 guests attending. In reporting on the happy event, the Bedford Gazette said that the "bride wore a dainty gown of white batiste and was attended by her sister, Miss Nora Shaffer.... A beautiful wedding-march was rendered by Prof. S.H. Koontz and Miss Arnold, of Bedford. An elaborate dinner was served immediately after the ceremony. Mrs. England is one of Friend's Cove's prettiest and most charming young ladies. The groom, who is a son of d.P. England of Otttown, is an industrious young man and holds the position of bookkeeper in the Juniata Shops." Harvey and Grace bore a family of children -- Dorothy England, Chad England and John England. The federal census enumeration of 1910 shows Harvey in Colerain Township, Bedford County, earning a living as a grain farmer. In 1920, still in Colerain, Harvey continued his farming labor. Circa 1930, the couple lived on East Penn Street in Bedford. The gossip columns of the Bedford Gazette over the years contain nuggets about their more everyday lives, including that the family visited in Galesburg, IL in 1946, vacationed in Cape May, NJ in August 1954, and occasional weekend visits with Harvey's parents and family in Meyersdale. Later in life, they dwelled on 300 East Penn Street in Bedford. Burdened with hardening of the arteries at the age of 84, Harvey died on Jan. 5, 1968. Mrs. H. Lee Stern of Bedford was the informant for the certificate of death. The remains were lowered into eternal sleep in Bedford County Memorial Park.
Granddaughter

Dorothy Elouise England

(1909- ? ) was born in about 1909 in Colerain Township, Bedford County. On Oct. 6, 1927, she entered into wedlock with Harry "Lee" Stern, son of H.L. Stern, the father a plumber in Bedford. The wedding was held in the England residence, which was decorated with seasonal leaves and flowers. Said the

Bedford Gazette

, the bride "was gowned in a handsome imported ivory beaded net over white satin. She carried a boquet of pink roses."
Grandson Chad England (1914- ? ) was born in about 1914 in Colerain Township, Bedford County.
Grandson John England (1917- ? ) was born in about 1917 in Colerain Township, Bedford County.
Daughter Hattie England (1885-1989) was born on Jan. 21, 1885 in Bedford. She was joined in matrimony with William L. Dahl ( ? - ? ). The four offspring born to their union were Paul B. Dahl, Evelyn Damico, Veronica Thomas and William England Dahl. Their home in 1930 was in Meyersdale, Somerset County. The pair migrated to Florida and resided in Daytona Beach circa 1977. Hattie reached her 100th birthday in 1985. At the age of 104, she passed away in Daytona Beach on Aug. 10, 1989. Funeral seervices and burial took place in Daytona Beach, with an obituary published in the Meyersdale Republic. She was survived by eight grandchildren,a dozen great-grandchildren and one great-great grandchild.
Grandson Paul B. Dahl (1911-1987) was born on Aug. 8, 1911 in Bedford. He spent his adult life in Meyersdale and married Angela Noble ( ? -1993), daughter of Ercole and Francesca Noble of Meyersdale. The pair together produced a brood of children -- Jean E. Edwards, Robert L. Dahl, Thomas E. Dahl and John Shutrick. Paul earned a living with employment with the U.S. Postal Service. Angela co-founded the Tot & Teen shop in Meyersdale, which she ran for two decades. Then in about 1963, she began serving as tax collector for Summit Township, retiring in 1975 after a dozen years. The family held a membership in the Sts. Philip and James Catholic Church in Meyersdale. Paul held a seat on the board of directors of the Somerset County Fair Association and a membership in the Meyersdale Lions Club. At the end, he was admitted to Meyersdale Community Hospital, where he died at the age of 76 on Aug. 8, 1987.Rev. James Bunn officiated the funeral mass at the family church, with burial in the church cemetery. The Somerset Daily American printed an obituary. Angela lived for anothr six years as a widow and relocated to Reiffton near Reading, Berks County, PA. There, she joined St. Catherine of Siena Roman Catholic Church in Mt. Penn. She died in Reading's Community General Hospital at the age of 78 on Dec. 16, 1993. An obituary was published in the Meyersdale New Republic.
Great-granddaughter Jean E. Dahl married (?) Edwards. She lived in Springfield, VA in 1987 and in Fairfax, VA in 1993.
Great-grandson Robert L. Dahl relocated to Reiffton, a community near Reading, Berks County, PA.
Great-grandson Thomas E. Dahl migrated to Virginia and resided in 1987 in Herndon and in 1993 in Reston.
Great-grandson John Shutrick dwelled in Monroeville near Pittsburgh.
Granddaughter

Evelyn Dahl (1910-1993) was born on St. Patrick's Day 1910 in Meyersdale. When she was 22 years of age, she graduated from New York University and went on to a career as an instructor of piano and organ. She entered into marriage with Frank P. Damico ( ? - ? )

. Two sons were born to this union -- Frank A. Damico and Michael A. Damico. They belonged to Sts. Philip and James Catholic Church of Meyersdale. Evelyn's home circa 1987 was in Washington, DC and in 1989 in Meyersdale. As her health failed, she became a patient in the Oak Road Nursing Center in Woodstock, Va, near her son Frank. There, at the age of 83, she died on Sept. 9, 1993. Her remains were returned to Meyersdale for burial in the church cemetery, with the funeral mass led by Rev. Fr. James Bunn. The

Somerset Daily American

printed her obituary.
Great-grandson Frank A. Damico dwelled in Fairfax Station, VA circa 1993.
Great-grandson Michael A. Damico established a home in Pittsburgh.
Granddaughter Veronica R. Dahl ( ? -2003) was born in (?). On Aug. 28, 1933, she wedded Joseph N. Thomas (Feb. 7, 1908-2005), son of Frank and Clara (Poling) Thomas of Meyersdale. The couple remained together for an extraordinary 72 years. During high school, Joseph had played basketball and hoped to continue when he enrolled at the University of Pittsburgh. About that time, when his father became deathly ill, he told his son that he wanted him to continue in the family tradition of a pharmacy career. Upon arrival on campus, Joseph was dismayed to learn that his class schedule conflicted with team practices on Saturdays, and was forced to relinquish his sports aspirations. But he pursued the pharmacy education and received his degree from Pitt in 1929. The pair resided in Meyersdale for decades and were the parents of Joseph Charles Thomas and Alayne L. Mercer. Upon retirement, the Thomases in 1967 migrated to Daytona Beach.

They remained until they could no longer care for themselves. They returned to the Pittsburgh area and resided in Windsor Place in Ross Township in the northern suburbs of the city. Sadly, Veronica died in June 2003. Joseph survived by only two years and succumbed to death at the age of 97 on June 2, 2005. His obituary was printed in the

Meyersdale New Republic

.
Great-granddaughter Alayne L. Thomas (1936-2013) was born on Oct. 6, 1936 in Meyersdale. She was united in holy wedlock with Warren S. Mercer Jr. ( ? - ? ). Their marriage endured for 48 years. Together, the couple produced two sons -- Warren J. Mercer and Joseph W. Mercer. The family made a home in the Pittsburgh's northern suburb of Ross Township. Alayne was carried away into death at the age of 77 the day after her 77th birthday, on Oct. 7, 2013. Her remains were interred in St. Teresa of Avila Church following a mass of Christian burial. Her obituary appeared in the Pittsburgh Post-Gazette.
Grandson William England "Bill" Dahl

(1919-1993) was born on March 29, 1919 in Meyersdale. He was united in the bonds of matrimony with Mary Kathleen "Sis" Herwig. ( ? - ? ). The couple's pair of children were William J. Dahl and Nancy L. Cobb. The Dahls relocated to Daytona Beach and were there in 1989. William died in Daytona Beach at the age of 74 on May 30, 1993. His obituary was printed in the

Meyersdale New Republic

. Mary Kathleen outlived her husband by seven years. She succumbed to death at NHC of Daytona, at the age of 84, on Sept. 23, 2000.
Great-grandson William J. "Bill" Dahl wedded Becky. The couple were the parents of Teresa Dahl and Jason Dahl. The Dahls were in Knoxville, TN in 1993-2000.
Great-granddaughter Nancy L. Dahl married (?) Cobb. They were the parents of Laura Cobb and Lisa Cobb. Circa 1993, she resided in South Daytona, FL and in 2000 in Port Orange, FL.
Daughter H. Caroline "Carrie" England (1887-1977) was born on Dec. 14, 1887. She never married but pursued a professional career working as a bookkeeper in a loan office in Somerset, Somerset County, PA. Circa 1940, when the federal census enumeration was made, she lodged in the home of 49-year-old widow Grace J. Scott in Somerset. In time she relocated to Washington, DC. Her final years were spent in Daytona Beach, FL. She died on Aug. 28, 1977. Burial was in Bellevue Memorial Park, with Rev. Dr. Theodore Rogers leading the funeral service. An obituary appeared a month later in the Meyersdale Republic.

The heart of nearby Meyersdale, PA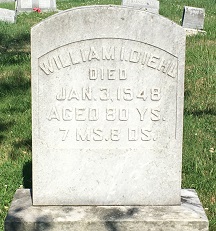 Dry Ridge/Trinity Church Cemetery
~ Son William Irvin Diehl ~
Son William Irvin Diehl (1867-1948) was born on May 25 or 26, 1866 or 1867 in Bedford County.
He never married during his 80 years of life..
In younger adulthood, he worked as a trackman at Manns Choice for the Pennsylvania Railroad.
Then by 1910 he moved to Cumberland, MD, where he boarded with his sister Hannah Hillegass. He was a two-decade employee of the Kelly-Springfield Tire Company, operating an elevator at its Cumberland tire plant, retiring in about 1940.
William is known to have belonged to St. Mark's Church.
While in the Hillegass home in Cumberland on Jan. 3, 1948, William suffered a fatal heart attack and died. The Cumberland Evening Times noted that Rev. Carl H. Clapp, of St. Mark's Church, preached the funeral sermon. Burial was in Dry Ridge Reformed Cemetery, known in more recent times as Trinity United Church of Christ Cemetery near Buffalo Mills.


~ Son Cornelius A. Diehl ~
Son Cornelius A. Diehl (1872-1937) was born on Oct. 2 or 26, 1872 in Bedford County.
He married Sarah Elizabeth Diehl (1889-1966), daughter of Francis Marion and Sarah (England) Diehl. Cornelius was 17 years older than his bride.
The pair together bore two daughters -- Valeria Baer and Arlene Mills.
The Diehls resided in 1911 in Friend's Cove, Bedford County.
Later, they moved to Meyersdale, Somerset County, where for 25 years Cornelius operated a grocery and a restaurant. Their home was located at 319 Meyers Avenue.
He suffered from kidney failure and went into a diabetic coma in the autumn of 1937. He finally succumbed at the age of 65 on Nov. 30, 1937. Rev. Dr. Blanchard A. Black, of the Amity Evangelical and Reformed Church, led the funeral service. Burial was in Union Cemetery in Meyersdale, with an obituary appearing in the Cumberland Evening Times.
The widowed Sarah outlived her spouse by nearly three decades and relocated to Baltimore. Her address in the mid-1960s was 4210 Arizona Avenue.
Death carried her away at the age of 85 on July 17, 1966. Her remains were shipped back to Meyersdale to be lowered into eternal repose beside her husband's. Rev. John S. Royer presided over the funeral service, and an obituary was published in the Baltimore Sun and the Meyersdale Republican.
Daughter Valeria Diehl ( ? -1985) was born in (?). She married Homer Ross Baer (July 16, 1900-1966), son of John A. and Margaret (Ross) Baer of Meyersdale. The couple's three offspring were Jean Elizabeth Smith, Samuel Lewis Baer and Cornelius Homer Baer. The family was in Meyersdale in 1937 and in Baltimore, MD in 1966. Grief blanketed the family when, as a patient in St. Joseph's Hospital, Homer died at the age of 65 on Feb. 11, 1966. His obituary was printed in the Meyersdale Republican and the Baltimore Sun. Burial was in Meyersdale's Union Cemetery, with Rev. W.A. Cassidy leading the funeral service. Valeria survived her husband by another 19 years. She passed into the realm of eternity on Jan. 22, 1985. Her obituary also was published in the Sun.
Granddaughter

Jean Elizabeth Baer was united in wedlock with (?) Smith.

The Smiths resided in Baltimore in 1966. She was deceased by 2015.
Grandson Samuel Lewis "Uncle Sam" Baer

( ? -2015) was born in (?). Samuel made his home in Baltimore for decades. He was joined in marriage with Dollie M. ( ? - ? ). The couple did not reproduce. The

Baltimore Sun

once said that he was "a sweet man that never had a bad word to say about anybody. He was kind and generous to those he loved. He loved gardening, golfing and running marathons but nothing more than his beloved wife." He died on Sept. 20, 2015, with his obituary appearing in the

Sun

. Burial was in Dulaney Valley Memorial Gardens.
Grandson Cornelius Homer Baer

( ? -1988) was born in (?). He entered into blessed matrimony with Gloria May Erdman ( ? -2000). The Baers dwelled in Baltimore and produced a brood of children including Linda J. Miller, Neal H. Baer, Bonnie Lynn Baer-Green, Alan T. Baer and Elizabeth S. Croke. Sadly, Cornelius succumbed to death on Oct. 4, 1988. Gloria lived for another dozen years. She died on July 3, 2000. Her remains were lowered under the sod in Moreland Memorial Park Cemetery, with the

Baltimore Sun

publishing an obituary.
Great-granddaughter Linda J. Baer married Michael Miller.
Great-grandson Neal H. Baer
Great-granddaughter Bonnie Lynn Baer was united in matrimony with (?) Green
Great-grandson Alan T. Baer
Great-granddaughter Elizabeth S. Baer wedded Robert Croke.
Daughter Arlene Diehl ( ? - ? ) was born in (?). She wedded Frank Mills ( ? - ? ). The couple migrated to Baltimore and bore an only daughter, Patricia M. Thomas. Arlene is thought to have had an interest in animals and especially the Society to Prevent Cruelty to Animals. She died on March 26, 2008, with a brief death notice printed in the Baltimore Sun. The remains were placed into the sleep of forever in Parkwood Cemetery.
~ Son Daniel J. Diehl ~
Son Daniel J. Diehl (1874- ? ) was born in about 1874 in Bedford County, possibly on Sept. 29, 1873 with birth near New Buena Vista.
At the age of six, he dwelled with his parents and siblings in Colerain Township, Bedford County.
Nothing more about him is known, but evidence suggests that he may have died in Bedford County at the age of 24, on Feb. 18, 1898, with burial in Trinity United Church of Christ Cemetery in Juniata Township. If this is true, what is known is that he joined the Reformed Church in 1889. Circa 1894, he wedded Margaret Diehl of Friends Cove, Bedford County. The newlyweds initially made a home with her parents. Then on Feb. 2, 1898, suffering from inflammation of the bowels, they moved to the residence of John G. Smith located four miles west of Schellsburg, Bedford County. He died there at age 23 years, four months and 19 days. Rev. Daniel H. Hetrick officiated the funeral service, with burial in the Dry Ridge Reformed Church. In an obituary, the Everett Press offered a prayer -- "May he who doeth all things well, be a husband to the widow and a father to the fatherless comfort them." His survivors included his wife and young son, his parents, two sisters and two brothers.
~ Daughter Minerva Bell (Diehl) Hillegass ~
Daughter Minerva Bell Diehl (1881-1965) was born on May 2, 1881 in Bedford County.
On Jan. 5, 1905, she wedded C. Harry Hillegass ( ? - ? ), son of Sarah Hillegass of Windber. Their nuptials were held in Manns Choice, Bedford County, officiated by Rev. Warlick.
The couple lived in New Buena Vista, Bedford County and produced one son, Walter W. Hillegass.
When the federal census enumerationswere made in 1910 and 1920, the family was on a farm in Juniata Township. Minerva's aged, bachelor uncle lived under their roof in 1920.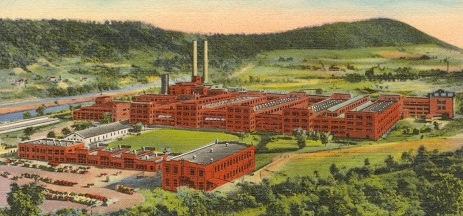 Harry Hillegass' workplace, Kelly Springfield Tire in Cumberland, MD
The Hillegass family relocated during the 1920s to Cumberland, Allegany County, MD. For 26 years, Harry was an electrical truck driver for the Kelly Springfield Tire Company.
When Minerva became an invalid in about 1915, Harry devoted much of his time to her care.
The census of 1930 shows Minerva's bachelor brother William Diehl making his home in their household. Their address in 1955-1965 was 456 Pennsylvania Avenue in Cumberland.
The couple marked their golden wedding anniversary in January 1955 with a family dinner held at the home of their son. Among the guests, said the Cumberland (MD) News, were Mr. and Mrs. Robert Darnley, Edith Darnley, David Lichty and Mr. and Mrs. Harvey England of Bedford.
Minerva died at home at the age of 84 on Sept. 4, 1965. An obituary in the News said that death was "following an illness of 35 years." Funeral services were led by Rev. Richard W. Barley, with burial in Rest Lawn Memorial Park. Her pallbearers were Fred Geller, Lee Stern, Clyde England, L.C. Mobus, Paul Nicholson and David Lichty.
Son W. Walter Hillegass (1905-1997) was born in 1905 in Bedford County. As a teen, he moved with his parents to Cumberland, Allegany County, MD. He secured employment there as an inspector in the tire plant of Kelly Springfield Tire Company. Walter married Edna E. Batie (1906-1992), daughter of Albert Henry Batie. Together, they produced a son, Walter Lester Hillegass. The Hillegass' residence in 1962 was at 454 Pennsylvania Avenue in Cumberland. Sadly, Edna died in 1992. Walter lived for another five years, dying in 1997. They sleep side by side in Restlawn Memorial Gardens in LaVale, MD.
Grandson Walter Lester Hillegass (1939-2014) was born on April 14, 1939 in Cumberland, Allegany County. He grew up playing baseball. He was married and the father of James S. Hillegass. After graduation from high school, for six years, Walter served in the U.S. Army National Guard. He attended Potomac State College and then went on to receive an associate's degree in accounting in 1962 from Strayer Junior College of finance in Washington, DC. At his graduation, he was pictured in the Cumberland News. Walter first was employed with Johnson, Lemon and Company in Washington. He went on to a career as manager of investment operations for Geico and as assistant vice president of tax and trusts for Wachovia Bank in his ancestral home region of Reading, Berks County, PA. He followed the fortunes of the Baltimore Orioles baseball team and Baltimore Redskins football team. At the age of 42, on Dec. 10, 1981, he entered into wedlock a second time with Jean Marie (1950-2005). Sadly, Jean Marie died on Nov. 11, 2005. Walter survived as a widower for another nine years. Death spirited him away at the age of 75, on July 25, 2014, as a patient in Western Maryland Regional Medical Center. His remains were cremated and placed into rest in Restlawn Memorial Gardens.
Great-grandson James S. Hillegass was in Cumberland in 2014.
~ Daughter Bertha (Diehl) Darnley ~
Daughter Bertha Diehl (1885-1956) was born on April 14, 1885 in Manns Choice, Bedford County.
She lived at home with her widowed father in 1910-1911.
She married John Robert Darnley (Dec. 23, 1887-1955), the son of James and Edith (Guthrie) Darnley of Lonaconing, MD.
The couple's one known daughter was Edith Darnley.
The Darnleys relocated across the state line circa 1921 and settled in Cumberland, Allegany County, MD. Robert earned a living over the years as a worker in the cafeteria of the Amceile plant of the Celanese Corporation of America.
In 1948, their address was 40 Humbird Street. They belonged to St. Mark's Evangelical Reformed Church, and Robert was a member of the Independent Order of Foresters.
Robert succumbed to death at home on July 22, 1955 at the age of 67. The Cumberland News published an obituary.
Sadly, Bertha only outlived her spouse by less thana year. She passed away at home at the age of 70 on March 20, 1956. Funeral services were held in the family home, led by Rev. Carl H. Clapp of the family church. The remains were transported back to Pennsylvania to rest for all time in Union Cemetery in Meyersdale. Obituaries were published in the News and Evening Times.
Daughter Edith Darnley ( ? - ? ) was unmarried and lived at home in Cumberland with her parents in the mid-1950s. She was active with the Salvation Army Citadel in the early 1950s and as financial secretary of the American Red Cross chapter in Cumberland circa 1960. She frequently was named for her work in the local newspapers, including in 1949 when she helped distribute two-and-a-half tons of food donated to the Salvation Army by the local rubber workers union.
Copyright © 2000, 2011, 2015-2021 Mark A. Miner