Home

Lucinda (Comp) Geller
(1827-1904)
Lucinda's grave, Dry Ridge Cemetery
Courtesy Rob and Debi Felten, Find-a-Grave
Lucinda (Comp) Geller was born on March 7, 1827, the daughter of Jacob and Elizabeth "Betsy" (Sturtz) Comp.
At the age of 19, on Aug. 23, 1846, she was united in matrimony with 18-year-old John Geller (March 5 or 26, 1828-1907), also spelled "Gellar," the son of Catherine Geller of Bedford County. John Alsop officiated.
John stood 5 feet, 10 inches tall, with a fair complexion, dark eyes and dark hair. He earned a living as a mechanic in the years before the Civil War broke out.
They were the parents of four known children -- George W. Geller, Emanuel Geller, Jacob Geller and Elizabeth Matilda Ashbrook.
The United States Census of 1850 shows the couple and their two sons on a farm in Buffalo Mills, Harrison Township, Bedford County.
During the war, John and their son George joined the Union Army on or about Aug. 22, 1862. They were placed within the 138th Pennsylvania Infantry, Company F, first commanded by Capt. John W. Feight. His first stop was at Harrisburg, PA, where he enlisted and received the rank of sergeant.
While in battle at Cedar Creek, VA on Oct. 19, 1864, John received a gunshot wound in the right arm, between the elbor and the shoulder. Capt. Martin S. Bortz, now commanding Company F, saw him go down. The limb was so badly damaged that it was amputated. He was sent for additional treatment to the U.S. Army Hospital in Philadelphia at the corner of 24th and South Streets.
He received his discharge in Philadelphia on March 4, 1865, having served for two years, six months and 12 days.
Just a week later, on March 11, 1865, as the war was winding down, he filed to receive a pension from the U.S. War Department, and it was awarded. [Invalid App. #63.124 - Cert. #40.141] He received monthly checks for the remainder of his life. From 1865 to 1874, the amount of each month's check was $8. By 1889, it had increased to $45 monthly.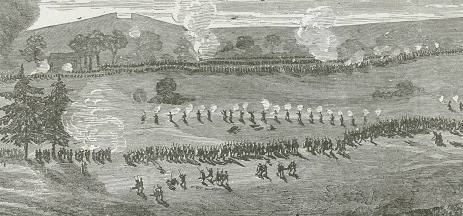 Above: fighting at Cedar Creek, where John Geller lost an arm. Below: a surgeon's ink sketch of the amputation, and his military discharge.
National Archives.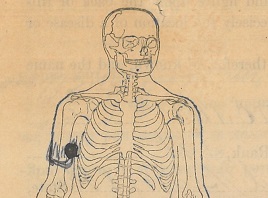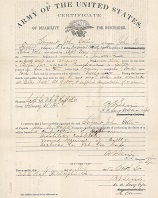 After the war's end, the Gellers lived for four decades in New Buena Vista and Juniata, Bedford County. A lump formed at the end of the stump, "as large as a hulled black walnut, wrote a military surgeon. He obtained an artificial limb, but, the doctor wrote, "He could not wear it half a day because it caused too much pain."
The federal census of 1870 shows the family living on a farm in Juniata. By 1880, they had moved to New Buena Vista within the county, with the census taker marking John as "disabled."
When their son George died as a young father, they took in a grandson, Lewis Andrew Geller, who had been born on Feb. 26, 1874, and raised him as their own until he was age 14. Said the Bedford Gazette, "She was well known in the community and was a mother to every one in the neighborhood. She was a member of the Lutheran church."
In about September 1904, reported the Gazette, Lucinda "fell and sustained bruises which proved fatal." She suffered for about two months and died at the age of 77 on Nov. 13, 1904, in Juniata. Burial was in the Dry Ridge Reformed Church (today's Trinity United Church of Christ) cemetery following funeral services in the New Buena Vista Church led by Rev. D.G. Hetrick. [Find-a-Grave] The Gazette printed an obituary naming her parents as "Jacob and Elizabeth Comp."
John survived his bride by nearly three years. He succumbed on June 3, 1907 at the age of 79. In an obituary, the Gazette noted that "He had been a great sufferer for many months, being unable to walk owing to a stroke of paralysis from the effects of which he died. He was born in this county and lived here all his life." Funeral services were held in the Dry Ridge church, officiated by Rev. Warlick of Mann's Choice.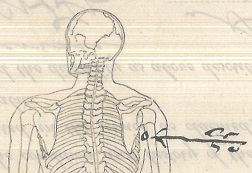 Surgeon's sketch of George's wound.
National Archives
~ Son George W. Geller ~
Son George W. Geller (1846-1897) was born on Aug. 27, 1846 in Harrison Township, Bedford County. He stood 5 geet, 9 inches tall and weighed 170 lbs. and had a dark complexion. As a young man, he provided labor on the family farm.
During the Civil War, George and his father joined the Union Army, and both were assigned to the 138th Pennsylvania Infantry, Company F. While in action at Monocacy near Frederick, MD on July 9, 1864, George was wounded by a gunshot in the right shoulder. The bullet became embedded and did not exit. He was treated at the Camden Street U.S. General Hospital in Baltimore, MD. He spent three months there before returning to the 138th Pennsylvania on Oct. 8, 1864.
After returning home upon the conclusion of the war, on Jan. 20, 1867, the 20-year-old was joined in holy wedlock with 20-year-old Sarah Amanda Hillegass (Oct. 4, 1846-1907), daughter of Peter and Sarah Amanda (Kerr) Hillegass of Dry Ridge, Bedford County. The nuptials were held in Schellsburg, officiated by Rev. B.H. Hunt of the local Lutheran church.
They were the parents of William Harrison Geller, Henry Hudson Geller, Lucinda Diehl, Lewis Andrew Geller, Annie Elizabeth "Lizzie" Martz and Jacob I. Geller.
When the U.S. Census was taken in 1870, the Gellers lived on a farm in Juniata Township, Bedford County, and in 1880 in New Buena Vista Township, with George earning a living as a laborer.
In 1874, with pain in his arm and badly diseased right lung, near the wound, George was awarded a military pension as compensation. [Invalid App. #193.854 - Cert. #134.785]. He received checks in the amount of $8 every month for the balance of his life.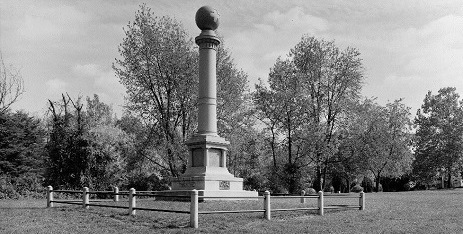 Monocacy monument to the 138th (George's), 67th and 87th Pennsylvania Infantry, Araby Church Road, northwest of Baker Balley Road.
Library of Congress.
George and Sarah separated in the early 1880s but did not divorce. Sarah Amanda and her children went to reside in the home of her uncle, Frederick Hillegass, in Juniata Township. She provided housework for her uncle, who in turn provided her and her son with room and board. The uncle occasionally furnished her with butter and eggs to sell at market and gave her son new pairs of pants.
George relocated to the west, establishing a residence in Denver circa 1884-1897. Suffering from incurable tuberculosis of the lungs and intestines, George returned to Bedford County. Dr. Alex J. Bowser of New Baltimore, Somerset County was called to the home on Feb. 8, 1897. There was nothing that medical science could do. George passed away two days later on Feb. 10. Funeral services were conducted by Rev. George W. Stroup of Juniata Township, the pastor of the West End Charge. Burial was in Dry Ridge Reformed Church Cemetery, today known as Trinity United Church of Christ Cemetery.
Sarah Amanda never remarried. As a widow, she earned a meager living selling milk from her cow, generating only about $5 per year. At that time, she owned a clock, bureau, bed and bedding, three chairs, bedclothing, carpet, old cook stove, table, cow, heifer and held $146 in cash. Despite the fact that they had led separate lives, she successfuly applied for her late husband's soldier pension. [Widow App. #649.470 - Cert. #466.326] Her brother-in-law Adam Diehl and fellow villager Charles Stuckman stepped forward to provide affidavits of support for her claim. The Bedford Gazette once called her " a kind and affectionate mother, an obliging neighbor, and a true and sincere friend, one who was ever ready to offer the hand of sympathy in time of sorrow and trouble, or again the same hand was extended in a glad and joyous welcome." At the age of 61, stricken with typhoid fever followed by tuberculosis, she died on Dec. 14, 1907. Said the Gazette, she "was a patient sufferer during her long illness.... Where she lived and was best known there she will be the most missed." Funeral services were held at the Dry Ridge Reformed Church, led by Rev. C.W. Warlick.
Son William Harrison Geller (1867-1929) was born on Jan. 3, 1867 in Juniata Township. He was united in holy matrimony with Dora Stock ( ? - ? ). They lived in Lorain, OH in 1904 and in West Virginia in 1907. Evidence suggests that he was back in Ohio by 1912 and in Akron in 1918. In the late 1920s, their address was 609 North Beaver Street in Lisbon, Columbiana County, OH. William was employed as a laborer by R. Thomas Sous Company. At the age of 62, suffering from acute heart valve problems, William died on Sept. 19, 1929. Burial was in Lisbon Cemetery.
Son Henry Hudson Geller (1869-1947) was born on Nov. 23, 1869 in Juniata Township. He married Elizabeth Louise Diehl (May 14, 1872-1946), daughter of Andrew and Anna Catherine (Beltz) Diehl of Juniata Township. They bore two daughters -- Mary Miller and Olive Geller. Circa 1904, the couple dwelled in Buffalo Mills and in 1907 in Dry Ridge. Henry was a longtime elder and deacon at the Dry Ridge Reformed Church, where he also volunteered as a Sunday School teacher and secretary. Having suffered from hardening of the arteries and hypertension for at least five years, Elizabeth was felled by a heart attack and died at the age of 73 on Jan. 28, 1946. Interment was at Dry Ridge. Henry only survived her by a year. He passed into eternity in Manns Choice at the age of 77 on July 8, 1947. Obituaries in the Bedford Gazette reported that Rev. Clarence Whetstone officiated at both of their funeral services.
Daughter Lucinda Margaret Geller (1872-1953) was born on Jan. 3, 1872 in New Buena Vista, Bedford County. In about 1895 or '97, she wedded Michael Diehl ( ? -1907). The couple did not reproduce. In 1904, they resided in Alum Bank, PA. Circa 1907, at the age of 38, Michael was employed in the Fort Cumberland Paint Factory in Cumberland, Allegany County, MD. Tragically, he lost his life in a horrible workpalce accident on June 26, 1907. Reported the Bedford Gazette, "While working, he saw a flame of fire blaze up from among the coal tar. There was also a quantity of gasoline nearby and before he could escape he was caught by the flames. He ran from the building a mass of flames and fell to the ground exhausted. Some men rushed to his aid and tore off what clothing had not been burned. He was at once removed to the hospital where he lived in awful agony until early Wednesday morning when death relieved his sufferings." His charred remains were transported to the Trinity Reformed Church on Dry Ridge for funeral services officiated by Rev. C.W. Warlick. Then on July 29, 1908, Lucinda wedded again to T.E. Barncord ( ? - ? ). He had been married previously and brought a daughter to the second union, Ethel Hall. The couple produced a son of their own, Walter Edward Barncord. She was a member of the First Reformed Church of Hyndman. In 1947, her home was in Hyndman. She died in Jan. 1953. Among those attending the funeral, said the Gazette, were Mr. and Mrs. Harry Martz of Corrigansville, MD; Homer and Fred Martz of Ellerslie, MD; Mr. and Mrs. Elmer Miller of Sulphur Springs; Mr. and Mrs. Hite Olivhan of Johnstown; Olive Geller of Bedford; and Mr. and Mrs. Carl Hay of Glencoe, PA.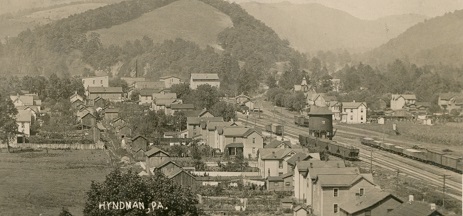 Bird's-eye view of Hyndman, PA, early 1900s
Son Lewis Andrew Geller (1874-1904) was born on Feb. 26, 1874 at New Buena Vista. As an infant, he was baptized by Rev. W.D. Lefevre and later was confirmed by Rev. D.G. Hetrick of the Reformed Church. He was raised by his paternal grandparents until he reached the age of 14 in about 1888. Then he went out on his own and worked in a grist mill in New Baltimore, Somerset County. After a year or two, he left and migrated to Greensburg, Westmoreland County and learned the trade of plastering. Then in 1892, at the age of 18, he pushed into Pittsburgh where he continued to make a living as a plasterer. Their home in 1900 was on North Braddock Avenue. On June 10, 1893, he married Ada Hufford (May 1875-1903), a Pittsburgh resident. They produced four children -- among them Cora E.P. Geller, Lucinda M. Geller and George A. Geller. Heartbreak blanketed the family when Ada died on May 9, 1903 after less then a decade of marriage. Just a few months later, the grieving widower became stricken with tuberculosis, then known as "consumption," in October 1903. In an effort to get well, he quit his labors and returned to New Buena Vista, Bedford County. The move was not successful. He died in the home of his great-uncle Frederick Hillegass at Harmon's Bottom on April 5, 1904, at the age of 30. Funeral services were held at the Dry Ridge Reformed Church, with Rev. Hetrick officiating. Burial was beside his father in the church's burying ground. Pallbearers included George Diehl, Fred Diehl, S.W. Bittner, Charles Mowry, Warren Mowry and Harry Suder. "The bereft have the sympathy of the whole community in their sorrow," said the Bedford Gazette.
Daughter Annie Elizabeth "Lizzie" Geller (1876-1914) was born on July 30, 1875 or 1876. On Jan. 5, 1898, at the age of 21, Lizzie married 23-year-old Frank Martz (1874-1946), son of Noah and Mary Martz. Rev. Daniel G. Hetrick officiated at the wedding, held in the home of Lizzie's great-uncle, Frederick Hillegass. Lizzie resided at New Buena Vista at the time, and he at Hyndman. The couple produced these known offspring -- Fred Martz, Homer Martz, Harry Martz and Carlton Martz. Frank was employed as an engineer by the Baltimore and Ohio Railroad. Their home in 1904-1914 was in Hyndman, Bedford County. In 1910, 19-year-old servant Edith Hillegass lived in the household. Grief overwhelmed the family when Lizzie was diagnosed with cancer of the bladder and colon at the age of 38 in about 1914. She underwent surgery in a hospital in the Wilkinsburg section of Pittsburgh. Following the operation, she went into shock, which led to acute enlargement of her heart. She was unable to rally and died there within days on March 15, 1914. Her remains were transported back to Hyndman for interment. In 1915, Frank remarried to Ellender Sherman "Eleanor" Mowry (1885-1970). She brought a son to the union, Donald. The second marriage bore a daughter of their own, Grace Martz. Frank died at the age of about 71 in 1946 and rests in Hyndman Cemetery.
Son Jacob Irvin Geller (1881-1954) was born on Aug. 13, 1881 in New Buena Vista, Juniata Township. He was very young when his father died, and he and his widowed mother were taken in by a grand-uncle Frederick Hillegass of Juniata Township. On Dec. 17, 1903, Jacob was united in holy wedlock with Mary Dora Heltzel (1881-1958), daughter of Emanuel and Malinda Virginia (Griffith) Heltzel. The wedding was held in the Reformed Church parsonage in Mary Dora's hometown of St. Clairsville, Bedford County by Rev. A.F. Nace. They bore a daughter, Edna L. Diehl (1913-1980). They resided in 1904-1947 in New Buena Vista. Daughter Edna is known to have broken her leg during nighttime sled riding on Jan. 28, 1924. Jacob died at the age of 72, in Bedford, Bedford County, on June 1, 1954. Mary Dora outlived her spouse by four years. She succumbed on Feb. 5, 1958 at the age of 76. They rest for eternity in Schellsburg Cemetery.
~ Son Jacob I. Geller ~
Son Jacob I. Geller (1848- ? ) was born on Dec. 28, 1848 in Harrison Township, Bedford County.
At the age of 21, in 1870, he was unmarried, lived at home and helped his father in farming labors.
Circa 1898, with his father having moved to Denver, Jacob resided with his mother in the home of her uncle Frederick Hillegass in New Buena Vista, Bedford County.
Jacob was united in marriage with Caroline Kinzey ( ? - ? ), daughter of Henry and Sophia Kinzey.
They relocated to Chicago, where they lived in 1900-1907.
~ Son Emmanuel Geller ~
Son Emanuel Geller ( ? - ? ) is lost to history for now. He was deceased by 1899.
~ Daughter Elizabeth Matilda (Geller) Ashbrook ~
Daughter Elizabeth Matilda Geller (1850-1916) was born on Dec. 30, 1850 in Bedford County.
She wedded John Solomon Ashbrook (Feb. 4, 1845-1915). They were the parents of Albert Maywod Ashbrook.
John's work took them to West Virginia, where they are known to have resided in Viola, Marshall County in 1890 when their daughter Laura was born. In 1904, they made a home in Hooversville, Somerset County and in 1907 in Forward, PA. In the mid-1910s, they dwelled in Hooversville.
Sadly, husband and wife died less than a year apart. John passed away first, on Dec. 6, , 1915. Elizabeth went to live at 169 Harrison Street in Johnstown, Cambria County, PA.
She began to suffer from heart disease and ilio colitis, a condition today known as Crohn's Disease caused by inflammation of the intestines. She succumbed there on Aug. 21, 1916. W.B. Pebley of Johnstown was the informant for the official Pennsylvania certificate of death. They are interred in the Patriotic Order Sons of America Cemetery in Hooversville.
Son Albert Maywood Ashbrook (1873-1963) was born in 1873.
Daughter Laura L. Ashbrook (1890-1964) was born on Jan. 28, 1890 in Viola, Marshall County, WV. She wedded William Blair Pebley ( ? - ? ). They are thought to have had a daughter, Agnes Wagner. They made a home in 1916 in Johnstown, Cambria County. Circa 1925-1931, they owned property in West Wheatfield Township, Indiana County, PA. Later, they relocated to Windber, Somerset County, with an address of 1005 Hoffman Avenue. As her health failed due to a combination of hardening of the arteries, diabetes and chronic urinary tract infections, Laura was admitted as a patient in the Church of the Brethren Home in Paint Borough, Somerset County. She died there at the age of 74 on March 19, 1964. Her remains were placed into rest in Johnstown's Grandview Cemetery.
Copyright © 2000, 2011, 2015-2019 Mark A. Miner